Future Quest #1: Full of Sound and Fury Signifying Something Truly Awesome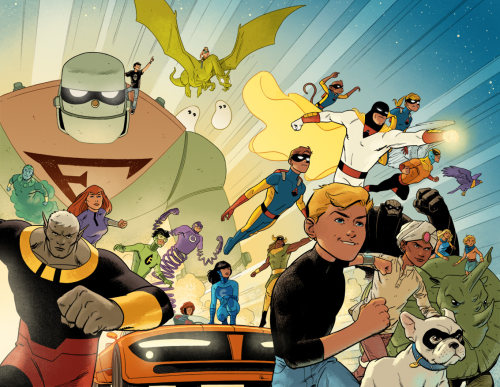 The team of Parker, Shaner, Bellaire (with Steve Rude) are now back,
At DC Comics, to give us all something we've sorely lacked:
Their brand of fun in abundance!
So forgo all reluctance,
As I dive into Future Quest to make sure they've not lost their knack.
It's finally time again to dive into another comic from writer Jeff Parker, artist Evan "Doc" Shaner, and colorist Jordie Bellaire.  Maybe it's my own experience growing up following characters and comic book titles rather than writers and artists but I can't think off the top of my head of such a brilliant, well-oiled creative team that meshes so perfectly together and is defined by a writer, artist, AND colorist.  Sure, there are notable pairs throughout the history of comicdom and maybe I'm just showing my ignorance, but when was there (for instance) a Lee/Kirby-esque pairing where the work was also elevated by a strongly associated colorist?
Regardless of whether I'm right that this is something of a rarity or I'm just talking nonsense, the Parker/Shaner/Bellaire triumvirate is a creative team that I'm always pleased to see come together on a project.  Not only are they on board for Future Quest issue 1 but Steve "The Dude" Rude is along for the ride for a number of pages!  The question is, do they deliver?
Unsurprisingly, the answer to that question is a resounding "Yes!"  If you've been living under a rock for the past few months, Future Quest is a essentially a mash-up series bringing together all (or most anyway) of Hanna-Barbera's action/adventure characters.  In this issue alone, we get the Jonny Quest team, Birdman, Space Ghost, and what amounts to a cameo appearance from Tundro of the Herculoids or another member of his species.

If you're thinking that this could either be a horrible idea given the disparate nature of the properties under consideration or such an excellent idea as to allow DC to stick any old team on the book with the assurance it would sell, you needn't be concerned on either count.  For the latter point, Parker, Shaner, and Bellaire are an excellent team, and bring the same skill and charm to this book that attentive readers will have seen in their earlier Flash Gordon and Convergence: Shazam work.  Additionally, Steve Rude brings his own unique flair to his pages that, while stylistically distinct from Shaner's work, meshes well with the rest of the issue, no doubt assisted by Bellaire's uniformly wonderful work throughout.  As for the former point, Shaner has, as evidenced by the characters in the book as well as on the cover, managed to bring the Alex Toth-designed characters and the more traditionally "cartoony" Hanna-Barbera characters (The Impossibles and Frankenstein, Jr.) together within his own self-proclaimed Toth-inspired visual aesthetic.
Beyond the visual, the writing of this issue makes it feel entirely natural that these characters should share the same book.  In an odd way, Jeff Parker does himself and the book the best service by making himself unobtrusive.  Having followed his work through Flash Gordon to Batman '66 and now to Future Quest, I can say that one of Parker's strengths is that he is something of a narrative chameleon.  For instance, Parker was able to completely embody the unique tone of Batman '66 while on that book, delivering exactly what one expects from that title in a way that was utterly distinct from his work on Flash Gordon.   Here in Future Quest, everything feels perfectly suited to the characters and action depicted in such a way that the reader can completely buy into the idea that this story is a true and natural continuation of these characters' stories.
Parker also deserves praise for crafting an utterly compelling and movingly tragic backstory for Space Ghost a character who, much like Birdman, has somewhat lost what gravitas he had through comedic reinterpretation.  As a matter of fact, both characters shine in this issue and I cannot wait to see them interact.  Getting back to Space Ghost's "origin," what we get is a bit of Green Lantern Corp. mixed with some Lone Ranger to get something with real emotional weight that is (I've been led to understand) entirely new while feeling like it's always been there.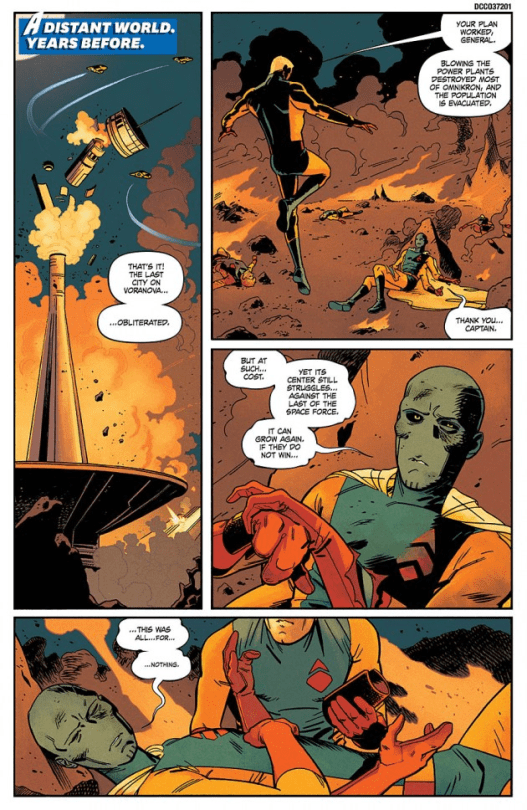 We also set up the overarching plot of at least the first arc of this series which appears to involve an element from Space Ghost's origin creating space-time disturbances which promise to bring together the Hanna-Barbera heroes.  It's a more-than-serviceable inciting incident and certainly justifies the promised mash-up.  I'm certainly looking forward to seeing where things go from here.
As a point of interest rather than criticism, I do find it interesting that the Parker/Shaner/Bellaire team has arguably gone from one villain with his roots in "Yellow Peril" to another, namely Flash Gordon's Ming the Merciless to the enigmatic Dr. Zin of the Jonny Quest series.  Again, I merely mention this as a point of interest and an odd bit of coincidence.
Turning to the art… Wow.  I basically spent the entirety of Flash Gordon trying to find new ways to praise Shaner and Bellaire, and I get the feeling I'll be doing more of the same for as long as I end up covering this series.  Doc Shaner really is the perfect artist for this title.  His blend of characters render with an admirable economy of detail with backgrounds possessing and/or suggesting much greater detail in a way echoes the original cartoons on which this comic is based.  As with his prior work, characters are always remarkably expressive.  In terms of panel layouts, they are always perfectly suited to the action and nicely varied while still feeling comic book-y in a pleasantly familiar way that some more contemporary layouts lack.  Some real standout moments are the emotional final panels of Space Ghost's origin and the playful scenes of Jonny Quest and Hadji zooming around on "flight packs."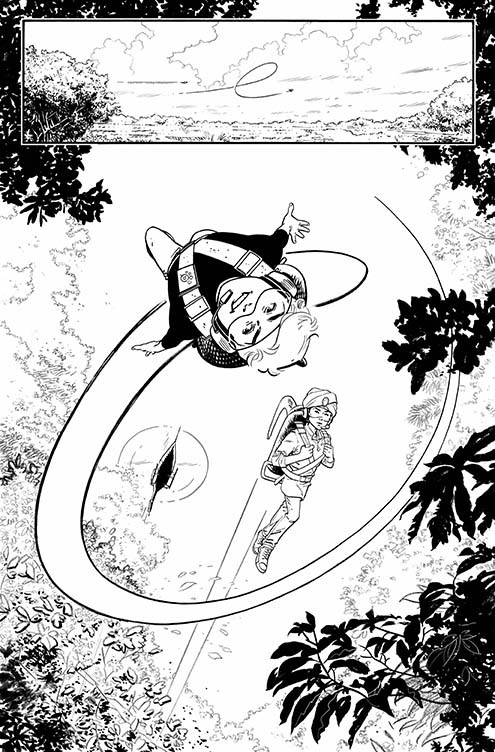 One criticism I've had of Shaner is that at times his figures can feel a bit too static when in extreme motion.  It's an issue that isn't fully resolved in this issue but I am seeing a some significant progress.  Beyond that, it is legitimately difficult to find anything negative to say.
Now on to Steve Rude's pages.  While I've been aware on Rude's work for ages and pretty much loved everything I've seen of it, this is one of the very few comics I've ever read containing his work.  I have to say, he and Shaner complement each other beautifully.  Both of their styles are immediately distinct but they share a sort of "classic comics" vibe that makes them successfully mesh.  Rude's work, while less detailed is evocative in a wonderful way.  His scene depicting Dr. Zin is beautifully realized and crafts an excellent sense of mood and menace with spare detail.  He's also capable of a masterful hero shot as evidenced by his frankly glorious full-page splash of Birdman flying into action.
Comparing Steve Rude's pages to those of Shaner, oddly one of the things that most jumps out are Rude's wider gutters.  This may simply be a matter of personal preference but for me I find the choice somewhat unfortunate as the pages themselves feel a bit less "full" for lack of a better word.  In the Dr. Zin scene where panel bleeds into panel, the white space feels deliberate and contributes to the success of the page but on the more traditionally paneled pages, I can't help feeling like the amount of white space between panels is a very minor detriment.  In all other respects though Rude is absolutely fantastic here.  For instance, his full-page splash of Zin's viewing screen is just another bit of excellence in a set of wonderful pages only made better by Bellaire's coloring.
Speaking of Jordie Bellaire, she is on form throughout this issue.  It's actually an interesting exercise to flip between her work on the Rude pages and the Shaner pages to see the way she adjusts her own style to the demands of the inks.  With Shaner and his somewhat more detailed and naturalistic style, she adds to his work, providing greater amounts of texture and shading.  With Rude and his even greater economy of detail and bold blacks, she is more restrained, providing blocks of color with more subtle shading and textures.  This isn't to say that she can't make bold choices within Rude's work.  During Birdman's transformation, she allows the bright light of the sun, the source of his power, to illuminate the panels, washing out the inks to give the appearance of blinding illumination.
Kudos too to letterer Dan Lanphear for his endearing choices with respect to Bandit's text as well as some of the more impassioned expostulations which are all rendered in wonderfully dynamic ways.
From beginning to end, Future Quest issue 1 is a nostalgic romp that truly feels like it has an energy and purpose that more than justifies this series and elevates it beyond a simple mash-up.  I feel much more than justified for the anticipation I've had for this series over the last several months.  At least for this reader/reviewer, this might just be the comics event of the summer.  And for one of the few times in my life, I'm forced to say Make Mine DC and Make Mine Hanna-Barbera!!!