Hannibal Season One Blu-ray
The Show:
I've discussed my love of NBC's Hannibal in my reviews and in my Best of 2013 Television column earlier this month, but here's a little more for you, since I didn't get to review the entire season.
If you're a fan of Thomas Harris' landmark character, Hannibal Lecter, have seen all the movies and read all the books, then this is simply a must-see, and if we're being honest here, a must-own. Bryan Fuller has crafted what, if people would simply watch and support, should be the definitive Hannibal Lecter saga. Especially if they can achieve their Seven Year Plan, which includes three seasons of original material leading up to a Season 4 adaptation of Red Dragon, The Silence of the Lambs in Season 5, Hannibal for Season 6, and then a final season of original material to complete the saga.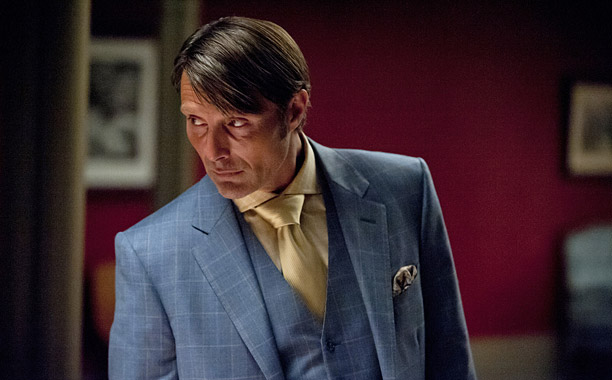 That is audacious planning and is something that we should all support every way we can.
The first season of Hannibal is an acting tour de force, with Danish actor Mads Mikkelsen taking on the title role in a manner much different from previous interpretations of the character.  This isn't the Hannibal we're already familiar with; the caged madman, or the killer on the run. This is Hannibal before all that. This is a Hannibal who is still practicing psychiatry in Baltimore and is very active socially, while also killing and eating people according to his own bizarre code of ethics. He eats the rude.
As such, Mikkelsen is allowed the delicious opportunity to play Hannibal as an actor, manipulating those around him and feeding everybody he interacts with meals of human flesh without their knowledge. Just remember that. Every time he serves someone dinner — and he does it A LOT in this show — they're eating people.
That's going to seriously ruin some characters' days when the truth comes out.
But for a show named after a character, Hannibal isn't really the main focus this first season. Instead, our entry into the program is Hugh Dancy, who plays Special Agent Will Graham, whom you may remember from the film adaptations Manhunter and Red Dragon. This is a much different Will than we've seen before, too. The film interpretations have been more confident, more leading mannish, if you please.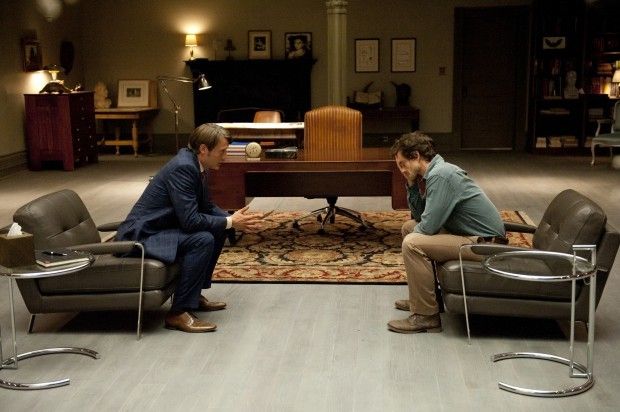 Dancy's interpretation of Will is one that embraces the neurotic tendencies of the Graham of the novels, almost to a fault. He describes himself as closer to being on the autism spectrum than being psychopathic, but what he is is something more. He possesses what Fuller calls "pure empathy" and a vivid imagination. He gets inside the heads of serial killers and catches them by thinking and feeling like they do.
And it takes a toll.
In an attempt to curb Will's self-destructive tendencies, the head of Behavioral Sciences at the FBI, Jack Crawford (played with authority and a devilish undercurrent of support and distrust by Laurence Fishburne), assigns Will a partner-of-sorts. A personal therapist who is supposed to make sure that when things get bad, Will won't be in any danger.
Unfortunately, that therapist is Hannibal Lecter.
The first season follows their investigation into the case of the Minnesota Shrike (as mentioned briefly in the novel Red Dragon) and the repercussions that Will and Hannibal both face in the aftermath. For Will, those repercussions are both psychological as he descends into borderline madness and physical in a development I'll leave unspoiled. For Hannibal, the repercussions are more subtle. He may actually be developing an emotional connection with Will, while playing with his life and mind at the same time.
The stellar cast is rounded out by Caroline Dhavernas as Dr. Alana Bloom, and Scott Thompson, Aaron Abrams, and Hettienne Park as the support forensics team. Kacey Rohl is excellent as Abigail Hobbs, the traumatized daughter of the Shrike, and Gillian Anderson exudes cool calm as Hannibal's therapist, Dr. Bedelia Du Maurier (a role originally intended for Angela Lansbury of Murder, She Wrote!!!!). We also get interesting guest appearances by Gina Torres, Eddie Izzard, Anna Chlumsky, Ellen Muth, Dan Fogler, Lance Henriksen, and more — including Molly Shannon in the episode that Fuller pulled before it aired. That episode is included in this collection, in its entirety, along with five "Producer's Cut" episodes.
Every director working on this show does a magnificent job, particularly David Slade, who directs three episodes (including the pilot and finale) and Guillermo Navarro, who also helms three episodes along the way. And while the writing could be hit or miss now and then, every single episode is a glorious celebration of the macabre both visually and sonically, as noted below (and in the linked reviews above).
If you love horror and the grotesque as well as emotionally raw acting and virtuoso crafting, then Hannibal Season One is something you need to not only see, but to have on your shelf.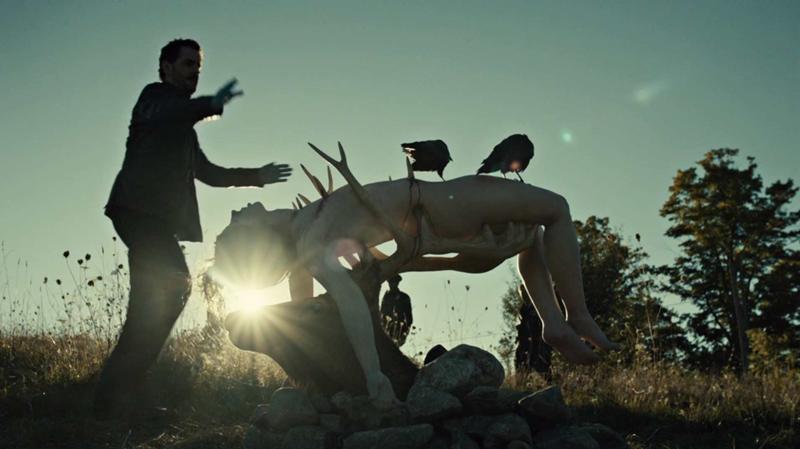 The Discs:
Hannibal was shot digitally and is practically flawless in its AVC encoded 1080p transfer. Visually, the only complaint I might have is that some scenes are very dark, but that's the creators' intentions, so that's on me rather than the quality of the discs. Be prepared to see horribly beautiful gore in full detail on this three-disc set.
And the sound quality! Oh my god! Hannibal boasts a lossless DTS-HD Master Audio 5.1 track and it is perfect for showcasing the soundscapes of composer Brian Reitzell. I only wish there was a straight soundtrack option to watch with no dialogue but keep the nerve-wrenching music and ambient sounds.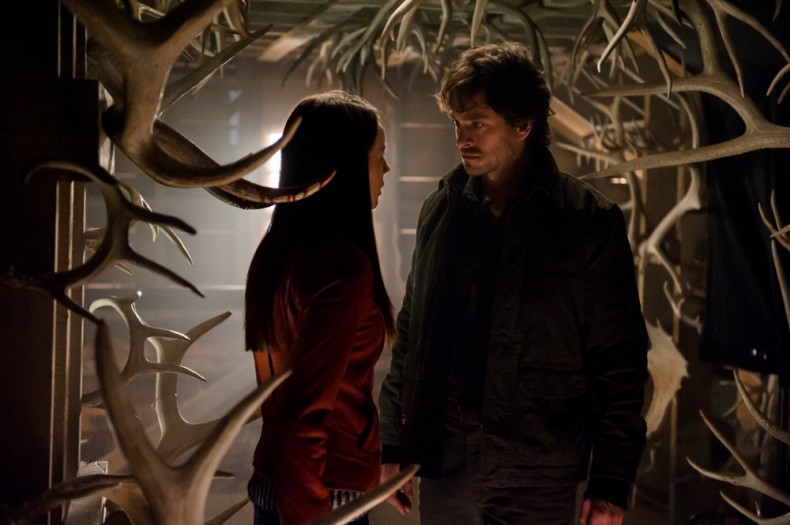 Extras:
The extras for this collection are scattered across all three discs with no way of telling what's where until you see the menus, so here's the breakdown.
Disc One:
Episode One "Aperitif" – Audio Commentary by Bryan Fuller, David Slade, and Hugh Dancy: The commentary track on this episode and the final episode (two of the three that Slade directed) are well-worth your time. All the contributors seem to be having fun; there are jokes, behind-the-scenes trivia, and technical details that made this very satisfying. Plus, you'll get to hear Fuller point out a couple of classic horror film homages that slipped by me as a reviewer the first time through.
Pilot Episode Storyboards
Disc Two:
Hannibal Reborn (11:12): Very interesting short history of how Hannibal made its way to NBC, featuring interviews with Fuller and executive producer Martha De Laurentis.
A Taste for Killing (14:46): Another very interesting piece that looks at the food preparation from the recipes to the menu to the design and plating. Chef José Andrés is infectiously giddy about working on Hannibal and addresses some of the critical concerns about the use of cannibalism in a Prime Time TV show. Janice Poon, Hannibal's food stylist, also contributes some secrets and stories about making the meals look so damn good.
Gag Reel (4:56): Some cute bits here. Especially if you like bleeped cursing. Which I do.
Disc Three:
Episode Thirteen "Savoreux" – Audio Commentary by Bryan Fuller, David Slade, and Hugh Dancy: See above. Everything I said about the other commentary applies here, too. Good stuff.
A Symphony for the Slaughter (11:32): As noted elsewhere, I am in love with the soundscape of Hannibal, and it's all because of this man: Brian Reitzell, the series' composer. I am simply amazed at the amount of work and thought that goes into the design of every scene. Reitzell is a genius.
The FX of Murder (14:23): What did the Hannibal effects team have to deal with censorship-wise with NBC? Not a lot. Unless there were exposed buttocks involved, apparently. Yet another very entertaining and informative look at the crafting of the most attractive gore on network television.
Will and Alana – Deleted Scene (3:00): A nice scene that helps set up Will's final push into Hannibal's arms at the end of the season.
All in all, the extras are a nice bonus to what is a very nice little package. Clearly an ongoing television series about a cannibal serial killer isn't going to be to everyone's tastes (as the ratings seemed to show), but Hannibal was one of the best looking and best designed shows on network television last year. And it's even better on blu-ray.
And I just found out that if you've got Amazon Prime, Season One of Hannibal is included through Amazon streaming!
Season 2 of Hannibal begins Friday, February 28 at 10:00 PM on NBC.
Be sure to check out this review and more exclusive content over at Comics Bulletin's new sister site, Psycho Drive-in!
---
Paul Brian McCoy is the Editor-in-Chief of Psycho Drive-In, writer of Mondo Marvel, and a regular contributor/editor for Comics Bulletin. His first novel, The Unraveling: Damaged Inc. Book One is available at Amazon US & UK, along with his collection of short stories, Coffee, Sex, & Creation (US & UK). He recently contributed the 1989 chapter to The American Comic Book Chronicles: The 1980s (US & UK) and has kicked off Comics Bulletin Books with Mondo Marvel Volumes One (US & UK) and Two (US & UK). Paul is unnaturally preoccupied with zombie films, Asian cult cinema, and sci-fi television. He can also be found babbling on Twitter at @PBMcCoy.