Steven Grant has a long and auspicious career in comic book. He wrote more comics than you can count, including the classic Punisher mini-series, Avengers, Spectacular Spider-Man, CSI and the legendary Whisper and American Flagg! I had a great time talking with Steven at this year's Emerald City Comicon where he was promoting the new Cops Vs. Criminals, coming this fall from Legendary Comics.
---
Jason Sacks for Comics Bulletin: What makes Cops vs. Criminals an interesting challenge? 
Steven Grant: I'm starting completely from scratch on it. That's always an interesting challenge. It's always much more challenge to basically walk in the forest perilously with a sword, you know?
CB: How much of the world were you given when you started on it? 
Grant: Very little. They gave me a couple of notes on the sorts of things they were interested in and then I just, for lack of a better word, molested the hell out the notes and turned it into something. It's not completely different, but I shifted a lot of the emphasis around on it and remodeled it. I made a couple of minor characters very major characters, and very major characters minor characters. I rearranged it to what I wanted it to be. I mean, they had sort of a general idea of what they wanted, but they really wanted was what I gave them. Let's put it that way.
CB: Well, you've been doing this a while; you know how to craft a story or two. 
Grant:  Honestly, I never know if I do or not. You never know until it's done.
CB: Do you feel that way?
Grant: Oh, yeah.
CB: I have Defenders comics from you from the eighties. 
Grant: Yeah, but I honestly think if you really know what you are doing, you are probably not doing it right.
CB: Yeah, tease me a little bit because I feel that way in my professional life, too. And I actually like having a certain element amount of uncertainty because it forces you to be flexible.
Grant: I also don't really like repeating myself a lot. I hate rewriting because I get very bored telling the same story twice.
CB: Okay. So what is the universe you ended up creating in the story?
Grant: It's very blurred between the law and the underworld. The hero of it's a FBI agent who actually has a reputation for being extremely honest. As a result, he has mostly gone into undercover work because he can keep things straight. He doesn't blur the lines in his head. But ultimately he becomes involved in an investigation of the FBI, at which point he gets framed for graft. And because he is so honest, everybody is willing to believe that he as been faking it the whole time. So he ends up with his life functionally destroyed as a result.
CB: Well, that is an interesting case of like reserve incentives. The fact that you are so much one way implies that you are another way. It's a very interesting new character then.
Grant: Yeah. And when all of this shakes out, he is offered a job basically as a cop for a underworld family. Because the underworld sort of functions as a shadow government, like the government of the street.
CB: Right.
Grant: They find that they need cops to deal with problems that they've got.
CB: Ironically you have to be more honest in that world in order to survive. 
Grant: Right, exactly.
CB: You're just committed to a different moral code. 
Grant: Exactly. So what he does is uses this to undertake his own undercover operation to use this to figure out who framed him and why and exonerate himself. But as a result, he keeps moving further and further towards that end of the spectrum. So it becomes very twisted. It gets more and more ambiguous and messy as it goes along.
CB: That seems very interesting from a writing perspective. 
Grant: Well, it is. And it's always fun working out the mechanics of that stuff.
CB: Because the character has to change. All of these horrible things happen. But he has got this core of who he is. So you probably have some very interesting almost dialogue with the character as a creator. 
Grant:  In a way, yeah.
CB: Is this one of these projects that kind of took on its own life as you got into it?
Grant: Yeah, as I was breaking down the plot on it. It's like I started, "Oh, my god, that has got to be here." So when they got it back to them, "What the hell is this?" Let's just say it's much more convoluted and ambiguous than your average cop short.
CB: You've got me really intrigued to read this and actually to see it as a movie also. Is that sort of part of it also?
 Grant: Oh, I have no idea. I know you'd think otherwise, but they don't actually develop the comics for movie projects because it's a very inefficient way to develop movies.
CB: Okay. That's very interesting to hear.
 Grant: Well, you'd have to them about that. That's what they've told me because I did ask them about that. They said, "No, we really are not approaching it that way. We just want to do really good comics." If someone picks it up or it gets made into something, that's fine. You can never depend on that in the first place.
CB: Sure. And even options don't necessarily mean anything.
Grant: I mean it depends how much you get paid for them. It's funny because I am always reading on news sites about such and such saying, "This project is optioned." Having gone through that myself, what I always want to know is how much did it get optioned for? Don't tell me what the roach's price is, because that is what they always say for it. I want to know how much you got in pocket from it right now because that will tell me how serious anybody is about making it.
CB: Yeah, it's that weird thing probably where the money speaks more than anything else. 
Grant: Well, the only thing you can believe in Hollywood is the money.
CB: Well, yeah. That is a good point. We all know about Hollywood accounting and other things. 
Grant: And also people in Hollywood don't like to say no. They don't like to say yes, but they don't like to say no because saying no makes them a bad guy and they don't want to feel they are the bad guy. So they will say anything but no. What I always tell people is unless they say yes, it means no. And if they say yes, it means maybe. And it's not anything to do with them morally or anything like that. It's just the convoluted way the business works. Because ultimately whoever makes the decision is not the one who makes the decision. It's always going to go further.
CB: Yeah, some level up. Well because the money is so big, the risk is so large.
Grant: Ultimately somebody up the chain is always going to be the one to say okay. Because somebody has to say, "Okay, we'll put the money into this," and it's probably not the person you are talking to.
CB: So that means working in comics has to be a pleasure compared to that whole world.
Grant: Well, it's a pleasure in some ways. If things work in Hollywood, that's a great pleasure.
CB: Have you worked on projects there? 
Grant:  Well, I had a thing made a couple years ago called Two Guns. It turned out very nicely for me.
CB: I have to admit I haven't seen it. 
Grant: It was a film with Denzel Washington and Mark Wahlberg. It came out in late summer 2013.
CB: And you scripted that?
Grant: No, no. I did the comic it was based on.
CB: Oh, I see, okay. 
Grant: So I got paid very, very well for that. That's fine.
CB: Yeah, nothing wrong with that I am sure. 
Grant: Yeah. It wasn't life-changing money, but it was good money. I saw the process close up for a long time. From the point from that project started to the point where it actually hit the screen was a fairly lengthy period of time, as they all are. The average amount of time it takes to get a movie made in Hollywood is seven years. It doesn't mean films can't be made quick; that's the average.
CB: Right. 
Grant: Some films take a lot longer than that.
CB: It's amazing. It's amazing to me.
Grant: And anything can happen anywhere along the way. But if you get to the end of the process…Like the movie came out and unlike most people who enjoy comics, movies made from comics, I love it. That movie was great. I was thrilled. They changed a lot of it of course. But of course it's a movie. If they don't change a lot, you are probably getting screwed over, which most people don't realize. You can do so much more in the space of a movie than you can in the space of a twenty page graphic novel.
CB: Sure. 
Grant: So I had a lot of fun with that. And then watching the process go through, I learned an awful lot about how it really gets done. And it almost fell apart on several occasions for things that had nothing whatsoever to do with the movie.
CB: Right. That's often how it goes also. Well, they were working on it during the economic collapse it sounds like. 
Grant: No, it was after that. Other movies came out that were sort of similar. They weren't similar; they just had maybe an element in common with it. They didn't do well at the box office and sudden there is panic over whether anybody wants to see this kind of material or not. It's such a ridiculous thing, but there is so much money in play that everybody panics at the drop of a hat.
CB: Right. 
 Grant: The personnel shift back and forth because things take so long and things like that. The process is just so weird that you just have to kind of adopt the philosophy that nothing happens until it happens and just sit back and watch. I've done screenplays and things, but nothing that has ever gotten produced. I don't honestly see the point doing screenplays. I've come to the conclusion that screenplays are for suckers.
CB: They pay very well. 
Grant: Only if you sell them.
CB: Oh, okay. 
Grant: If you don't sell them, you've done a whole lot of work for nothing.
CB: Basically you are spending a lot of your life doing speck work. 
Grant: Yeah, basically.
CB: When you have a house to pay for and everything.
 Grant: And also you can do comics and get comics off. If you are in a position, which fortunately Two Guns put me in that position, that now pretty much anything I do people in Hollywood will look at. Not that they weren't doing that before, because an awful lot of people were at the Punisher miniseries so my name was very well-known by that point. Punisher miniseries and a bad thing I did was called Badlands, which everybody in Hollywood, every time I meet a producer is like, "Oh, you wrote Badlands?  Love that. Wish I could get it made."
CB: Really?
Grant: Yeah, every time.
CB: What is it about that book do you think?
Grant: Just everybody loves the story. Did you ever read it?
CB: No, I actually haven't. I'm sorry; I feel like a bad interviewer.
Grant: No, that's alright. Here's the pitch for it. It's a crime story set in 1963 and starring the man who really killed John Kennedy.
CB: Oh, wait. Yes, I do remember that story. 
Grant: So everybody loves the concept.
CB: Who was the artist? Vince Giarrano? 
Grant: Vince Giarrano.
CB: Yeah. I am writing a book for Two Morrows about the comics industry in the 1990s right now. The book that I wrote about the 70's came out last year at San Diego. And so I am working on the 90's book now. It's a year-by-year history of the comics industry during each decade, about two hundred thousand words each called the American Comic Book Chronicles.
Grant: I'll have to hit up John for a copy of that.
CB: Yeah, you should. Roy Thomas is writing the 40's for us. So I have gotten pretty well versed in 90's comics at this point and have a pretty good run of Wizard magazines. So anyway, that is off on a tangent. 
Grant: It's very interesting because Hollywood at this point is composed of a lot of people who grew up reading the comics I was writing. So my name is much better known in Hollywood than its fandom.
CB: Yeah, you are in a strange position that way. 
Grant: Yeah, it's very strange.
CB: Only those of us who really know history. But your Punisher books still sell all the time, right? 
Grant: I still get checks from Marvel off that stuff.
CB: It's probably one of the most read books that Marvel has ever published, right? 
Grant: Yeah. I think it probably is.
CB: When you look at it now, do you find flaws in it?
Grant: No. I usually can't read anything for about six months after it comes out because all I do is find the flaws. And after about six months I've forgotten enough about what I originally [inaudible 00:13:08] that I can read it and just enjoy it for what it is. So past that point, I can pretty much enjoy almost anything I write, unless it really sucks. I am first to admit that there is stuff of mine that really sucks.
CB: What is something that you wrote that you think you really nailed? 
Grant: Oh, Badlands. Mike Zeck and I did a book for Wild Storm called Damned.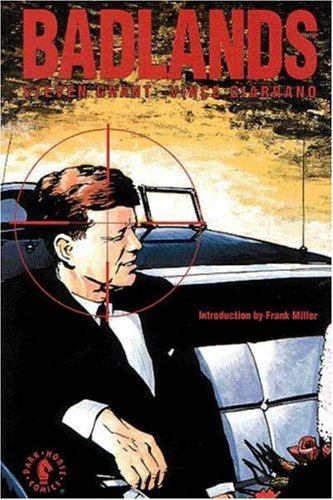 CB: Yes, I remember that. It was around '99.
Grant: That was one of my favorite stories. I like the simple stuff. There is some really simple stuff that I wrote where there is one really simple concept that runs all the way through. Damned is one of those. I think Damned is as close to a wonderful comic as I've done.
CB: Interesting. 
Grant: To be honest, I like most of the stuff that I've done. It's generally the work for hire stuff that I look at and go, "Uhh."
CB: A lot of it really stands up. And actually reading it against the other stuff that came out in the 1990s, it stands out really well in terms of craftsmanship and approach.
Grant: I mean it's basically I like the stuff that I don't have to worry about outside forces on. It's stuff that I can just concentrate on the story. You get an artist like Mike and you can just concentrate on the story; you don't have to think about the art. Mike and I worked together enough where I know what Mike is going to give me. I don't specifically know. However I visualize something, it always comes back different. But it always comes back better.
CB: And that is part of the joy of writing comics, too. 
Grant: Yeah, it is. I like giving artists as much leeway as I can because I like seeing how things morph in their hands. But there is risk to that, too.
CB: Sure, right. And that is part of the ups and downs of the industry, right? Since you are not visualizing your own story, you just never know what you are going to get. 
Grant: No, I visualize it.
CB: But you're not drawing it. You are drawing thumbnails I assume. 
Grant: No. I just script it. But you have to visualize it to some extent just to be able to figure out what will fit on a page.
CB: I think my favorite thing I've read of yours from the 90's, focused on that, was Edge with Gil Kane. 
Grant: Oh, yeah.
CB: How did that project come about? 
Grant: Well, Bravura got put together. Gil and I had the same agent at the time. And he just said, "Hey, do you want to do a book with Gil Kane?" Of course I grew up loving Gil Kane. Gil was my first favorite artist ever. Probably if I was backed into a corner, I would say Gil is my comic book artist ever. I started with his very early issues of Green Lantern and started reading comics. It wasn't the first comic I read, but his stuff was the first stuff that really made me a fan. He was the first guy whose work I specifically collected.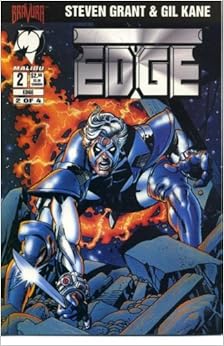 I think he was like the first artist whose name I ever went out of my way to find out. And just the thrill of being able to work with him was overwhelming. Meeting him for the first time was like was like just being reduced to a puppy. And we just got along really well. And after that, we didn't do a ton of stuff together because it was getting to the point where it was hard to sell anything because the industry was in collapse. But we did quite a few things together. We did half a dozen projects together. So we started doing Edge and then Bravura bellied up. We actually had that planned out for three miniseries. It would be one whole story.
CB: Oh, it's a shame. Right because it basically ended in a cliffhanger.
Grant: Yeah, it kind of ends with complete defeat, which I don't mind actually. I think that's not a bad thing.
CB: It works beautifully in that way because everything else from that era is very much macho man kind of winning every battle.
Grant: Yeah.
CB: It really stands out versus its contemporaries.
Grant: I mean the core idea of Edge was superheroes are not the next step in evolution, but rather an evolutionary dead-end. That was the big concept at the time: "This is the next step in evolution. Blah blah blah. Progressing with us."
CB: Right. 
Grant: That's not actually how evolution works. It's like in comics people can define cold as an element, whereas it's simply the lack of something. So it was just one of those popular preconceptions of comics that I wanted to screw around with. The concept behind Andrew is that the superhero's superpowers would be an evolutionary dead-end. If it became a general adaptation of the human race, it would be the end of the human race. That is what we were leading to.
CB: Slightly small idea there. 
Grant: Yeah, well…
CB: Ambitious with that for sure.
Grant: It's a smaller idea than the idea that it's the next step towards infinity.
CB: Yeah. I like that is a counterpoint to that. [inaudible 00:18:28] than that.
Grant: A lot of the stuff I write tends to be a counterpoint towards popular misconceptions.
CB: Yes, I've read your columns, too. Yeah, there's a lot of that.
Grant: People tend to think it's extremely cynical, but frankly I think it's cynical not to think in these terms.
CB: Interesting point. To some extent, the world is manipulated by people in positions of power who kind of don't care about the rest of us.
Grant: Whether they care or not, it's still manipulative what people teach.