Al Ewing is one of the most popular writer in the world right now, so when I had the chance to catch up with him to discuss his new Doctor Who series, I had to jump at the chance. I hope you enjoy this fun review.
---
Jason Sacks for Comics Bulletin: Alice is a unique companion for the Doctor. She comes to him at her lowest point and the Doctor helps lift her up. Did you find it intriguing to change the relationship between the Doctor and his companion a bit?
Al Ewing: I think that was the idea from the start, to do something that wasn't really being done. So we have a companion who's much older than normal – the think I always repeat in interviews like this is that if Alice was being played by a real-world actor, she'd be much older than Matt Smith and there'd automatically be a kind of mitigating of the Doctor's authority. Alice is someone who won't take any of the Doctor's crap – and there is some crap occasionally from him, and I'm glad Clara in the new series isn't taking it either.
CB: That relationship is more multifaceted too – how do you see it evolving?
Ewing: That's something we'll get to in the book – how their relationship evolves is something I don't want to spoil, because it's going to get to a place that I think readers will really like seeing it reach. There are things coming up that will tie the series, and their relationship, together as a nice whole.
CB: You bring in a David Bowie analogue as a companion, but he's a stupid, selfish jerk. Is that playfulness or antipathy?
Ewing: He's not all bad! He's twenty, what do you want from him? I was a stupid, selfish jerk when I was twenty.
It's playfulness – I've nothing against Bowie, and in fact writing Jones has led me to explore his work a bit more thoroughly than I had. I think in coming issues you'll be seeing a bit more of what we see in Jones – he's going from a point where he's not ready to be who he'll become yet to a point where he is ready, if that makes sense. Don't judge the character until you've seen the whole journey.
CB: Are a longtime fan of Doctor Who?
Ewing: Since I was very small! I think the first Doctor I remember is Peter Davison, but beyond "The Caves of Androzani" I don't have clear memories of seeing it at the time – but I must have, because I remember that regeneration as a very big thing. Colin Baker I don't remember at all, and Sylvester McCoy I didn't appreciate until I was older. But I read loads of the Target books, and I'd pore over the old episode guides for hours on end. I went to Longleat, and paid tribute to the huge fibreglass statues of Daleks.
So I was a fan, but more a fan of the idea of it, of Doctor Who as a pop-cultural institution that had bubbled along in the background my whole life. And then it suddenly rose again to full power in the modern era and took over the world, which was incredibly exciting, and now I'm a very active fan, working through the classic stories that I missed on DVD and catching it every Saturday whether it's good, bad or indifferent.
CB: Who is your favorite Doctor?
Ewing: Patrick Troughton. I've yet to see him not crush any line he's given. In the modern era, I'd have to say Matt Smith, which is fortunate, really! Though Capaldi is coming up from behind there – another season like the last one and he could take first place.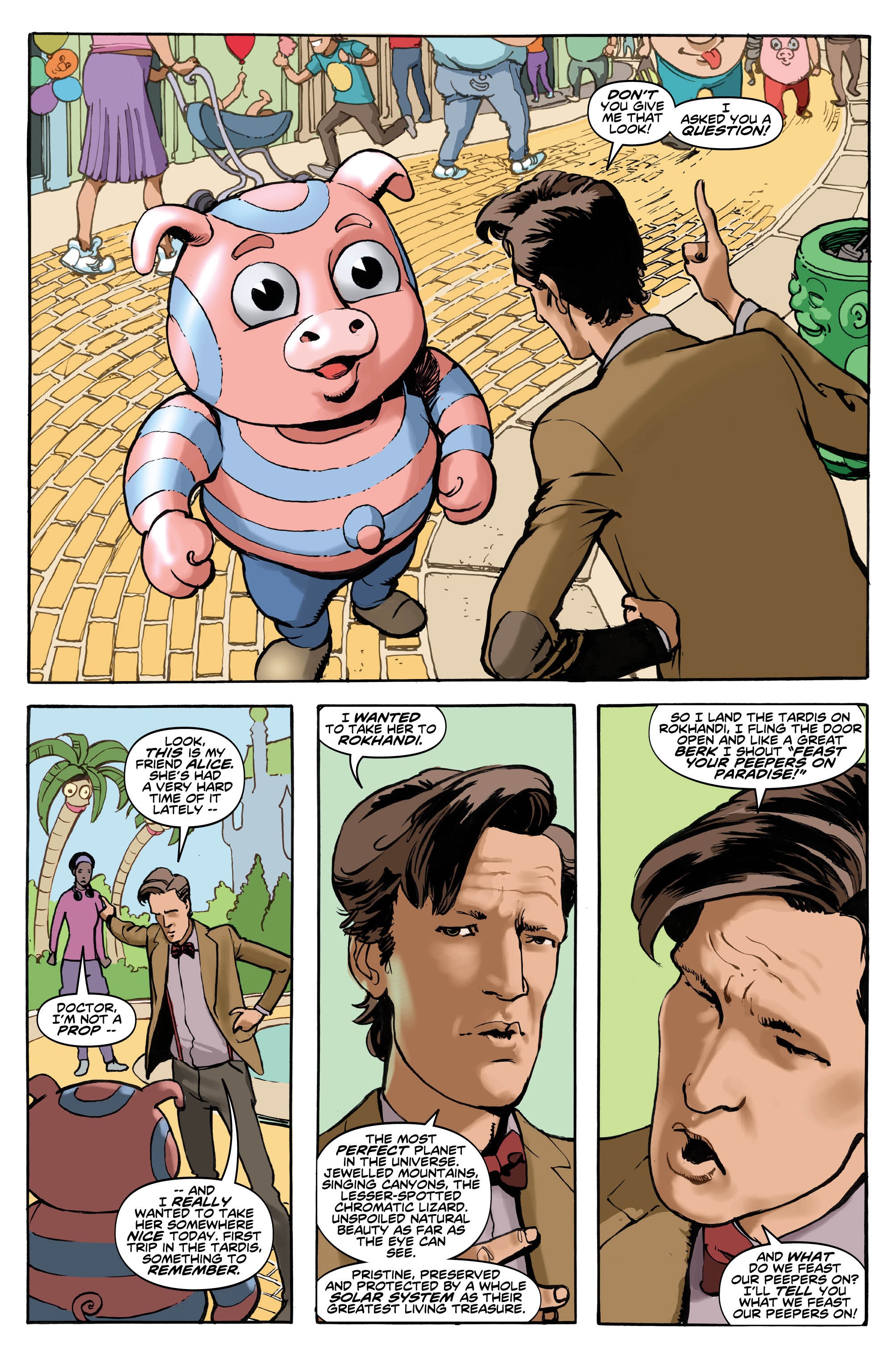 CB: How closely do you collaborate with cowriter Rob Williams and with your artists?
Ewing: We all know each other of old – actually, I've yet to meet Warren Pleece, which is something I need to rectify. With Rob, we have regular Skype chats and meet-ups to make sure we're all roughly on the same page, and then there's email back-and-forth with the artists – though we work full script on Who, and if I've done a reasonable job there shouldn't be too much confusion on that score.
CB: Will there be overarching "season arcs" to your work on Doctor Who?
Ewing: Yes, there will be! The current 'arc' ends with #15, and we're doing a classic two-part finish full of slam, bang, sturm and drang to close it out. And then I believe we're into Paul Cornell's crossover, which I'm looking forward to.
CB: How do you approach writing licensed characters as opposed to your own projects?
Ewing: Pretty much everything I do is a licensed character these days – I'm on the superheroes, and when I'm not doing that I'm writing Judge Dredd. Even with things I've co-created, like Zombo, there's an editor. I suppose it's just different levels of editorial control – with Zombo, I have an almost completely free hand, while with the superheroes there's a bit more consult with the editors to make sure everything fits, and with Who you have the BBC involved, too. But the Beeb have been very good to us – they've had a very light touch. No fiats, not much "you can't do this" – just where it might clash with the TV version, really.
CB: How do you approach writing Doctor Who versus your work for Marvel?
Ewing: There's actually a huge difference, which is that I do Who as a full script, while Marvel is done Marvel-style. That means Who is very dialogue-driven, while with Marvel I rework my dialogue to fit what the artist provides. Which works, because Doctor Who is quite talky as a show, it's not a taciturn kind of programme. We've considered doing Marvel-style Who, but it's not every artist's cup of tea, so I think we'll keep it full script for now.
CB: Any teasers for what we might expect in future volumes?
Ewing: None! You'll have to wait and see.
Doctor Who: The Eleventh Doctor Vol. 1 After Life hits comic book stores in the US/Canada on March 25 and then book stores in the US/Canada the week after on March 31.​
For more information visit Titan Comics here