Artist, writer and editor Al Milgrom was kind enough to speak to me at length about his career in January of 2010 and the things I learned from someone who has rubbed shoulders with so many of the greats over the years.
---
Bryan Stroud for Comics Bulletin:  How did you get your start?
Allen Milgrom:  My first year in the business I worked for Murphy Anderson as a background inker. That was my first paying job in the industry. I came out to New York from Michigan with samples. My childhood buddy Jim Starlin had come out a year earlier. He was in the Navy and after his discharge, this was the early 70's, he came out to New York and started getting some work and I was in college and came out here after I'd graduated.
Jim was doing stuff for Marvel and DC and doing breakdowns or layouts for John Romita on some of the Spider-Man material and when I came out I wasn't quite ready to get work on my own, but I was good enough to start doing some background work for Murphy. I showed my samples up at DC and either Joe Orlando or maybe it was Carmine Infantino called Murphy in and asked, "Murph, could you use help from this guy?"  "Yeah."  So shortly afterward I started working for him.
I had actually done one inking job prior for Charlton and that was while I was still living back in Michigan and I got that through Rich Buckler. He was already out here and he was starting to get some work and a friend of his here named Jim Janes had penciled a job for Charlton and he wasn't a good inker or didn't feel he was a good inker, so they needed one for the job and Rich told them about me and the next thing I know I was inking a short 5 or 6 page Charlton job for maybe ten bucks a page.
I remember my mother was horrified at how little money it was. And frankly I did not do the best job in the world, and I wasn't really ready yet, either, but Charlton, God bless 'em, (chuckle) they couldn't afford to be very choosy about the work even though they had some very good people working for them.
So that was my first experience. Jim Janes was an interesting guy. He lived on Staten Island and he did some comics. I know he did some Legion of Super-Heroes at one point for DC and I believe he must have moved to California, because I've seen his name on the credits of some of the DC animated shows. I don't remember which ones off hand, but I know he's done stuff for them.
So he's one of these guys who was a good solid artist, but he didn't seem to have a distinctive enough style to stay in comics, so he ended up getting probably a much better paying gig on the West Coast doing the animation for a lot of these characters. Storyboards and so forth.
CB:  Sort of following in the footsteps of Mike Sekowsky and Alex Toth.
Milgrom:  Yeah and Kirby did that for a while, too. Gil Kane may have, too. A lot of guys who either got fed up with comics or could do better doing storyboard work or whatever ended up doing that. My good buddy from Michigan, Mike Vosburg did some storyboard/animation stuff for a while and now he's doing stuff for motion pictures including the Narnia films. And Brett Blevins, who is a very good artist and did comics for a while who was…well, not exactly my protégé, but when he was 13 he started sending samples to me when I was an editor at DC.
I thought he had a lot of potential and when I went back to work as an editor for Marvel I told him to stay in touch and send me more samples and I would sort of go over his stuff and send him critiques and tell him how I thought he could correct the work. He's very good and I believe he's doing storyboard work for the Batman cartoon show and I think he makes a lot more money doing that than he ever did doing comic book work.
CB:  Now weren't you considered to be one of the Crusty Bunkers at Continuity Associates?
Milgrom:  Anybody who did any work to help out on a Continuity job was considered a Crusty Bunker, so I did some work under that banner, I guess. (Chuckle)
CB:  Was it by design or something you just fell into?
Milgrom:  Anybody who happened by the studio…we'd go there to hang out. We'd talk to Neal, to watch and see what he was doing. Jack Abel rented space there. Jack was a good friend of mine and again one of the old-timers, as it were and also a fellow background guy for Murphy Anderson at one point, unfortunately. Unfortunately because Jack had actually been inking Superman for DC and at some point they told him that look, that slick house look that DC had used for many years, the stuff that Bernie Sachs and the Barry brothers and Joe Giella and Frank Giacoia, all those kind of guys, he had a look sort of in that ballpark.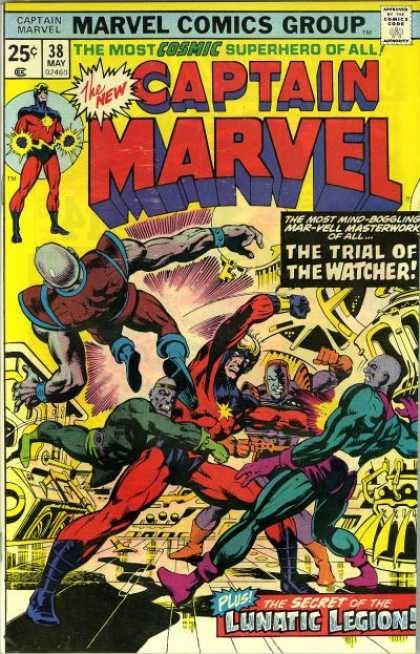 I'm not saying it looked exactly the same, but in any case at some point Carmine told him, "Look, we're not using the style anymore and we want everybody to ink like Dick Girodano."  Jack at the time said, "Well who else inks like Dick Giordano?"  Which was a valid question. And at the time Carmine said, "Well…Vinnie Colletta."  And Vinnie…I can kind of see where Carmine made that judgment. There was a very slight surface resemblance between Vinnie and Dick's, but Dick's was so far superior.
CB:  Oh, yeah.
Milgrom:  Jack was just flabbergasted. He got very discouraged and for a while there just was doing backgrounds for Murphy and I used to ask him why he hadn't gone back to Marvel (this was all before my time, mind you). He'd been inking Iron Man over Gene Colan at Marvel and apparently they loved his stuff because one thing Marvel lacked in the early days was good inkers.
They had Dick Ayers, who was not too slick and they had few others. They had Joe Sinnott who did a little work early on and so forth, but they really lacked polished inkers for a long time. But Jack said he felt that since he left Iron Man to go back to DC that Marvel wouldn't give him any work. The truth is they would have been happy to have him back.
CB:  I'm sure you're right. They had so few standout inkers at that point I would imagine they'd have snapped him up.
Milgrom:  Now Ditko inked his own stuff and that was terrific. There were some other guys. Don Heck would pencil and ink his own stuff and other people's stuff. George Roussous inked a lot of Kirby and some Ditko and so on but I think Abel, being an old-school guy and taking into account that the industry had been so vindictive in the past to the old guys in some ways. If you went to the competition they wouldn't necessarily take you back. I think that was especially true of DC in those days.
Less so for Marvel, but I don't think Abel realized that. I used to yell at him after the fact:  "Jack, what would it have cost you to try to go back to Marvel?"   He said: "Well, I should have…"  So anyway, he was actually doing backgrounds for Murphy for a while and Dave Cockrum had also done backgrounds for Murph and at some point Wayne Howard, the Wally Wood imitator.
He did a lot of work for Charlton on his own and he was also doing backgrounds for Murphy which was good because Wayne was a very solid guy who did good brushwork and of course being a Wood impressionist and Wood being heavily influenced by Hal Foster and Murph being heavily influenced by Hal Foster it was a good mesh.
CB:  You mentioned Vinnie Colletta earlier and he had kind of a reputation as a hack inker.
Milgrom:  I wasn't really a friend of Vinnie's and I didn't like his work, but I did like it when I was a kid when he was inking Kirby on Thor. You can't hurt Kirby. You can help him, but you can't hurt him. The stuff is so powerful and the stories are so well told. It's such exciting, dynamic stuff and as a kid I would look at that stuff Vinnie inked and thought: "Oh, yeah, it looks like Hal Foster," which of course was highly inaccurate. Just the fact that it was a lot of hatchy pen work and of course that was not true of Foster at all. Foster inked virtually everything with a brush.
Vinnie's stuff had a different look to it and I just thought, "Oh, that looks good."  And I liked it as a contrast to the stuff Sinnott was inking on Fantastic Four or Giacoia was inking on Captain America, so as a kid I certainly liked Vinnie's stuff well enough, but as I got older and I could see a lot of the rendering he did was just sort of meaningless hash marks and lines for the sake of lines. They didn't really give you a tone, they didn't give you a texture, they didn't define muscle mass or anything like that and of course years later when I saw that he would wholesale erase backgrounds rather than ink them. (chuckle)
I know one penciller told me, "You know I did this whole sequence and there was a crowd and there was backgrounds and Vinnie drew in a brick wall and inked it in black."  He covered up all the extra stuff but the main figures were there, but everything else, he just put a brick wall in front of them. That will save you some time, I guess.
You know as fast as Vinnie was, I'm not sure how much time he really saved doing that, but I guess he must have figured he was saving some and Kirby used to draw these sort of ornate 1930's and 40's style buildings; Manhattan style buildings but having that kind of brick work and filigree and all kinds of stuff going on and Vinnie a lot of times would just take the shape and ink a skyscraper. Make it a skyscraper with glass windows and not make it with any detail. Just drop everything out. When I found that out it tended to lessen my (chuckle) regard for Vinnie as an inker.
CB:  (Laughter)  I think you're in good company based on some stories I've heard before. He didn't have much of a fan club.
Milgrom:  One time he was inking a job of mine and I wasn't too thrilled about that, either. By the way, as far as inkers, when I went to work for Murphy, he had two sayings. Murphy, as you probably know, is a funny guy and likes to make puns, but also would pass along things like this:  "Allen, you know the first two rules of inking that you should know?"  "What's that, Murphy?"  "When in doubt, black it out; and we're paid to ink, not think."
CB:  (Laughter)
Milgrom:  And of course he was being facetious because of course nobody thought more about the work he did on stuff than Murphy. He certainly never just inked what was there because he would always add that Murphy Anderson polish to it – that finish. In some ways it was great and admirable and in some ways it probably disguised the identity of the penciller.
I know that at least one time a penciller mentioned to me that he wished Murphy would just stay a little closer to his pencils and not turn it into Murphy Anderson every time, but he also said, "Look, Murphy is a great talent and I love his work, I just don't want my work to look like his work necessarily."  That was Irv Novick, I believe.
CB:  Yeah, I got the impression when I talked to Carmine Infantino…he didn't come right out and say so, but I got the idea that he wasn't real happy sometimes with Murph's inking over his pencils.
Milgrom:  I can understand that on one level because if you see Carmine's pencils, if you see it when he inked his own stuff it had a very different look to it. Carmine's stuff in the 50's and 60's, the Detective Chimp stuff and probably even when he was inking those Elongated Man stories for DC he had a very graphic, modern-looking approach and I think I read one time.
I don't know Carmine well in that I never sat down and had any long conversations with him, which I regret, but he said he had trimmed down a fountain pen and used that to ink with and you look at some of the line work that he did and you can sort of see it. It's got kind of a dead line sort of look to it and you get that little hook at the end of the line sometimes when you're using that kind of a pen.
Murphy inked his work with a lot of brush and a lot of rendering and a lot of good, solid, Murphy Anderson-ish and Hal Foster-ish kind of rendering of form and Carmine's stuff was sort of sleek and angular and Murphy's stuff was very round. Now having said that, I loved the combination. I thought it almost didn't make sense, but sometimes loving the stuff you grew up with reading, with the Flash and Adam Strange stuff that they did together was great. It had Carmine's storytelling and graphic design layout sense and it had Murphy's beautiful rendering and I just loved the combination.
CB:  Unbeatable.
Milgrom:  Yeah. Terrific. So I can see why Carmine might not have loved it, but at the same time the end results were great and the same is true when Murphy inked Gil Kane. It was something of a mismatch also but again the finished product was quite good when Murphy inked him on Green Lantern or the Atom or whatever. I wonder who Carmine did like as an inker?  I wonder if he liked Joe Kubert?  Then again, Joe Kubert took it over and made it look a lot like Joe Kubert.
CB:  As a matter of fact I asked him and he told me his favorite inker was Frank Giacoia.
Milgrom:  Okay, I can see that. I was going to guess possibly Dick Giordano also because Dick has that sort of angular, 50's and 60's sort of commercial/graphic look and I liked it when he inked Carmine. I don't remember what all they did together, but I know they did some of that Human Target stuff and that was a nice look. Slick and crisp blacks and so forth, so that was a nice look, but Giacoia, yeah, I could see that. And you know what, I actually own an original page of Carmine's from the first Deadman story.
CB:  Goodness!
Milgrom:  Yeah. It's a real nice page and I bought it somewhere at a convention or something and it was inked by George Roussous and George, who was a very sweet guy…he was a little rough in the inks. He was from that Morton Meskin school and his stuff, I thought really worked on Carmine and again because it was more graphic. It was angular and it had real juicy blacks. Not quite as polished as the pen work, but that page that I have is very nice.
I like that whole origin story that he did. I don't think he inked Carmine a lot, and maybe that's because Carmine didn't like his work. I don't know for sure, but at least on that one story he made it look good at least to me. Do you remember the story?  Actually it's the page where Deadman is still alive and he's talking to the girl in the circus and they're standing in front of a mirror and it's a 2/3 page sort of a splash page. It's quite a nice page. He's putting his hand to her head or something and she's upset.
CB:  Yeah, I've got the reprint volume, The Deadman Collection, so I think I know exactly the one you're talking about. Boston Brand is talking to Lorna or whatever her name was, the circus owner.
Milgrom:  Yeah.
CB:  That is an outstanding page and probably worth a mint, too.
Milgrom:  It probably didn't cost me an arm and a leg, either, back in the day.
CB:  That's just it. I don't know if you keep up at all, but those old pages are just skyrocketing in value it seems or at least what they go for. Value can be kind of subjective, but they're commanding some impressive prices.
Milgrom:  I know that to be the case and (chuckle) in one way I guess it's good because it means if I ever get desperate enough for funds, which I may…I'm not getting a lot of work these days, and Archie, although I enjoy working for Archie, the rates are very low, relatively. The work is a lot easier, relatively, but there's also not an unlimited amount of work available. And since I'm not getting any work from DC or Marvel at present, selling some of the pages might end up being a necessity.
CB:  Do you think the way the industry has been going that inkers will become altogether obsolete?
Milgrom:  I'm sure the companies would be happy to eliminate inkers if the quality they can get from computer scans was there, because it's a business. They've already done it to letterers, but I tip my hat to Archie Comics because they still use letterers. They still letter on the boards. And according to Victor Gorelick, they've looked into computer lettering and really it doesn't save that much money. Maybe it doesn't save them any money by using a computerized font. I'm not sure why that's true.
DC and Marvel have done it. I'm glad, though, because my friend Jack Morelli, who was a staple at Marvel and then when they went the computer route the next thing you know he was doing work for DC and then they went the computer route and the next thing you know he was working odd jobs; driving a tow truck, working for the school system up where he lives and basically when I started working for Archie I said, "Do you need any letterers?"  They said, "We could use one or two to help out our main guy and I hooked Jack up and he started doing some work for them and Bill Yoshida who did the vast majority of Archie's lettering, who I think was in his 80's passed away a couple of years back and then suddenly Jack became their primary letterer. Maybe even Clem Robins is doing work for them.
CB:  I'm not sure. I know he was working with Mike Mignola on Hellboy at Dark Horse recently. I do know that Clem, Todd Klein and Tom Orzechowski all do both methods but will still hand letter.
Milgrom:  Maybe it's Todd who is doing some work for Archie. I haven't talked to Tom in a long time, but he was another old Detroit guy.
CB:  Tom's been busy with a few things, primarily Savage Dragon last I knew.
Milgrom:  John Workman still does a lot of hand lettering, too. In fact he's working for Archie right now and other places. I'm working with him now on some of that new look Archie stuff if you're familiar with it.
CB:  Yeah, wasn't Breyfogle doing some of that?
Milgrom:  Yeah, Norm, who I don't know well, though I published some of his work in Fanfare back in the day, he just did one. I've inked several of them. One over Steven Butler, one over Joe Staton and a couple over Tod Smith and I'm working on one right now by Rod Whigham, however I think this may be the last one they do. They weren't as popular as they'd hoped so that experiment is going away.
CB:  That's unfortunate. I didn't pick up any of the books myself, but it looked intriguing.
Milgrom:  I guess they thought they'd do some slightly less funny, slightly more controversial stories and use a straighter, serious cartooning style, almost like a romance comic, I suppose. At least some of the stories are adaptations of prose novels that Archie did in conjunction with Walt Disney. I guess Disney published them, using the Archie characters and Archie adapted them back to comic book form. That was sort of an unusual chain of events.
First they were written and now they're written and drawn and they started out under Disney's auspices and now they're back under Archie's. Archie is an interesting company that way. They have all those superhero characters and they've leased those back to DC some years back and DC was doing The Fly and The Shield and all that stuff and now they've done it again. I don't know what DC is doing with them. Maybe they're just putting together a line.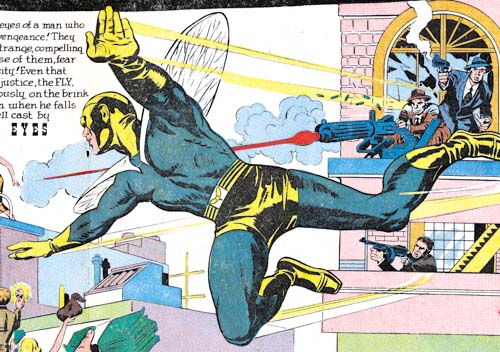 I'd like to find out, because the one character that I've always wanted to do, professionally, and never have is The Fly. That was a comic I really loved when I was a kid when it first came out. I don't think I even knew it was Kirby at the time, or Joe Simon and/or Kirby at the time. But I remember getting that first issue and just thinking it was the greatest thing ever and finding out later that it was Kirby. I liked the character. I liked the mood of it, the whole premise, the orphaned kid and all. I just loved it, and I'd love to work on that character.
CB:  Hopefully the opportunity will present itself.
Milgrom:  I've got to try and track down who at DC is doing it. Certainly at this point nobody wants to give me any penciling work, but they might be willing to let me ink something. I've done some inking for DC recently.
CB:  Which projects?
Milgrom:  A lot of stuff with Starlin the last couple of years and also last year I just inked a six-issue Ambush Bug series by Keith Giffen. Basically (chuckle) they'll only let me ink other really old guys.
CB:  There does seem to be a little age bias out there.
Milgrom:  I don't know. It may or may not be true. They may just not think my work is current enough to look good over the current new crop of pencillers. They never say that. They always say, "Oh, yeah, we'll keep you in mind," but really what that means is they're trying to forget you. It's how they get rid of you when you call or write. It's hurtful, and the difference is when my generation of guys got into the industry we were excited to work with guys whose work we'd always read.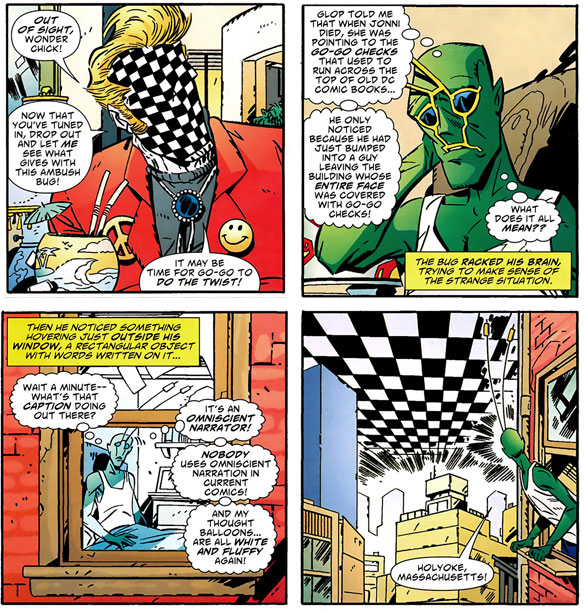 Working with Murphy, one of the last things I did, the last thing I penciled probably for DC was a 3-issue team-up of Hawkman and Adam Strange and I penciled it and Murphy inked it. That was a big thrill for me because I liked those characters from when I was a kid, but again, not only had I worked for Murph, but I grew up really enjoying his work and it was a treat to get him to ink me.
I've been inked by Jim Mooney and Giacoia and Joe Sinnott…a lot of Joe Sinnott, and we were glad to work with those guys and we made sure they always got plenty of work and we kept them busy and so on and so forth and the current crop is sort of coming in where the pencilers have their own inkers or the inkers have their own pencilers depending on which way you want to look at it and they don't seem to want to keep the old guys employed, which is kind of a shame.
CB:  Very much so. By the way, speaking of thrills I notice that over the course of your career you got to ink both Kirby and Ditko at various points.
Milgrom:  Yeah, in fact, since you bring it up, I've inked Kirby and I've done cover sketches for Kirby. When Gerry Conway was Editor-in-Chief at Marvel, he liked my cover layouts and Kirby was working for Marvel again, but he was living on the West Coast and didn't want to have to sift through copies of pencils again to figure out what cover scene to do.
Gerry told me: "Here. Figure out the cover scene for this issue and then do a sketch and Kirby will draw the pencils."  I said, "Okay, but on one condition:  I want to ink Kirby's pencils on it."  I always described it as a Kirby sandwich. I was the bread and Kirby was the meat. I would do a sketch, he would do the pencils and I would do the inks. I didn't get to do all the ones that I did sketches for, but a fair number.
I did a bunch of Avengers covers, Iron Man, Defenders and Ghost Rider. Sometime after that, I was at a San Diego convention and they were selling some Kirby artwork. I think it was Jack's son, maybe or at least some relative of his. They were selling some of the covers that I'd inked and I guess Kirby had a deal with Marvel at the time where he got all his originals back. I don't know if anybody told me that at the time, but there they were selling off a bunch of covers that I'd inked and I said, "Oh, I inked these, I'd really like to buy some of them."
And they gave me a very, very cheap price. Certainly by today's standards. At the time it was probably just a little inexpensive, but now it's absurdly inexpensive and I brought back as many as I could afford at the time. I've got a nice little handful of Kirby covers.
CB:  Fantastic. It doesn't seem like anything with Jack's name on it goes for less than four or five figures these days.
Milgrom:  Yeah, it's astonishing and you know maybe even more astonishing because he did so much work. If there's anybody out there where there's no shortage of their work, it's Jack Kirby. But on the other hand, I think it's a testament to just how good he was and what an impression he made on several generations of both fans and artists.
To be continued…