Continuing our conversation with famed classic comic creator Allen Milgrom…
---
Bryan Stroud for Comics Bulletin:  Jack Kirby obviously continues to inspire. In fact, it appeared to me that the cover to Firestorm #1 looks reminiscent of Jack's work. Am I off base on that?
Allen Milgrom:  No, not at all. I was very much going for a Kirby sort of powerful look…in fact, I've told this before; at the time when I was doing those covers for DC, what happened was that I was doing cover sketches for Kirby and a fair number of covers for Marvel on my own. I was up at Continuity and I was showing off the stuff to Neal, because that's what we did. (Chuckle)  "Oh, look, Neal. Look what I got to do. I did these sketches for Kirby and I did these other covers," and at the time I think Neal was dating Jenette Kahn. So he said, "Let me borrow these a minute."
Jenette was apparently hanging out in one of the other rooms at Continuity at the time. I didn't know it and he went and showed them to her, and the next thing I knew I got a call from Joe Orlando saying, "Yeah, Jenette really likes the covers you've been doing and wants you to do some for us."  At the time I was working primarily, if not exclusively, for Marvel. So I said, "Okay, sure," and I started doing some work for DC, but the funny thing is I went in and talked to Joe, and he said, "Well, Jenette likes your covers, but we don't want you to do those covers that look like Marvel covers."
And I said, "Oh?"  It didn't really make sense to me because I was too young and stupid and ignorant to question it, so I tried to alter my style to look more like what I thought of as DC stuff which was, of course, exactly what Jenette did not want. I worked for Marvel and she wanted me to do stuff that was in that vein.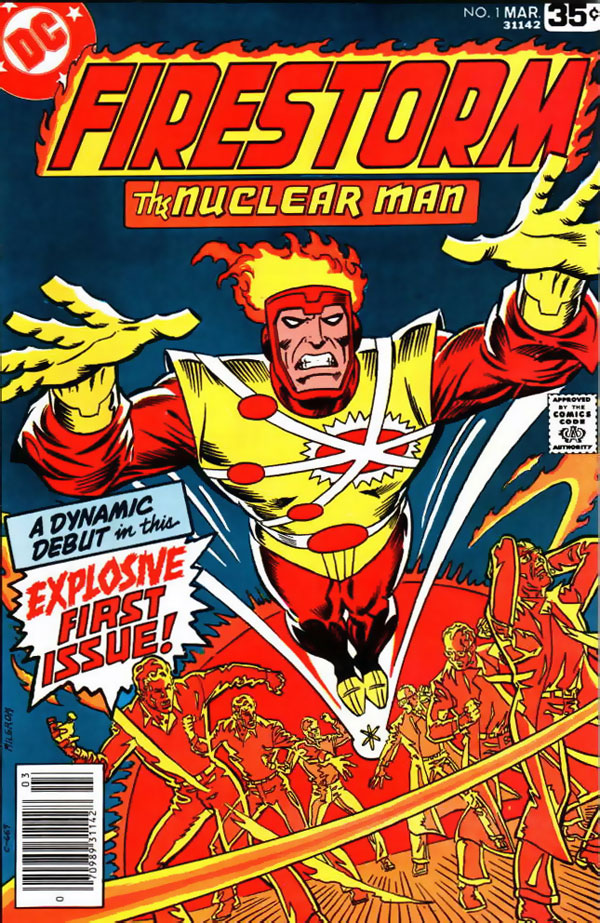 So I started doing these covers for Orlando and after a while he called me into the office and he said, "Yeah, Jenette's not happy with the stuff you're doing because it's not like the stuff you're doing at Marvel," and I said, "Joe. You told me not to do stuff that looked like Marvel," and he replied, "Yeah, I know, I know."  No apology, no "Gosh, I made a mistake."  I don't know if he resented Jenette telling him who to use, or I don't know if he was trying to sabotage me or if he was just resenting Jenette telling him what to do. I have no idea.
I don't think it was necessarily malicious. If I'd have been a little older and a little more confident I'd have probably told him, "Look, I either do it the way I do it or there's no point in me doing the work for you," and maybe then Jenette would have been happier. Maybe what she really wanted was for Jack Kirby to do covers for DC (Laughter.)  Certainly that (Firestorm) cover had a Kirby flair to it. By then I'd been hired as an editor at DC, as well as freelance. On Firestorm I definitely wanted a Kirby feel to that first cover.
CB:  Well, you certainly pulled it off and you mentioned in the e-mail that you felt that was one of your few characters that had some legs. I found it fascinating that Firestorm and Killer Frost had a fairly juicy role in Crisis on Infinite Earths.
Milgrom:  I didn't even know that. I never read that series. By the time that was coming out I was so busy working every day and every night and weekends and holidays (chuckle) that I hardly read any of the comics. I should probably get the reprinted edition and read it over. Is that the one George Perez did, and inked by Jerry Ordway?
CB:  Yes.
Milgrom:  Artistically I thought that was a great, great combination and I really liked the way it looked, but I never actually read it to see what was going on.
CB:  I think you'd enjoy it and as I said it should be somewhat gratifying to see your characters, not necessarily in a pivotal role, but they're spotlighted in a couple of places and I thought that was a nice tribute to you and Gerry's work.
Milgrom:  Well, Gerry certainly. Firestorm, when I did it, lasted all of five issues. That, of course, was the time of the DC Implosion.
CB:  It sounds like they had to chop off everything possible at the time, so I certainly wouldn't call that a failure. That sounded like pretty dark days.
Milgrom:  It was a weird, weird situation. If I recollect things properly, and I'm not sure I do, apparently what happened was DC and Marvel got together and every couple of years they'd have to raise the price of the comics by about a nickel and they got together and said, "Look, it's crazy to have to raise the price every couple of years, so why don't we just double the price from a quarter to fifty cents, add a lot more content so that it's actually a good value for the readers, and just jump up to fifty cents and not have to keep pussy-footing around every couple of years with these five cent increases every time the paper costs and printing costs go up."  So they had a sort of gentleman's agreement to do this.
So what happened was DC was gearing up and they were promoting "The DC Explosion," and they were doing a weird thing. Instead of actually doubling the page count, which would have made sense; comics are 32 pages, and they printed them on these giant sheets of newsprint called signatures, and what they would do is they would print 16 pages at a time.
So they'd do two of those for an entire issue and they would fold, fold, fold and then trim them and then you had your 32-page comic book. So they were going to add a half a signature, so DC decided to go from 32 pages to 40 pages, which was only an additional 8 pages, so it was an additional half signature. So it was a little more expensive to do that because now you had to get half that sheet of newsprint and fold it and cut it. It would have been more efficient to do an additional 16 pages, but they were afraid to jump up the page count that much.
So they went through this whole process and they had the agreement with Marvel, that they were both going to do it and DC was creating all new material so they came out with a bunch of new titles and a bunch of new backup features. In that same month that they brought those out, Marvel did the lead features, but they used a lot of reprints with maybe some new material. And what happened was Marvel did it for one month and then they went back to the old format. Without telling DC.
So they basically pulled a bait and switch. They said, "Yeah, we'll go along with that. We'll both go so the whole industry will be suddenly pay twice as much with an increase of an 8-page count, blah, blah, blah," and they basically reneged on the deal. They backed out and went back to the 32-page count.
So DC's out there with their now over-priced comics and Marvel maybe raised their price by the traditional nickel, but they were still thirty cents compared to fifty cents and they basically just slaughtered DC on the newsstand. DC was stuck there with an unwieldy, in terms of the expense, product. I suppose if you want to look at it from a cynical business aspect, Marvel was very smart to do it, but kind of dishonest. Then again, what's the old term?  A verbal agreement is worth the paper it's written on.
CB:  That's it.
Milgrom:  Nobody had any legal duty to stay at that size, so they basically screwed DC. So DC, which had been expanding and had been promoting the DC Explosion now had to cancel 40% of the titles and they fired 40% of the staff, which sounds worse than it was because basically they fired several of their new hires, so it was me and Larry Hama and neither of us were really affected by that because we just ended up working for Marvel; both going right back there and working as editors.
I don't know who else they had to get rid of, but I don't think they had to fire too many people on staff who had been there for long periods of time, if anybody. They kept Jack Harris and the other new editor was actually Ross Andru, who I always thought would have been better off remaining a penciler. Not to disparage his editorial abilities. I don't even really remember what he edited, but I just thought Ross was a terrific artist and it was a shame for him not to be doing probably what he did best.
CB:  Exactly. You see it in other professions quite often, too. Just because you're a good journeyman or whatever at whatever you do doesn't necessarily mean you should be thrust into an executive position.
Milgrom:  Yeah, it's the Peter Principle.
CB:  That's it, although in your case it seems like the reports I've heard held you as a pretty beloved editor when you held that title.
Milgrom:  Well, gee, I'm glad to hear it. I don't know who said it, but it's very nice to hear. With me, it was kind of an experiment. I love comics and I just wanted to do comics and I'd only been in the business a handful of years, really. I started in '72 working for Murph and one year later I'm doing some work on my own, so this was maybe '77 when the DC Implosion happens. I'd only been in the business really 4 years, not counting my year as a background guy and I wanted to see how the other half lived. I knew how the freelancers lived. (Laughter)
I wanted to learn the process of editing and I wanted to see what it was like trying to put together the right talent to make an interesting package and be involved in all the phases of it and frankly when I took the job at DC I don't know that I really thought of it as a long term gig. I just decided, "I'll try this out for awhile."  And at the end of the year when they said, "Good-bye," I said, "Okay, back to freelancing," and I went over to Marvel and actually said, "Hey, DC fired me. Any chance of getting some freelance work?"
And DC, by the way, at the time said, "Hey, you guys get first priority in terms of freelance."  But nobody offered me any work up there at the time. I didn't really go actively looking for it, but nobody came down to my office and said, "Hey, Al, before you leave, you want to become the inker on this, or pencil this or that?"  And probably the truth is, with the cutbacks, they may not have had work available and would have had to can somebody else to give us work. Can freelancers, that is.
So I never really thought much about it. I went back to Marvel and said, "Hey, any chance of me getting some more work here?"  And Jim Shooter said, "I think we might have something for you."  "Great."  That same day somebody gave me some Star Wars pages because it was in a deadline bind, and I thought, "Okay, back to work."  I thought they were going to offer me a book or two, but Jim, who was newly minted as the Editor-in-Chief, offered me an editorial position.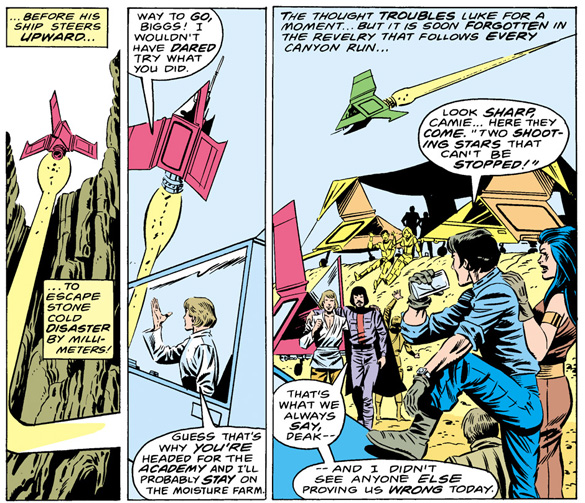 I thought, "Well, I don't think I really got the full impact of the editing job after only one year," so he convinced me to take it. So I proceeded to work as an editor for Marvel for five years. So, if the people liked me, or were happy with me as an editor, I'm glad to hear it. Or maybe that means I wasn't doing my job. I don't' know. (Mutual laughter)
CB:  It's interesting the different theories you hear as far as what does and does not make a good editor. It seems, especially in the era I like to roam, the Silver Age, so many of them were just tyrants and yet the product seemed to turn out well enough for all that.
Milgrom:  As a matter of fact, one of the things that was interesting is, since I worked for both Marvel and DC as an editor, which at the time was a little unusual, but I think has become a lot more commonplace in recent years, but working for DC, Joe Orlando had an interesting theory about it.
In the old days, he said cartoonists would do the whole job themselves. They'd write, they'd pencil, they'd ink, and they'd probably letter, and sometimes color. Of course those were the newspaper strip guys primarily. He said, "But what happened was, as the demand for material grew, and they started having to come out with comics books with new material, not just newspaper strip reprints, there was just no way that a single guy could do the entire job. Not if he wanted to stay on deadline.
So people would tend to get pigeonholed in the job they did best and/or fastest. So you'd get a writer, and a penciler, and an inker and a colorist, and the editor's job was to take all those different and disparate people, and sometimes desperate people, and meld them into a cartoonist."
So he felt his job as an editor was to do that and we used to discuss what made for a good story and what made for good story-telling and what with Joe being an artist he tended to be somewhat visually oriented, but he also had a good sense of story and drama and so on and so he was a real good guy to learn that from and then when I went to work at Marvel, Jim Shooter had may of his own ideas about it, and of course Jim had been one of the youngest, if not the youngest writer ever to work for DC Comics.
In many ways he sort of espoused theories of editing that were very similar to DC's. That was really where he got his basic training. He had very strong ideas of what made for a good story, and visually what made for good story-telling and I know Jim's gotten some bad press over the years, but I think that his basic ideas, his theories of story-telling and drama, both in terms of visually and the story content, were very sound.
The problem was that it was hard to implement all those things exactly the way he saw them in his own head. And whenever you couldn't do it the way Jim saw it in his mind's eye, he felt like either you weren't getting it, or you were sort of trying to undermine him. That became a problem ultimately with him, and some of the freelancers, but in terms of the way he said things and expressed things and illustrated them, I think he was very sound and he had very good, solid ideas about it. But I think in some ways, if Jim could have had the ability to clone himself, he would have written, drawn, and maybe inked everything (chuckle) that Marvel did.
Maybe not inking. He never claimed to be an inker, but he did have theories about what inkers should do and what their work should bring out in the pencils and so forth. Anyway, it was interesting getting both his viewpoint and Joe Orlando's and they both had really good ideas and I tried to implement some of them, but always your own personality sneaks in there, too.
CB:  Oh, of course and it sounds like Joe was another popular editor back in the day.
Milgrom:  He was.
CB:  Tony DeZuniga and a couple of others spoke very highly of his mentoring and coaching and the time he would take to help them develop their talents and ideas.
Milgrom:  I think the Filipino guys also used to get American comics or reprints in the Philippines and Joe, because he'd been a guy who had been an EC artist, and they really loved the EC stuff I've heard, so he was held in very high regard, so they would take what he said very much to heart.
CB:  The story that Michael Golden and Bob Smith did for "Bat-Mite's New York Adventure."  Do you think they depicted you very well in that?
Milgrom:  (Laughter.)  Yeah, I thought it was a funny story. Bob Rozakis wrote it, I believe. He came into my office and I was editing Batman Family at the time, and he said, "Al, I've got an idea for a Bat-Mite story," and I said, "Oh, really?  Bat-Mite?  In this day and age?"  "Well, here. It features you."  So I said, "Sold!"  No, I don't really remember the details, but it was probably something like that and I was flattered and of course amused, and I actually own that entire story.
CB:  Really?
Milgrom:  Yeah, I bought that from Michael Golden. "Mike I'd like to own that."  I bought his share and Bob's share.
CB:  Oh, good deal. That's a nice little thing to have sitting around, I'm sure.
Milgrom:  It's cute.
CB:  I've got to admit when I was looking through my volume of The Greatest Batman Stories Ever Told and saw that one in there…
Milgrom:  Oh, really?  It's in there?  (Laughter)
CB:  I thought, "What?"
Milgrom:  I'm not sure I'd have gone that far. The Greatest Batman Stories Ever Told.  I guess the fact that Golden drew it had something to do with it. He's such a popular artist. A phenomenal talent. I don't know what he's doing these days.
CB:  Beyond the commission work I don't know myself.
To be concluded…