Dan Jurgens is one of those creators who's been working at DC Comics forever, and seems always to be involved in the latest popular series from DC. I had the chance to talk to Jurgens at this year's San Diego Comic-con about how he and his fellow writers have created The New 52: Future's End as well as the famous Death of Superman.
---
Jason Sacks for Comics Bulletin: You are one of the few people that have been part of DC for –what, three decades now?
Dan Jurgens: Yeah, good thing I started when I was five.
CB: You look so good for your age. You started so young.
Jurgens: Oh thanks, yeah.
CB: As usual, you are in the middle of another big DC event. How did it come to you?
Jurgens: Dan DiDio gave me a call one day and he said, "Let me talk and hear me out." I said, "Okay, what do you got?" And he started to talk about wanting to do something of a defining weekly that would make the statement about where we are at in terms of a new 52, where we are going and things like that. I said, "Okay, I'm intrigued." We all got together- Dan, Jeff Lemire, Brian Azzarello, Keith Griffen, and myself- and started to build the story and talk about what we could do.
It was Brian who said, "What if we set it five years in the future? Because that could free us up a little bit. We can start to say here's how lives have changed and here's where these characters have gone." The more we talked about it, the more we got into the characters. Characters build stories. We just started running from there. All of a sudden, here we are.
CB: Is there a character who you really particularly fell in love with that you didn't know well before?
Jurgens: I would have say for me the answer is probably Tim Drake. I had never really worked with Tim Drake before. Just to have him off on his own. He's changed his name. Something has happened to the Titans, so he is no longer putting on a cape or anything else. He's running a bar. I just find the notion of a former superhero running a bar to be fun. So I like him.
CB: It's really intriguing, right? That's the best. We all progress so much in five years in our own lives. With superheroes, we never actually get to see them progress in the same way. It's really been fun for me to see where people have come to, what the world has come to. Do you have specific arcs that are planned out for each of the characters where you can backfill their stories in dream rooms?
Jurgens: In a lot of ways, yes. I think part of it is to me, some of it opened a little and a little bit enigmatic, also giving no details while they start to understand how they could have gotten to this point. For Tim it has to be seeing something that was so upsetting and being through these experiences as an eighteen year old that by the time he is twenty-three, he says, "I am done with that. That's a part of my past."
It's that way with a lot of the other characters, too. We are seeing Lois Lane, who has advanced to a bit of a different stage in her life, as well as several of the other characters. Then we have Batman Beyond, who no one had ever really seen before, certainly not in the context of the current DCU.
CB: Right. It must be fun to write a character like Lois Lane. You've been writing since the '80s, right?
Jurgens: Oh yeah.
CB: Now she is a different Lois, but she is the same Lois. Are a lot of these ideas you have been playing with for years?
Jurgens: I don't know if it is ideas that you play with when you are planning. For me anyway, you define characters in your own mind. Once you've made that definition, I don't know if you as a writer ever see them changing that much, in the same way we don't see people who necessarily change a lot. So I think for Lois, I have always seen her one way and this is a continuation of that trajectory. She is extremely fascinating to write.
Right now I've been handling most of her storyline. Then it's going to move so Jeff Lemire will pick up on it. We have character move through this arc so they will fit in with the storyline I am working on right now, and then they will move on to someone else's. Everything keeps coming back and gets interwoven. It's pretty complex.
CB: That was going to be one of my questions. How do you work with four different writers in a series like this? You each run specific threads?
Jurgens: We each follow our own specific threads to a certain extent. It's almost like saying… It's like being at a cocktail party, where the whole thing is about you being at the cocktail party, but you spend fifteen minutes talking to two people here and you step over there and talk to a couple more. Then all of the sudden you are talking to one of the people you were talking to in the first conversation, but someone new is there.
That's the way the gears turn together in how it functions. We've gotten along, I think, incredibly well in making sure that all the eagles are checked and it's always the story that comes first. That is what's allowed us to build it the way we have, where everything meshes.
CB: That sounds like a really valuable collaborative exercise.
Jurgens: I think it's something that a lot of people overlook. Comics really are a cooperative medium. You have editors, you have writers, artists, and everything. We just happen to have a lot more collaboration than usual with this series, but the density of the story demands that and it allows us to make the necessary accommodations and changes.
CB: The production schedule, too, it is relentless.
Jurgens:  It is. There is not really any time off with something like that. But it's a good crew and we have Ryan Sook doing incredible covers for us. Our interior artists are there on a fairly regular basis too, so fans have already seen- I think we have either twelve or thirteen issues out- a pretty regular team.
CB: Have you already written all the way through to the end, or do you still have room to improvise?
Jurgens: We have everything to the end loosely plotted. I have written up through thirty-five. Jeff Lemire is about at the same point. Keith and Brian are just an issue or two behind that. So we are definitely working at the moment a long way down the road.
CB: Wow, that's a long ways out.
Jurgens: Well you have to because with a weekly book, you almost have to start out with like a six month push-in. A lot of that six month push-in to continually reduce so that by the time you are done, you have a two month push-in or something like that.
CB: Right, so everything can pick up because there are always things that go sideways in a project, no matter what you work on.
Jurgens: It does. And if you are going to do fifty issues of a weekly book, you need more than fifty weeks to do it. That's just the way it works. Because somewhere in there you've got holidays, right now people taking vacation. You have to have to have more than fifty weeks to do that.
CB: You get to take vacations as a comic writer?
Jurgens: Not often, no.
CB: I know conventions aren't vacations for you.
Jurgens: It's not a vacation, but it's five or six days where you aren't working, you know?
CB: Well, yeah, it's almost down time in a way.
Jurgens: Exactly.
CB: I want to ask you about Death of Superman if I can. I'm curious how that essentially came about.
Jurgens: We had talked a couple of times. Well first of all, we all had found memories of that classic death of Supermanstory that Curt Swan had done. I don't remember what issue it came out in. But that definitely was certainly a strong part of Superman's history.
We talked about it a couple of times in meetings. "Well, do we do the death of Superman? No, no it's not the time." We were starting to plot the issues in and around Superman #75, and there was another storyline we had earmarked for that that we weren't going to be able to after all. So we started talking about what else could we possibly do.
I know Jerry Ordway and I had discussed the concept of the Death of Superman on the phone a few days earlier. We were sitting there in the room, and I had a notepad, and I wrote it down along with, you know, a fight against a monster, which eventually became Doomsday. We didn't plan on having those stories and ideas were fusing together.
We were in the room. We start talking Death of Superman. The basic idea is, or was at that time, yeah, you told me the story of how Superman dies is one thing. The essence of the story was telling the stories of a world without a Superman.
Because that's when you really get to address his level of importance to the world. The nice thing about that was as those stories were getting published, we were seeing columns in The New York Times and the general press about Superman's importance to the world. So we have this weird, wonderful fusion between fiction and reality.
CB: It was a good time to be involved with something like that.
Jurgens: Yeah.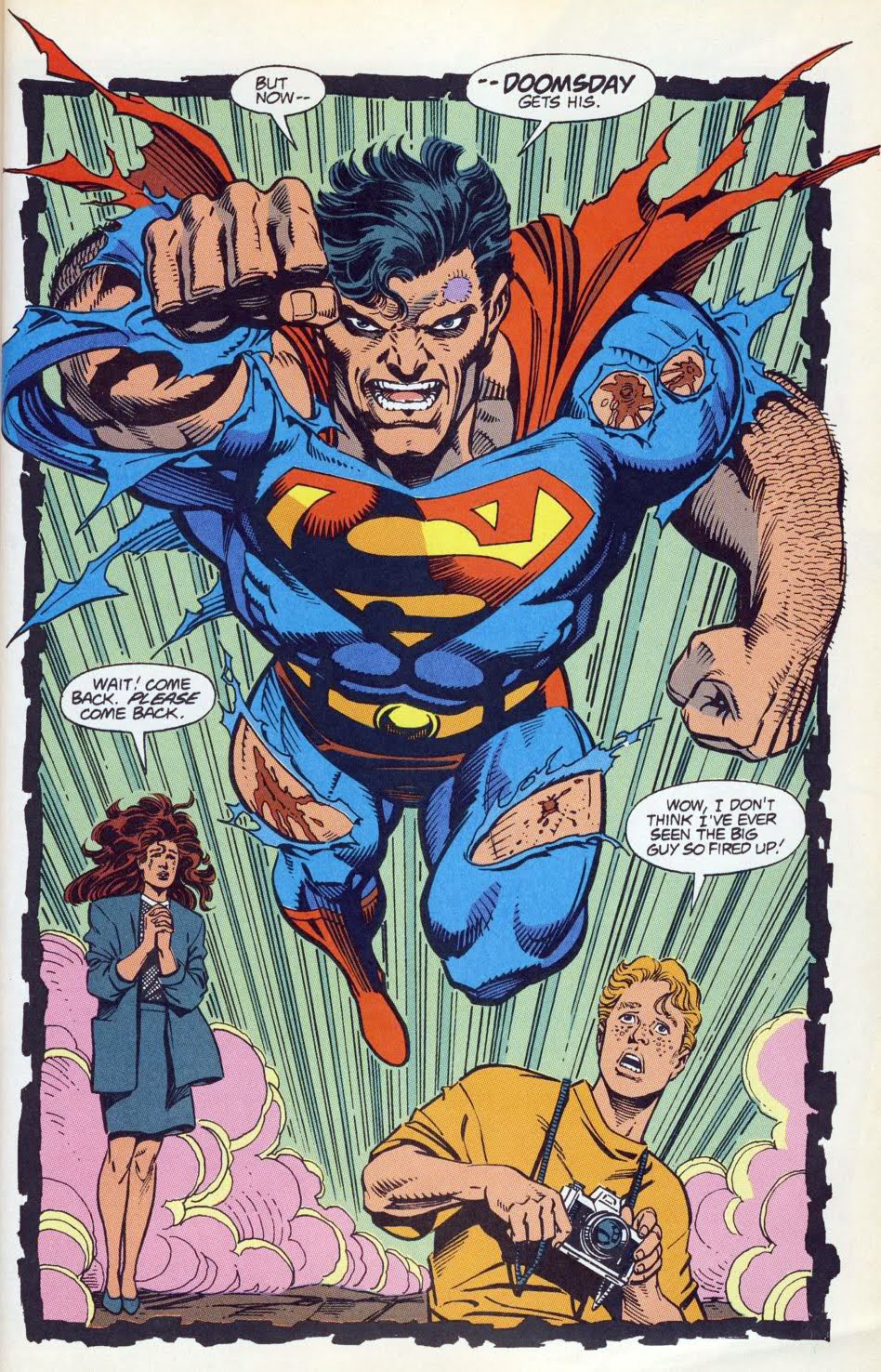 CB: Because the Image boom was also happening at the same time, which brought a lot of attention to comics, too. There's a section in the new documentary about Image Comics that Sequart put out that's talking about Death of Superman was a part of a reaction to the Image boom.
Jurgens: One hundred percent false.  That is one of the biggest pieces of propaganda I have ever heard. When we got together to plot the whole Death of Superman thing, at that time I think Image might have released, if anything, just one or two books. It is no disrespect to them, but somehow that rumor got started. That isn't true because as we were putting together the story, Image wasn't even really a reality to deal with.
Now those guys went on and did fabulous, incredible stuff and had tremendous success and their contributions to the industry were absolutely vital. But we put the story together based on the story that we wanted to tell, with this idea that we had done a couple of connection stories already, like "Panic in the Sky" and "Krisis of Krimson Kryptonite" and things like that. What happened is, there might have been some marketing of the book that because as we go closer to publication, Image got bigger. Some marketing aspects of it might have been a reaction to Image. But certainly from a conceptual standpoint, a writing standpoint, no, there is no truth to that.
CB: It hit it at exactly the right time that the media frenzy over it was incredible.
Jurgens: Oh, yeah. Nothing like that will ever be seen again in comics again.
CB: Did you have any resistance from DC editorial on it?
Jurgens: I think, no. As much as anything the response was just tell a good story.  It was very nice to have that kind of freedom with the book and the character to be able to do that because as we planned it out and said here's Superman going away, we didn't know how we were going to bring him back. We had no idea how we were going to do that until after the death storyline had already been published.
CB: Oh is that right?
Jurgens: All we knew was that had gotten so big. I remember Mike Carlin saying something to the effect of, "The whole world is watching us. Whatever we come up with, it has to be good." We were sitting in a room and we just couldn't agree on what way Superman should come back. Louise Simonson said something to the effect of, "Oh it's too bad we can't all do our own." Boom. That was the magic sentence that was put out there that allowed us to come up with this concept of four different guys claiming to be Superman, which just added to the whole thing.
CB: That was unique for the time, too, with the four different books that were parallel to each other and all interrelated. It was unique for the era.
Jurgens: It was so much fun to watch fans react to that and say, "Oh I think Superboy really Superman." Or "I think Steel is." And to try and figure out which guy was the real one, and then one of them ended up being a villain and pulling the rug out from everything. The whole story built to, I think, an epic conclusion that was very satisfying for the readers.
CB: Did you feel a certain amount of joy getting to write Superman again when you brought him back?
Jurgens: Yeah, I think so because we always knew that somewhere, some way, somehow that had to happen. Obviously when you bring him back, you are adding… the whole thing added to, I think, the legend of Superman and the overall tapestry of the character, which is what our job is.
I look back at it, and quite honestly, in terms of the story itself, I don't think it ever got the critical acclaim it probably deserved because so many people originally saw it as a marketing stunt. But I do think if you read all three chapters, "Death of Superman", "World Without A Superman", "Reign of the Superman",as a beginning, middle, and end of a story, it is pretty epic and incredibly satisfying for readers at the time.
CB: Very well remembered.
Jurgens: Yeah.
CB: One more thing I have to ask about: the infamous electric blue Superman. How did that come about? What was your feeling when the idea was first created?
Jurgens: Well, there again that was one of those things that came about as we were trying to find different types of stories to do as Superman.
One of the realities is if you are doing a Superman issue per week, you ended up telling fifty-two. There are fifty-two Superman comics a year. That's a lot of story material. So we started playing the concept of changing his powers and doing a bit of a different twist on his powers and everything.
We came up with that general idea which later resulted in the electric blue Superman. I know I was never a big fan of the suit; I thought it looked like a figure skater. I think that detracted from the overall concept. We probably stumbled a bit on that one, but there again I know people look back on it and say, "That was so cool. I got Superman in a different suit."