It's always exciting to hear the word from inside Valiant Comics from their CEO and Chief Creative Officer Dinesh Shamdasani. Dinesh has a passion and excitement for his comics titles that's infectuous. When we caught up at this year's Emerald City Comic Con, Dnesh and Valiant were riding high on the massive success of Faith and gearing up for an ambitious 2016.
---
Jason Sacks for Comics Bulletin: I'm here with Dinesh Shamdasani, the CEO of Valiant.
Dinesh Shamdasani: CEO and Chief Creative Officer, yes.
CB: Congratulations on the success of Faith especially.
Shamdasani: Thanks, man.
CB: That book has been a tremendous success.
Shamdasani: Yes, it has been a massive, massive success. We are very happy. It could not have happened to a better creative team, a better character. I wish we could take credit for it and say we had the foresight to know it is going to become this immediate darling and have an impact on so many fans' lives.
But to be honest, we love the character. We loved her in Harbinger. We loved the original version of her character in the '90s. We just wanted to see more of that character. Jody had a great point of view on the character, which was she's in the Harbinger team and imagines herself as if she was in the Justice League. Faith has to think, "I could have solo adventures, too."
So she moves out to L.A. She tries to get a job at a newspaper. Of course these jobs don't exist anymore. She ends up getting a job as a blogger and has solo adventures. We deal with her love triangle and her personal issues with moving. We get some superhero antics in there, too.
CB: It's cool how Jody Hauser plays with the clichés, or the tropes I guess, but subverts them at the same time.
Shamdasani: Yes. She subverts them, which is so genius, but then she ultimately embraces a lot of the ones you want her to embrace. So it is a very satisfying read, while it becomes an unexpected read.
CB: Is that what you were hoping for when you got Hauser involved in this series?
Shamdasani: Yeah. I will say I think Jody might be Faith. And by that I mean, we had dinner at Wonder Con. I happened to sit next to Jody. We were talking and she was telling me about the tabletop game she is playing. I've never done that. I know about it, but I've never done one. I said to her, "I think it wouldn't be for me. It's too much of a commitment. How much time do you devote to that?" She goes, "Well, we do it once a month. We get together once a month and it is about an evening a month." I said, "Oh, actually that's not too bad. I still wouldn't be able to do it because of the job, but maybe one day." She goes, "Well, yeah, that's one of the ten or the eight groups that I am in." I am like, "What? So eight nights of the month you are doing this?"
She starts telling me of these amazing sci-fi novels (I thought I was a big sci-fan) that I never heard of. I am a huge movie fan. She started talking to me about movies I've never heard of. She is Faith. I felt like Archer. She was educating me on culture, on whole worlds of culture I didn't know. And that's Faith. Faith is a huge comic book fan, huge movie fan, TV fan. She is just a big geek.
That's just like Jody. She's confident. She's optimistic. She's comfortable with who she is. And she knows what makes her happy and she goes after it.
CB: Which it shouldn't seem strange in this world to have a strong female character. Actually, the key thing isn't that she's a woman. That's the thing; it's not that she's female. It's not that she's overweight. Those are all side things of her personality.
Shamdasani: In a world in which some comics are so dark and there are so many ambiguity in comics, this approach stands out.
Listen, we have our purpose and others do. Bloodshot is an anti-hero in a true sense of the world. It is amazing that we don't have more characters like Faith. Faith is where we draw back to Stan Lee Spider-Man, where it was fun and it was enjoyable to read. Despite the obstacles, he had a confidence and an optimism to the work and to the stories. More than anything, I think that's why Faith is resonating.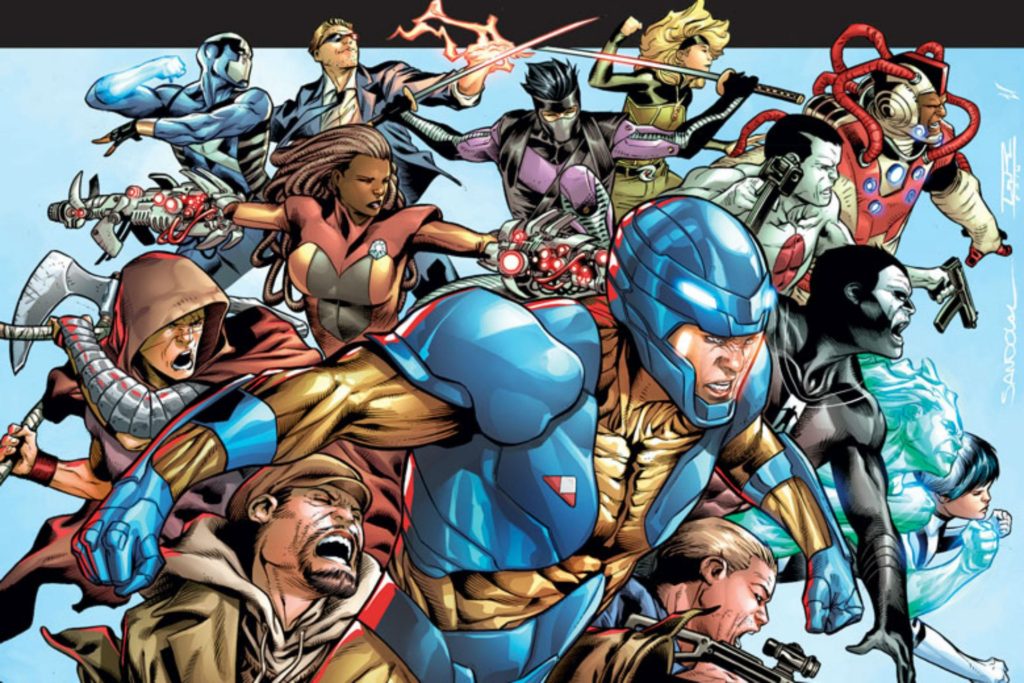 CB: Yeah, it's interesting you bring up something like Bloodshot because I recently read Faith, Bloodshot, X-O all in a big binge read. It's interesting how all are completely different series from each other.
Shamdasani: Yes. What is unique about Valiant is, well, first of all, we are a shared universe. You can read everything. You see a large tapestry. But we build a book so you can just one book, just two books, any book you want- just Bloodshot or just Faith. But if you read them both, you see there is a larger tapestry.
One of the other differences is we have a very diverse set of characters. We were created in the '90s. We were the only shared universe to be created as a shared universe, so there is a logical underpinning. I think characters more accurately reflect the world we that live in. Marvel was created in the '60s. DC was created in the '30s. They were reflect the world of the '30s and the '60s and also the genres.
Marvel and DC Comics are essentially just superhero comics, with occasional fantasy or sci-fi. We have characters and stories that take place in a plethora of genres, from the super-heroics of Faith to the science fiction action adventure of Bloodshot to the period pieces of Eternal Warrior to the espionage of Ninjak to the crazy Japanese influenced period-style 4001 A.D. and Rai to buddy comedies in Quantum and Woody and Archer and Armstrong.  I mean, it runs the gamut.
CB: You just don't get that anywhere else. In a way, it is very reflective of the real world, right? I mean, nothing is linear. We live multi-faceted lives and we want to enjoy multi-faceted worlds.
Shamdasani: We've taken (and this is the original Valiant creators, the founding fathers that have built this) that whole idea to a different level. We've built Divinity, which is essentially a science fiction book that discusses political ideology. We've got Brittania and Savage coming out. We haven't announced when, but they are coming up. We've teased them. And they are books like you would never see from a publisher like Marvel or DC. We're really excited about them. They are going to be awesome books. We've been trying to draw on the horizon of what superhero stories can be.
CB: You are really driven by your passion to create something new.
Shamdasani: Yes. Well, listen, we have the interest in doing this work. We have the resources to just focus on telling great stories. It is a very, very rare, unique opportunity. We are not oblivious to it. We want to run at it a hundred miles an hour.
CB: You love the company.
Shamdasani: I love Valiant. I love what it means. When I was growing up, it meant a lot to me. It taught me a lot. Being able to read the books and see the complexities of the characters, to see the moral ambiguity, to learn lessons the way that great family stories teach you lessons. You know, you learn with great power comes great responsibility while Spider-Man is fighting Darkhawk. You learn similar kinds of things from the original Valiant books. And we've tried to in view our books with those kinds of messages.
CB: You've got the spirit of them, but you are moving to a different world with them. I think of Bloodshot especially the first arc of Bloodshot Reborn. It's a dark gritty road picture.
It almost feels like a B-movie action adventure, where you have this complex moral ambiguity to it. And then you flipped in the new series to be kind of a road warrior type motif.
Shamdasani: Yeah, well, first of all, Jeff is a genius. We've had a slew of incredible artists, some of the best in the business: Mico Suayan, Jeff Lemire, Butch Guice. The book is awesome because, yes, we get the big superhero of Bloodshot. It's a big action adventure book. There's a lot of explosions. There's a lot of pyrotechnics. We also get this anti-hero who is struggling with who he is and do your memories make you who you are.
We've seen that before, but Jeff is doing it at such a high level. But we also get (and this is what I mean about Valiant being special) essentially a treatise on violence in the world today and how it affects our culture, where it comes from, why it is there, and what we can do about. Not saying, "Look, this is a point of view," but we kind of talk about every side of it. So our goal is not to say, "This is a message;" our goal is to say, "Here is what is happening." Take away what you will of it. We are going to try to present all sides of it.
And it has been really, really (for us) satisfying to be involved with a story that can, if you want it, to have that deeper resonance. If you want to just read pyrotechnics, you can just read it for the pyrotechnics. That is very important to us, which is why we publish only ten books a month. We make sure everything we do is of a very, very high quality. We want to do the ten best books every month from any publisher in the industry. And so in order to do that, we need to focus very deep on each book. And that means publish a small amount of books, but at a high quality.
CB: You're coming up to a big milestone.
Shamdasani: Yes.
CB: You just about at four years now, which means coinciding with that, X-O is about to wind up.
Shamdasani: Yes, well we have this incredibly (speaking of nuance arc and trying to build characterization) nuanced arc that Robert Venditti has been writing for us, X-O Manowar.
He's approaching his fiftieth numbered issue, but fifty-sixth issue including the zero and the one shots. And this character, when you see him in fifty…
This is what I tell the fans: you are going to read fifty and you are going to weep a little bit because he is going to be faced to make decisions. He is going to face a choice and he is going to make decisions in a way that he would never had made them in issue one. It would have been out of context for character to make these decisions had he not gone on this giant journey. That doesn't mean that he isn't the character you knew. He has evolved a little bit; he has grown. It's a larger point of view for the character. It's very rare for that to happen today.
I told the fans you are going to weep a little bit when you see that. You are going to see amazing art. You are going to understand that there is nowhere else that this version of X-O­ Manowar could have gone. And then you are going to turn the page and we are going to show you six months later the new direction, much as we've done for Archer & Armstrong Fred Van Lente's amazing run, conspiracy theory.
And then now we've gone with Rafer Roberts. We've gone to surrealist, subversive nature of the original run, where in the original he had dinosaurs and goddesses. And here we have this bag of holding that Armstrong goes into and all the crazy shenanigans that happens in there.
In each one of our series, we try to fill the potential of the book that we launched. And when we get to the natural end, we are not trying to just put out another issue for the sake of publishing to make a little bit of money. It's not right to the fans, so we want to shut the mix down, build a new point of view, and come back with a troupe of direction that feels fresh and exciting for the characters. And if we don't find it, then the character won't come back.
CB: I like what you are saying about the characters evolving. I just read X-O from about issue seventeen to the latest issue, including all the Armor Hunters crossovers. His world evolves so much.
Shamdasani: Yes. Not to say he isn't the character that… he's a Visigoth from the fifth century and you can't take that out of him because of point of view. He is very specific. But you can help him grow. You can help him learn he has more gears now, let's put it that way, when initially he would have two gears: love and fight. Now he has more gears.
CB: I actually feel like the secret center of the book is his people and his relationship with his wife. That keeps him grounded.
That also has resonance to real life. It's just got this kind of resonance. Because in my real life, too, I come home at the end of the day and there's my wife. And she's got her own stuff going that forces me to get out of my little mental space and deal with the world in a different way. But even that relationship has consequences because a bunch of spider aliens attack-
Shamdasani: Community, family- they are important. They define who you are and you define who they are. And that which has ability- See, with Faith, Jody has done a good job building in a supporting cast. It becomes a community and her family, surrogate or otherwise.
CB: The characters are very grounded in that way.
Shamdasani: Yes.
CB: Eternal Warriors has much the same thing.
Shamdasani: Yes.
CB: You see the fact that he has had so many lives that he has lived or people he has known rather. It takes its toll on him. It changes him…
Shamdasani: Yeah, one of the things we strive for is one hook. With every book that we publish to say, "I can't believe they made this guy the star of a book, "but also that the person is not extraordinary. They are like you or I. They are ordinary people. Give them the opportunity to be extraordinary.
So for instance, our Manowar is a Visigoth, but he isn't the greatest sword fighter of his day. His uncle, Alaric, is the king of the Visigoth; he's not the king. And that's a very important distinction.
CB: Yeah. Was it zero issue where we are seeing him when he was a kid and he wasn't the warrior when he was a kid?  That was a really interesting twist. I just completely did not expect that.
Shamdasani:  And that's the part we love.
CB: A little of my training from the first run where he was the best and the brightest.
Shamdasani:  Yes.
CB: It also shows the evolution of comics between the '80s and 2010s. He doesn't have to be the best at everything, just really good at a particular set of things.
So you're doing Deathmate. That's is a term of course that those of us who know '90s comics means something probably very different than what you are doing.
Shamdasani: Definitely. This is the most notorious event in the history of comics, I would say. It was a crossover between Valiant and Image. It was a debacle. There were six issues, not numbered, named by colors. The last issue I think came out almost two years after the first. It doesn't really make any sense.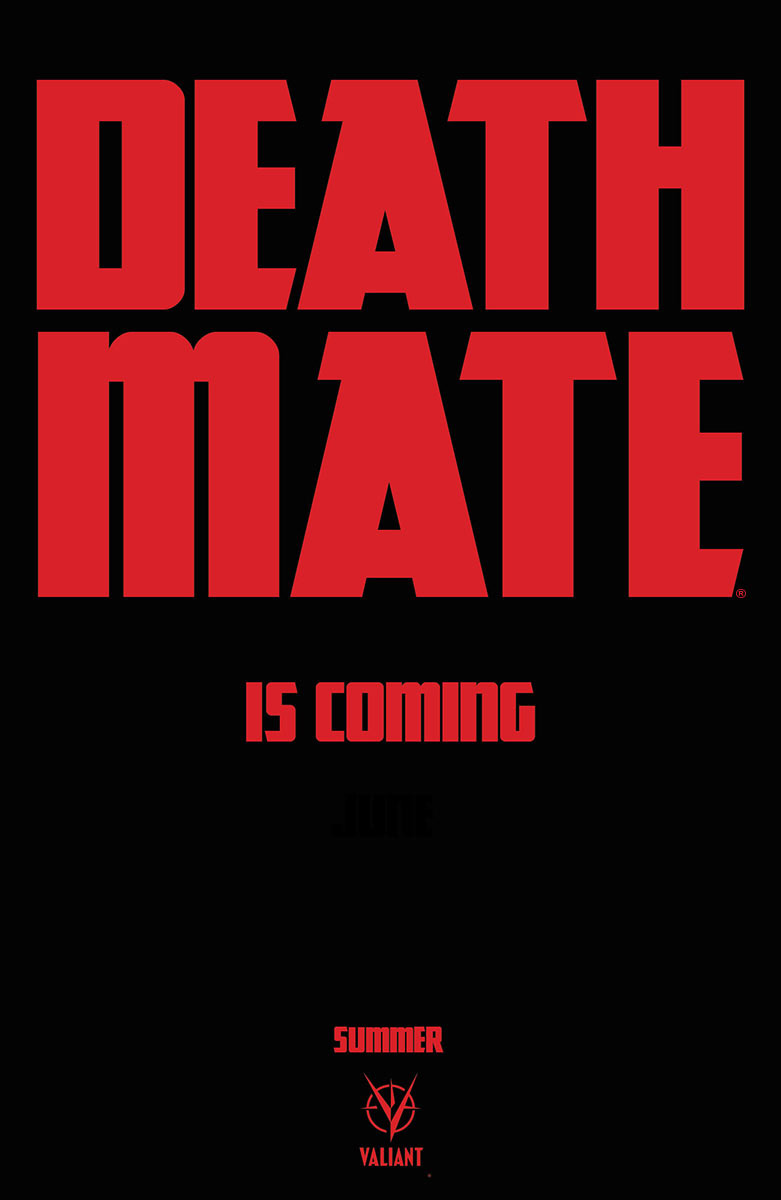 It was a great idea. Some of the art is beautiful. Nonsensical storytelling. This is a word that has a lot of power. So we want to engulf that. We want to flip it on its head. So we have this new arc in Bloodshot, which is a great jumping off point for Bloodshot Island. And the premise is Bloodshot wakes up. He doesn't know how he got there. He's on this island. There are other Bloodshots in different areas as well. He doesn't know them. And every day, this creature, this female assassin, turns up called Deathmate and kills them all. And every night they heal because of the nanotechnology in their blood. And then every day it starts again. He's got to figure out what happened, how did he get there, and how does he get out.
CB: Wow. That's such a Greek myth.
Shamdasani: It's awesome. You have no idea. It's awesome.
CB: What an interesting idea! That literally sounds like hell.
Shamdasani: Yeah.
CB: And how do you get him out of that hell?
Shamdasani: And why are you there? Do you make friends out of them? And who are these other people? Again, it is Jeff Lemire and Mico Suayan on the book. Mico launched the book for us. He's worked on this arc since we launched the book. It's going to be amazing. People are going to get a real kick out of it.
CB: Oh my god, those first few issues of Reborn were just spectacular.
Shamdasani: Mico is a genius.
CB: It's one of my favorite books I've read in the last year. And I'm not just saying that because we're talking. Just the darkness of it was so complete. The feeling that this man is going to his ultimate, terrible-
Shamdasani: Spiraling.
CB: Yeah, spiraling down. And yet it is the right thing for him to do to be spiraling down. It's like this very kind of complex idea of predestination versus being able to control yourself and what does it mean to be the person you really are. He misses the nanos at the same time he is happy-
Shamdasani: He's defined by them perhaps. And he's spiraling to the place where he imagines this psychotic, cartoon, very violent version of himself, which adds this great leverage to the book.  We just had our panel and people were asking us about Bloodsquirt. "When is Bloodsquirt going to come back? We need more Bloodsquirt." And all of those questions.
CB: That's awesome. It's a big year ahead.
Shamdasani: Yes, big year ahead. Faith is an ongoing. We're gearing up to do a bunch of announcements.
It's exciting for me because when launched the company, we knew that we had great characters. We didn't want to try to fix what wasn't broken. So we stuck the core concept and modernized the storytelling. And then we hit kind of phase two where we enlarged the mythology for our new characters: Ninjck, Rai. We added our own spin to some characters.
And then we hit phase three where we were able to tell stories like Armor Hunters and add mythology that had never been seen before. Now we are about to enter a new phase that I am very excited about where we get to add our own characters. So the first kind of tease of that was Divinity. Now we are going to come back. We have Divinity 2 coming in April.
Faith is a character that is a part of the Valiant Universe. I don't think that people that aren't one hundred percent into the world of Valiant know who Faith is. So we are able to showcase her. We've got Brittania coming and Savage coming. We've got some big stuff. You are going to look at our slate and say, "My god, I've never seen… This is not what I imagine Valiant is." And I think it is going to be really exciting.
CB: What's the news on the movies?
Shamdasani: Lots of good stuff on the movies. We've announced a five picture deal with Sony: Bloodshot and Harbinger. Bloodshot is going to come first. Harbinger follows after that. If all goes well, there will be sequels. And then everything comes together in Harbinger Wars. We are just casting Bloodshot now.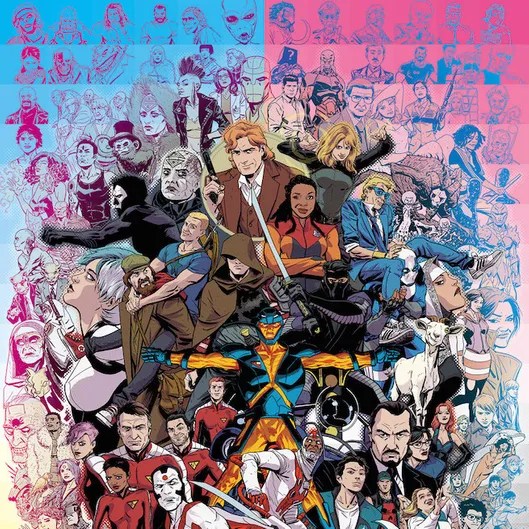 So as soon as we do that, I think we're off to the races. But you know, those things can be difficult. We want to make sure, like the books, if we need more time to make sure the product is quality, we are going to do it. That's why we are being very coy about it. We have a ton, a ton of stuff we are itching to talk about, but we can't talk about.
I wish I could tell you who our director or film star is. I wish I could tell you who our directors on X-O Manowar are. That is enough of the great detail I have. I wish I could tell you what we are doing with Quantum & Woody, but I hope these things leak so I can talk about them.
CB: I've got to tell you; every time I watch an episode of Supergirl, I think this could be Faith if it was a little bit better.
Shamdasani: Yup. Yeah, I think there is a driven opportunity for these characters because there is a natural evolution happening from the thirties from DC to the sixties in Marvel to what happened in '99. I think larger mainstream audiences are now poised for that.
CB: Oh, yeah.
Shamdasani: We've seen the first signs with Guardians of the Galaxy and Deadpool subverting the genre a little bit. We look at that and we think, "Okay, this is primetime now." Larger audiences are used to Spiderman. They are used to the X-Men. They know the genre. Now it is time for characters to come in and subvert those tropes before ultimately embracing them. And that's where Valiant has always succeeded.