Eliot Rahal and Donny Cates create comics starring working class people, and that may be the most exotic type of character that many readers can imagine. With a wild and loopy writing style and some delightful ideas, Rahal and Cates deliver comics that are fun and exciting as well as delightfully complex. I caught up with them at this year's San Diego Comic-con to talk their new series The Paybacks and much more.
---
Jason Sacks for Comics Bulletin: You both are working on a series for Dark Horse.
Eliot Rahal: Yes, we are!
Donny Cates: It's called The Paybacks.
Rahal: It comes out September 16th.
Cates: It's actually a quasi-sequel to a book that I wrote a number of years back called Buzzkill. It set in the same universe. It's not really sequel.
Rahal: Spiritual sequel. It's got some of your favorite characters from that nice little story- Dr. Black, High Guard.
Cates: Well, let's tell them what it's about.
Rahal:  Okay.
CB: That would be good. I was ready for that.
Rahal: So what if you wanted to be a superhero, but you couldn't afford the cape or the cowl or the fancy gadgets or the super secret lair? What would happen if you could take a loan to become a villain?
Cates: Well, in this world there's a guy who can give you a loan to become a superhero. But what happens if you can't pay that loan back?
Rahal: Who then comes to collect?
Cates: Who could they possibly send after you? Enter-
Rahal: The Paybacks.
CB: The repo man for superheroes.
Rahal: Exactly.
Cates: And they themselves are a group of C and D list superheroes who have defaulted on a loan and now work in this service.
Rahal: A mysterious benefactor. The goal is for them, every job they pay off a little bit more. But will they ever really pay it all off?
Cates: It's an ongoing series. They won't.
Rahal: Yeah. And it's a lot of fun. The fun part about C and D lister characters is that we get to have some fun with who is going to be on the team. One of my favorite characters we came up with is a sasquatch by the name of Skisquatch.
Cates: Yeah, he is a party animal.
Rahal: He's a party anima from Colorado who hunted poachers. He doesn't actually ski; he snowboards.
Cates: Yeah, Ski is just short for Skylar.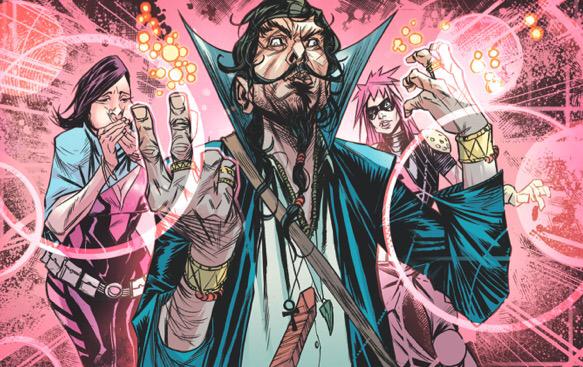 CB: Oh, okay. It's just ironic.
Rahal: Yeah, yeah.
Cates: There's a lot of that. Can't you tell we have done this a million times?
Rahal: There's a character by the name of Blood Pouch in there. Wink, wink, bat, bat.
Cates: Maybe we are making fun of nineties comics.
Rahal: A little bit.
CB: Something near and dear to my heart.
Rahal: Yeah.
CB: And I am sure he is extreme.
Cates: He's actually a really sweet fellow. He's really, really relaxed.
Rahal: Yeah.
Cates: He's pretty chill. It's drawn by Geoff Shaw.
Rahal: Who drew Buzzkill.  And colored by Lauren Affe, who also did Buzzkill.
 Cates: And my book Ghost Fleet that I did. Everything I've ever done is with her. So let him ask questions.
Rahal: Absolutely.
CB: Tell me about Ghost Fleet.
Cates: It just wrapped up this month. Ghost Fleet was a book that I did with Daniel Warren Johnson on art. So the Ghost Fleet is a thing that really exists. Whenever the government needs to transport a hazardous or secretive stuff, they hire out these big rigs known as the Ghost Fleet. They can't be tracked. They can't be pulled over. The number one rule as a driver is you never look at your cargo. In the first issue (spoiler alert), one of the guys looks at his cargo. And the ramification of that action could very well spell the end of the world.
Because in real life, the Ghost Fleet is like NASA parts, so it's not really cool. In the book, it's like supernatural stuff. I always describe it as the end of the Raiders, that big warehouse where they put the ark. The Ghost Fleet are the people who haul that stuff.
CB: Okay. I kind of wish real life was like that, though. I've got to say.
Cates: Absolutely!
Rahal: What if it was?
Cates: I think we'd all be dead, though.
CB: Yeah, we'd probably be dead many times over. Well, Indiana Jones would save us.
Cates: There's no heroes in real life, man.
CB: There are none?
Cates: No.
CB: Damn it!
Rahal: What about our fellow men and women in the armed services?
Cates: Right, well, okay.
Rahal: They are. I just announced a book just an hour ago called The Doorman that I'm writing with a writer from The Late Show with Stephen Colbert, named Daniel Kibblesmith.
CB: Oh, wow!
Cates: He's an author, too. He's written for Valiant. And he also wrote a book.
Rahal: He also wrote a book called How to Win at Everything.
Cates: Yeah, you've heard of that.
CB: Oh, yes, I saw it on Colbert I think.
Rahal: He's very funny. Collaborator and artist Kendall Goode. And it's basically sort of like a Bubba Ho-Tep. 1920s doorman kind of a thing where what if there were a stargate on every planet? You could travel to instantaneously, but the only way to do it is by these doormen who open the doors for you.
And now someone is trying to kill them all. The question is why. He teams up with this alien conspiracy-obsessed detective. They go on all these planets full of different creatures, mantis planet and all that kind of stuff, and they have a little koala that is a rolodex of all information in the known universe. He is called the Koalamanac.
Cates: If I can really quick, what I love about his book is I am not the biggest hard-core sci-fi geek in the world. He has a really awesome approach. It's like working class sci-fi. It's kind of a genre that you don't see a whole lot of.
Rahal: We are playing off the motifs of jobs that exist today but we don't why they exist, like doormen or bathroom attendants or things like that.
CB: Well, you guys are both talking about series that are real kind of working class, right?
Cates: Yeah.
CB: They guys driving the trucks.
Cates: Exactly.
CB: They guys who can't afford the costumes.
Cates: That's totally true. I never thought about that.
Rahal: I think what we like to do is play off of real world power structures and then turn them into crazy, horror/sci-fi trucker stories.
Cates: Yeah, and The Paybacks is all about that. To be honest, The Paybacks came from an idea of just me and him talking about I went to art school, so my debt is out of this fucking world.
Rahal: And I'm the bad decisions. Lots of bad decisions.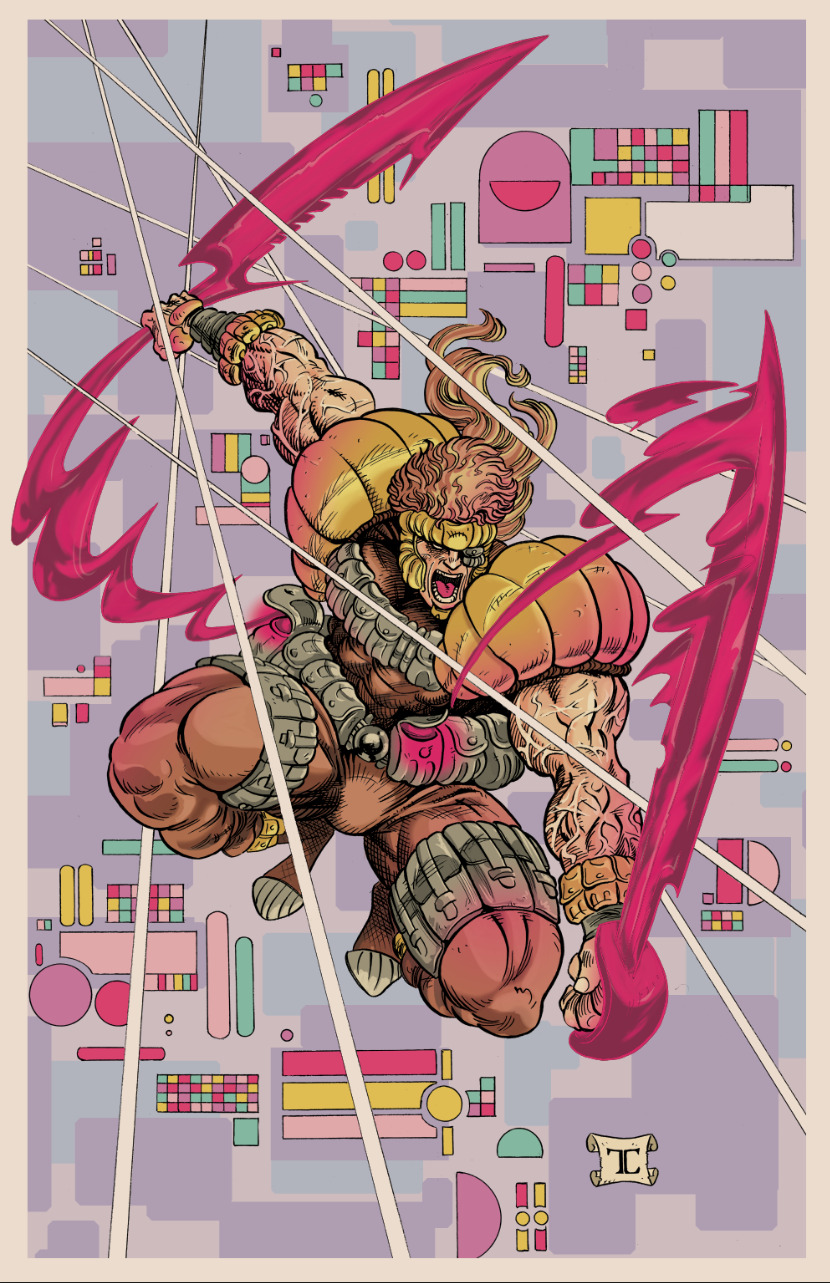 CB: I am very sorry to hear that.
Cates: Paybacks is not super happy, you know? But there is that through line of people just want to do good, people who just want to do better for themselves and better their families.
Rahal: They want their own piece of the American dream.
Cates: And now through these loans, these predatory loans, they are enslaved basically and don't do anything.
Rahal: They are weighted down by just the natural position they were born in.
Cates: Yeah.
CB: It's not that different from a payday loan, right? You're strapped forever.
Cates: Exactly.
CB: You never get free from it. It's just going to eat your life.
Rahal: Yeah. It comes from a very real place. My wife grew up very poor. She made her way out to get a really good job working in news. Fifty cents out of every dollar she makes goes back to paying what Donnie does.
Cates: So the world that it comes from is from a book that I wrote called Buzzkill. Buzzkill was about this same kind of thing. We really like to take complex issues and feed them through a superhero lens, kind of put some sugar with the medicine. Buzzkill was about a guy who got his powers from drinking and doing drugs. But something happened to him that he had to drink so much that he blacked out. When he woke up, he had no idea what happened, but a city was destroyed. And now he is going through the twelve steps trying to get clean. But just because he is trying to get clean, that doesn't mean his villains are going to let him. So it's all metaphors for-
Rahal: Demons.
Cates: Demons.
CB: Yeah, we are all fighting our personal demons.
Rahal: Just because you want to be done with your demons doesn't mean your demons are done with you.
Cates: Yeah. So his sponsor in that book was this crazy-
Rahal: Dr. Strange
Cates: – Dr. Strange-kind of a guy named Dr. Blaqk.
Rahal: Yeah, what if Dr. Strange was-
Cates: This burned out acid head.
Rahal: Yes!
Cates: Who is Alan Moore.
Rahal: Living in a houseboat in Oakland
Cates: Yeah. So we took Dr. Blaqk and we took some of the kind of peripheral characters of that. We just really wanted to play in that world more.
Rahal: Oh, by the way, they all travel inside an infinite mansion van.
Cates: It's a van, with a lot of space on the inside.
CB: Like a TARDIS van.
Rahal: Yes. I don't know what a TARDIS is.
Cates: I've never heard of that idea.
Rahal: I've never heard of that.
CB: Oh, I'm sorry.
Rahal: Dr. Who? Buy my book, guys. I am going to be dead in a couple of years.
Cates: And since we are just pimping books, I also just announced a book over at Heavy Metal. I just got off a panel with Grant Morrison, which is great.
Rahal: Yeah, he and I are going to do lunch.
Cates: Yeah. We'll see.
CB: You're going to be close personal friends.
Cates: Yeah. I announced a book called Interceptor that I am doing, which is a book I've been wanting to do for a million years. It's just bizarre. Heavy Metal was foolish enough to say yes to it. The premise of that is that basically there was a war between the humans and the vampires on Earth. It got so horrible that the humans just left. We got in the space ships and we peaced out.
Right before we left, we nuked the entire planet, thinking some day we could come back. Well, what we ended up doing with that act was actually just shrouded the entire Earth in darkness. In that darkness, the vampires have a vault. They have developed full-scale space travel and they've found us. And we can't have that happening. They can't come to our new home. So we send out basically this war machine called the Interceptor. Have you've seen Mad Max?
CB: Sure.
Cates: Imagine Mad Max, but just with all vampires, right? In the middle of that movie, a fucking alien invasion just falls out of the sky and just rains destruction and mayhem.
Rahal: It's pretty cool. There's a cover that puts you right in the siege, too.
Cates: Oh, yeah.
Rahal: Can I talk about that? It's so cool.
Cates: I'll show it to him, yeah.
CB: Crazy hardcore.
Cates: It's really hardcore. Daniel Warren Johnson, who did Ghost Fleet with me, provided this cover for us.
CB: Oh, wow. That's totally action crazy, wild.
Cates: Yeah, it's just a bizarre, crazy, again, working class sci-fi. I'm reading a book called The Expanse series right now. It's a great sci-fi book. That's also kind of working class stuff. It'll go into like warp drives. They don't even explain how the fuck warp drives work. They just work. So, it's really goofy. It's a Heavy Metal book, so it hardcore action, but kind of tongue in cheek goofy.
Rahal: And it's really cool. Jeff Krelitz is the editor for both of us. He is a really, really good guy. There's just a lot of freedom and a lot of potential at Heavy Metal that I'm so excited about. And Jeremy Atkins is a great guy.
Cates: Yeah.
CB: All of a sudden Heavy Metal are exploding with new titles.
Cates: You know what is great about this is the freedom. When I pitched that book to them, I don't think Jeff even read what it's about. He approved it immediately. I was like, "Do you want to see an outline or anything?" He was like, "I've read all of your work and I trust you. Just go." That's so much fun.
Rahal: He is so into the brand. It's really cool to be working for a guy who's one hundred percent behind. He is a nerd for his own brand.
Cates: Yeah, yeah.
Rahal: He wants to take it even further.
Cates: He's drunk the Kool-Aid. So have we.
Rahal: Yeah. It's kind of cool.
CB: You kind of wonder why they haven't expanded that brand more already. I mean, Heavy Metal means something, right?
Rahal: It does mean something.
CB: There's that kind of real alien, bizarre.
Cates: Absolutely.
Rahal: What I know of Heavy Metal in comparison to Jeff or Donny and what I love about Heavy Metal is there was a point in time in our history as a culture where crazy wizard magic and metal were the same thing at one point, like Ronnie James Dio and stuff like that. It's just kind of cool see people bring this sort of unabashed love for that.
Cates: And they want to push. They want to create new stuff, things that have never been seen. They want to get in trouble.
CB: That's the whole thing with Heavy Metal. It's stuff you've never seen before and couldn't imagine, right?
Rahal: Yeah, it's crazy hardcore stuff.
Cates: It's the magazines that you hide with your Playboys.
Rahal: It's Playboy for nerds.
Cates: Playboy for nerds, yeah, absolutely. So basically the line-wide motto is let's just get in trouble.
Rahal: Let's get in trouble.
Cates: Let's just shake some shit up. That panel was fantastic. And with Morrison in charge now…
Rahal: It's so cool.
CB: That's such a perfect fit, right?
Rahal: I want Grant Morrison to record an audio book of him just reading children's tales. I would listen to that all day, every day.
Cates: Absolutely. So that is what we're up to.
Rahal: That's it. And then there's also the future.
CB: More stuff coming down the line.
Cates: Actually if you look in your bag they are giving away, there is a Marvel comic book that I wrote. It's in there. I have not seen it yet.
Rahal: Iron Man.
Cates: Yeah, Iron Man and MODOK.
Rahal: MODOK, MODOK, MODOK.
CB: It's crazy how it has gotten to be a fan favorite now.
Cates: MODOK, I know. I think MODOK with spider legs is way superior to just little legs.
Rahal: I like little legs.
CB: It's a little tiny nothing. It's like T-Rex's with that stupid little hand.
Cates: You know you can just push him over and he's on his back.
Rahal: The head chair.
CB: The head chair. The giant head chair thing, exactly. That's a Heavy Metal idea. That's crazy fucking genius.
Rahal: He does look like he should be having wild sex .
CB: Right?
Cates: The K is for killing. That's true.
CB: Yeah, because it isn't MODOK with a C, only for cuddling or something.
Cates: Yeah.
Rahal: Or the K could be for kisses. No? Okay, see you guys. Bye.
Cates: You be good.
CB: Going to be here all week.
Cates: Paybacks comes out in September. We are super stoked about that.
Rahal: September 16th.
Cates: It's an ongoing, which is incredible. We get to just play in this crazy world.
Rahal: That's it. We are two best buds making comics and doing stuff.
Cates: We were former Marvel interns.
CB: Oh, is that right?
Cates: Yeah. That's how we met.
Rahal: We started off-
CB: You guys seem like you went to high school together.
Cates: Oh, no.
CB: You love each other.
Cates: We're best bros.
Rahal: Our first book was actually a Dark Horse Presents story called Hunter Quaid.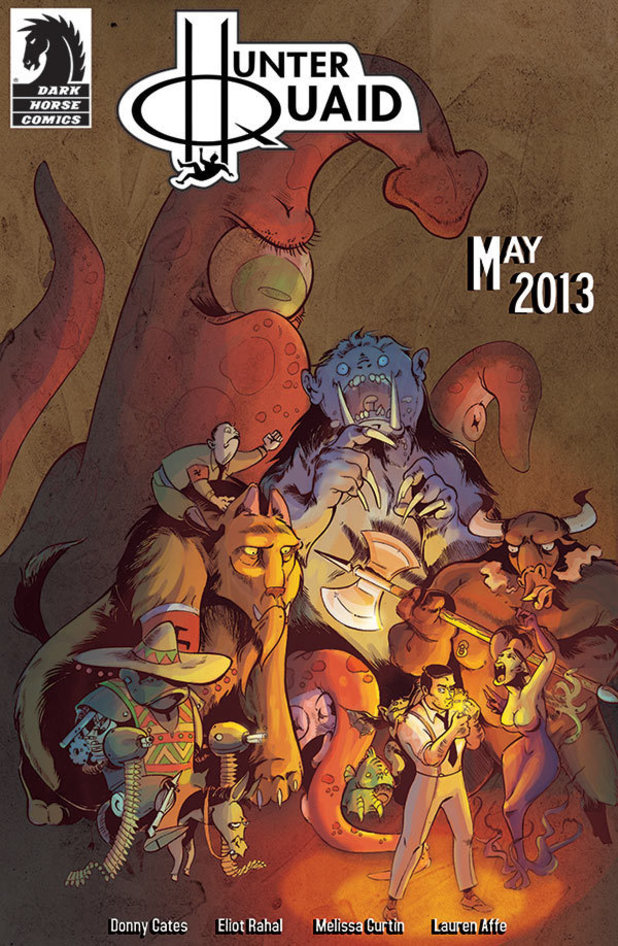 Cates: It's an American drunken time traveler.
Rahal: Yeah, basically what if John Hamm and Dick Tracy were the same person. Add alcohol and time travel.
Cates: And time travel and don't give a fuck about changing stuff. Doesn't give a shit. Just knocks stuff over.
CB: Booze is cheaper in the past, so I am going to go in the past.
Cates: Damn right.
Rahal: That was a real fun thing to write.
Cates: We actually have a third one coming out this year.
Rahal: I think that's either going to be in DHP or we are convincing the Dark Horse people to let us rerun the story in the back of our issues.
Cates: We also have a back-up.
Rahal: Yeah! Yeah!
Cates: It's actually the best thing we've ever done.
Rahal: My favorite. It's a comic.
Cates: It's a comic strip. It's going to run as strip in the back.
Rahal: My collaborator artist, Matt Morak. It's called Space Stepdad.
CB: Space Stepdad!
Rahal: It's about a working class stepdad-
Cates: Shit on all the time.
Rahal: He's just trying to be the best stepdad he can be.
Cates: It has nothing to do with space.
Rahal: Nothing. It's just all about this guy trying to connect with this family, trying to fit in at every turn.
Cates: Think Al Bundy, but with a space helmet on and a cigarette inside the helmet.
Rahal: But what if, instead of getting punched in the face, he was just punched in the heart every-
Cates: It's the saddest.
CB: Just break my heart now.
Cates: When we started turning them in, the editors at Dark Horse would pass them around. They could hear people on the other side of the office going, "Ahh, man, that's fucked up."
CB: I just imagine the two of you sitting at your laptops and sobbing all day with these storylines.
Cates: No, we are having a great time.
Rahal: It's the most hilarious thing ever. You just watch this guy never get a break.
CB: But all your characters have fucked up lives, right?
Cates: Yeah, they are bummers, man.
Rahal: The first ever man who got shit on is Mr. Charlie Brown. Charlie Brown has never had a happy ending in his life.
CB: And we all love Charlie Brown.
Rahal: And we all love Charlie Brown.
Cates: Weapon Brown.
Rahal: Weapon Brown.
Cates: That could be a real book, which is awesome. Post-apocalyptic.