James Asmus writes some of the smartest, funniest comics these days. I had a great time catching up with him at Emerald City Comicon (depsite a bit of family chaos) and think you'll enjoy this interview.
---
Jason Sacks for Comics Bulletin: Hi, James. Thanks for taking the time to talk today.
James Asmus: Oh, my pleasure.
CB: In the midst of a bit of family chaos.
Asmus: Yeah. My wife was really excited to go to a con again now that is my son is kind of old enough to stay awake and manage. And they both totally got sick on the way here. They are a home recuperating instead of actually hanging out at the show.
CB: In some ways that's a good thing.
Asmus: It makes it easier for me. They are bummed. I think they might try to rally today, but we'll see.
CB: Well, there are other conventions, too.
Asmus: Exactly. WonderCon is next weekend like in our backyard in Los Angeles.
CB: Oh, nice.
Asmus: That's the do-over if they want it.
CB: And there's Baltimore at some point. Maybe you'll have another good run with the Harveys there.
Asmus: You know, I would never be so bold as to presume that because I still feel like absurdly thrilled and lucky that we were included so much in last year's Harveys. That was a bolt out of the blue. I was not expecting anything. There was some tweet when I was at home visiting my family in Cleveland where someone was like, "Oh, the humor category is really tough. They are actually all really funny books," and tagged me and Fred Van Lente from his Archer and Armstrong. And I was like, "Oh, we got a humor nomination. That's great."
That really is the most I would have thought we maybe had a chance at. And then we had more nominations that any book and I was nominated for things that it's embarrassing to even consider. In the end, I do think everyone I work with on the book does phenomenal work and works extra hard because I think it's a tricky book to get right, Quantum and Woody. Both in the balance in not just humor, but inappropriateness with honesty and likability and the right touches of emotion. There's a lot we try to get in and it's a tricky balance. Everyone puts in a maybe a little bit more time than they have to put in a regular punch 'em up book.
CB: You would think it would be the opposite, right? A humor book should be easier on some level.
Asmus: Well, you know, that is the popular belief and I think that is why comedies so rarely get nominated like at the Oscars. But if you talk to people who do it, it's so much harder to get right. Someone can just be sad and you understand they are sad and you can feel sad for them, but to actually make people laugh, it's a really intricate machine. There are so many ways it can go wrong, even if you start from the right footing. A well-written joke could be delivered poorly or misrepresented.
CB: Do you think your experience in the theatre helped you kind of develop the beats and the rhythm of working in comics?
Asmus: Well, certainly I feel like it helps the comedy of my comics the most. A couple of people today were like, "Do you have someone you test this material on? Because I feel like the book is really consistently funny." I was like, "No." I trust my editors to tell me if something is not working. And they have been great at giving me artists who have a great sense of humor and make everything work to the best it can. And in many cases, some of the artists really add extra beats and embellish. But I spent ten years performing live comedy- improve, standup, sketch- and I feel like I had to learn and hone my own instincts relative to an audience. You are never going to make everyone laugh, but how do you get the most people? Learning to throw in a different type of comedy here and there so that there is something for everyone. And learning to trust what I think is funny after kind of building those sensibilities relative to an audience.
So I feel fairly confident and I think I know when I am writing something that is not working. You just have to keep revising or spit-balling or go for a run until something pops into your head. And I think the other way spending years in theatre before comics affected me is it really made me more interested in the sort of human story of my characters than the kind of grand mythology. Like I am more interested in the person-to-person emotional stuff. Obviously we have villains and grand plans and things of that nature, but I could never be the Jonathan Hickman, "I've got a flow cart of thirty-six issues of conceptual… How does physics influence this other thing?" To me it's really, "What does someone want? What is their vulnerability? What is their flaw? And how do these things butt against each other to make their lives better or worse, break their hearts or challenge them?"
CB: And interact as friends, too.
Asmus: Yeah, exactly.
CB: Or loyal to each other and how their experiences build on as friends, too.
Asmus: Yeah, exactly. I think that sort of push and pull of people you are emotionally invested in, but they're not perfect, is something that gets maybe nominally explored in some books. It's such a tertiary element. To me, I am happy to make that forefront and have the texture of these kinds of dynamics and relationships be the point of the book. We have a lot of fun with the trappings, but it's not about those trappings; it's about the relationship.
CB: That may be because you have a different background getting into comics than a lot of people, having to kind of literally stand on your own two feet in front of crowd, trying to make them laugh. There is nothing kind of harder than that in the entertainment world.
Asmus: That's very true. I have done acting, writing, musical, stand-up, improve, sketch, song writing, comics. I have done all this stuff. I see it all as storytelling. It all comes from the same impulse. But of all of that, stand-up is definitely the hardest. And a lot of people are kind of surprised it is not improve when you have nothing going into it. But truthfully the audience is so on your side when you do improve because they kind of think, "Whoa, this is terrifying. I could never do that." They are amazed you come up with anything, so when it's good at all, they kind of are blown away. And in stand-up, the audiences are much more almost adversarial. And it is sort of like, "Oh, you think we should all shut up and listen to you. You better really have something great to say."
CB: Yeah, arms crossed, "make me laugh, funny boy."
Asmus: Yeah, exactly. And so it's a very different dynamic. That definitely made me feel like I could not have stayed in that. It was very isolating. And then ironically, I switched my career to something that is totally isolating, in my apartment alone. But still I have collaborators in it nonetheless and it is wonderful. It is part of why I love coming to shows is to meet and spend time to get that actual social interaction with the people I am sort of invisibly collaborating with.
CB: And I know that the next mini has art by Steve Lieber.
Asmus: Yeah!
CB: Which I know you are excited about.
Asmus: He is a true collaborator. He is someone whose work I have known for years, from when he did White Out for Oni before it was a movie that he likes to make fun of.
CB: Not a good movie.
Asmus: I still haven't seen it.
CB: It's not worth seeing.
John Williamson: Hey!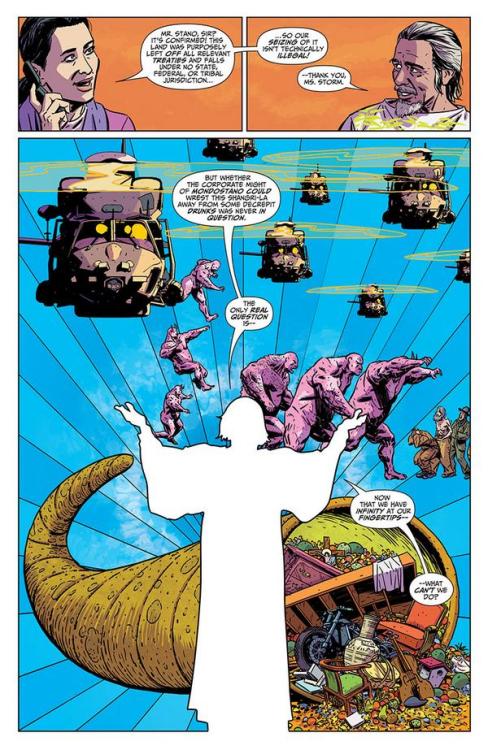 Asmus: Quick plug for Josh Williamson, everybody.
CB: I have known Josh for a long time. Always good to see him.
Asmus: He's a good friend of mine. But Steve is I think just a continent artist; there's nothing he can't draw. He is so smart about story and character and likes to experiment in his artistic process. He was saying that he still doesn't know why Marvel put him on Superior Foes of Spiderman last year, but he had so much fun tapping into the humor side of his work, which no one really had asked him to do before. And he immediately proved a whole other brilliant skillset he has. When that book ended, they told me the first thing they did when they heard it was ending was seeing if he wanted to Quantum and Woody.
And I was thrilled because it's perfect fit. He really is. There are moments he sort of reinterprets. And knowing he was on the book and talking to him about it, I was perfectly happy to open things up. Some sequences are just dialogue and the general sense up top, like, "This scene should play like this. Break it up however you want. It can be non-literal images. You can have fun with stuff." It's fantastic to collaborate with an artist who you know knows comics better than you do. And I am a life long fan of comics and I have worked on plenty that I feel confident now. Especially when it comes to the visual aspect, I would never pretend as the writer to have as much instinct for the visuals as a really great artist like Steve. And he's so funny about elements.
There's a part in the first issue of Quantum and Woody Must Die where he sort of switches a kid into like Charles Schultz-esque animation when they have an emotional breakdown. And it is this quirky, perfect thing. He manages to make it still live in the world. It's just really evocative and really funny and really surprising. And he finds these great balances that are unexpected and push things, but don't break them.
CB: Plus he's the nicest guy in comics, too.
Asmus: Oh, sincerely.
CB: Like everyone who knows him adores him.
Asmus: He could really justifiably be far less humble than he is, and no one would take issue with that. But he really is just someone who really loves their work. I am so grateful to get to collaborate with him on something and a book that I think he makes better. I think that it is great that he is excited about this chapter of exploring his own humor and that we could do that with him.
CB: Do you have another Quantum and Woody story hopefully coming up?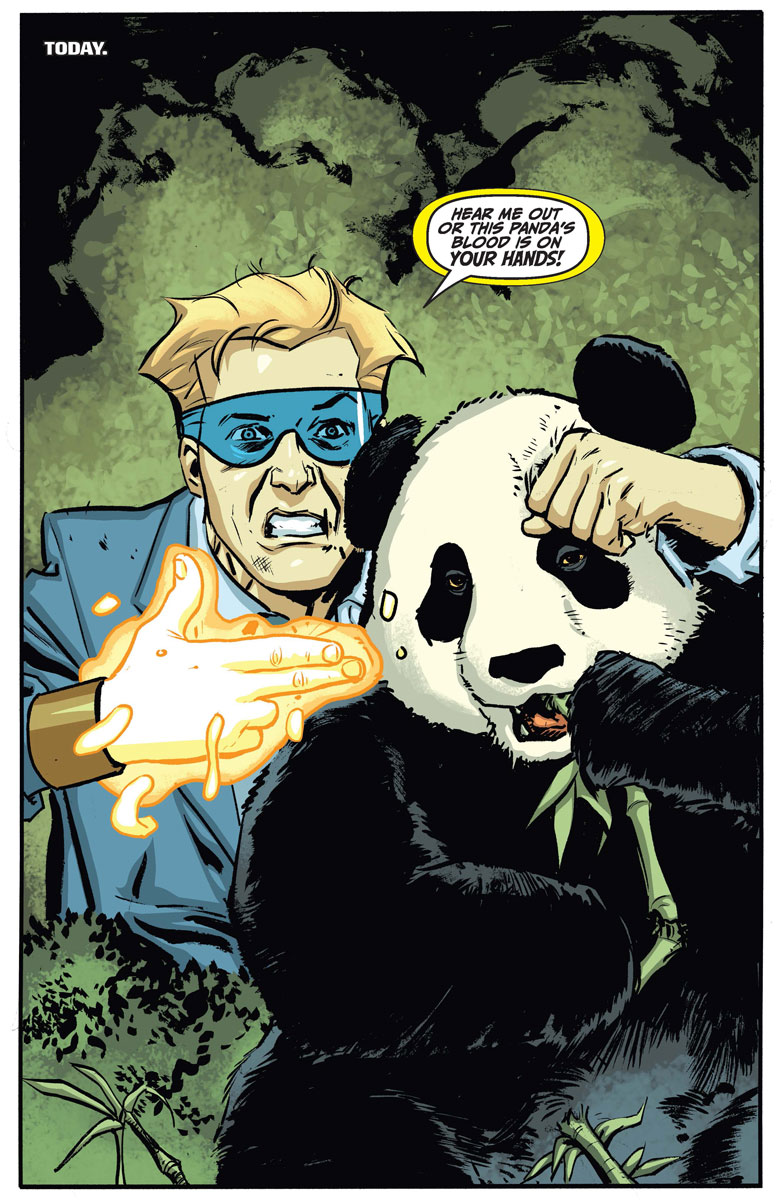 Asmus: Yes, despite this one being called Quantum and Woody Must Die, we are teasing that there is more Quantum and Woody coming. There's some ongoings on. I sort of plotted a year's worth of story kind of all at once. We are sort of experimenting with doing them as miniseries. In part I wanted a little bit of breathing room in between so I could recharge the comedy batteries.
CB: I like that phrase.
Asmus: Yeah, give myself time to brainstorm a bunch of options to come up with something I am sincerely tickled by. And I really love what we are doing next. And it was sort of we had a couple of options of things to do, and things clicked into place that I am really excited. And Valiant got excited.
CB: So with the new Valiant film deal that is coming down the line, what do you imagine is going to happen with Quantum and Woody? What is your perfect Quantum and Woody movie or TV show?
Asmus: Oh, man. Well, personally my ideal would be an adult-targeted animated series like Archer. Something like that for cable that let you tow the lines of inappropriateness we do in the comic. I don't think it needs to be an R-rated movie or something, but I think you want room to be saucy and risky in a way that Fox might not let you do. But I think it would be a great FX, Independent Film channel, maybe Adult Swim, those kind of things as an animated, serialized action comedy. Because truthfully, in terms of the Valiant universe, a lot of other titles really tie together in their mythology.
Archer and Armstrong connects to Eternal Warriors and he guards the Geomancer. Bloodshot is created on Harbinger. There are some pieces that naturally connect. Quantum and Woody, part of created for the acclaim era of Valiant, as opposed to the original Valiant, their origin is disconnected from those things. But I also think if you are building a cohesive universe tonally, it's a big side step from a lot of the other titles. I feel like it maybe would have had a better chance (and I am not speaking with any insider authority on this) of being a film before there was film before there was money for a unified film universe. Like if one movie was set up here and one was set up there.
Especially it maybe could have really worked well as a buddy comedy [inaudible 00:14:06] thing. I think it's a very easy movie if you make it with funny people with good instincts. It's funny; I enjoyed Chris Rock's new movie he directed, Top Five. And I was like, "You know, have Chris Rock co-write and direct and get all of the social commentary in there."
CB: Wouldn't you be writing the movie? Is that the next thing to do?
Asmus: No.
CB: You have experience very close to that, right?
Asmus: That's true. I've done some film and TV writing. I would love to do a pass on someone else's script to be like, "Oh, they wouldn't really say this" or do a little touch. But truthfully, the work of revising outlines and getting everyone to agree on what the movie is going to be is such a long, tedious process for film making that experience has kind of driven me back to comics.
I like instant gratification far too much for that kind of six months of arguing over one scene. I think it could be a great film, but I really the sort of idiosyncratic lower key nature of them and all the squabbles actually would lend itself great to half an hour episodic. You can have an arc about specific villains and you can have these things going that are serialized between episodes, but in general day to get you get kind of the sitcom-ish aspects of their relationship.
CB: Yeah. And each mini is its own arc, so it corresponds really well.
Asmus: Yeah. If anyone at Valiant ever asks, that's what I always say. No, animation, cable, thirteen episodes at a time, kind of inappropriate humor – I think that is ideal. And also, maybe selfishly, maybe in the back of my mind I say that I too because I wouldn't feel as bad about writing an episode of that show, whereas I wouldn't pretend to be the guy they should hire to write a hundred and twenty million dollar movie. You know what I mean?
CB: You can even voice the supporting actors, come on!
Asmus: Oh, absolutely. I would definitely push to be one of the E.R.A. or the Goat.
CB: The Goat!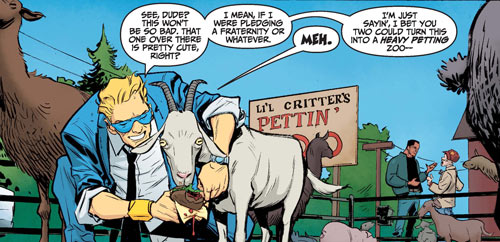 Asmus: I would gladly pick someone who they don't have to hang a lot of weight on, but that I could slip something in there.