Few creators deliver interesting comics as consistently as Jim Zub. From his wonderfully fun Skullkickers to his genre-fusing Wayward to his thrilling work on Thunderbolts, Jim fuses a strong instinct for exciting stories with a sense of place and interesting lead characters. His new series Glitterbomb drops this week, so we caught up to discuss that and other projects.
---
Jason Sacks for Comics Bulletin: Why don't you tell me about your new series, Glitterbomb?
Jim Zub: The shortest description I can give is that it's like a Hollywood horror. It's a revenge story.
In Hollywood, there's this concept that a middle-aged actress is not able to get work. When you're young, you're the hot, young thing. You can be the arm candy or whatever in a Hollywood production. When you're really old, you can be the grandmother or the matron or whatever. But that middle age – they don't want you anymore because, all of a sudden, you're just not what Hollywood wants anymore.
So, I had these bigger ideas about fame and failure that I wanted to explore. That became the prism that I thought it would be very interesting to look at it from. This very distinctive thing that really happens in Hollywood. And then push it and exaggerate it and take it to this really creepy, supernatural place. So, it's a Hollywood horror.
It's about this woman named Farrah Durante who used to be a TV actress when she was younger. And now, she's trapped in that age group. She's a single mom trying to raise a single kid, and her frustrations and her fears about failure manifest themselves into this supernatural – I don't know how to put it – vengeance fuel.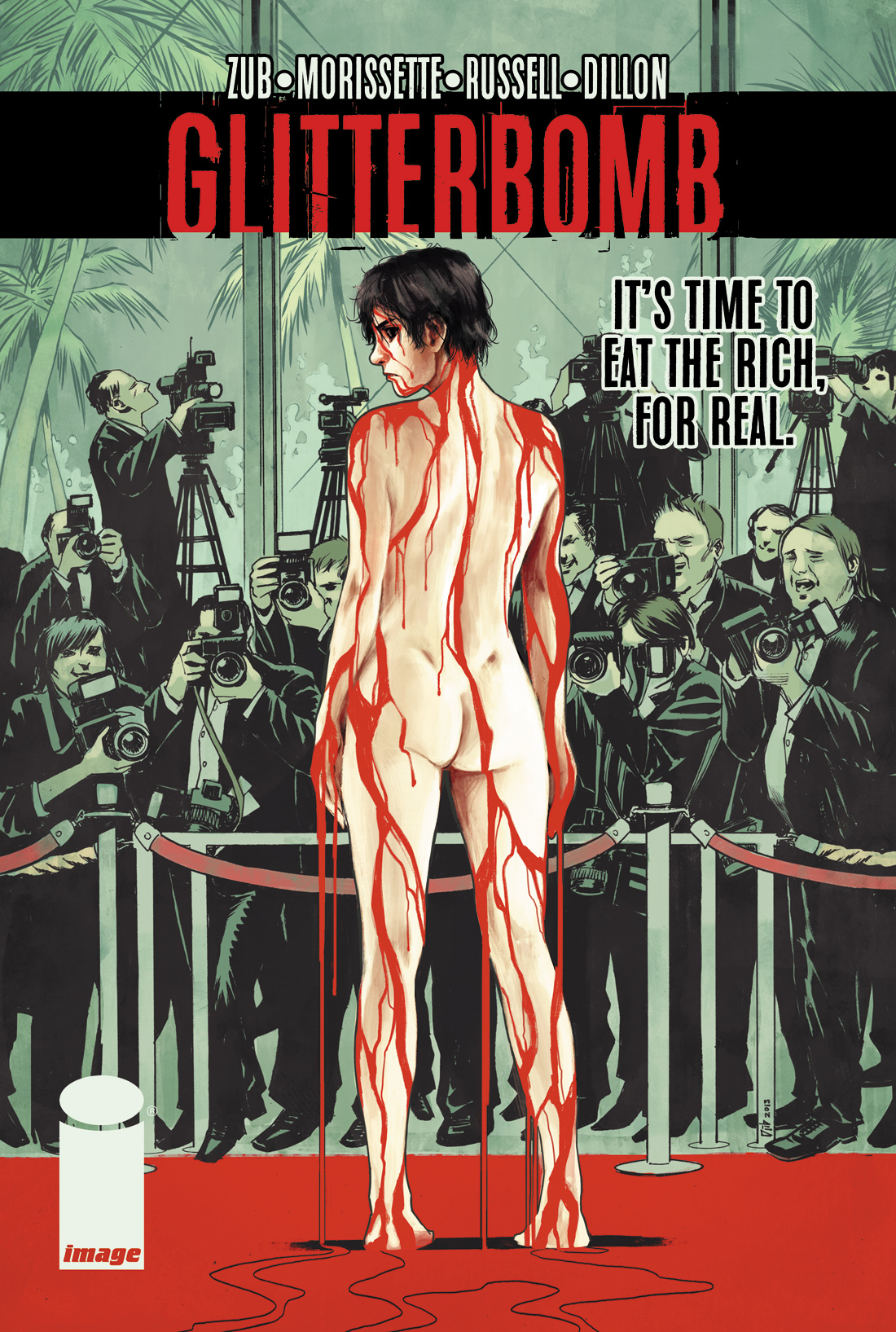 CB: The people who've done her wrong over her life and put her in this position.
Zub: She's gonna tear into the heart of Hollywood, essentially. And expose it. Maybe not intentionally, but she's just lashing out. By doing that, she's exposing this whole thing. It's a pretty dark, emotional story. It takes these bigger ideas that I think about and I've thought about for years.
Hollywood stories are very typically about the one in a million. They're about the hero – the chosen one – the person that does the impossible. And we want to see them succeed.
Even a tragic story tends to have a sacrifice with the idea of the greater good or a big thing that they're doing. But for every one in a million, there are 999,999 who aren't that person. What is their life like, and what are their dreams? And how is that dashed against the rocks? And what does that drive them to do?
CB: That's a universal story, too. It doesn't have to be a Hollywood thing. So many people hit a point in their career where you do something, you accomplish something, and all of a sudden, it all evaporates on you.
Zub: I think because we've created this idea that when you're a kid, you want to be an astronaut. And then you grow up to be an astronaut! But most people don't. Most people go on to menial jobs.
Does that make them less of a person? Does it make them less worthy? No. But in a dramatic sense, in a storytelling sense, we don't care about those people. Or we don't tell their stories. We don't feel like that's worthy. I'm like, "Actually, that's fascinating." That's something where those deep-seated, bubbling, broiling masses beneath the surface – That's something worth looking at. Because we all have that regret and fear and jealousy – that's real. You know what I mean?
Then I push it into this fiction – I push it into this supernatural space. And then really take it and run from there.
CB: Isn't there a dark satire element to it as well?
Zub: Oh, yeah. Because Hollywood is such extremes, right? In Hollywood, you're talking about – you're either working in the coffee shop or you're a hugely rich person. It feels like the divide is so massive – and the idea of visibility. You're famous, or you're not. Or maybe you're famous, and you lose it. All those levels of extreme intent. And there's nothing that people like as much as a success story – or tearing someone down once they've gotten too big for their egos.
All those extremes – those highs and lows – Hollywood exaggerates and extenuates so much. And I think it's the perfect sort of ground to cover there because you can take it and you can push really deep into it.
CB: This is intriguing because you're talking about someone who's the female lead in a moderately successful '90s sitcom who you never think about. The show might come on every once in a while on cable, and you'll think about, "I wonder what ever happened to them."
Sometimes, you see these people on Celebrity Rehab or some other reality show. And you're like, "If I had ever had the chance to be famous, I would never have wasted or -gotten into drugs or done any of those things that you're struggling with." But you don't know that person's life. You don't know the pressures that they've been under. So, I think that's a really fascinating thing to dig into. The classic saying is – When it happens to you, it's tragedy. When it happens to someone else, it's comedy.
Zub: There's this idea that our emotions – our drama is so true. And the fears that we have are real. And everyone else should just get over it. "Oh, you're famous – well, you don't have any problems." And you're just like, "Everyone's problems are their own."
Everyone has their own crosses to bear. How can we take this character and make her empathetic – even if she's doing things that you wouldn't do? Even if she's taking actions that you're like, "Oh, that's reprehensible." Yet maybe I would if I was in her situation.
CB: Tell me about your artist on Glitterbomb.
Zub: Djibril Morissette-Phan is brand new. He turned 22 last week, and he is one of the most skilled, young artists I have ever seen. The work that he has been producing is already polished, professional quality. And he's on time – a page a day – delivers the goods. And he's going to get better because he's still young. And that blows my mind. Everyone I've shown the work to is just blown away that he is so consistent and so on-target. We are all really excited to watch him grow.
CB: Is this a mini or an on-going?
Zub: Same thing as Wayward. It's going to eventually end up some way. We have a lot of stories. The first arc is four issues, but it's a double-sized first issue. So, it's 5 issues worth of content. If it does okay, there is a story told about Farrah, and it wraps up in a way that is satisfying. But we open up a Pandora's box of ideas that I would love to explore deeper. So, we have a second, third, and fourth arc in play that we would love to play with.
CB: How did you research this character?
Zub: I did a lot of reading up on Hollywood – so the casting process, actors. I watched everything from Celebrity Rehab all the way to reading biographies of celebrities who have fallen from grace and things like that. You're reading a lot of books. You're reading a lot of articles.
You're watching documentaries about the Hollywood process and how it sort of grinds you down. So, that was really fascinating in channeling my own fears about my career. As much as I produce a lot of material, there's always those moments. You pitch on a big project; you don't get it. You fall through the cracks for a couple of months. And you think, "Oh, is this it – I'm not gonna get any more work." The bloom's off the rose or whatever.
You go through that weird, internal churning process. I said, "Okay, that's a universal feeling of not feeling like you belong." Like the impostor syndrome. People who are even very successful – in some cases experts in their field – and they feel like a fraud. They can't imagine – because all of their own flaws seem so clear to them. To other people, they're aspirational. The divide between those two things creates anxiety.
It's a defensive reaction where, sometimes, you're not qualified. It's not like you're perfect at everything, so, sometimes, that isn't impostor syndrome. That's an alarm bell telling you that this isn't working. But sometimes you confuse those symptoms. And I think that that's a really cool – I guess an interesting thing to talk about is these broader ideas of what happens when you fail. What happens when you fall off the wagon? What happens when you – when the system doesn't open up to you. You aren't the person of destiny. You don't get to be the one in a million.
That's one of the things that – when I talk about breaking into comics, it's a good example. I say, "There are pathways into this industry – creatively. You can create good work and show it to the right people, and, ideally, doors will open for you." But they don't open for everybody. I was talking to Ron Marz about this, and he said, "There are less full time comic book writers than there are professional baseball players." By far.
And you're like, "But those guys are way richer and more successful." But it's that tight a club for people making a full time gig of this.
CB: That's true. There's like six hundred pro baseball players and maybe a hundred pro writers who make a living from it.
Zub: Who make a living from it, right. He wasn't saying this like an ego trip – But it's sort of rarefied air. Like there are thousands upon thousands upon thousands of people that want to write Spider-Man. Dan Slott writes a great Spider-Man. I love Dan, and he's writing a great book. If I want to write Amazing Spider-Man, Dan has to lose his job. He might go write something else, but that's the tightness of this community. It's not like we all get our own Spider-Man book.
This is why doing creator-owned is so important – because, ideally, they can't take that away from you. If you get the right contract or you do it somewhere like Image where you get to keep it. They can't take it away from you. They can always take away the superhero gig. It will inevitably end. But they can't take away what you created from scratch.
CB: You're well-known for working really hard with both your publicity and your projects. Is this a lot of what motivates you?
Zub: Yeah. Because right now is the time to build that body of work. Royalties are great, and you hope that they sustain you. But if a publisher decides that they want your superhero work to fall out of print, I have no recourse. But I can control Skullkickers. I can control Wayward. I can control Glitterbomb.
Those are things that are mine, and, ideally, if Image decided that they didn't want to publish them anymore, I could take them to a different publisher. Because I control it. With the co-creator or the artist or whatever. That has value, and ideas have value. I remember reading an interview with Mark Millar. He'd done Civil War for Marvel. He's the top writer at Marvel, arguably. He's doing the big events and all that stuff. That was what – 6 years ago? Around 2006 or 2005?
And he's starting to get – not head-hunted. But Hollywood's poking around. And they're like, "What have you got?" And he basically showed them Wanted because he had done that at Top Cow, I believe.
And they made a movie out of it, and it's a big hit. Then they turn around and say, "Well, what else have you got?" Or it goes into production – it wasn't even out yet. So, "What else have you got?" And he goes, "Nothing." And they go, "Oh, Okay. Bye." And they walk away.
Mark doesn't have that problem anymore because he realized the capital that he could build in his own ideas. So – boom – he hunkers down, and he makes Kick-Ass. He hunkers down, and he makes Nemesis. Now he's doing Empress – book after book. He's done a bunch of them now. He's got 6 or 7 books in the Millar-verse, right? Because he understands that he's got to invest in himself. Doing superhero stuff is great, and that put him on the map and that built him an audience. But, at some point, you have to have your own property – your own intellectual material – or else you will be like those guys in the '90s who did really successful work at Marvel or DC and now don't have any capital to spend.
CB: Even more tragic to me is when I find some really great book from Image from the late 90s to early 2000s. It's original and intriguing, and it reads fantastically, and it probably sold 6000 copies and I don't know what ever happened to this creator. It's terrifying.
Zub: Right. And I'm not saying that every book is going to be made into a movie. But if you put enough out there and you're moving in enough directions, ideally, something will spark and create enough friction somewhere.
And so that's the two halves of it. I love doing work-for-hire. I have no problem with it. I love working on commercial work. Working on Dungeons and Dragons or Samurai Jack or Street Fighter or Thunderbolts is an honor, and it's a thrill. I love doing it. But I have no delusions about my long term value to the IP. If Disney decide they want to make a Figment movie, I would stand to probably make really good royalties, and they would sell a cajillion of those books. But that's unlikely. So, I've got to make sure I'm covering all my bases.
And also creatively fulfilling myself by putting something out there that's all me.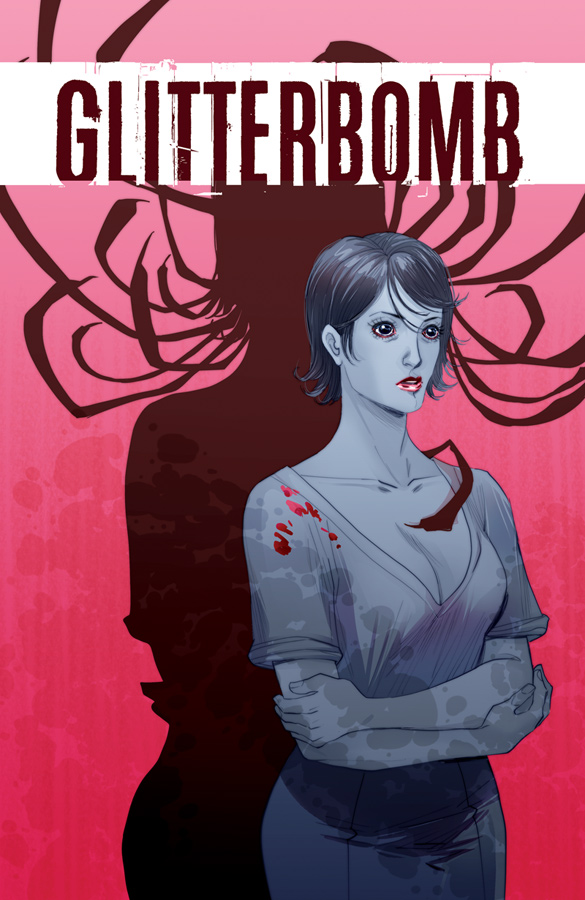 CB: It's not just commerce, right? It's a lot about expressing your vision and having people embrace it, too. And that's part of what you love about people's reaction to Wayward.
Zub: Right. What I love about Image is that every Image book is a passion project. There's no corporate top-down mandate, where they go "We don't have enough of this genre – this demographic. We aren't covering this trend." They're just like, "What is the book that you would want to do?" And Eric is the filter, and he goes, "Yeah, we would sell a base amount. That seems viable. That works well. That builds Image as a whole." That's the only requirement, you know.
CB: And you're at the point in your career that you're trusted enough – that they know that you're gonna bring in a large enough market that you can build off of.
Zub: That I can cover my costs, at the very least. Right? I'm not going to lose money, and I'm almost inevitably going to build something that works.
CB: You're implying – and I know that you did the panel earlier today about "breaking into comics – that the problem isn't necessarily breaking in. The problem is staying in.
Zub: Yeah. Don't get me wrong – you getting your first gig is a huge pain in the ass. Because it's difficult. It's difficult to – You are competing with people who are already gainfully doing the work. And if an editor has the choice between someone who is reliable and can do the work – and an unknown – almost every time they're going to break to the people who are known.
CB: That's a really interesting point. They're reliable, and they do the work. They're a proven commodity, and the editors know they can deliver. That's underrated.
Zub: I think some people get really bent up when they look at Image's line-up, and they're like, "Oh, of course – Ed Brubaker, the guy who did Captain America. Oh, of course you're going to do Brandon Graham or all these guys who are established." And you're like, "Yeah! You would too if you were the publisher."
But the fact that Image even takes pitches from complete unknowns – and can put them into the same field. Justin Jordan with Luther Strode. He was a complete unknown – pitched that thing cold. He and Tradd did an image book and built a career for them both because the work was great. So I think it's disingenuous to say that Image's biggest people are all Marvel and DC guys or gals. And you're like, "Yeah?"
CB: Well, to me, that's the future of comics right there. They have a place to take their non-corporate properties and be able to do whatever they want with them.
Zub: Right. Right. Brubaker can do Velvet and the ultimate spy story and all this sort of stuff.
See, this is the thing. For me, it's like, doing the creator-owned books, I get to scratch this creative itch. I get to really, really control and prove myself in whatever genre – whatever I decide – rather than trying to fit into a box for myself. So, I can do a horror book, and no one is going to be like, "Well, I don't know if it'll sell." Image goes, "Okay, this will be really different, and the art looks great, and we know Jim. And he's reliable."
So that's really been liberating – to be able to do both halves of the comic book coin. The work-for-hire stuff is great, and I learn a ton doing commercial projects. Because when you're in the sandbox, and you have to play with the toys, and you have to work around other peoples' limitations, it pushes you to do things you wouldn't normally do. It pushes you to compromise and learn how to broaden yourself. The creator-owned books are indulgent. I get to do what I want, when I want, and that's great. I get to play to my strengths, but the only pushing is coming from me in most cases. With the commercial stuff – When they ask for something specific or when I'm trying to hit a mark or when we're playing inside the continuity sphere, those are fascinating goals to try to hit all the marks on.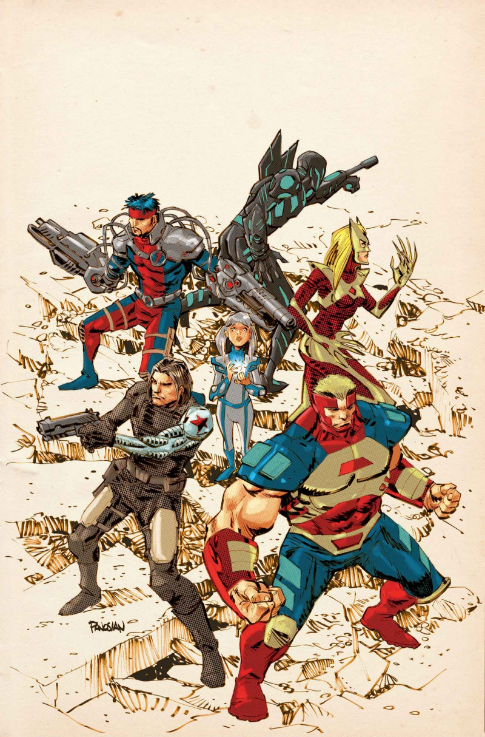 I want to do something that is in continuity. I want to do something that is exciting and feels like a logical extension of the work that has come before, but also bring something of myself into it. Otherwise, why am I here? If I can hit all three of those marks and please a reading audience, that is a really cool challenge.
CB: That's tough, though, right? You're writing Bucky, now – the Winter Soldier himself.
Zub: Right, right. Ed Brubaker's made this character a very, very beloved extension of the original Captain America mythos. Now we're again trying to extend it in a logical direction. But also put some of myself into it. That's been really cool.
When people respond to it viscerally, it's a little surreal. Because, on the one hand, they love Bucky, and they love the Thunderbolts. We're coming up on the 20th anniversary of Thunderbolts next year. That is a long legacy that I am tying into. And so I get the benefit of that footprint – that people love those characters. I get to pick up the torch and have all the love that they previously had, and I get to add to it. It's not unfair, but I didn't earn that. I mean, I earned the chance to do it, but I didn't make those stories that they loved on those characters.
But then being able to add my own ingredients to it or even look at the old stories and say, "These are the things that speak to me about why the book was great. And I belief we can take those themes and push them in a new, cool direction."
CB: I'm sure in some ways that's why you wanted to get into comics in the first place. To play with these toys, so to speak.
Zub: But not to the exclusivity of my own creativity. I never want to be so workmanlike that you could put me in every slot. Like I would be – "Yeah, I could do that. Yeah, I could slop it out." I've still got to be invested in it. Not every project is going to be perfect. Not every project is going to be the way I exactly want it. But I can still inject something of myself into the mix.
I went in a little bit nervous that Marvel was going to be the heavy iron hand of continuity or the heavy iron hand of "We have plans. You must fit within these plans." Honestly, they've been great. And I say that without any reservation. Like the editors, Tom Brevoort and Alanna Smith, have been great about listening to what I think is valuable. About giving fresh eyes to the storytelling. And asking questions that force me to answer the dramatic stakes properly. But not taking away from what themes I think are important – really exemplifying them.
"Jim, I know we've agreed that the story should be about this – how can we best present that?" Rather than being like, "You are a cog in the machine. Fill in dialogue balloons." So, I've been loving that.