Longtime comics inker Joe Rubinstein wraps up his trip down down memory lane.
Read Part One of this series here, Part Two here and Part Three here.
---
Bryan Stround for Comics Bulletin: What led you to the West Coast, Joe?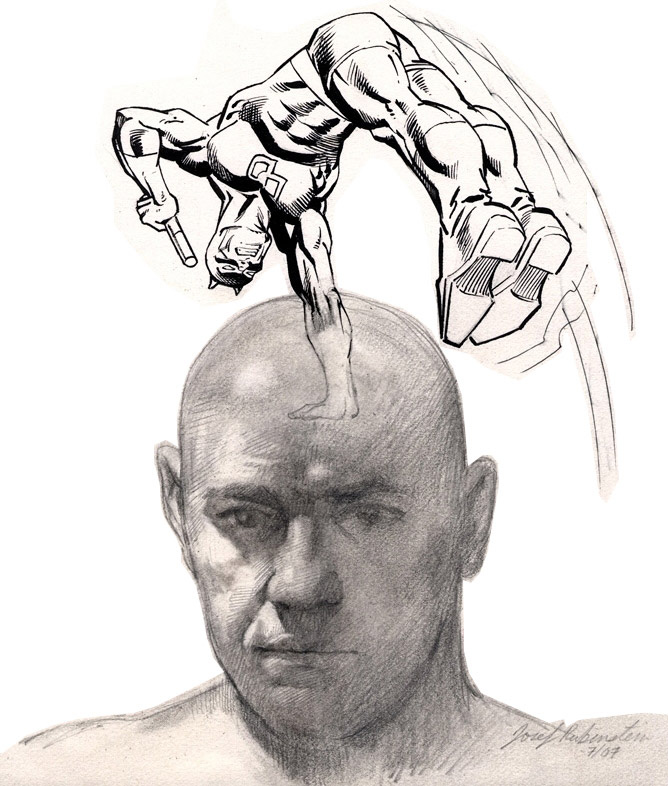 Joe Rubinstein:  My girlfriend wanted to live here and I didn't want to lose her, so we relocated. It's warmer here.
CB: I guess that's kind of the beauty of the way things work now. FedEx goes everywhere.
Rubinstein:  Right. Prior to that if you wanted to be a comic book artist or an illustrator, you had to live or travel to the tri-state area and that was that.
The Filipinos, when Joe Orlando was recruiting and hiring them, would do their artwork on thin, thin, thin paper, roll it into a tube and mail like a 22-page job back from the Philippines because it was the cheapest way they could make this stuff happen. I don't know for a fact that DC paid them less money than the American artists, but I would imagine on American rates they could afford real postage.
And now, of course, with electronics you don't have to live anywhere near the companies anymore and nowadays some inkers never even get the physical pencil artwork in their hands. They e-mail it to an ftp site and download it, print it, ink it and send it back. I imagine that cuts back on FedEx costs and returning artwork costs and so on.
CB: It's a different world. Dick Giordano, your mentor, commented to me that he had to make that commute from Connecticut for awhile. That must have been difficult. He said he'd do work on the train.
Rubinstein:  I think he worked on the train by writing and editing, but he didn't do any artwork.
CB: I'm sure you're right.
Rubinstein:  I just want to make it public right now: Every time I see Dick Giordano I kiss him on the lips. There, it's out, I'm proud.
CB: (Laughter.)
Rubinstein:  Dick's an Italian man, and Dick taught me what I know, and he's a very nice guy and I just kiss him. You know when your father passes away, the art of hugging and kissing fat men usually leaves with them.
CB: (Laughter.)
Rubinstein:  And Dick usually fights me. "No, I gotta kiss you."
CB: Good for you, Joe. How did you guys get acquainted?
Rubinstein:  I was at a comic book convention. My father, who hated comic books and didn't want me to go anywhere near them, brought me to my first comic book convention and there was this guy there, my idol at the time, Neal Adams, and I wheedled my way into an invitation to his house for dinner and when I was there he said they'd just opened this new studio called Continuity Associates, and I said, "Can I work there? Mop floors and clean up and stuff?" It was the summertime and they let me and it was a horrible, traumatic experience, which I'm still talking about in therapy today.
And then when winter came and school was back in session, I was allowed to come after school and do errands and stuff and when there was an opportunity, I would practice. I would get Xeroxes of Neal's pencils on some advertising job and I would get Dick's inks and then I would get a sheet of tracing paper, put it over Neal's pencils and then imitate Dick's inks to learn how to use a brush. I was going to the Art Student's League at the same time and then Dick eventually started letting me do blacks on his pages and touch up the panel borders, do a little bit of inking here and there.
When Russ Heath, who was working there, and would go to lunch I would go and pick up the magic brush; this incredible brush that would render two page spreads of Tiger tanks with the rendering on the tread and I'd pick it up and I'd dip it in ink and it was like using a turd. "Oh, I get it. It's not the brush, it's the guy." I would work in Jack Abel's room and he'd start letting me do some assistant work and then Woody rented space there and that's how I started to work for Woody.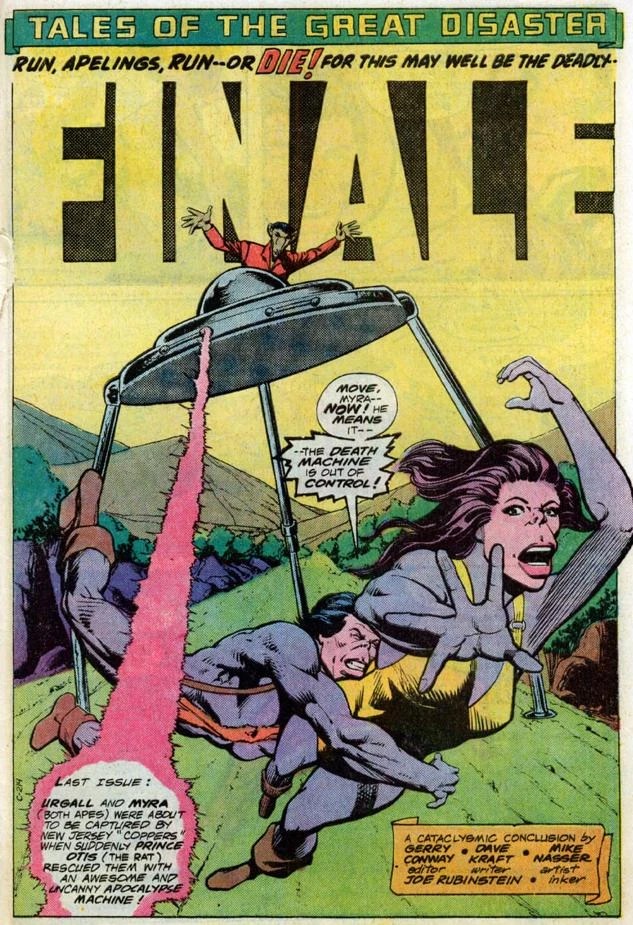 I went to the High School of Art and Design which was a vocational art high school and I don't think I had money, but I know I didn't want to continue studying, I just wanted to work. There was a new guy there named Mike Nasser who eventually became Mike Netzer (chuckle) and I asked if I could work on his samples and I did and he liked what he saw and he had just gotten his first job, appropriately titled "Tales of the Great Disaster" in the back of Kamandi and he brought my samples up and Gerry Conway hired me for what I found out was the cheapest rate anybody was being paid in the industry: $20.00 a page. Believe me, if it sounds cheap now, it really was cheap then, but only by a little, because I found out the rates people were usually hired at was $23.00 a page. I wasn't that fast and I figured at this pay rate, the most I'll ever make in my life is $10,000.00 a year. I wasn't anticipating raises.
So then I started to freelance and I got some jobs and then I couldn't get any more jobs. I went to Israel for a visit, which is where I'm from. When I came back I thought maybe I could help people like Bob McLeod or Klaus Janson meet deadlines. If I remember right the first day when I was looking for work I got three jobs. One was from a penciler named Jim James who hired me to ink something that I don't know if it ever got published and I got the Kamandi thing and something else I don't remember now. The way I got the DC job was that Sol Harrison, who I hope is sharing a room with Mort Weisinger, by the way, said, "Okay, I'll give him the work, but (speaking to Dick) only if you watch him." So I did the job and I brought it to Dick and he said, "Okay." That was "watching me."
CB: (Chuckle.)
Rubinstein:  I managed to get work from then on. I was the youngest guy in comic books for awhile. I was 17 and Trevor Von Eeden was penciling Black Lightning. I think he was 16. I was lobbying for us to do something together so that we would be the youngest team in comic books, but that didn't happen until I was the ripe old age of 20, I think.
I remember Joe Orlando looking at my latest job and he went, "I remember when Al Williamson used to come into the EC Comics offices and he was 21 and we couldn't believe how young he was." The nice thing about being an inker is that you're allowed to not know what you're doing for the first two years because you can hide behind the pencils. Pencilers can't hide anywhere, but if you get tight enough pencils and you just follow them without actually falling out of your chair, people will think you're not bad. So I was working at DC for two years, but I was really champing at the bit to ink the Buscema's and Colan and Don Heck and I don't remember who else, but the guys who were only at Marvel that you couldn't get at DC. Then Jim Starlin, who's done this to several people, came up to me and said, "I'm doing this annual. Do you want to ink it?" "Yeah!"
CB: (Chuckle.)
Rubinstein:  He had started on parts of it, but I guess he said, "I don't like inking and I've got other things to do with my day." So that was the Avengers Annual, along with its immediate sequel, the Marvel Two-in-One Annual and they got noticed. I remember John Beatty told me, I'm not sure how much younger John is than me, but he said he bought the comic book and thought, "Hey, who's this guy?!"
The thing is, I wanted to work on good pencilers. I just wanted to do Conan. Not because I have such an affinity for Conan, but because it was John Buscema and Frank Miller was this kid from Vermont who was starving who I used to buy lunches for when he would come to the studio to show his latest stuff, so I guess that's why Frank got me to ink the first Daredevil cover he drew simply because he knew that I would try. Then they ask, "You want to do a Wolverine mini-series?" "Sure. I love Frank's work now." I never thought, "Oh, this is the first one ever. It's historic. The pages will be worth $5,000 each in 30 years, if you can find them." I guess it's like movie and T.V. stars have said: "We did a job. We did the best we could and then somebody paid attention to it." And now it's part of people's fantasy, folklore, childhood, history and so forth and they really want to know what it was like inking the first Wolverine mini-series. "Like a job."
CB: Exactly. I remember Frank Springer saying, "Hey, I was happy to have the work. I needed to feed my kids, buy my house, and buy my car."
Rubinstein:  Someone asked Simonson, "Were you intimidated following Kirby?" He said, "Well, pretty much everything at Marvel in those days was following Kirby." He did The Hulk, The Avengers, Captain America. It was all following Kirby. He did his job.
CB: That's true.
Rubinstein:  Personally I think if you're going to do a character that Kirby invented, go look at Kirby. After that, it got diluted. Now, maybe I'm being reactionary, but if you're going to do Galactus, do Kirby's.
CB: That's right.
Rubinstein:  I was thinking, "I am inking John Buscema, can I do this justice?"
When I'm inking Gene Colan: "Oh, my God. Gene Colan. Daredevil, Doctor Strange, Dracula." Tom Palmer was very much one of my influences, so now there's that never-ending debate: Am I going to do it like Palmer, because I can't do it as well as Palmer? Am I going to not do it like Palmer? Well then it won't look like what I think it should look like. Am I doing Palmer even though I intended not to do Palmer?
And sometimes you would find its like when I did Byrne's Captain America. I thought, "Well, there's a lovely, decorative quality to what Terry Austin was doing on the X-Men, but he didn't have any nostalgia to me then, like it does to plenty of people now. It wasn't what I grew up on, it's what I've seen going through the offices. "Oh, this is kind of nice. Yeah, I like this," but I wasn't saying, "Oh, God-oh-God-oh-God, are they going to judge me against Terry?"
Now I did do that with Klaus, but as I said Klaus almost always blew me away in what he did. I remember when I would get the latest issue of Daredevil I would look at it two ways, and I had to be very disciplined about it. I read the story, because I wanted to get the impact; then I went back and looked at the artwork, because if I looked at the artwork then I would lose the train of the story. So when I did Byrne's Captain America… I realized that Terry wasn't inking John the way I would do it. He was interpreting a whole other set of stuff even though I'm sure John was more or less drawing them the same way. "Okay. I feel no obligation to give it an X-Men look, because I'm just going to respond to the pencils in front of me." And all these years later people keep referring to it as a true highlight in my career, and I don't disagree, but my frustration is I wish they would hire me to do more John because I think I'm a better inker now, and you'd get a better job. But, John tends to ink his own work nowadays.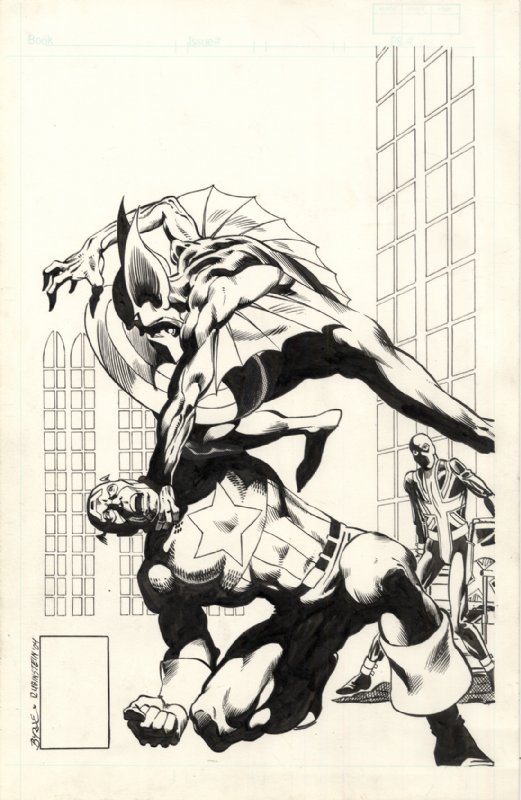 If you go to ComicArtFans.com it's got tons of original artwork that people have bought for their own galleries, and a big, big John Byrne fan is the inker Tim Townsend who is known primarily for his X-Men stuff. Tim hired me to ink a Captain America commission that he had John drew and I loved it. I loved doing it; I loved the nostalgia of it. I think John and I look very good together, and Tim was really pleased by the thing. I think it's better than my Cap stuff. There's a lot of themes on this website like drawings of Batman or Catwoman and this one guy has Chameleon Boy from the Legion of Super-Heroes turning into various things. A collector named Michael Finn has his theme called "One Minute Later…"
CB: I've seen some of those. They're very interesting.
Rubinstein:  The idea is "What happens one minute after this cover?" Like Batman punches the Joker and one minute later the Joker has risen and blasts him or vice versa. "What would have happened?" Michael commissioned Byrne to draw a Captain America cover, which is the one where Baron Blood, I think it's #254 , but Baron Blood is standing over Cap and is about to kill him. So what Byrne drew was the tables were turned and now Cap has Baron Blood pinned with his legs as he's picked up the shield and is about to decapitate him. And that was great. It was great inking it and everybody reacted to the fact that they hadn't seen a new Byrne/Rubinstein cover in 25 years.
CB: Wonderful!
Rubinstein:  I also do recreations where some kid might have had his grandmother buy him his first X-Men comic or Captain America, etc. And he always loved that cover, and now its 30 years later and he's got a little bit of money and he contacts me or Frank or John or anybody, because they can't buy the actual original art. They're crazy expensive, even if you can find them. So they commission me or whoever to do recreations of the cover.
One day it occurred to me what we are selling: Its joy. What good does a piece of artwork do in a portfolio or even on a wall unless you look at it and you recall a fond memory or some friend comes over and you say, "Look what I've got!" You get joy from, "Look at this! It's Daredevil!" And that's what we do. As a matter of fact, Tim sent me an e-mail, and he said, "I just bought a Captain America cover for the equivalent of a middle-sized car." He said, "I think you'll be interested in it." So the cover starts to scan down from the top of my monitor. So I start to see the Captain America logo, and it keeps going down and I'm waiting for a Kirby cover to pop up eventually. Then it gets low enough where I realize it's one of mine with Byrne. So that's the kind of money that original art, some original art, goes for nowadays and it's rather prohibitive for most people to afford that, but it's not as bad if you get somebody to recreate it for you.
CB: Yeah, and as you said, that's an opportunity to buy back a memory and that's absolutely priceless. I take it you enjoy doing them.
Rubinstein:  Yeah. Very often when I'm re-doing them I'll think, "Who is this schmuck inker? What is he thinking? I would change this." But I don't, because nobody asks me for the new and improved version. "I wouldn't have done it that way now, but that's not what they're asking for."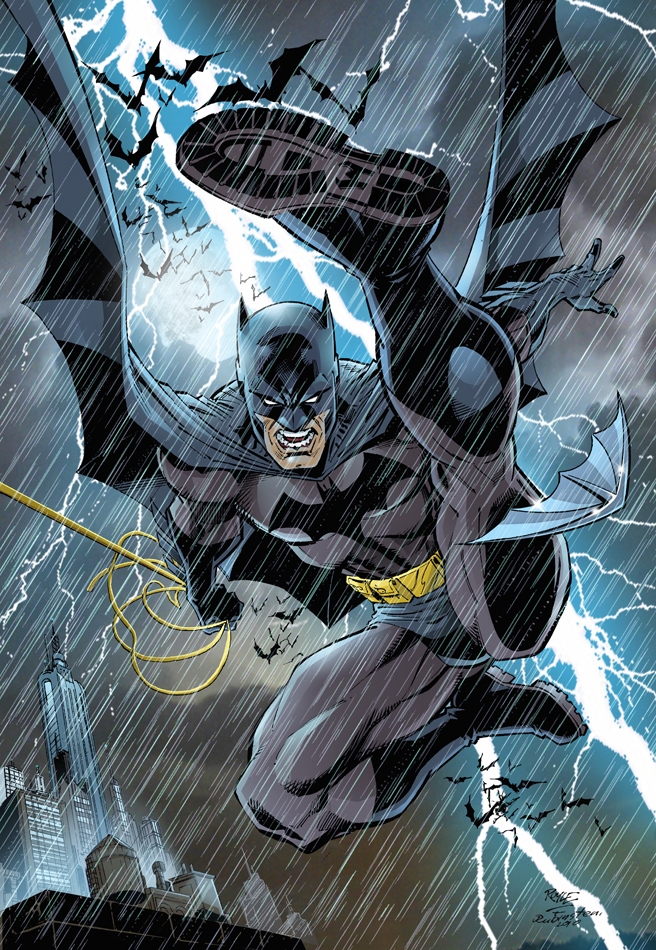 CB: If I'm reading you correctly it sounds like rather than having favorite genres you have favorite collaborators.
Rubinstein:  Yeah, but I like superheroes, a lot. I even like love stories and romantic stuff because you get to do pretty girls. I'm not particularly versed in Westerns or war stories and I hate doing metal. I don't want to do a robot. I don't want to do the Transformers and ROM doesn't particularly turn me on either, but if they called up and said, "Ditko did a ROM, do you want it?" I'd take it. But I like superheroes and I like pretty girls. I don't mind mystery jobs and jungle jobs because I like doing organic things like trees and rocks and boulders, but if I have to do airplanes or spaceships it bores the crap out of me.
CB: Ah, back to that straight line precision stuff.
Rubinstein:  Yeah. With a muscle you have a certain amount of leeway in how it goes and where it goes, but if the fuselage is too much this or not enough that, it's wrong, and I'd rather not be restricted that way.
CB: I can understand. That would not cause the creative juices to flow much.
Rubinstein:  Mind you, Dave Simons, who used to do the Ghost Rider book, is a motorcycle enthusiast and he loved doing Ghost Rider because of the motorcycle, so good for him. It's just not my thing. I like people. I like the look of people and the way clothing falls and how hair looks and I like pretty girls and whatever it takes.
CB: Joe, you've drawn pretty much every major character. I can't think of a single one you haven't drawn. Do they translate well to the big screen?
Rubinstein:  Well, I'll answer your question, but who cares?
CB: (Laughter.)
Rubinstein:  I mean, what do I know? Just because I do comic books doesn't mean I have taste. I think…I enjoyed the Spider-Man movies. I enjoyed the first more than the last, but the last with that Sandman effect was wonderful. I liked Daredevil. I hear lots of people didn't. I liked Daredevil a lot. I liked both Hulk movies, but there's no denying the last one was wonderful. Now that they have the technology and people don't look like they're wearing cloth outfits…I looked at the Batman movie and Christian Bale is a wonderful, wonderful actor, but I think to myself, "You think people aren't going to identify you from your teeth?"
CB: (Chuckle.) It does seem a bit absurd.
Rubinstein:  Somehow Smallville has not…I don't know if they ever will. No one is dealing with the fact that when Clark puts on the costume nobody knows it's Clark and that never made any sense. It just didn't.
But you know what's funny? When I inked my first Superman with Curt I inked Superman and then I inked Clark and I thought, "Wait a second. This is not the same face." He was drawing a different face for Clark. It's not that he took off the glasses. He was absolutely doing something different when he drew Clark. Then the writers did a story that was trying to reconcile this, because as the kids grew up, became adults and they became writers they said, "This is stupid. It makes no sense." They wrote this story where Kal-El, unbeknownst to himself, was sending out a hypnotic suggestion to everybody who looked at him so he wouldn't look like Clark when they saw him. This was a real story, not a "What if?" So, what can you do?
CB: That's funny. It reminds me of something I read somewhere that was very similar. It was a retro explanation where Jay Garrick, who didn't wear any sort of mask when he was the Flash, supposedly vibrated his features when he was in costume so that they couldn't identify him.
Rubinstein:  What are you going to do? I just saw the Spirit movie, and I can't tell how good a movie it is because I was just too fascinated with watching Frank's pictures come to life. "Oh, look, it's a Frank Miller shot. It's a water tower in silhouette." So I'm not the audience for it. On top of that, I'm usually the only guy laughing at scenes in comic book movies. It's like in the Daredevil movie Matt's father has to fight this guy and his name is Battlin' Romita, or something. And the character says, "Yeah, you know that Romita's a scumbag!" I'm laughing, because I get it.
CB: (Chuckle.) I know what you mean. I guess I'm officially a geek because the new animated Batman, Brave and the Bold that just started showing on Friday nights a few weeks ago had one episode where the opening scene showed a couple of kids watching a television and the screen flashes a quick advertisement that made me do a double take. "Did I really see that?" I contacted my best friend and asked, "Was it me or did that screen show an ad for Plastino Kitty Snacks?" "You're right."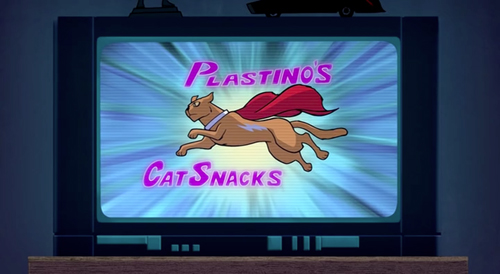 Rubinstein:  I liked the way the Spirit movie showed Ditko's Delivery Service or something. I thought, "Of course Frank has great admiration for Ditko, but he's not a Spirit guy, c'mon!" There was a Feiffer mentioned in there and I think Donenfeld, who was the original owner of DC comics. When Howard Chaykin had something to do with the Flash T.V. show decades ago, I would watch it, and I didn't particularly like that show, because the Flash was too damn bulky, but I would watch it and I would just listen for the names like, "Yeah, we've got to meet you over at Simonson and Milgrom." Of course Kirby Plaza is in Heroes. Why not?
CB: Sure. All the inside jokes.
Rubinstein:  Think of it as tributes. Well, look at Smallville. Chris Reeve's character was Professor Swan. That was no mistake.
CB: Right. Of course back in the day that was one of the fun stories Joe Giella told me about when he was drawing the Batman strip and of course contractually it had to be signed "Bob Kane" no matter who did it. He said his only alternative was just every so often to slip in a delivery truck with "Giella's Donuts" or something.
Rubinstein:  I've drawn myself and my then-girlfriend into things and I did a Justice League International Annual with Bill Willingham and it was set in Brighton Beach, Brooklyn, having nothing to do with me for the story, except that's where I grew up. Nobody asked me and I wasn't consulted on plot. Brighton Beach, Brooklyn is where a large contingent of Russian Jews immigrated and there was a scene where they're dancing in a Russian nightclub and so I just made sure one of the guys was my father. You do stuff like that.
CB: Nice. Personalize it a little and keep it fun. Joe, I've burned up two and a half hours of your night, my friend.
Rubinstein:  Well, luckily I got to do a card while we were talking.
CB: I can't thank you enough, not only for your time, but for contacting me in the first place. I'm not sure what caught your attention, but I'm sure glad it did.
Rubinstein:  You're welcome.