Jason Sacks for Comics Bulletin: I'm here at Emerald City Comicon 2016 with Kyle Higgins. Go, go, Power Ranger!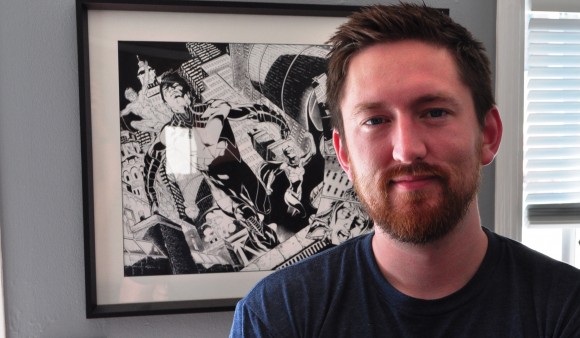 Kyle Higgins: Yes! I've heard that several times.
No one has said it to me, but I've heard it. I did a panel yesterday with Jason David Frank. The theme song was not only blasting before and then after the panel, but then I found myself whistling it walking down the hallway, which I sure was super obnoxious, especially to anyone who knows that I'm writing Power Rangers. I just look like a blithering asshole, whistling the theme song to my book.
CB: You're promoting!
Higgins: It's kind like wearing the t-shirt of the band you're in in some ways. It's cool, but it's also a little douche.
CB: There's a fine line with that kind of thing. Some guys do that on Twitter too, like "Read my latest book. Read my latest book." I'm like, "Come on, socialize with people."
Higgins: Yeah. Although to be fair, I fall into that trap. I got burnt out on social media pretty early. I'm always terrified I'm going to piss somebody off. I just don't say anything. Then when I do tweet or do anything, it tends to just be about my work or my books. Then I feel like an asshole because I'm just shilling my stuff. Basically I'm just unhappy all the time. It doesn't matter what I do; I feel like I'm doing something wrong.
CB: I'm pretty sure you don't have a brain tumor, Kyle.
Higgins: Well, yeah. Before the interview, we were talking. I'm having trouble articulating words today for some reason. I don't know if I'm dried out or I have a brain tumor; that was my first thought.
CB: How do you approach writing something like Power Rangers?
Higgins: Well, my stock answer (and this my stock answer because it's totally true) is that I write Power Rangers not as I remember them or even as they were, but as I remember them making me feel. It's coming the series and in viewing it with a big scope, but it's about these teenagers that are friends and are navigating everything from the drama and stresses of high school to home life stuff to saving the world. It's a lot to manage. It's like the best aspects of superhero storytelling, but with giant monsters and robots.

CB: A touch of the X-Men approach, right?
Higgins: Yeah, there's definitely an X-Men vibe there. It wasn't something I did. Wolfman and Perez's Teen Titans as well. It's not something I'm doing consciously, but I do like writing teen books because everyone has their own dynamic within the group.
Power Rangers to me has always been about the power of teamwork and friendship and inclusion. Approaching the series through the lens of a new member joining the team and how his introduction throws off the dynamics within the group was really interesting to me. I felt like that was an interesting way to tell a story that's true to what makes Power Rangers so great, but in a slightly different way, especially because our take on Tommy's introduction is a little bit more tortured.
It's a little bit more Manchurian Candidate or Winter Soldier where he can't really escape or he hasn't escaped Rita's clutches, but he desperately wants to. He's haunted by the spectral image of her. You don't know if it's really her or if it's some sort of mental manifestation of her that he has created. But obviously he's working through some shit.
CB: He becomes a gateway character for the reader.
Higgins: Yeah, exactly.
On top of that, like I was saying before, everyone has their own dynamic. Jason and Kim, Kim and Tommy, Zack and Jason, Zack and… Everyone has their own pairing, like any group of friends has. That's been the thing that has been the most fun for me. Every issue I pair up two different Rangers and sometimes they are not what you expect pairing wise based on what the show was. Zack and Jason are best friends, but I don't remember a lot of scenes between Jason and Kim one-on-one or Trini and Tommy one-on-one. That stuff is a lot of fun to explore.
CB: You play with that a lot in your books. Obviously Batman Eternal has a lot of the interpersonal stuff. There's such complexity there, too. Obviously it's an idea you come back to again and again. That's dictated by the plot as well.
Higgins: Batman Eternal was a little bit different because I came into it pretty late. I was on it very early on and then I didn't stay for the start of the series. Then I came back when John Layman had to step off. A lot of it was already figured out and in motion. I came in and I worked in the writer's room with them and helped refine some things. When it came time to script my issues, the train was already far down the tracks. It came about juggling subplots and figuring out interesting ways to execute certain things and bring different character dynamics to the forefront.
I do think you're right, though, because one of the first things I did at DC was a book called Gates of Gotham, which was really an exploration of the Bat family and the reintroduction of Cassandra Cain and how her joining the little family (the team) for this case through off a lot of the dynamics within the group. Damian was shitty towards her and really deep down it's because it's another person his dad had accepted and his dad had not really accepted him yet.
I really enjoy that storytelling, probably because I've spent most of my life feeling like an outsider. I think most writers feel that way. I probably come back to that for a reason.
CB: That's why Damian in particular is so interesting. We can really see ourselves in him. He wants this love he just can't quite get or he's rejected from this love, yet he's doing everything he can to try to transcend that.
Higgins: He's like this perpetual ten-year-old that's like a blast to write.
CB: You get to write more from the id with him.
Higgins: Yes, because he's overcompensating for his own insecurities in a huge way. I think we all do that. A lot of characters do that, but he goes so far beyond in the way he overcompensates that it's pretty entertaining and charming.
CB: How much room did you have to improvise in a book like Batman Eternal?
Higgins: It was pretty well defined. We all had our own story arcs that we were responsible for, but each story arc had to tee up the next writer's arc. We were writing them all at the same time. It became a little bit of a juggling act.
It was a very collaborative environment. If there was something that we felt strongly about or we wanted to try, we would just do it and then we would figure out how to make it work in the next writer's arc. You couldn't be precious about things, but it was a good room. It was a fun time.
CB: Pretty close collaboration with them then?
Higgins: Yeah. I don't know that I would do it again. A series like that has a lot of challenges logistically.
CB: Deadlines and production wise?
Higgins: You're working with different artists all the time so you don't really get to know strengths and weaknesses. You don't really know how to write for them.  Then on top of that, I tend to be very rigid in the way I work with story and what it's about and what kind of thematic and emotional material I'm looking to explore.
A book like that becomes a little amorphous. It has to. It's like working on TV show.
CB: It sounds like working on Power Rangers you have at least the ability to carve out a little more space where you can explore these things that are passionate for you. Is that because Saban gives you more freedom?
Higgins: I wouldn't say it's that. I mean, they do give me a lot of freedom. It was a story that I pitched that I felt like could be really cool.
I think I'm a better solo writer in some ways than a team writer. I say that, but at the same time, I really enjoy breaking story with other people. That's part of my process. I do co-write a lot with Alec Siegel. I don't know. I'm totally contradicting myself here.
CB: Well, it's a complicated thing. I do a lot of nonfiction writing. I have a professional job where I have to do a lot of collaboration. Often times it will be a great experience, but it's always not quite the same as doing your own thing.
Higgins: Yeah. I guess what I would say that's so great about Power Rangers is that because we're doing a new take on it, there is a lot of unmined material there emotionally, whereas something like Batman Eternal, there's been a lot of Batman stories. I've written a good number of Batman stories. There are only so many things that you can do with Batman, whereas with Power Rangers, our take on it is very different. At least right now, I feel like there is a lot of potential there to do new, different, exciting things.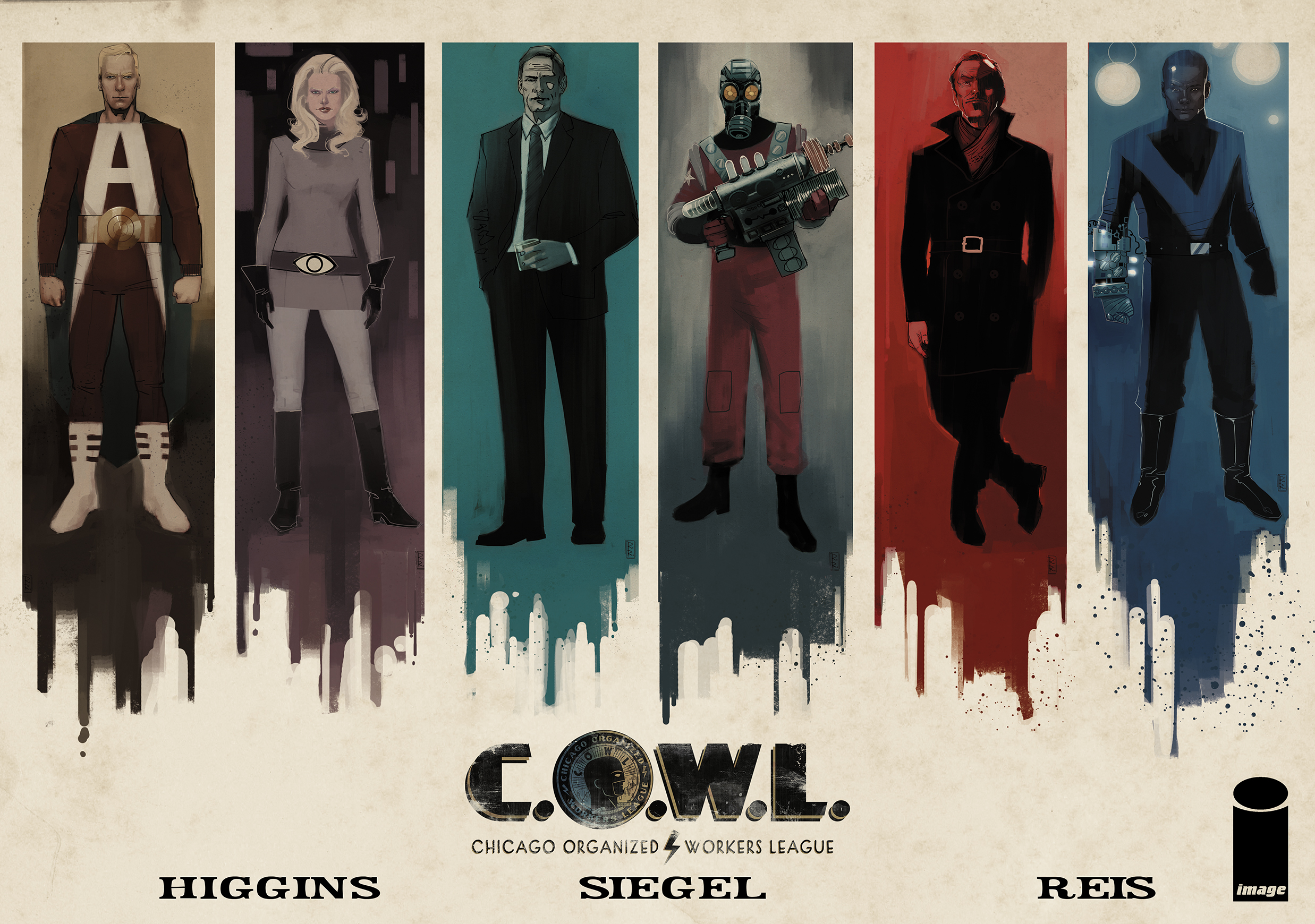 CB: I've got to ask you about C.O.W.L.. What's the thing about C.O.W.L. that you love doing the most?
Higgins: Fundamentally what I love about C.O.W.L. is that it's a book about superheroes who can change. This gets back to the Batman stuff that I talked about. I love it. I love Batman. I love Nightwing, but those are characters that aren't going to change all that much, which is weird because Nightwing is a character who is built on the idea of change, having been Robin and now becoming his own character. Bruce is never going to get over the death of his parents. That's just not going to happen.
In C.O.W.L., it's more of a Game of Thrones or Breaking Bad approach to the idea of superheroes and the idea of what they mean in America, especially in that time where is the transition between the Golden Age and the Silver Age superhero-speaking. But also in the world, the politics of the time, and the black and white, good versus evil, post-war years giving way these shades of gray era and looking at how that affects these characters. In a lot of ways, how far Geoffery falls and becomes a thing he hates is something that you can't really do in a lot of superhero stories.
CB: That has power in it. That's part of why creator-owned books have this… I don't want to use the word importance, but you know what I mean. There's consequence to all the actions taken.
Higgins: Yeah. There definitely are different niches for me. I'm definitely having a lot of fun on my creator-owned stuff. I definitely feel a lot of freedom there that I feel is really important. If I were ever going to go back to do more Batman, it would need to be after I've done a lot of my own stuff. You can't get to a point where both creatively and professionally you will be in a position where you can actually do anything unique until you've a built a track record for yourself as a unique creator.