It's unusual for a creator to move from creating comics for Marvel to doing his own webcomics but that's what happened with Mark Powers. We caught up with his recently for a brief interview about the transitions in his life, from the company-owned Wolverine to his own series Biowars.
---
Jason Sacks for Comics Bulletin: What should readers expect from Biowars?
Mark Powers: Readers should expect a high octane adventure story set in two different worlds – our own, and one that exists inside our main character.
CB: Why did you make the move to webcomics?
Powers: It was a great opportunity to work on a cool project with a great team. Beyond having created the concept and world of Biowars, Gabriel has tons of ideas about how to market the property to a broad online audience.
CB: What do webcomics offer you that standard printed comics do not?
Powers: There's the chance to reach a large number of new readers. There's also a multitude of ways to make the story interactive and offer all kinds of extras to make it a more immersive experience.
CB: Do you plan to publish print versions of these stories?
Powers: There are plans to do that, yes.
CB: Tell me about the team of artists you have working on the book.
Powers: Gabriel found and brought together Lucius Cross, Goncalo Lopes, and Joana LaFuente. They worked together to create the concept art for the series, and for the actual books, Lucius provides storyboards that Goncalo and Joana then paint over.
CB: How did you approach creating Biowars differently from your work at Marvel or Devil's Due?
Powers: It's really not so different at all, actually. There is more freedom, in that these are not characters with long histories that are carved in stone, but the same core principles are at work when developing the stories.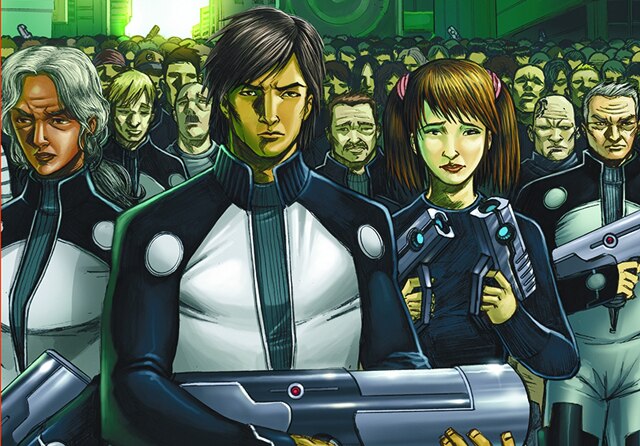 CB: Whatever happened to the option of Drafted to become a film?
Powers: We are actually working with the fine folks at Benderspink right now in the hopes of making that happen. It's a long way from point A to actually getting a film project going, but we're off to a good start.
CB: Do you ever miss having the chance to direct the lives of characters like Wolverine who are obviously lifelong favorites?
Powers: I miss the characters and the people I worked with a lot – but I don't miss the stress! And, I'm very happy to be able to enjoy the stories as they come out now.
CB: What's next for you?
Powers: More writing and more Biowars!