Matt Gagnon loves comics and loves pushing comics forward. I had a chance to talk with Matt at Emerald City Comic Con about BOOM! Studios big plans for 2015.
---
Matt Gagnon – Editor-in- Chief for BOOM! Studios: BOOM!'s having a great year. I think in the last few years in
particular, our original series are something that I'm really proud of. Ross started the company doing original books, things like Two Guns. That was one of the reasons I wanted to come to BOOM! in the first place to work. I believe in telling stories with all different types of genres in this industry. I feel that's really what our medium needs.
We need to tell stories of everything: crime and supernatural and science fiction and the macabre and romance. And I saw that happening at BOOM! So we really had a great history of doing original comics. I think 2013 was the year where the original stuff really seemed to spark. I think the quality has always been there because that's something that we pay great attention to. But there just seemed to be maybe a market presence, kind of a little bit of a sea change. And we just noticed that the original books started to become very successful and started to make some noise.
That's something that I'm really proud of and I think we have continued that into this year with I think things like Lumberjanes and The Woods. Up later this year we have The Spire. There's just some great stuff that we're publishing right now that I'm really proud of.
Jason Sacks for Comics Bulletin: Lumberjanes has turned out to be kind of a transformative book. When I'm writing my history of comics in 2010s, it might be the book that kind of guides the way towards a lot more- I hesitate to use the word female centered, because it's just a different approach to it. Last year at Emerald, I spoke to the entire team. The thing that jumped out the most was just how excited they were. They were almost bouncing. We were standing as we were doing it and they were like bouncing on their feet, so thrilled to talk about it. And it comes through in all of the work that they do on it. 
Gagnon: Absolutely. Look, we need a lot more creators like them in our industry and a lot more work like the work they're producing. I think when you have a book like Lumberjanes that really kind of hits a nerve and makes a lot of noise in the industry, there's a reason for that. And maybe there are some readers out there that are under served and there's not as much material that's being produced for them on a monthly basis.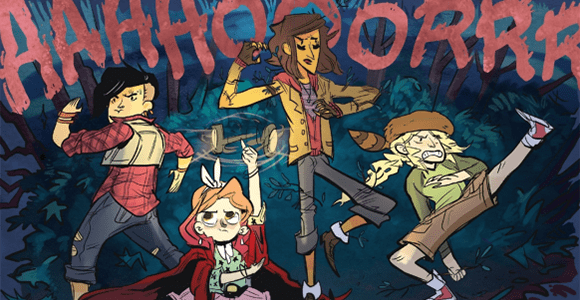 Lumberjanes has been a real joy for me. I really think those creators are doing something special. They're doing something that I think is unique. It's an interesting thing to behold in a way because it's such a trigger book. It excites people and you see people taking pictures and cosplay. For somebody who works at a publisher, when you come to a convention, you see that excitement and you see that enthusiasm, it just puts a smile on your face. That's reason we come to work every day.
CB: Yeah. There are some books that just seem to catch people's imaginations and they become the books that everyone has read. Saga is another one. 
Gagnon: Yes.
CB: Right? Where just the quality wins out.
Gagnon: I agree.
CB: It just becomes the must read book. It must be kind of exciting to catch that [inaudible 00:04:02]. It's also hard to kind of replicate in a way because everything is so unique in its own space.
Gagnon: Yeah, absolutely.
CB: One of the things that's cool about the KaBOOM! and BOOM! Box is that you are kind of encouraging a lot of individual ideas. Like Teen Dog, for example, is another one. It's a fun, light series that's very kind of creator-driven. Is that intentional? You have Peanuts comics too, but you also have creator-driven series like that.
Gagnon: Yeah, our line is very curated. So we have all the titles that come out through the primary studio's umbrella. We have the BOOM! Box imprint, which is our newest imprint. We have KaBOOM! and we have Archaia. And throughout all those imprints, we're really able to tell any story that we would like to tell. It affords us the opportunity to do kind of anything. We do all ages comics; we have a home for that in KaBOOM!
Graphic novels that are maybe a little more literary or things that have beautiful production design go through Archaia. Things that are maybe a little bit more experimental, things that aren't a natural fit for the direct market right now go through BOOM! Box. And that's the stuff that's very exciting to us. BOOM! Box is the place where we can go into the lab and Shannon Watters, who's the group editor of that imprint, is brilliant.
We can try things out. Some things are really going to hit and something won't. And that's okay because there's a joy in experimentation to that imprint that I think is really important. It's important to us and I think ultimately that type of experimentation is important for the industry as well. And we're certainly not the only ones that are doing it. But we definitely want to do our small part.
CB: Often those are the folks that people look at three or four years and you are like, "That's the early book by this guy who I really like now." Is there a certain thing that you think is not getting the attention it deserves in BOOM! Box? 
Gagnon: Look, I think there are a lot of comics in general that deserve a wider audience, not just at our company.
CB: I don't want to ask you to choose a favorite child either.
Gagnon: No. A real mission of ours is to expand the audience in comics, expand our readership. This is something that we're doing I think with the content that we create. We're in many ways creating a lot of stories that appeal to people that maybe aren't real Wednesday customers, who are there every single Wednesday.
One of my favorite things to hear from retailers, whether the comic pro around the road or at conventions and talking to retailers, is, "You bring so many new readers that I've never seen before into my store." Adventure Time was the real catalyst for that. I remember the year after we had launched Adventure Time, the retailers came to us and it was just kind of a wow moment. They were like, "There's so many people I haven't seen before coming in and buying comics."
CB: And Adventure Time is an appropriate example of what I think you are talking about. The creators are doing work that's similar to the TV show. True to the show, but also their own unique vision attached to it.
Gagnon: Yes.
CB: And it's the perfect property for that sort of thing.
Gagnon: Well, Cartoon Network and Pen Ward, who created Adventure Time, have been amazing partners for us. I think what really took Adventure Time to the next level as a comic book is they gave us the ability to do off-model storytelling. And what I mean by that is creators could come in and could draw the characters in their own style. They didn't have to do it on model to the animation.
CB: It's really rare.
Gagnon: It is rare. It's extremely rare. And it just goes to show you that they really get what makes that franchise so amazing. They really encouraged us actually to go out and do stories with creators where they're empowered to really use their own style and do something fresh and interesting with those characters.
CB: It feels like a very contemporary approach of doing something like that, too. In the days of Lucasfilm trying to control every aspect of the Star Wars property, maybe they have their place. But also it kind of fits kind of the anarchist kind of spirit of Adventure Time really well.
Gagnon:  Yeah, I think you nailed it. Cartoon Network certainly has boundaries. There are rules of the world and rules of the property. But for us, we've been publishing these comics long enough where we understand all of that. It allows the creators, I think, to be the most creative that they can be. That ultimately is going to lead to better art, when you have people that can not be obstructed and work to the greatest of their ability.
CB: Interesting how you really are committed to having a wide range of comics, too. It's also something that's kind of happening more and more across the industry now. I think it helps everybody. Interesting. Including your own series. How has it been pulling up the writing side of things?
Gagnon: You know the writing is something that I do very sparingly. My focus and what I'm really doing on a day-to-day basis is working as the Editor-in-Chief of the company. I have a team of people that I adore. I love coming to work every day. I think we have the best team in comics. I think we're producing some incredible work. For me, supporting our group of creators, supporting our team, working to really bolster the company and grow the company is something that's my primary focus.
So as a writer, truthfully it's something that I have to do on the weekends when I can find a spare moment, in the morning if I can find a spare moment. For me, it allows to me stretch some muscles that I don't usually get to stretch. I believe that type of thing, at least for me, is really good. It gives me a different gear that I can hit sometime. And also, as an editor as well, I believe we're all students of the craft of comics. So for me, just getting into a comic book page as a writer, I feel like it keeps my craft sharp. But at the same time, it's not something I'm going to be doing a lot of because it's just not my primary focus.
So Day Men is the one series that I write right now. It's something that I'm real proud of. I write it with Michael Alan Nelson, who's my co-writer and one of my favorite writers in the industry. Mike's been with us like since the beginning of the company. He wrote Fall of Cthulhu for us for like two years. He wrote 28 Days Later for two years. He wrote Hexed. He's incredibly. And the artist in the series is Brian Stelfreeze. He's a legend.
CB: Amazing.
Gagnon: Yeah, he's a master. We were fortunate enough to get him on the series. This is the first sequential storytelling, long-form story that he has done in many years. There's some really career defining work happening with him. I think Mike and I say often that he's the star of the book.
CB: It's exciting to get to work with someone who really knows what they're doing like that, right? 
Gagnon: Yeah.
CB: I mean there's a certain level of craftsmanship that you can just count on. And then when you see him produce something that's even above and beyond, that's got to be exciting. 
Gagnon: Yeah. More than any other comic that I have ever had the opportunity to work on, this one really feels like playing music. I'm certainly not musically inclined, so I can't speak too authentically on this. There's this back and forth that's really special on this book. Brian brings so much to the table. Mike and I will write a script, we'll hand it off to Brian, and what comes back is greater than what we gave him.
His ideas are informing new ideas from us. He'll draw a character and the character will have some sort of inflection or some sort of character trait or a costume that we never even envisioned. But Brian brings that to the table. And then Mike and I look at each other and go, "I want to know more about this character." And we weren't expecting to, but that's what Brian brings. There are three storytellers on this book. It's me, Mike, and Brian.
CB: And that's the essence of collaboration, right? I always bring up Lee and Kirby. When Kirby brought in the Silver Surfer in the first Galactus story, "I felt like he needed a Harold to lead the way so I created this character." Stan says, "Who's he? I need to flush him out."
Gagnon: Exactly.
CB: And your artist is often giving you gifts if you are really collaborating in the right way.
 Gagnon: And it's the way that it should be. If you an artist that's as skilled as Brian, who's capable of doing that, it makes the project infinitely better. You don't want an artist like Brian doing paint by numbers; he's too talented. And frankly, Brian would never take a project that he didn't have the ability to have a voice in.
So we really sat down and talked about Day Men and the potential for him to draw the series, which at the time we couldn't believe that he was even interested, I think what the three of us talked it was really evident from day one it was going to be a great collaboration and that we were all going to feed off of one another and encourage one another.
CB: You are kind of living your values too at the company. It's creator-centered as much as it's anything. 
Gagnon: Definitely. I love supporting creators. I love helping them achieve their creative visions. As an editor, I find that to be so rewarding. When I was working with Mark Waid on Irredeemable, working with Mike and Emma Rios on Hexed, when those series finished, I was so proud. It's just such a rewarding feeling to help another creator achieve. Maybe even a greater vision than they had initially thought, you know? Sometimes you're able to push somebody or help them reach the most potential that they're capable of. It's a fun thing.
CB: That's what somebody in your role really should be doing, right? It's not actually going through line by line and cleaning up their prose; it's  helping to push them in the direction where they can achieve their most potential.
Gagnon: Right.
CB: And it's weird because in comics, there's a notion like you would have in most career jobs moving up the career ladder. You may have better projects or they may pay you better, but you are not constantly striving to be an artist level two or whatever.
Gagnon: Yeah. Our editorial sensibility on my editorial team is always about lifting the creator up. It's that sensibility of, "Hey, we're here to help. We want to help you achieve your vision." For us, our creators a lot of times are our partners. So we're not interested in being obstructive. We're not interested in giving a ton of unnecessary notes. What we're interested in is being there as a support system for them and helping them on a day-to-day basis. That's when it's fun. And I think that's when trust is built. And when you have trust between editor and creator, that's when really special things start to happen.
CB: You obviously love your work. 
Gagnon: I love it. This medium is something that I'm passionate about. I love coming to work every single day. This is a medium that I've loved since I was a little kid. And I think that we have so much more potential as a medium. I think we're just scratching the surface right now. And there're some great things that are happening.
Obviously we see it on a day-to-day basis. Comics are really punching through into the mainstream. We've arrived as it were. But there's so much work to be done. But the good news is I feel like we've got throughout all the companies in this company, a lot of talented people, a lot of smart people, and I think we're doing the hard work.