I had the opportunity to catch up with Michael Moreci over the past month to talk about Roche Limit and other cool stuff.
Michael Bettendorf for Comics Bulletin: It's been just about a year since we first talked in-depth about Roche Limit. If I remember correctly, Vol. 1 "Anomalous" wasn't finished and now here we are just after the second volume, "Clandestiny" wrapped up. How does it feel, being two-thirds through with the trilogy?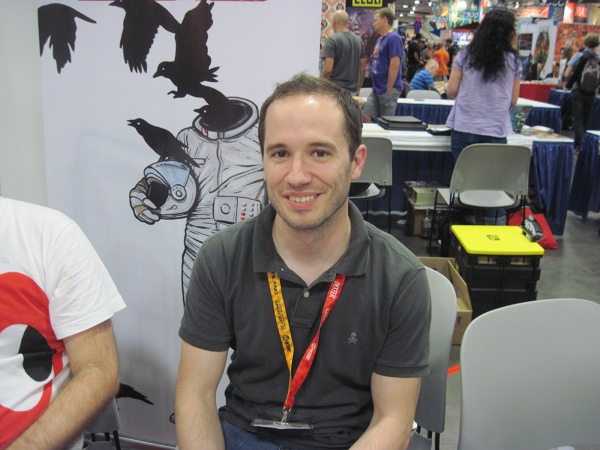 Michael Moreci: Good, but a little sad as well. I feel like it's gone by really, really fast—the creation and release of the book, that is. Roche Limit is a really special project for me in that it's helped me define my voice and what I want to do with my career in so many ways. I've always known what I wanted to do—write challenging, cerebral sci-fi that has a lot of heart and important things to say about the human experience, stuff like Bradbury, Le Guin, Vandermeer, Blade Runner, Gattaca, 2001…I can go on. There are many, many stars that I steer by. But it's always been what I wanted to do; Roche Limit is me figuring out how to do it, why to do it—a lot of what's in that book is deeply personal—and that is actually good. Or, I should say, that people actually cared. Roche Limit has been a great success, more than I could have ever hoped for, and that success has put me on a great track.
CB: Each volume of Roche Limit has been nestled between multiple genres, each rooted in philosophy: Vol. 1 mixing sci-fi and noir, touching on fatalist and existential themes and Vol. 2 leaning on a mix of sci-fi and horror. Is it safe to assume Alien is a contributing inspiration? One of the major themes that you strung throughout "Clandestiny" was the idea of survival, a true element to the horror genre. Let's talk about that a bit first.
MM: Absolutely, and I'm glad you spotted that and bring that up. Roche Limit is kind of like Russian dolls, in each part fits in another part—they nest, as you say. And each part has definitely shown two things—my inspirations, which influenced the aesthetic and the story, and the philosophical principles, which influenced the themes and, again, the story.
In "Clandestiny", I'm talking about two things: survival and questioning reality. Survival is an interesting one because I wanted to transcend the familiar and, to me, boring tropes of surviving for the sake of surviving—like that's just what humans are supposed to do. Or surviving because your sweetheart is waiting for you back home. All those played out clichés, I tossed them out the window and strove for something more profound. In this case, the point was to question what survival means—not only to us as individuals, but to the entire human race. Why is it so important that we continue to exist? This calls back to "Anomalous", where—through Langford's eyes particularly—we are meant to question our role in the universe and how we can impact and change our world. How, hopefully, we can be agents for small, personal good that in turn catalyzes a much larger good. In "Clandestiny", I look at that and say, "Okay, but are we the best species, the best agents, to be responsible for our truly magnificent existence and the extraordinary gift of having a livable planet, Earth, to call home?" The twist at the end [SPOILERS AHEAD] is what makes "Clandestiny" so unique and interesting, at least to me. The aliens from the Black Sun, they don't want to destroy humans, they want to become humans. They want to take our place. And what's to say they couldn't do a better job at existing as sentient beings, with a soul, than us?
CB: That's an interesting take on the idea of survival. It forces us to do something we don't like to do as humans – swallow pride, step down and admit that we may not be as great as we think we are. This echoes the American mentality in a lot of ways. We have a reputation for always claiming to be the best and that our way is the only, truly good, way. In turn, this also comes back to "Anomalous" with Langford's thoughts on humans being selfish and prideful – that we always get in the way of progress.
I'm glad you mentioned reality; because that was one of the other ideas I wanted to talk about. You toss reality or questioning it, at us in the first issue when Sasha has the vision of her husband and continues on with the mysterious forest. This is also where desire starts to trickle into the story because once desire is introduced and mixed with the human condition, things (can) head downhill pretty quickly (going back to Langford's philosophy of selfishness, etc.) How much of it could be boiled down to the reality we want and accepting the reality we have?
MM: That's an awesome question, and it really digs into the sociopolitical bent in the book. Michael, you know–if you look around our country, you see many different countries. We have a whole lot of people who are living their own reality. A lot of it, in my opinion, is escapism that has bled into real life, and it's a dangerous thing. I sit here, writing this, and I have to actually reconcile with the fact that there are people in this country, real living people, who thing global warming is a hoax. Part of me, I guess, gets it–global warming is a hard truth to swallow. And whether that's your reason for denial or something else. You are living in a different reality than I am.
The choices we make, in so many ways, define the world we live in. I look at how some people think and act, and I think to myself "what the hell is that person thinking?!" Well, I don't know. I have no clue. It's so foreign to me that I can't even wrap my head around it.
The point is that we all shape our worlds. It's how we cope with life, find community, and define our identities.
What "Clandestiny" does is take this to the extreme, where characters can actually create their own world that looks and feels as authentic as what they know as the "real world." Defined by their desires and formed through their dreams, these worlds are paradises from some, but they also come at a price–because sooner or later, the tolls of reality are going to catch up with all of us.
That, in a big sense, is what these characters have to overcome–allow themselves to succumb to their own fantasies rather than facing the challenges of their situation. It's great to deny global warming–so much worry and concern, and lifestyle changes, are simply dismissed. But, ultimately, you have to be a grown up and face the challenges of the world, even though they're sure to be difficult.
Everyone has to face the truth at some point, encountering reality for what it is, not what we want it to be. And that's tough, as humans have a bloated sense of self, and accepting the world for what it is requires a certain amount of humility (which goes back to your first point on selfishness) and a willingness to lay down your ego and cooperate with others for the greater good.
CB: Right on. A lot of that comes down to what Langford talks about in "Anomalous" – creating  your world, within the scope of the world, to make positive change, while keeping the big picture (selflessness) in mind. There's a lot to be said about self-sacrifice and putting aside our own desires for those around us. As I type this, the world just experienced one of the worst weekends imaginable. Terror attacks in Paris, Baghdad, Beirut – not to mention the natural disasters claiming lives in Japan and Mexico. As much as we don't want it to be, it is reality. 
Sacrifice has popped up all over Roche Limit as a series, but it's been a focal point in "Clandesitiny" with Sasha and the rest of the crew at the end. One of the most interesting characters to me has been Danny. You've constructed a sci-fi character in quintessence with him. He's an android. The philosophical debate about his ability to have emotion/developing emotion is brought up. We find out he sacrificed himself and took the blame for the child's death back on earth – the reason he was decommissioned. We see him doing this again later in the arc for Sasha and the crew. Why did you decide to include a character like Danny? You're a deliberate writer so I know it had to be more than just, "its sci-fi. I need an android."  
MM: There are a couple salient things I want to touch on here, as this is a strong, and dense, question. Let's start with Langford, as much of his views are very much in line with mine, especially towards the end of his life in the first volume of Roche Limit. I heard this quote once, and damned if I know who said it (and internet searching has been fruitless). But it goes "Create better people, and the rest follows." Now, this can be taken a thousand ways, but to me, I think it speaks to the idea of, like Langford, changing YOUR world–being an agent of positive change for the people directly around you.
If we all did that, around the world, imagine the impact we could have. Instead, we're so insanely concerned with what everyone else is doing and thinking and how they're behaving; because of social media and media in general, we're in each other's shit 24/7. And, judging by social media, there are a whole lot of perfect people out there whose lives are in tip-top shape, based on how they judge others. The fact of our world is that technology has comprehensively externalized our existence; I'm hoping that, sometime soon, we'll see the pendulum come back to a more internal existence, where we relearn to sustain ourselves–spiritually, culturally, and emotionally–on a more localized scale. Create those better people within ourselves, and I guarantee we'll see a better world.
Now–Danny. You're absolutely right, his character was very deliberate, and his inclusion was about way more than checking a quota box. A big part of "Clandestiny", as you know, is to look at what's real and what isn't. And it's not just for some trippy, pseudo-Philip K. Dick posturing. I really want to examine what's real; because that's something we don't know. What is our existence? Where are we? How can we, given our limitations of knowledge and perception, even define the idea of something being real?
Danny, among other things, was an entry to explore this idea in a concrete way. He's a robot, we all know that. But when he comes clean about being innocent for murdering a child, a child he claims to have loved, things get thorny. Sure, he admits he can't feel love the way a human does–but is his love any less real? To this child, he was loyal, true, caring, patient, etc. All qualities that very much sound like how someone acts towards a loved one. Yet–how can two people experience two different things and still call it the same thing (love)? Sasha loved her family, but there's no telling if her love was any more authentic than Danny's. Again, this complicates things because we're back to looking at what's real. Can Danny and Sasha's love both be real? And if so, how much of reality is then subjective?
CB: I like how you present it in a way that requires readers to take a step back and consider perspective.  A lot seems to do with accepting that what is real to someone, might not be to another, and regardless of how "true" it is – you cannot take that away from somebody. Danny's love for the child, while different from Sasha's love for her family, is still love to Danny. We might not understand it 100% from his perspective, but we can relate to it using our own experiences.
You tripped my trigger when you threw out the word "authentic" because that's what I want to talk about next in relation to Langford. His consciousness was put into a new body and then he learned through the Moiratech computers. It begs to question his authenticity because while his mind is (mostly) genuinely his, his new body is not necessarily.
It's another conduit for you to question ideas of perception and reality, but is it more? Can we talk about the dynamic between Danny and Langford because it is an interesting one – a learned or maybe constructed family system. It's both father and son, but sort of in a sense a creator/creation type of relationship as well.
MM: I think, in this relationship, there's a weird spirituality going on–there's a lot of spirituality going on, though this is probably the most latent.
See, the thing is, Danny makes Langford, so he's technically, in a way, his god. But Danny treats Langford like the god, or at least the father figure, and looks to him to fill the holes within his self that are missing–love from another, wisdom, and companionship. Strangely, I think this speaks to our own relationship with our gods, as it shows that gods, more times than we like to admit, are not fixed deities, but fluid in every sense of the word. Humans, throughout history and even today, have had the unique capacity to create vengeful gods as well as benevolent ones, and I think that says a lot about the people themselves–what their gods stand for, at least according to them, is vitally important.
For Danny, again, it's that human touch he craves, that need to be accepted and even loved–very powerful and human stuff, which goes to further show Danny's authenticity.
Wanting these kinds of things–love, friendship, family–is what makes us human on so many levels. And Danny wants them not to be simulacra of something or someone else, but because somewhere along the line, he learned to appreciate these things. Which circles us back to reality–are Danny's learned sense of these emotions real? That's impossible to really qualify, because they're real to him. And that's what I mean, in part, when I talk about the whole idea of tending to your own garden.
I hear so much discrimination bred out of a common phrase–"I don't understand how…such and such person can do such and such thing." What so many fail to realize is that no one is requiring you to understand–you just need to be compassionate enough, empathetic enough, to accept the lives of others. Danny is certainly in this place, spiritually, I'd say. He may not understand things, but that doesn't stop him from valuing them. And the relationship he has with Langford is a great way of showing Danny's dedication to his values and how human he really is.
CB: A lot of it comes back to reality and perceived reality. It's interesting because Danny, while hyper-intelligent and viewed as an adult – reminds me of a child in a lot of respects. It's his desire to nurture and be nurtured that break him down into something that is more human than android – or begs us to question his capacity for these feelings; once again, a full-circle to Danny's self, an android's self.
The anomaly plays a subtler role in "Clandestiny", lingering high above in numerous panels and pages throughout the volume. It's like a sickness that you know is there, but it's ignored until it's too late. [SPOILERS AHEAD] That's kind of what happens in this volume as the remaining crew flies directly into the anomaly. What can you tell us about the anomaly and what's to come in volume three?
MM: The anomaly, I admit, became less and less interesting to me as I continued to craft this overall Roche Limit story. It's a MacGuffin, in some ways, pushing the story forward to where it needs to go. I mean, it does play an important role, but once we established, in "Anomalous", what it does to humans (separates them from their soul) and what's on the other side (the alien portal), there's not much more to say. That's why I wanted to use it more as a visual cue in "Clandestiny"—like you say, as the sickness, or specter, hanging over everything that's happening. It's also a nod to the film Solaris, which is a clear influence on "Clandestiny", in the sense that there's this force, or being that makes fantasies come true. There are cut away moments in Solaris, the original, that just show the planet, and you get this feeling of ominous dread from it. It's subtle but important to the overall effect of what's going on, another way to reinforce that maybe getting your deepest desires fulfilled isn't such a good thing.
In volume three, "Monadic", we're dealing with a different thing altogether, so the anomaly won't be playing too heavy role, at least not at first. We will certainly find out what happened when Elbus, Colt, and Danny flew into the anomaly—that's crucial for Roche Limit's overall climax.
As for "Monadic", in general, it's going to be a bit of a mind f@*k at first. I'm almost apprehensive to release any preview pages before the book comes out for fear of spoiling some big, and weird, reveals. The story takes place many years after "Clandestiny". The aliens have taken Earth, and we're in the last remaining human community. But something isn't right, not with any of it. And the characters we encounter will be tasked with figuring out what's going on, and what it means. I've tried to think what to compare it to, but it's so unique and different that there's really no direct likeness. "Monadic" is definitely its own thing and, as far as I'm concerned, brings the Roche Limit saga to a fitting conclusion, which I've had in mind nearly since day one.
CB: MacGuffin or not, it's never read, to me anyway, as one. The anomaly definitely played a crucial role in "Anomalous", but Roche Limit has always been about the people, not the anomaly, so it makes sense that it's not a focal point beyond establishing its purpose. I did like how Kyle Charles and Matt Battaglia finished off the last issue of "Clandestiny" in terms of the anomaly. The art became sorta cloudy and the lines and colors became more vague and blended. Gave off some eerie feelings of disintegrating or in the very least, intense motion.
"Monadic" sounds like an intriguing conclusion! I'm excited for its release – spring 2016 correct?
I'd normally ask about new stuff at the end, but whatever, now that we've teased some people let's keep going with "Clandestiny", shall we?
Entropy is mentioned and while the idea typically relates to science systems, it works largely as metaphor for the events that occur in "Clandestiny", have happened in "Anomalous" and will likely happen in "Monadic". Is the idea of inevitable chaos and disorder more of Langford coming out on the page or does it go beyond his philosophy?
MM: You know, whenever you think of the world revolving around a great big ball of nothing, you think nihilism. That to believe our world is chaos is inevitably a plunge into darkness, sadism, and emptiness. I don't necessarily think that's the case, and that's part of the philosophy that comes through in Roche Limit. This goes back to the central idea of "make your own world" and how powerful that can be. The thing all our characters suffer from is not just that their reach exceeds their grasp, but they always have their eyes up when they should be focused on where they are. Alex should have valued the love of Bekkah more; Sasha should have been with her family rather than relentlessly conducting research; and so on. This is a micro, and personal, lens we're gazing through, but humans fail by their craving for more, whatever it might be. And that craving, so often, is about impressing our worldviews/lives/philosophies on others. We want people to follow our religions, our political parties, our everything. Because we think we have it figured out. But do we?
If existence is a swirling mass of nothing, then there's nothing to figure out. No system, philosophy, or political doctrine that will bring order to the masses. And maybe that's okay. Maybe it's okay to recognize the limitations of ourselves and our world. That's something we all struggle with, whether we realize it or. That said, chaos and disorder—it doesn't have to be a bad thing. Not if we relearn how it's defined. The world might be chaotic, uncontrollable, and unpredictable, but maybe we don't need to tame the world. Maybe we just tame our own. That's what I might be trying to learn myself, through this story and these characters—to turn inward more and acknowledge I don't have control. But that doesn't mean I can't make the efforts to protect my own circumference—my family, my children, my job.
What you'll see, I think, in "Monadic" is the flipside of this control, from the Black Sun aliens POV. They have a specific goal, same as stated in "Clandestiny"—to become human. How far will they go to get to that point? They've already achieved, by the time "Monadic" begins, so much. When they decide those achievements aren't enough, when they continue to desire for more and more, that's when trouble arises. It's a matter of how they react, and how the humans make use of that in return.
CB: "Monadic" sounds fascinating. I'm looking forward to comparing the Black Sun aliens' reaction alongside humans and the rest of the Roche Limit story up to the conclusion. 
Well, Mike thanks for talking with me about Roche Limit. As usual, it's always a pleasure and I appreciate the chance to discuss your philosophies in Roche Limit. It's easy to see how personal the story is to you. Thanks again for sharing.
Before we go, is there anything else you'd like say about Roche Limit or any other projects you're working on?
MM: I'm still at work on my first novel, coming from St. Martin's I believe in 2017. And I already have my follow in mind, so I might go from writing one book to another.
I also have a new comic series coming in June 2016 that, truthfully, is the riskiest thing I've ever done. It's me as politically unfiltered as I get and touching on one of the most–to me at least–unsettling dangers our global community is facing. It's still intimate, like Roche Limit, but we're not holding back in this story, and I think it's really going to get to people.
Besides that, I'm pitching a thing or two soon, but between both novels and that new series, and wrapping up Roche Limit, my dance card is pretty much full.
And, as always, thanks for the great talk, Michael!
CB: That's great! Lots of good things coming for you in the coming year or two. I'll be keeping my eyes open for the new work.
Summary
Article Name
Interview: Michael Moreci -
Description
An interview in which the Michaels (Moreci and Bettendorf) talk about "Roche Limit" in-depth.
Author