M.K. Reed has carved out a unique career in comic books. Primarily publishing through First Second Books, Reed has written graphic novels that place characters in the American Revolution (Americus), Ireland during the Iron Age (About a Bull) and even modern life (The Cute Girls Network). For her latest work, however, Reed has taken on a topic that many of us love – dinosaurs.
Science Comics Dinosaurs is a YA book about dinosaurs that adults might enjoy as well. First Second Books commissioned Reed to write a graphic novel about, as she says, "a lot about the history of paleontology and a little bit about how ideas change over time." She combines narrative, history and facts in a way that charms as well as educates: an ideal work for elementary or middle school students interested in learning about dinosaurs in new ways.
Reed is passionate about the work she did on the book, a passion that becomes clear as she discusses the results of her research and the surprising human narratives around the history of paleontology: "There were so many books! I was reading things that were coming out in 2014 and 2015, and some more helpful ones for me personally were the histories of Mary Anning and the first dinosaur discoveries in the 1800s in England. And then some about Roy Chapman Andrews in the 1900s and the progression of studies and Bill Bryson."
These are just names to many of us but each of their stories intrigued Reed: "Every single one of these people – I mean, they've had entire books written about them. They're fascinating, and I could have just done a book about the 1800s. I would have loved to do one about Mary Anning. But I had signed a contract to write a book about the science of dinosaurs in general."
Reed relates the fascinating life of Anning: "She was not a scientist. She lived on the southern English coast in Dorset, where people had started to go on vacation at the beach. Her father took her and her brother out to find fossils. They would sell them to tourists. When she was 9 years old, her brother found this skull that they had no idea what animal it belonged to. A couple months later, she found the rest of the skeleton. They had men from the town come out and dig it out of the cliffs. It became huge news. It was the first ichthyosaur. And it was – it's sort of not technically a dinosaur. But it was the first really old animal discovered there that isn't like – something that fits in your hand, basically."
Anning's discovery changed her life and changed the future of science as well: Anning "spent the next 35 years of her life going out on the freezing cold English coast every day. Well – in winter. It was a little warmer in the summer. She just dug things out of the cliffs. She learned to read and started corresponding with all these English gentlemen scientists and became this excellent field study person while everyone else wrote the papers and got the credit for discovering everything. What's really notable is that she was just from a really poor family that was just out doing this to try and get by and make ends meet between work shortages in the field. She became this amazingly intelligent woman on her own."
Reed wishes she had more space to be able to write about some of the most interesting people she learned about: "There was just not enough room to write about them all. There were these fascinating guys just digging things out of the ground in the West. Basically, trains had just been put in in the Midwest. They got out to South Dakota and were digging in the Badlands there.
"And Edward Drinker Cope and Othniel Charles Marsh. They had this crazy spite match over this disagreement about something. Nobody is quite sure – they think it's because one got a little embarrassed, and then it just got out of control. And they had the government audit each other on their expeditions to make sure that they were being above the board. It got really out of control. They found hundreds of specimens that in their speed, they made some errors that took a bit to get corrected down the line."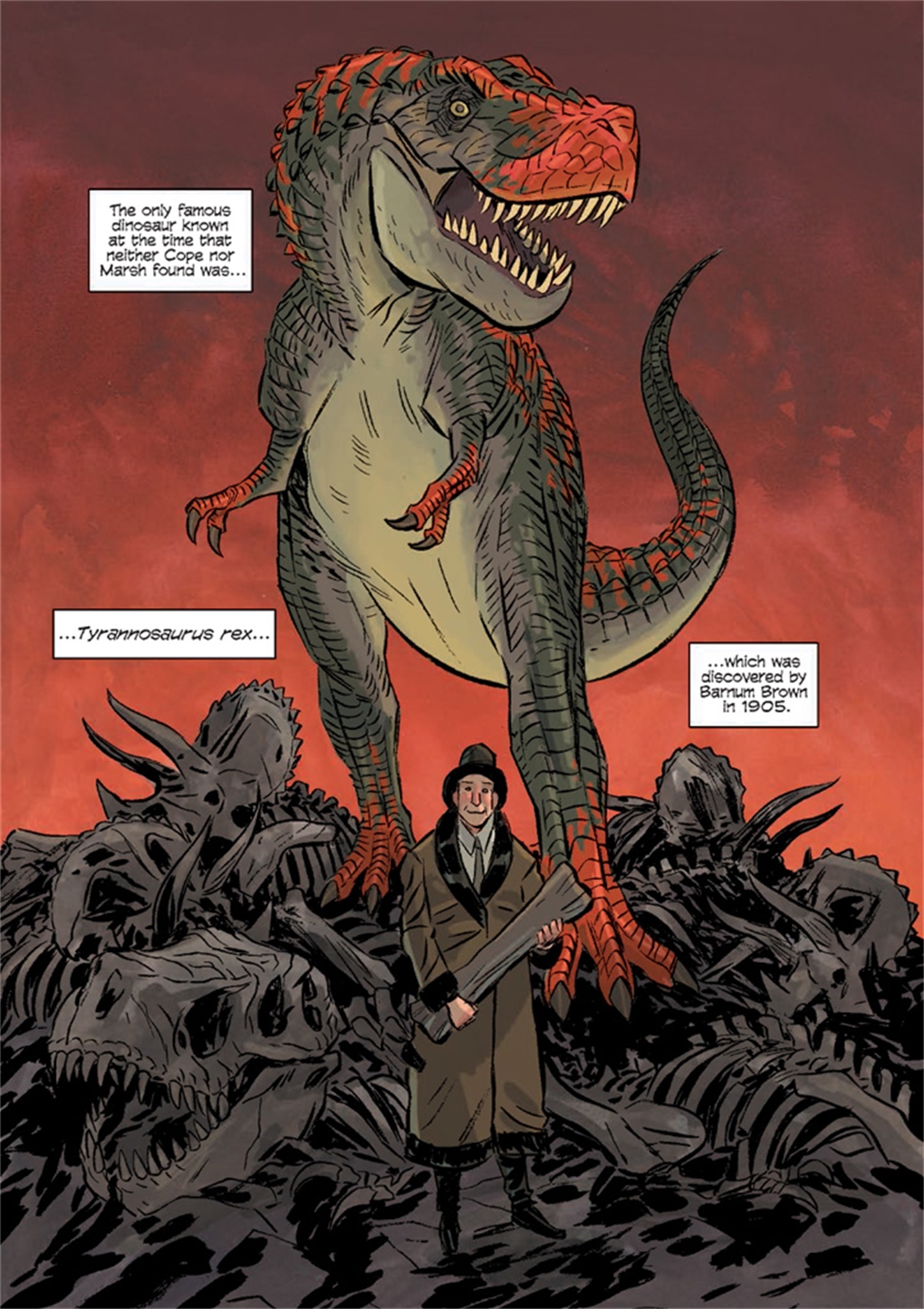 One of the other things that intrigued Reed about the book is that it allowed her to explore something that a lot of kids aren't confronted with –how ideas change over time. "I think in school you get textbooks that are just facts, and that's how they're presented to people. There's nothing about how we figured out how dinosaurs have warm blood – or possibly still cold blood. I forget if that's still a controversy, as it was when I was a kid.
"I think we'll find more definitive answers as time goes by," she continues. "There is a new discovery about dinosaurs every week. Which you discover when you start researching it, and it pops up on Google – about dinosaurs – every week. Pretty much most of the stuff that I had learned is different or wrong now. Dinosaurs had feathers. They had been finding samples in China – in Mongolia in the deserts – in the Gobi Desert – that had been incredibly well-preserved. And it's just taken them this long to find them."
Reed, a former English major, is enjoying he opportunity to explore science in a creative way. "I'm working on a weather and storms book right now. And when I finish that one, I'll be doing one about crows. The weather book is not as – I'm not really discovering quite as much. And I don't think quite as many – The research that's going on with weather is more climate change oriented and less 'let's predict things 3 days faster.'"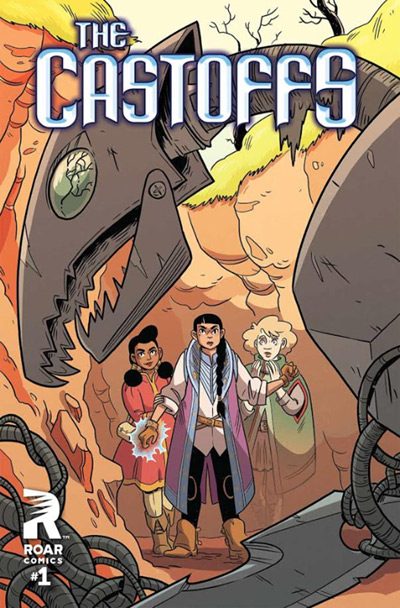 Of course, most English majors also want to explore their creative side. Reed, co-writer Brian Smith (who did The Stuff of Legend) and artist Molly Ostertag (known for her Strong Female Protagonist) are teaming up for the new series The Castoffs, to be published by Lion Forge. As Reed notes, "It's about teeny girl wizards who fight robots with science." As editor Adam Staffaroni notes, "Brian and M. K. have both done incredible world building and character building in their work, and I was thrilled to have them collaborating on a brand-new fantasy world filled with such depth and detail. And Molly's ability to bring it all to life simply blew us away."
From the American Revolution to Ireland to dinosaurs to fantasy worlds – clearly M.K. Reed is a woman who loves to explore interesting places.