In this segment of the interview, Neal discusses the metamorphosis of Deadman, the real story of the changes in comic book distribution and working with Denny O'Neil on the socially conscious Green Lantern/Green Arrow series.
---
Bryan Stroud for Comics Bulletin: You kind of broke out on the Deadman comic. Was it intimidating at all to be thrown a project that was started elsewhere? Did that bother you at all?
Neal Adams: Not at all. I was just accepting assignments and I thought it was wonderful that Carmine did that first issue and then Carmine wanted to be an art director and then he couldn't do other issues and then they cast around and I was basically the only fish to be able to fry and to follow something like that and I just loved the hell out of it. I had to give up The Spectre at the time. I thought I was giving up something more significant, but Deadman turned out to be a pretty interesting project, and for me, remember I had done this soap opera syndicated strip based on Ben Casey.
I wasn't really that much of a superhero guy. I mean, you know, to me, superheroes are a little…if you punch somebody in the face, he bleeds and he falls down and you have to take him to the hospital to get him fixed and maybe he won't get fixed and there's lots of problems. It's not that you're battling in abandoned warehouses and nobody really suffers the blow. I don't really do very well in that kind of thing. I'll do it, because I'm a professional. But Deadman was a very interesting character. Once again not only not a superhero, but he's dead. (Laughter.) He's dead, man.
Stroud: Yeah, he's certainly not pleased with his station in life…or death.
Adams: Right. So it was my kind of comic book, because it had a real gritty sense of reality to it, so you've got to remember, too that a lot of those older guys came out of those times where there weren't that many superheroes. I guess Carmine did superhero stuff, but he also did Western stuff, he did other stuff, too and he was also a tremendous designer and even his characters weren't necessarily superheroes, you know. Flash was, I guess and he became famous for that, but I don't know, Deadman sort of fit into that, you know, he didn't have balloon muscles, he had real anatomy, he was a gymnast and a trapeze artist and so if I had to make the choice I'd have picked me first, but I think Carmine doing it really set up a great character and passing it on to me really said basically, "Dinner is made. Would you like to enjoy it?" And I said, "Yeah."
Stroud: Great analogy. Now later on you actually took over scripting as well. What led you to that?
Adams: Well, what was happening with Deadman was that you have a certain standard of writing, of given time, and it flows with the time, and in those days it was, "Here is a superhero; do a story about him." You know, do a Superman story, do a Batman story, whatever it is, because there's going to be hundreds of them, and you're just going to do one, so you come up with a story, you know, bring somebody else into it…blah, blah, blah. To me, that's not what Deadman was about. Deadman was about Deadman.
Maybe it had an end, but it didn't matter if it had an end, but the idea was you wanted to do the story about Deadman, you didn't want to do the story about Fred who is a divorced parent or whatever the hell it is. It should be about Deadman, it should circulate around Deadman. It seemed like Deadman became something that everybody threw up in the air and everybody took shots at it. Everybody wanted to write a Deadman story because it was the only book at DC comics that was getting any attention. So Bob Kanigher wrote a two-part story, and I went to my editor at the time, who turned out to be Dick Giordano, because it had been passed on to Dick after Miller had left under dubious circumstances. I don't know how to say that the right way. It wasn't good.
So Dick had it, and Kanigher wrote a script, he wrote a two-part script, and Kanigher did kind of that thing that Kanigher does. He sets up a situation, the character fails at the situation one time, then he fails at the situation a second time and then he succeeds. If you read Bob's stuff, that's how it works. I was a Bob Kanigher fan and the longer he made the story the more the guy would fail until he succeeded.
So what I did was I took that story and I compressed it into one book, the two book story because it was really only worth one book. I took the story to my editor and I said, "Dick, it took a lot of work to take that story from two books into one, but if I'd left it as two books it just would have been…" He said, "I know." And then he had some other scripts that were being submitted and he said, "Maybe you should take a look at these." And I looked at them and I talked to him and I said, "You know this is just taking Deadman and turning him into the Flash or something. It's not a Deadman story." He said, "You want to write it?" I said, "Yeah. I'd love to write it. At least it'll be a Deadman story." So that's what I did. I started writing Deadman. You can't really tell when you read the stories how much it re-focuses on Deadman, because I'd always kind of made it focus on Deadman through the art and the various things that happened, but it became even more re-focused on Deadman. People seemed to like that.
Stroud: It did pretty well there for quite some time although of course ultimately it got canceled.
Adams: Well, it got canceled for very interesting reasons. Are you a historian?
Stroud: Oh, a little bit. Like I say, my focus is more the Silver Age than anything else
Adams: One of the interesting stories of the Silver Age is the advent of comic book shops. You're aware of comic book stores?
Stroud: Right, instead of the twirling metal rack at the corner grocery.
Adams: Yes. The twirling metal rack at the corner grocery was actually the magazine rack at the magazine distribution center or toy store or candy store where they had comic books. What was happening in those days was that the distribution of comic books and magazines was going way, way down because they had discovered this concept. Originally they had a concept, and this happened when I was a kid, where what they did was they had a concept of returns, like if they didn't sell your magazines, they'd return them and then you'd try to redistribute them to various places or you'd try to work out some kind of deal, you know, give them to hospitals or whatever, but it was a big pain in the ass. You're doing a magazine and you get these magazines returned to you, what do you do with them? Well, you take them to a warehouse and eventually you destroy them. So the distributor said, "Well, why don't we destroy them?" "Well, how do we know that you're telling us the truth, that you didn't sell so many, because you could just keep the money?" (Laughter)
Stroud: Yeah. A valid question.
Adams: So they said, "Well, why don't we do this? We'll slice the logo off the top, put them through a machine and we'll just slice the logo, wrap them in rubber bands and we'll send you those back."
Stroud: Okay. Yeah, yeah, I've seen those.
Adams: Sounds like a good idea. So they started to do that. Now in my neighborhood I would go to this toy shop that was on the way to Mark Twain Junior High in Coney Island, and there would be this toy shop and you could buy comic books, last month's or the month's before, comic books, for 3¢ and 2¢ and 5¢. But the top, where the logo is, would be sliced off.
Stroud: Ah-h-h-h.
Adams: The two cent ones, the slicer would go through 2 or 3 pages, so you'd really lose reading material, but if you just wanted to read the comic book you could sort of imagine what was there and pay 2¢s for it. Or 3s or 5¢. The 5¢ ones, just the logo was stripped off. So this whole idea of keeping the distributor honest… (Laughter.)
Stroud: Wasn't working.
Adams: No. It didn't work. Not only didn't work, it didn't work a lot. I used to trade comic books with kids with the tops cut off all the time. I don't know if the comic book fans have those copies, but whatever the reasons and however the manipulations went, everybody sort of agreed that that wasn't a great idea. But, then they came up with a worse idea. An idea so much worse that you can't even conceive of it. When I tell it to you, you will say to yourself, "That can't be. It's not even possible." They said, "Why don't we have what is called an affidavit return? I will say that I destroyed 500 copies, and sign a piece of paper to that effect." (Laughter)
Stroud: Ah. The old honor system.
Adams: The honor system.
Stroud: With no honor.
Adams: I will say that I threw them into the shredder. So now that I've said I'm throwing them into the shredder, what do I do with them? Because I've just said, "I'm throwing them into the shredder." Now I can either throw them into the shredder, or make a buck. Hmmm. Difficult decision. For an honest man, a difficult decision. But you know magazine distributors, not exactly honest men, you've got those Playboy magazines, you know. Affidavit returns…I've got customers who will take those Playboy magazines and sell them easy to all the barber shops in town. So, at that time there were 440 local distributors. Why do I know that? I know everything. 440 local distributors around the country. Some of them have consolidated in recent years, but at that time it was about 440.
If you were an entrepreneurial young man, a teenager, or maybe a little bit older than a teenager, and you had your father's station wagon, or van, not too many vans in those days, station wagon; you could drive up to the back of your local distributor, 440 of them; one in your area, and you could go to the back, and you could walk in the back, and there would be a table next to the door where the trucks loaded. There would be a table. And on the table would be Playboy magazines, Cosmo, tons of comic books, tons of comic books and you could buy them for, let's say it was a ten cent comic book, let's say a 15¢ comic book, you could buy them for 5¢.
Stroud: Bargain basement.
Adams: Bargain basement. Now there's no way that you're going to report as a distributor that you sold those comic books, because if you report that you sold them you'd have to sell them for 8¢ or 9¢. If you sold them for 5¢, nobody's making any profit, so you just write them off as being destroyed. Shredded. So you had guys with station wagons all around the country who would go and do that; buy those comic books and they would go to their friends who were interested and then they would rent a motel room or a hotel room, like in the Penta Hotel in New York.
And they'd rent a room and they would invite all the comic book fans in the area that they have learned to know and love over the past years because they were all comic book fans and they did newsletters among one another and the announcement would go out that these comic books would be for sale at various prices in this hotel room. Guys would come up, drink a little punch, buy whatever comic books they wanted at whatever condition they wanted to buy them at. And some of them would go out and sell some of those. So all around the country, you've got these little get-togethers in motel rooms, in the local church, outside of school, blah, blah, blah, of people buying comic books from the back of the distributor for 5¢ apiece and selling them for 15 for 20¢, sometimes they'd sell them for two bucks because they got some really nice stuff that you couldn't get in your local distributors because your local distributors, your local store wasn't even getting them.
Stroud: Oh, golly.
Adams: Wasn't even getting them. Those guys, all around the country, became your first comic book stores. You want to know where the guys who owned those comic book stores came from? Those are the guys with the vans. That would buy the books out of the back of the distributor, and sell them at the motel room. Those are the guys who became the comic book stores.
Stroud: Started their own sub-market.
Adams: Well that's how the direct sales market began. From those guys. One guy went into DC comics and said, "Look. Instead of you sending them to your distributor, telling you he only sold 40% of them, I'll buy them from you direct, and I'll pay you full price, no returns." How could you lose? They went to Marvel and did the same thing. Once DC started to do it, Marvel started to do it. That became Phil Seuling and the direct sales market, the beginning of the direct sales market.
Stroud: Wow. Just an obvious, logical progression.
Adams: Exactly. Now, put yourself in that historical position. Forget that the direct sales market has begun. Think of all those distributors around the country and all those guys pulling up in the vans. You're gonna go in and you're gonna buy comic books, only you're gonna focus, to a certain degree, on comic books you can sell for two bucks or 50¢ rather than 15¢.
So you're going to get, let me see, Steranko's Agents of S.H.I.E.L.D., Barry Smith's Conan, Neal Adams' Deadman, Green Lantern/Green Arrow. What books are you gonna buy? Batman, by Neal Adams. What books are you gonna buy? Sell to your friends. I go to a comic book convention now, I sign mint condition copies of Green Lantern/Green Arrow and Batman, bought by the box load out of the distributor. My good friend Carmine, "Gosh, Neal, I don't know why Deadman isn't selling better. I mean, you know, when you do a cover on another comic book it goes up 10 points, but you know your own comic books just aren't doing that well." (Laughter.)
Stroud: Just all that work in the shadows. Interesting…
Adams: How much sense does it make that the most popular comic books out there didn't do any better than the other comic books? Just pick the comic books at the time. The most popular comic books and the ones that everybody wanted to get, they didn't do any better than any other comic books. There's a reason. Some of them actually did worse. Nobody understood why. The reason they didn't understand why is because nobody in the comic book business thought to investigate the distributors, and if they did, what could they do? Arms broken?
Stroud: Totally out of control at that point.
Adams: Right. Now they could have asked for returns. It's possible. The reason I know this is because when we did comic books we got into the distribution business, we didn't get into the business, but we dealt with the distributors, and my daughter went around to the various distributors in our area, and they were only too delighted to show her the table in the back with this old shit. "Ah, yeah. This is the table where we sell shit. The guys come in; they just pick the stuff up." "Oh, really?" (Laughter.)
Stroud: Good grief. That's quite the story.
Adams: We're at a comic book convention when we were distributing, and we had some comic book store owner come over with a bunch of comic books to our table, and this is well into this whole idea, because that business didn't discontinue. What happened was as time went on, as the comic book stores opened, what they would do is the comic book stores, let's say they ordered a certain comic book and it did well. And they discovered that it did well by selling out. So what they'd do is they'd take their vans and go down to the local distributor and say, "Have you got any of these left?" Then they'd buy them for 5¢ or whatever amount the percentage was, and they'd take them back to their stores and sell them as if they were the direct market sales copies. Right?
So, what happened was certain comic book companies, and us included, we did things with our comic books. For example, we did a glow in the dark Cyber Rad and we distributed the glow-in-the-dark to the direct sales market, but the regular copy went to the retail market. One day my daughter is at a convention and we're selling stuff and some comic book store, local retailer, comes up and says, "Why doesn't this have the glow-in-the-dark? This is a rip-off." My daughter looked at him and she said, "You got that from Diamond?" "Yeah." "Well, you know we didn't ship the glow-in-the-darks to the regular retail stores, we only shipped the glow-in-the-dark to the direct sales market. So are those direct sales market copies or are those from the local distributor?" "Uh…uh…I'll go check."
Stroud: (Laughter.) Never to be seen again.
Adams: Yeah, you go check. Schmuck. Thief.
Stroud: Nice try. Born at night, but not last night.
Adams: Anyway, so if you want an explanation, and I believe Carmine is still confused about it.
Stroud: That could very well be.
Adams: "How come they didn't sell? They did so well." Carmine did a speaking tour, went around the country and did like radio interviews on Green Lantern/Green Arrow. He was invited to all these places and, "Why aren't the damn comic books selling?" "I don't know."
Stroud: That was quite a watershed event there, too, was it just mainly Denny's work or was it pretty collaborative as far as the socially conscious effort?
Adams: I would have to say that you have to give Denny total credit for the extremely socially conscious aspect of it. What had happened was that I was a big fan of Gil Kane and Gil had left DC Comics to do whatever he was doing, Blackmark or some stuff. So he was no longer going to be doing Green Lantern, which if you had interviewed Julie Schwartz at the time he would say, "Good-bye, good riddance, goddammit." But essentially he knew that Gil made Green Lantern. So they started to hand out the books, the scripts to other people. Jack Sparling and people like that, and of course the stuff was terrible. So I went to Julie and I said, "Look, Julie, please, before you cancel the book let me do a couple of issues." He said, "You wanna do Green Lantern?" And I said, "Yeah." "Why? You're out of your mind. The sales are diving down." I said, "No, man, I really love the character and I love Gil Kane's work. I'd like to do kind of a Gil Kane thing; I'd really love to do it."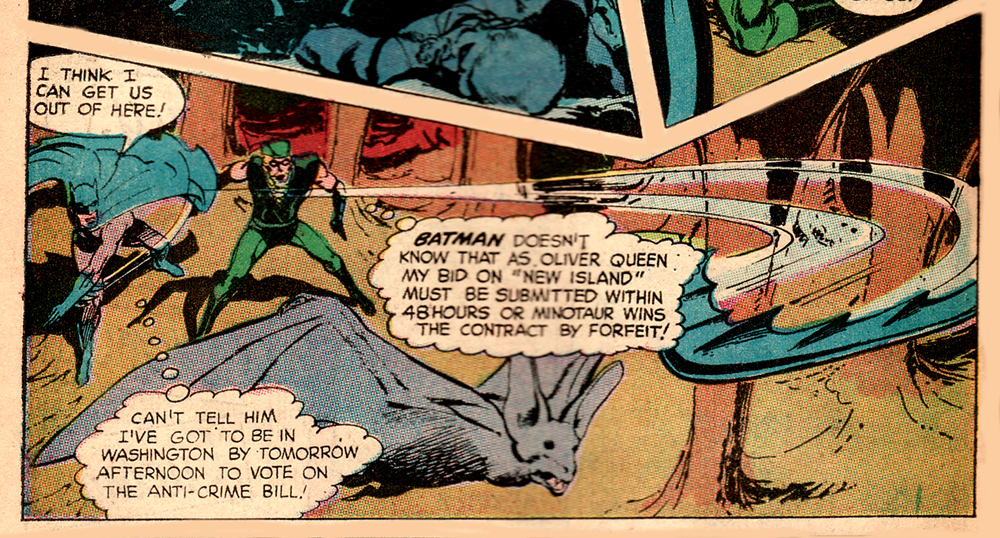 So I had done a kind of a revise of Green Arrow in The Brave and the Bold. They decided to pull Green Arrow and I thought, "Wow, shoot. The character's kind of a nothing character, why don't I turn him into something?" So, I had turned Green Arrow into a pretty good character in The Brave and the Bold, but there was nothing for him to do. Everybody was like; "Wow, he's cool looking," but they didn't know what to do, so it occurred to Julie, why don't we do Green Lantern and Green Arrow? Of course he mentioned it to me and I said, "Are you out of your mind?"
Stroud: (Laughter.) They're both green.
Adams: What is that? That's not even funny. You're out of your mind. He said, "Well, I'm thinking of maybe making it a continuing story with the two characters and I'll call Denny O'Neil in. You're working pretty good work with Denny." I said, "Yeah that would be good." So he called Denny in and essentially Denny, having been a reporter and also being very socially conscious, Denny was a bit of a radical at the time. They kind of asked me if I minded it going off in a little bit more meaningful direction and of course I said, "No, no, that sounds great. If I'm going to have to do two green guys, it doesn't really matter where I'm going. Let's get crazy." So essentially all I gave was approval. Denny went off and started writing very, very socially conscious stories. He knew that I would carry them through. It's sort of like a writer and director, you know if the director is going to do the job then you can basically focus on the story. So that's what Denny did, he really focused on these stories and we did some pretty darn good stories, in my opinion, until we got to the drug thing.
Stroud: Yeah, I imagine the Comics Code kind of tripped that one up a bit.
Adams: Not really. What happened was we were going along and Denny did a number of good issues. We attacked President Nixon and Vice President Spiro Agnew and that got a letter from the Governor of Florida telling us that if we ever do such a thing again he's going to discontinue distribution of DC comics in Florida. Florida has managed to keep that reputation, even up to recent years. So we managed to ruffle some feathers along the way, but essentially nobody actually knew what we were doing until we were about into our third issue and then everybody liked it.
My good buddy Carmine will tell you he knew what was going on, but he had no idea. That was the good thing about it was that no one was paying any attention, so we actually got really into the meat of it before anybody kind of woke up, and the books were distributed, you know, you don't distribute them the following week, so we were into our third or fourth issue by the time everybody goes, "Whoa! What's going on here? This is like cool, or awful," or whatever the hell they might have thought.
Stroud: You had a good roll on.
Adams: Yeah. So we got into a number of issues, but we were starting to get into overpopulation by that point and I was getting a little antsy because, you know I don't consider overpopulation to be what you call your "issue." It's a phenomenon and people have to deal with it, but you know if you have Americans getting vasectomies while Indians are having as many as 10 to 12 children in a family, this is not the solution to the problem.
Stroud: Precisely.
Adams: Not a good direction. So people who can afford it, not having kids, it's just stupid. Anyway, so I was feeling, you know, we're coming to the end of this run here, but you know what we haven't done? We haven't done anything on drugs. And it was a big issue and there had been kind of a thing over at DC comics where the state of New York came to DC comics and they wanted to do a drug comic book and Denny was asked about it and I was asked about it, so Denny did an outline and I did an outline of what kind of book it could be and they didn't like our outlines (laughter) and we had taken a lot of time. Both Denny and I had gone to Phoenix House and we had talked to the guys and you know the shit that you hear isn't exactly the shit you hear from the guys who are really junkies. Very, very different. I was also the president of the local board of our drug addiction house in the Bronx.
Stroud: So you saw it all.
Adams: I saw it all, had some experience and I was taking guys down from 42nd street with their noses running on their bellies and locking them away into our local, what was originally a nunnery and getting people in who were banging on the doors and it was just like…nuts. Anyway, I knew a lot about it.
So, because I had a lot of experience I had an awful lot of knowledge and things were not, you know, "Oh, just stop. Just tell people no." That's not the way it is when you have a kid coming home from school at night and his father comes home and he comes home, he's got a load of homework to do and a load of things to do and he wants to enjoy himself and hang out with his friends but he can't because he's loaded down with homework and his dad comes home, kicks his shoes off, smokes a cigar, gets some booze and sits in front of the television and yet he's treated like a king and this kid is treated like shit. A kid can get annoyed at that and perhaps unhappy and if he hasn't got too much to go to, there's a very good chance that he will go to drug addiction. I can't imagine why…
Stroud: (Laughter.) Yeah, go figure.
Adams: So the problem with society, both of us, Denny and I, realized was that we were not taking care of our kids and we were not giving them alternate things to do and we're not rewarding them for their hard work and we weren't doing much of anything. We were actually making potential addicts.
Stroud: Disengaged.
Adams: Yeah. And they wanted us to do something about telling them to say 'no'. This is like, "You're bad." No. We don't think so. You're bad, society, you're screwed up and you're making us bad, but we're not that bad. So they weren't happy with what we did, so they abandoned the project. So we're going into this overpopulation thing with this Green Lantern/Green Arrow thing and I think, "We've got to do something on drug addiction," but of course it's against the Comic Code, so I went home and I did that first cover. You know, with Speedy?
Stroud: Yeah.
Adams: In the foreground? I penciled it and I inked it and I put the lettering in and I brought it in and I gave it to Julie Schwartz and his hand grabbed it very briefly and then he dropped it on the desk as if it were on fire. He said, "We can't do this." I said, "Well, we ought to." He said, "You know we can't do this. It's against everything." I said, "Well, this is where we're going. This is what we ought to be doing." So he said, "You're out of your mind. Once again, you're being a pain in the ass." So I took it into Carmine. Carmine didn't know what to make of it. I took it into the Kinney people, who were now running DC comics and were sort of used to this and of course they dropped it like a hot potato.
I said, "You know guys this is where we ought to be going with this." "Oh, no, Neal, please, just go and work. Leave us alone. You can't do this." And of course Julie had a twinkle in his eye, but still he knew it was bullshit, it wasn't going to happen. He said, "Why did you finish the cover?" I said, "Well, because it's going to get printed." "No, this will never get printed."
Anyway, I make a visit over to Marvel comics a week or so later and somebody comes over to me, probably Roy [Thomas] or somebody, I don't know and says, "You know what Stan's [Lee] doing?" I said, "What?" He says, "He had this guy, this drug addict popping pills and he like walks off a roof." I said, "Stan had a guy popping pills and he walks off a roof? That's kind of a unique situation." (Laughter.) "I don't exactly know where you're going to find that, you know I don't know who's going to be walking off a roof." "Well, you know Stan read some kind of article about a guy who went off a roof." "Oh, okay. Sure. All right. Whatever." And he said, "So we did it and we sent it over to the Comics Code and the Comics Code rejected it, they said he has to change it."
So I said, "Well, what's Stan gonna do?" "He's not gonna change it." "You're kidding." He says, "No. Not gonna change it. We're just gonna send it out, it's ready to go out. We're sending it out. It's going to be on the stands next week. Week after next." "Really? No shit. What about the Comics Code seal?" "Not gonna put the Comics Code seal on it." "Really?"
Stroud: You can do that?
Adams: So sure enough, he sends it out and I go over to Marvel comics since I heard it was out and I go over and I say, "What happened?" He said, "Nobody said anything." "Nobody said anything?" "Nobody even noticed that the seal wasn't on there." "No shit. Nobody even noticed?"
Stroud: What do we do now, Batman?
Adams: What do we do now? So I go back to DC, you know, and now that word had gotten out, oh shit. Now try to imagine DC, they've got this cover, right? Could have scooped Stan with something real and solid. They screwed up. So within a day or two they call a meeting of the Comics Code Authority. Remember the Comics Code Authority is bought for and paid for by the comic book companies. It doesn't exist independently. It's a self-regulating organization. So DC Comics calls Marvel, they call Archie, they go and have this emergency meeting. "We're going to revise the Comics Code!" Okay, within a week they revised the code and within a week and a half they tell me and Denny to go ahead with the story. (Laughter.)
Stroud: Just that easy.
Adams: Just that easy.
Stroud: Oh, too funny.
Adams: Well, it took the cooperation of quite a few people, but there you go. That's how it happened.
Stroud: Incredible.
Adams: So Stan is responsible for us being able to do that drug story, when you get right down to it. Thank you, Stan. I'm popping a pill, walking off a roof.
Stroud: About as unrealistic as possible, but nonetheless…broke down the door.
Adams: Incredible. Stan was always kind of like innocently naïve. "I wonder what would happen if we just threw this out." Not, "Oh, the shit hit the fan and we're in trouble now." Just, "Oh." Stan in his own way is just wonderful. He's like the world's innocent.
Stroud: Just go for forgiveness rather than permission and see what happens?
Adams: I guess. I don't even understand it, but still he won the day. He won the day for us. Incredible. Stan, thank you. How do you say thank you? Thank you, Stan, for having a guy popping pills and walking off a roof.
Stroud: Excelsior!
Adams: Excelsior.
Be back next week for part three of this wonderful interview.