Neal talks of shaking things up at Marvel, close encounters with Bob Kanigher and Mort Weisinger, and what it means to be Neal Adams.
---
Bryan Stroud for Comics Bulletin: Now you went over to Marvel shortly after the drug story [discussed in last week's interview], did you not? Did you prefer the Marvel Method for your kind of work or did it make any difference?
Neal Adams: Well, I'll tell you the sequence of events. I had done a "Deadman" story and in the Deadman story I did some kind of special effects. I did one thing that takes up the page and it's kind of a double image. So I was doing this optical illusion because Deadman was going into this mysterious, hell-like place or heaven-like place, or whatever. To find Vishnu or whoever. So I'm doing these optical illusions and there's this one panel I did at the bottom where I have the steam rising up from below going past Deadman. And if you take the comic book and you hold it at an angle, so you look like down the comic book at a very steep angle, that steam that rises up coalesces into letters. It squishes down and then you see letters.
Stroud: Okay, sure. Sure. Like the old '60s posters for rock bands and stuff.
Adams: Right. It shrinks down, so if you look at it from the bottom it says, "Hey, a Jim Steranko effect."
(Sustained laughter.)
Stroud: Subliminal messages.
Adams: Because Jim was over there with op effects and doing all kinds of things, so I thought, "I'll do this." Cute little thing. Anyway, the thing comes out and a week or two afterward Jim Steranko comes over to DC comics, seeks me out, shakes my hand and says, "Hey, that was cool." I said, "Thanks." And so we got to talking and I asked him about what was going on at Marvel and he said "Well, they have this way of doing it. Stan does so many books that he just lets you do the story and you hand in the pages and you write the story on the side or with notes as to what takes place and Stan writes the dialogue." "That's pretty interesting. You get scripts over here." He said, "It's a pretty good way to work because basically you're in control of the story. You decide what the story is and Stan puts in the words." "Huh."
That was known in those days as the Marvel Method. Because there was Stan, you could just do so many books. At that time they were bringing in Roy. So anyway, I thought, you know, I would like to do something like that for a couple of issues. I would enjoy that. Hmmmm. So I thought about it for a couple of weeks. And I went over. I called Stan and I said I'd like to come over and talk, I'm interested in doing something. Not that things were slow, it's just, I just do things like that. Also some other things were happening at that time that were bothering me. For example when artists would go back and forth between the companies, they would sign different names.
Stroud: Oh, yeah, aliases. I'd heard about that.
Adams: Aliases. Yes. Mickey Dimeo was, uh, I don't know who the hell he was.
Stroud: Was that [Mike] Esposito?
Adams: I think so, somebody like that. Anyway, so they would sign different names, because they didn't want the companies to know. Like, you know, you're not gonna know. So they were doing it and it was, "Oh, no, Stan wouldn't like that." "Why don't you sign your name?" "Oh, I couldn't." So they worked under aliases and I thought it was stupid and also not good for the freelancers. Very bad. So, I thought I'd kill two birds with one stone. So I went over and I talked to Stan and I said, "I'd like to do a Marvel book in the Marvel style, you know where I do the book and the dialogue gets put in." Stan said, "What book do you want do?" I said, "Well, what do you mean?" He said, "Well, you can do any book you want." I said, "Stan, that's very nice. Why are you saying that?" He said, "I'm saying it because the guys around here are saying that the only book they're reading from DC comics is 'Deadman'." (Laughter.)
Stroud: Aha! Your reputation precedes you.
Adams: "I see. Okay." So I said, "You don't mean any book." He said, "You can have any book you want. You can have Fantastic Four, you can have Spiderman, you can have anything."
Stroud: Geez, carte blanche.
Adams: Yes. So I said, "Okay. What's your worst selling title?" He said, "The worst selling title is X-Men. We're going to cancel it in two issues." (pause) Let that sink in. 'The worst selling title is X-Men. We're going to cancel it in two issues.'
Stroud: Unfathomable.
Adams: Well, it wasn't so much if you look at the books at the time. Barry Smith, one of his earliest jobs at Marvel was an X-Men book and when I say early job, I mean crap. (Laughter.) And they really weren't very good. If you read them, they're not good. So I said, "I tell you what. I'd like to do X-Men." He said, "But I told you we're going to cancel it in two issues." I said, "Well, that's fine." He said, "Why do you want to do X-Men?" I said, "Well, if I do X-Men and I work in the Marvel style, you're pretty much not going to pay too much attention to what I do, right?" He said, "That's true." I said, "Well, then, I'd like to do that."
Stroud: Gonna have some fun here.
Adams: I'll have some fun. He said, "I'll tell you what. I'll make a deal with you. You do X-Men until we cancel it and then you do a really important book, like Avengers." Now in those days Avengers was a big deal. I don't know about today. Today it's coming back up again. It's not as funny a story as it was 10 years ago. (Laughter.)
Stroud: Following in Kirby's footsteps there, so…hallowed ground.
Adams: So he says, "Then you'll do Avengers." So I said, "Okay, that sounds like a deal." So I did 10 books of the X-Men, which you see reprinted all the time. Then they canceled the book. (Laughter.) Why did they cancel the book? Because sales weren't so good. (Laughter.)
Stroud: Yes, of course.
Adams: Let me see, you have a mint condition copy of the X-Men? (Laughter.) How did you get that? "I don't know. Some guy had a box of them."
Stroud: Fell off the truck.
Adams: A box of them? I must have signed more than they actually sold over the years. I sign them all the time.
Stroud: I believe it.
Adams: Where do they come from? Well, we know where they came from. Back of the warehouse. Those X-Men books, they did pretty good. So anyway, what happened was they canceled the book and the fans' jaws dropped. "What the hell's going on?" And of course the fans wrote in letters and the interesting thing that happened was fans wrote in letters, they wanted to see the X-Men again, so they basically started to do reprints and then they started to do it again, but every artist, every new artist that came to Marvel comics from that point on wanted to do X-Men. Dave Cockrum. John Byrne. All those guys, well not all, but the next group of guys, all they wanted to do was the X-Men. That was it.
Stroud: That or nothing, huh?
Adams: Yep. And if you look at the X-Men runs on the various guys, what you'll see, interestingly enough, is that those guys have all gone through the basic stories that I did when I did those 10 issues. They all do Sentinels, they all go into the Forbidden Land, they all have Ka-Zar, one story with Ka-Zar, one story with dinosaurs. Essentially they just travel through that same sequence of stories to give their take on another version of those stories. Almost every guy. Just to go ahead and do it. "I want a shot at doing that. Sauron, I wanna do him." Sauron suddenly shows up. New artist, there's Sauron.
Stroud: Just like that.
Adams: It's incredible. Anyway, that's what happened.
Stroud: Oh, I love it. It seems like you really blazed a trail as far as the more realistic style. Prior to your arrival the only one I can think of offhand is Murphy Anderson, but following you it seems like you've got Jim Aparo and Mike Grell and so forth. Were they aping you do you think or was it just the new wave?
Adams: (Laughter.) What do you think?
Stroud: It was interesting to me that Grell did Green Lantern…
Adams: "Anybody with a beard. Anybody with a beard. Anybody with a blonde beard. (Laughter.) In fact, I'll grow a beard. I'm growing a beard." Hey, listen, shit happens, you know? To be perfectly honest, between you, me and the fencepost, I don't feel, you know, guys aping my style was the contribution. I think the contribution, if anything, was the realization that somebody could be a good artist and do comic books. There's nothing wrong with the idea. There's nothing incompatible with being a good artist and doing comic books.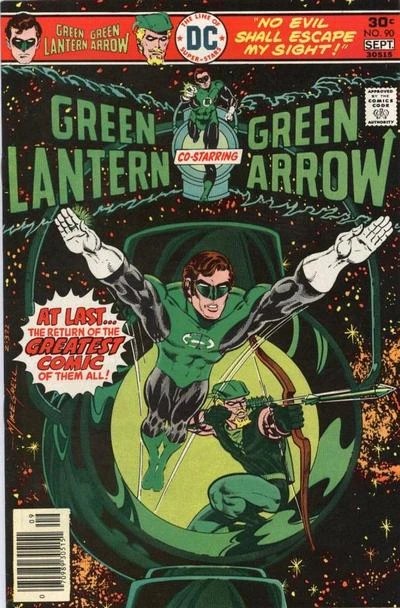 That essentially was the message and it's the most lasting message. I mean, you know, you're going to have guys that will ape your style. Only one or two of them were really any good, I mean Bill Sienkiewicz, who managed to go on past that style and other people who possibly went beyond it have made greater contributions than the guys who aped the style, but it wasn't that so much as this idea that here were comic books that were being sold to college students, I mean you talk about Green Lantern/Green Arrow and even the Batman, even the X-Men, they went to colleges.
They sold very well in colleges. When I say very well, of course off the back of the warehouse, my fans, all my fans wrote with a typewriter. They didn't write on grocery bags with crayons. They were intelligent, they were well read, they had something to say and the people who followed in the industry, we have a much more intelligent, talented field. But the only way to get something like that is if somebody says, "Hey, yeah. I could choose to do anything I wanted to do. I choose to do comic books."
Stroud: Legitimacy as an art form.
Adams: Exactly…well, I wouldn't give it an art form status. I'm kind of hoping to duck that one, but to give it a pop culture status that is as good as music, is as good as dance, is as good as film making on a high level quality, we're not looking to make art, but we are looking to please people and to do good art while we do it. Mixing good art in there is not a bad thing as long as you don't get too hoity-toity.
Stroud: I think that's a very accurate summation. They were also showing a lot of artists the door about the time you showed up. Was that in any way related?
Adams: Who were they showing the door to?
Stroud: Oh, I was thinking of George Papp and Shelly Moldoff.
Adams: Well Shelly Moldoff hadn't worked for comics in a very long time.
Stroud: I was under the impression he was still at it up until the late '60s, perhaps my information is wrong.
Adams: I don't think so.
Stroud: The Wayne Boring's…
Adams: I think Wayne Boring was not part of it into the '60s. He certainly wasn't there when I was coming in. There was Curt Swan. Curt Swan was the classic Superman artist. Wayne Boring was not there any longer. In fact, I wondered about Wayne Boring. What was Wayne Boring doing at that time, do you have any idea?
Stroud: I don't know.
Adams: Because I can't imagine that they would let go of anybody at that time. They needed everybody that was available.
Stroud: That's kind of what I thought. It kind of threw me.
Adams: I think you'd have to talk to those people to find out, because you know if you're in this industry for a long time and then you discover that actually there is somebody else out there who will actually pay you money to draw and probably pay you more than these comic book publishers, you tend to want to do that. To be perfectly honest doing comic books to a certain extent in the '60s was like a charity. I would do story boards for advertising agencies and I would get paid the same for a story board frame as I would get paid for a page of comic book art.
Stroud: That's pretty consistent with what Joe Giella was telling me when he was doing advertising type work. He said the money was much, much better.
Adams: No comparison and if you were able to pick up enough work…and what happened with various people was…let's say you're in a city, let's say you're in Detroit and you're mailing your comic book pages in if you're lucky enough to be in a situation like that. Suddenly in Detroit it's a smaller pond than say, New York, so the competition isn't quite as stiff so somebody like Wayne Boring, and I'm not saying this happened to Wayne Boring, but somebody who has reasonable ability suddenly finds themselves in an advertising agency and being paid a reasonable rate to do a story board frame, what he would be paid to do a comic book page and suddenly somebody from down the hall has work for him and suddenly from this other agency and they're letting him do freelance work at night, suddenly he's tripled or quadrupled his income.
Why would he want to do comic books? Why would he want to be bored to that extent whereas these people are grateful and they're saying, "Thanks. Gee that's great. You were able to knock it out so fast. I really appreciate it." It's a different world. A totally different world.
Stroud: Sure, sure. Instead of a Kanigher or a Weisinger, saying…
(Laughter.)
Stroud: "What's wrong with you? This sucks."
Adams: There were editors who were, in fact, ogres. I never had any problem with any of them, but other people, I know did. Sometimes I'd have to take them aside and say, "Why don't you take it easy on this guy? He's got to make a living. He's not going to change if you get mad at him overnight or something."
Stroud: Not going to cause a radical shift in what you think it should be.
Adams: I got along with Kanigher just fine. I got along fine with Weisinger.
Stroud: It sounds like you're one of the few.
Adams: Well, I'm not really the kind of person you want to get angry. 'Cause I really just have a positive attitude about everything and to me if somebody crawls up my back it's like a surprise, it's "What are you crawling up my back for?" I'll give you an example. I'll give you my Kanigher story. I'll give you my Kanigher story and I'll give you my Weisinger story.
Stroud: Okay.
Adams: My Kanigher story: I'm in the room with Bob. I give him my second war story. I did a series of war stories. First war story went just fine. Handed it in, looked at it, that's it. Brought in my second war story. He starts to look at it, maybe he's got a little more time, I don't know. A little grumpy. He starts to correct my art. He starts to criticize my art. I said, "Hold on Bob. Just hold on a second." So I got up out of the chair, and I closed the door to the room. I said, "I'll tell you what we'll do. We'll have an arrangement between us." Now you know when you close the door on somebody they kind of go, "Why is he doing that?"
(Laughter.)
Adams: The thought doesn't necessarily occur to somebody that you're going to hit them, but if you close the door, nobody knows. I wasn't going to hit him, but I said, "Now let's be real quiet about this, because I don't want anybody to think you raised your voice at me. You're the writer. I'm the artist. I'm not gonna criticize your writing, you don't criticize my drawing."
Stroud: Stay in your lane.
Adams: "Sound like a deal?" He draws his head back, he goes, "Yeah, I guess that's okay." I said, "Fine." Then I opened the door and we went on. That was the last harsh word, or even partially harsh word I ever heard from Kanigher. From that point on, we were friends. He'd come and tell me about his conquests, he'd tell me about the girl he laid up in the Himalayas or whatever the hell it is and I was a friend. He'd bitch to me about other people and I'd try to calm him down, but essentially we got along easy. I know that Joe Kubert got along with Bob Kanigher, but Joe Kubert's the kind of guy that doesn't take any shit from anybody. So I think Kanigher was one of those guys that would challenge you unless you got up on your hind legs and suddenly, then you're okay. That's the way it was with Bob. That's my Bob Kanigher story. Now, my Mort Weisinger story. (Chuckle.) Mort Weisinger was always nasty to everybody.
Stroud: That's what I hear.
Adams: Always, always nasty. And Carmine wanted me to do covers for Mort Weisinger. Mort Weisinger had Curt Swan. Now, between you, me and the fencepost, if I had Curt Swan that would be enough for me, and it was enough for Weisinger, but Carmine kept on him, about "Have Neal do a Superman cover." And Weisinger is giving me these glowering looks like somehow I'm part of this…
Stroud: Conspiracy.
Adams: Yeah, or whatever it is, so finally Carmine says, "You ought to talk to Mort; you know you ought to do covers for Mort." So finally I walk into Mort's office and I said, "Mort, I just want to talk to you for a minute." "What?" "Carmine wants me to do covers for you." He said, "I don't want it." I said, "I understand that. I've got it, totally, and I don't disagree with you, but to satisfy Carmine, why don't we do this. You give me one cover to do, I do it, you don't like it, you don't have to use it, you don't like it, you never use me again, we forget about it, but at least we're satisfying Carmine." He said, "Okay." "So, one shot, one cover, that's it. That's the end of it." "Okay." He says, "Fine."
So he gave me a cover to do. After I did the cover, suddenly, "Hey, we've got to do some more covers." (Laughter.) Suddenly Mort wants more covers. Anyway, now it's a reasonably friendly situation with Mort. So one day…now I'm working quite well with Mort, but it's a private conversation, slightly poignant conversation. I go into Mort's office, Mort has just yelled at somebody on the phone. I said, "Mort, you know, between you and me, you know, you treat an awful lot of people bad. You really ought not to do that and I don't understand. What's the problem?" And he gets real quiet. He looks at me, and he says, "Look, I'm going to tell you something. Never repeat it." Now of course I'm repeating it. He says, "If you got up in the morning, and you went to the mirror to shave, you saw this face looking back at you, would you be a happy man?" Oh. And I thought, "No. That's really sad."
Stroud: Quite an insight.
Adams: That is really sad. So, I understood Mort. I didn't like the idea that he treated people bad, but to be perfectly honest, you know, that's a hell of a thing to look at in the morning.
Stroud: Yeah, that would start your day off on a grim note, no question. That's very interesting.
Adams: So there you go. So I got along with him fine, you know, to me they were just guys. I never had trouble with any of them.
Stroud: Good for you. Was there anyone you preferred interpreting penciling or so forth?
Adams: You mean as far as an inker is concerned?
Stroud: I'm sorry, yes.
Adams: Oh. I prefer Neal Adams. I think I'm one of the best inkers around. I know that sounds egotistical, but when I did the Ben Casey strip I did it for 3½ years and I based my inking on the best inkers in the field and I learned skills that other people didn't learn. I trained under, when I was in high school at night I did animation for a guy named Fred Ang, who did animation for a Japanese animator and he could handle a brush like no American and he taught me how to use a brush and when I look at Americans ink with a brush it seems to me that they're like gorillas holding a brush. The man taught me and I learned from Stan Drake how to handle the most sensitive pen that there is out there. If you hand a 290 pen point to any typical inker all they'll make is a blob on a piece of paper, so I learned an awful lot about inking.
The best inker outside of myself at DC was Dick Giordano. The best inker for me at Marvel at that time was Tom Palmer; Tom Palmer continues as a terrific inker, but neither one of them, I mean if you look at the work of them over my stuff you see a total opposite of style. One very rough and very slashy and one very tight and very controlled and mine falls somewhere in between, but it's more a kind of a classical ink style that you would get from Charles Andy Gibson or the Japanese brush painters or whatever. So my stuff is better served by myself. Nowadays there are better inkers around. I mean since then…you have to remember that we worked at a very, very difficult time where people were slashing and hacking at stuff like crazy. Now you have inkers that actually know how to ink very well and they're willing to do the job. I'm working on a Batman series now and I have to think about, "Do I want to have some other people ink this stuff?" and there are people who, in my view, are tremendously worthy inkers that I'd like to give a try to, and probably will.
Stroud: Wow. That's quite an endorsement.
Adams: Well, things have changed. Boy, it's become very, very different. There's a half a dozen inkers that I would trust with a page of mine that I think I'm gonna get something close to what I'm able to do and that's saying a lot, I gotta tell you.
Stroud: Do you think some of it is the time constraints aren't quite what they used to be on these special projects?
Adams: Oh, yeah. Time constraints are practically nothing. There are people who have work out now, but there are guys who will take 2, 3 days on a page and not think anything of it, because they know down the line they're going to get royalties or their page rate is good or whatever and they're also competing with a lot of very good people. The drive of competition in the comic book business has become a drive of quality and ability to sell books. So the link between quality and selling books is very, very firm these days.
Stroud: So it's no longer a quantity game so much.
Adams: No. And if you have people out there who are turning out less work and getting more money you have to think that that's possibly the future and not cranking out pages. The day of Vinnie Colletta has gone.
Stroud: May it rest in peace.
Adams: I've seen Vinnie destroy more pages than any five artists have drawn. My favorite quote from Vinnie Colletta is "Do you want a good inking job or do you want it on Monday?" The answer I've heard from editors is, "I want it on Monday."
Stroud: I believe it. I'm reminded of one of my co-workers touting how women can multi-task and so forth, but that's beyond you men, and so forth and I said, "Well, here's my theory. Do you want something done quick or do you want something done well? Do you want several things done poorly or one thing done well?" That's the way I work anyway.
Adams: There you go. I wouldn't necessarily equate it to women, just people who just don't care.
Stroud: Yes, indeed.
Adams: Because Vinnie wasn't as much a woman as he was a man. (Laughter.) We didn't have too many women in comic books as I think of it.
Stroud: No, not at all.
Adams: The ones who were there were of a true quality and there's the dichotomy. The women in comic books were…and they're still alive, are tremendously quality oriented. Marie Severin and Ramona Fradon. One of my favorite artist's. I never had any idea she was a woman. I had no idea. She used to do the Aquaman comic books, the back-up Aquaman comic books.
Stroud: Right and Metamorpho.
Adams: Yep. Metamorpho.
Stroud: At least for a little while.
Adams: And from her you get John Byrne and other people who work in a very similar style. She's actually much aped even though people don't necessarily recognize it or admit it. When you look at her work and you look at Alan Davis and John Byrne, people that you might say imitated my stuff, actually. There's a tremendous influence, in every era, of Ramona Fradon. A tremendously good artist. She's one of my heroes.
Stroud: So obviously you haven't completely left comic books behind, but I understand you do a lot of story boards for movies and so forth, is that correct?
Adams: Nothing for movies. It doesn't pay well enough. I do advertising story boards and I do some designs for film, but not a lot, but here and there I'll hit something. If you're a designer for movies it's different than doing story boards. Story boards, you turn out a ton of stuff and you turn it out very fast and you sort of work at it by the gallon.
Stroud: Just scratching it out, huh?
Adams: If you ever see story boards from film you are often amazed at how scritchy scratchy they are and how quickly they're done, but they get across the idea. They get paid well by the week if you get two, three, four thousand dollars a week, but you're expected to turn out a tremendous amount of work and I can't dedicate myself to boards for that reason. What I'll do is I'll do story board designs for amusement park rides, like the Terminator T2 3-D ride or the Spiderman ride, stuff like that. If you go to my site you'll see a lot of the stuff that I do. You won't see any movie stuff really.
Stroud: Tell me one thing people would be surprised to know about Neal Adams.
Adams: I'm not the pain in the ass they say I am.
Stroud: Ah-ha. Okay.
Adams: The truth is, what happens is that history has a way of coloring things so that is seems as though when you put all the things together that things are a given way when in fact they were nothing like that. One has the impression that I was just a maniac running around causing problems and getting people upset and fighting and carrying signs and shit. None of that is true. The most I would ever do, I would go and have a private conversation with say Carmine or Stan or whatever and I'd say some things that perhaps they should think about and consider. They were throwing away the Alex Toth stories and the Tomahawk stories and the color guides that the staffers would use because they didn't give a crap and raised the quality of the color up so that it was recognizably better.
I was really quite mellow and contrary to what people might think, people at DC would call me Smiley. Oh, there would be days when, "What the hell's going on? He brought in this drug cover." Now we had this meeting and before we went into the meeting I said, "Look, I've been doing a little research and here are some things you should know. According to the standard of living, if you go to those figures in the 50's and '60s to today and factor in simply increases in rates, somebody who was making $45 a page would now be making $300.00 a page." Now everybody who was there thought I was crazy. "$300? That's totally insane. Neal, you've gone off the deep end." "No. I just want to tell you. We're supposed to be an organization of freelancers. I'm just trying to say that if we're being paid according to the national average that people are being paid and if you were paid $45 back in the day, you would now be making $300 per page. That's how much it has stayed down. That is why we are not part of the rest of America." And people laughed. "Another hare-brained scheme by Neal." But things changed.
Stroud: History has proven you correct.
Adams: That's the problem with being right at the beginning. Nobody thinks you're right and then at the end, everybody agrees with it. (Laughter.)
Stroud: Yeah, what is it? "A prophet has no honor in his own country?"
Adams: The funny thing now is people saying they were with me and I'm like, "Well, why didn't you raise your hand? Pretty lonely out there. Guys? Hello?"