In the middle of the swirls of nebulae and vast planets erupts an action-packed, suspenseful adventure with a hint of galaxy romance all inZap!. Chris Layfield, 31, and Pascalle Lepas, 29 came up with the idea of Zap! when they merged their ideas of the main cast and plot. Layfield originally created the four-armed mechanic, Grontar, in his notebook margin at school then proceeded to create more characters like the protagonist Zap, love-interest Reona, and smart Robot. The 29-year old created villains Gunner and Naveed and the two artists progressed to sharing ideas and ultimately the webcomicZap!.
Above: Gunner Stryfe (top), Efrem Nutari (middle), Reona Lightstar (bottom)
Lepas says that Zap! is a science fiction epic centering around the crew of the sentient starship Excelsior. Excelsior has the ability to choose her own captain, and much to the general chagrin of the crew, she proclaims a stowaway named Zap to be her new captain. She says it does not take long for trouble to start plaguing the group, and the crew begin to realize that Zap is something more than just some stowaway. According to the Zap! creators, about 10 years ago science fiction comics weren't popular in numbers and because the two liked the genre they decided to launchZap! in 2003. Their webcomic was one of the few full-coloured and full page webcomics. "…there weren't really a lot of long form full color webcomics. We made what we wanted to see. These days, there are tons of options, but I totally think we are the best option," said Layfield emphasizing that he is unbiased.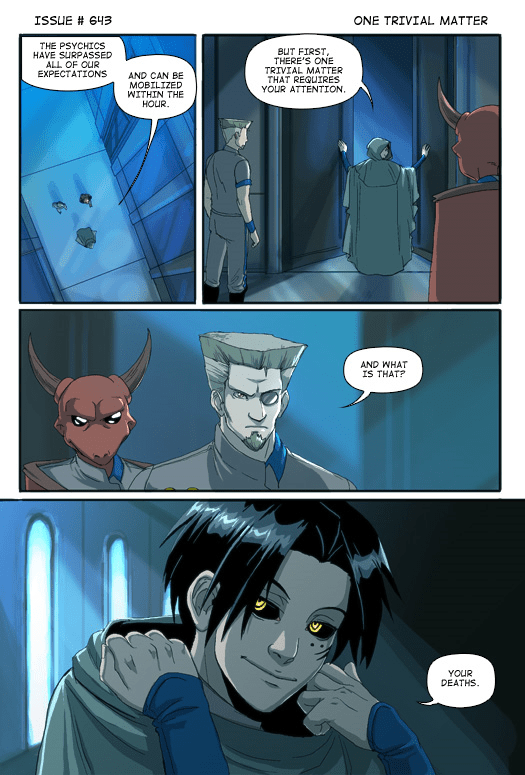 Above: Feonix Yago (middle left), Maximus Verbatim (middle right), William Haskins (bottom)
Lepas went intergalactic space because she enjoys the genre and also creating nebulae, planets, and stars in Photoshop. "…since it's such soft sci-fi, we didn't really ever have to work out explaining or reveling in the particulars of intergalactic travel. They can just zip around past beautiful space-scapes," said the 29-year old Oklahoman.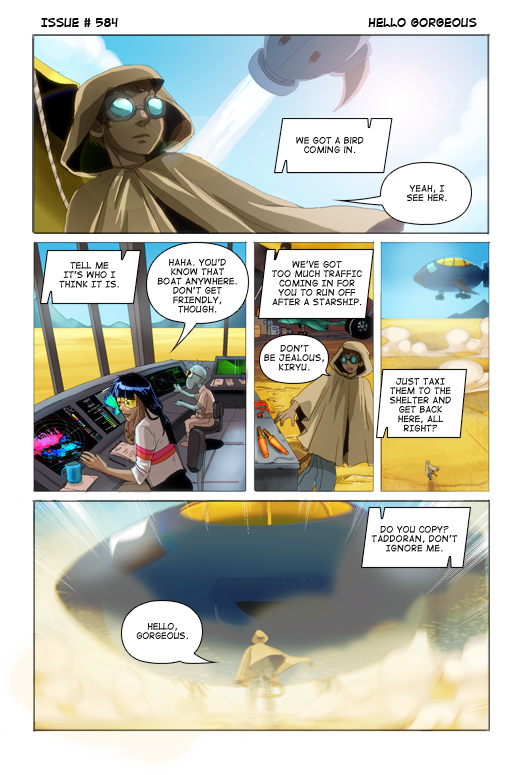 Above: Back at base
Zap! hosts plenty of unique names like Reona Lightstar, Grontar Grott, Gunner Stryfe, and more. Lepas shares that a lot of their characters are sort of plays on words that are "kind of obtuse and silly" like Zap Vexler for vex "since he annoys everyone" or Maximus Verbatim as the "overbearing" general. Some characters like Holly, Inman, and Scherzer (the main three of the pirate ship) are based on real people's names. Kasey the Stickle is named after Layfield's ex-wife. Another factor that makes Zap! diverse is its abundant amount of different races. Aside from races like humans, Stickles, Quadrillians, Felinians, and robots readers will encounter the many races as they read on with Zap!. Even the creators are uncertain of how many there are. "I used a handful of them over and over again as various background characters you can see throughout the series. It would be cool if someone wanted to take the time to document all of them, but that person will not be me," said Lepas.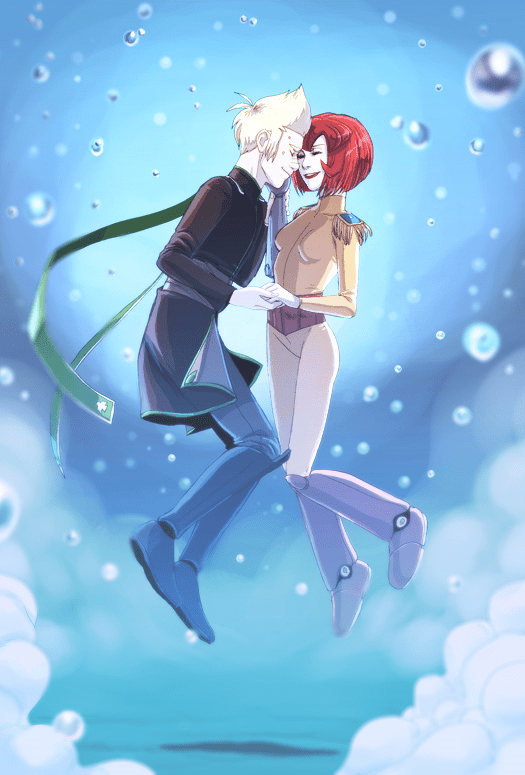 Above: Zap Vexler (left), Reona (right)
Some artists with many races in their comics do not want interspecies dating but not only have the creators allowed it but they even have robo-sexuals like the President being in love with Secretary Bot. "I just don't see why, if two fictional space people love each other, they shouldn't get to be together. We actually didn't do a good job at all with showing diverse relationships, in my opinion. Even if there's an interspecies couple, they're still an interspecies couple of ostensibly opposing genders, so, I don't know. I think it's pretty vanilla. Zap! isn't really romance focused, except for the one core relationship between Zap and Reona, but I still think we could have done better in that regard," said Lepas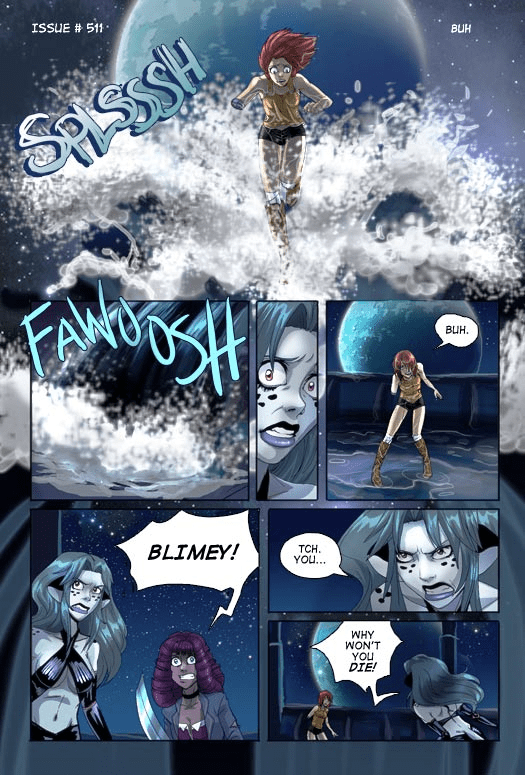 Above: Reona (top), Naveed Catlos (middle), Holly Kidson (bottom)
Readers will see the clear affection that the villanous cat, Naveed holds for the purpled-hair psychic, Gunner and may wonder what exactly is their relationship. The 29-year old artist says that she thinks many people want Naveed to be a redeemable character that becomes good or at least better. Layfield says that the cat has many emotional layers to her but not much more than being cruel and attracted to power. "That's how cat's are. He is her red dot on the floor, and she will just chase and chase," said Lepas. Layfield and Lepas (with an emphasis on the latter) are the only ones that run Zap!. The 31-year old says that his input is minimum with Lepas managing the website by herself. The Zap! creators divide their webcomic work with Layfield writing and Lepas creating the art. The 31-year old New Jerseyite originally would fill a notebook with scripts then hand it to Lepas. Towards the end of that handwritten process, the two decided to cut a lot of extra content to keep the story focused. He insists that writing is quicker than Lepas's work.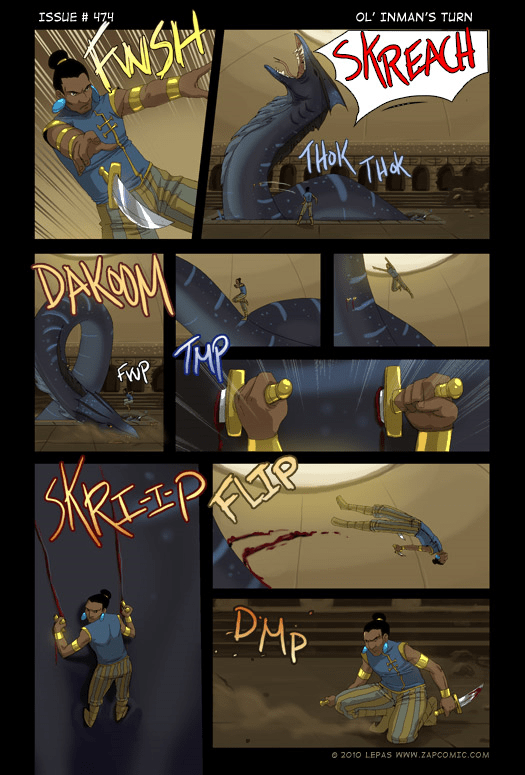 Above: Inman fighting beast
The Oklahoman averages about 6-12 hours on one page of Zap!. She draws everything directly in Photoshop but begins with reading over the script and then doing a thumbnail. The artist blows up the thumbnail and draws it out which can take a couple of hours. Once it is drawn, she inks, lay the flats, and then colours it. "This varies a lot too depending on the content of the page, because sometimes the backgrounds are very simple, and sometimes they're hard. That's comics for you," said Lepas. Between the two creators, they have attended many conventions like San Diego Comic Con, A-Kon, Emerald City Comic Con, Tokyo in Tulsa and small conventions with about 100 people. Layfield's dream for Zap! would be an animated web series or a spin-off series whereZap! would have an expanded universe. Lepas hoped Zap! would do well enough that she could do it full-time but says there are only 10 pages left to draw so maybe that will come true with her next comic, Wilde Life.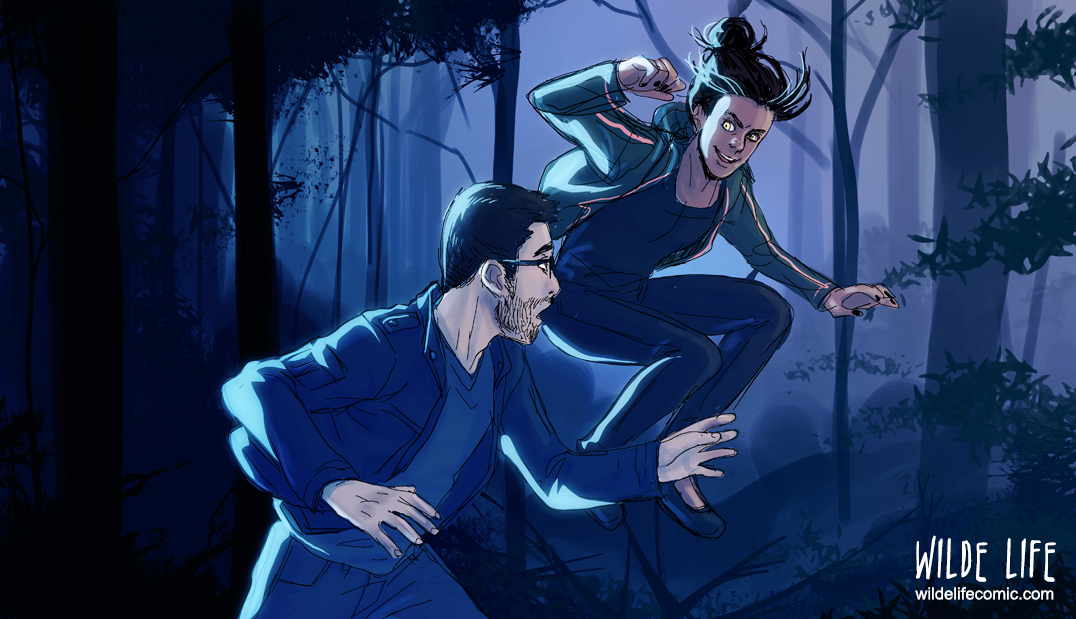 You can find Chris Layfield and Pascalle Lepas's other links below:
Wilde Life (Pascalle Lepas' new webcomic coming soon!)