Paul Jenkins has had one of those careers that has seems to sum up the way the comics industry has changed over the years. He was once a big star at Marvel, the force behind the beloved Sentry, Wolverine: Origins and Inhumans, before moving to BOOM! Studios and his own projects. As you'll see in our interview, Paul is on the verge of another transition that is both liberating and terrifying for him.
---
Jenkins: It's interesting. I love the conversation in some ways about what Kickstarter is, you know? Because it's new, it's an interesting form of publishing and it's something that I've worked very hard at. But it's terrifying. It's also scary. So there is all this great conversation to be had about why, whether you should keep doing it, about how it works.
Sacks: You've kind of gone through all three different ways you can be. You were a self-publisher in some ways. Then you worked for the big companies where you had the security and health insurance and all that. Now you're really running it the most risky possible way. Is that scary or fun or both?
Jenkins: It's both. It's liberating and terrifying. I don't think that the backers and the readers and the people who are involved with it understand that… let's say you've had a lot of success in the mainstream, which I have. You're kind of relying on the fact that that success will translate to a success in that environment.
How does that translate? Would it translate better if I continued to do Big Two comics? If I was currently at Marvel Comics or DC, would that continued focus bring more awareness? Or do I now have a fan base that is loyal? I think that is true to some extent, I have a loyal fan base that stays with me now on the stuff that I create.
But the other thing that people don't understand is Kickstarter is its own unique sort of thing. There are people that backed us that have never heard of any of us. Like they go to Kickstarter, but they don't care about mainstream comics. So it's really scary.
What happens is when Humberto Ramos and I, when we did our first one, it was Fairy Quest. It was one of the Fablewood stories. It was actually not the original Fablewood story. The one we just doing, Fiction Squad, is the original Fablewood story. I had created Fablewood many years ago as an idea where all of the stories that ever had been created live in this massive, giant forest.
So what we can do is we can have someone from, say, the romance world go live in the world of horror stories and then find out what happens when you mix genres. That story will be done one day. This story is about a detective from the world of crime fiction. So he's from the crime realm. He crosses the genre border because he's from like a throw away 1930s novella that never ended so he never caught his bad guy. So he jumps the genre border and he goes to live in this town called Rhymes, where nursery rhymes live.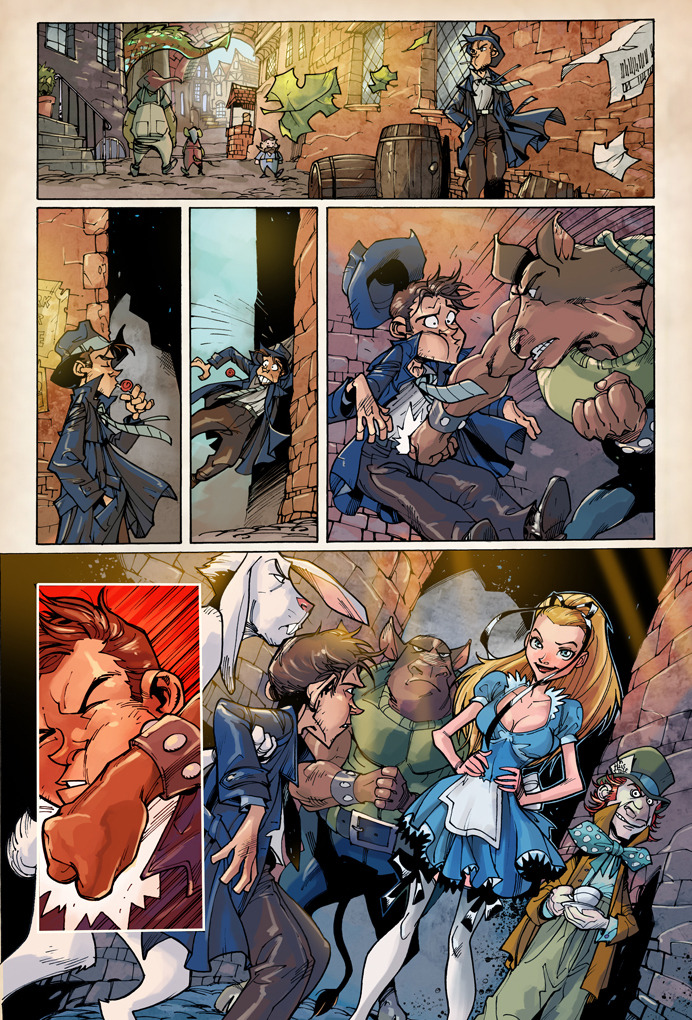 He finds out that every nursery rhyme is a crime scene. So Humpty Dumpty, and Jack and Jill, and Little Bo Peep is an insurance scam and all this. It's basically like Roger Rabbit in some ways. He's just like, "This place is crazy." The Crooked Man is the mayor. Thom Thumb is the police chief and he's in everybody's pocket. The Queens and the Witches are the mob. So the Queen of Hearts is Don Corleone and Polo Witches are all kind of aligned against them. There are all these factions. It's just a crime-ridden crap hole.
Sacks: These are the stories that we tell our children every night before they go to bed.
Jenkins: Yeah, and we tell these stories. What is really going on under the surface, it's kind of like a kid's view of crime. So someone drops a house on the Wicked Witch of the East, and there is a turf war between the Queens and Witches. Poor Frankie's stuck in the middle of it, this hard-boiled detective trying to make sense of any of it. They've given him Simple Simon, the world's dumbest person, as his partner so Simon's messing it all up.
You get this great little environment. When Humberto and I, we did Fairy Cross, which was another story set in Fablewood. It was a story of friendship against tyranny. When we did it, we had to press go at one point. Pressing "go" was terrifying because we said, "We are about to put our reputation on the line here. We're about to create a series that we send out. This is going to be horrible. This is going to be awful. What if we don't make our number? We're putting our entire reputation on the line."
Now, it may not sound that hard for fans or backers. But understand, what if you are a working professional, and your career has been predicated on fan support and didn't get that support, and you found out how much they weren't really that into you and what you did. So it was a terrifying thing to press go.
We did very well, but we worked really hard. In our first one, we had terrible logistical issues with shipping. It wasn't actually that we couldn't do the shipping. It was that some people I brought in externally made horrible mistakes. Humberto and I cared very deeply, and then we allowed someone else to come from outside and they didn't even care. So they didn't keep good records. We double shipped and triple shipped. Sometimes we triple shipped to Australia because of the way they didn't keep good records. Other times they would say we had shipped to people, and we never did. So these people would get quite correctly upset with me and Humberto for not getting their stuff, even though we couldn't. In a sense, if you don't have the records and just they're not being kept properly, there's nothing you can do.
So our mistake was to allow in people that in hindsight should not have helped us to do the fulfillment. But, man, what a massive attack on your reputation! So it's like terrifying, but here's the good side to it. It's also brilliant. I get to do the exact book that I want to, the way I want it to look on my time with absolute care and attention.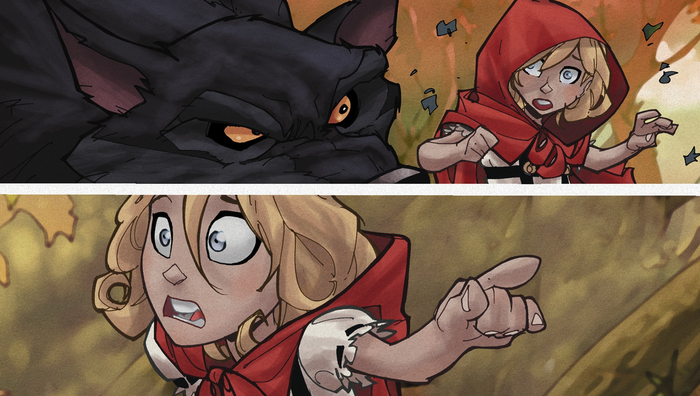 We published Fairy Quest I, and the book is the book that I want to own. It was hardcover, it had spot UV coating, and it had Tyvek in the binding. That's what I want to do. So I've done years of the big two. If you go back to Marvel Knights, sure they gave me license to print money. "Do anything you want, we're in bankruptcy creatively. Do everything you want."
That stopped at a certain point. They said I can do whatever I want, and that at a certain point, they said now do crossovers. "We're selling to Disney. Things have changed." It doesn't fit me, and I don't fit that. I'm a guy that writes a new innovative character-based material.
So I think me and Marvel and DC don't fit each other quite at the moment, and I understand that. Unless they want very self-contained character-based stuff, I don't think I am valuable to either of those companies as much because they don't need that. They need to maintain the characters the way they are for the big business end. So I guess to do stuff with BOOM!, who are completely creative and completely supportive of everything I want to do. I get to do stuff myself self through Kickstarter, and just bring it to BOOM! and go, "Hey, publish this!" So it's awesome. It's perfect.
Sacks: That's very liberating.
Jenkins: Really liberating.
Sacks: There comes a certain point in your life where you are like I am this person, I want to do the things that reflect who I am as this person, and I don't need to compromise that. I have a similar story. My real job I work in software and I worked years at Microsoft. I was kind of doing the things I was told to do. Left the company and went to work at a small start-up, and I'm much happier because it's a real reflection of myself. It's a family environment. I can employ my entrepreneurial spirit. I can help to drive my projects to completion in ways that I can really be deeply satisfied with. It's something that you can't do unless you know who you are and commit to it, really impressing who you are and doing what you want to do with your life.
Jenkins: Yeah, I think you have work. I think this happens in sort of late thirties, early forties, and kind of start working out, "Well, this is my prime earnings time and this is what I can do." I think you arrive at a point, frankly, professionally where you say I want to work with people I like or I want to work with good companies or people I care about, stuff like that. You focus changes. That depends on whether or not you can afford to be entrepreneurial. If you are struggling to make money, then maybe you can, maybe you can't. It's difficult to do.
Certainly the way that I've been always in my career is I've been a guy who would be seen as a strange risk-taker. I never was close to the mainstream. I was in the mainstream and very prominent in the mainstream and have been, but never very close to its workings.
So you take people that have a different career path to me, like some of the mainstream Marvel writers and DC writers, those guys wanted it. Like they read every comic and they understood every character from the basis of fan stuff. When I came in to do Inhumans, I had never heard of them. So Jae Lee said, "Why don't we do it?" They gave me a couple of five-page Kirby stories, like two of them. I said, "That's it, don't send me any more" because it's better for me to use a new voice.
I've always been that way. Don't tell me all this stuff that's in the background. Let me just write and recreate. That works so well for stuff like Mythos and Inhumans. Sentry is actually something I presented to Marvel and DC for like seven years and they turned it down. They wouldn't do it, they wouldn't do it.
Then when we did well with Inhumans, they came back and said, "What do you want to do? Spider-Man? What do you and Jae want to do?" I had persuaded Jae. I said, "Look, I really want to do this Sentry book. I promise you it's going to be great." They were like, "For the love of God, that stupid thing. Come on, Paul, you've got the opportunity to do anything."
Jae was really cool; he stuck with me. I said, "No, I want to do The Sentry. I promise you, a guy with schizophrenia who becomes his own worse enemy. It's Marvel's Superman. It's the perfect Stan Lee type hero. This guy's got agoraphobia and schizophrenia and he can't go outside. He becomes the void. His act of heroism is to sacrifice his heroism. That's his big act of heroism." They did it, and look what happened.
Sacks: I think of that as your signature book, really.
Jenkins: I think so, that and Inhumans, Wolverine: Origin.  I mean Wolverine: Origin was done taken the choice, you know? We were at an editorial conference, and I was pitching to Bill Jemas like Marvel needs to take more risks. They, at the time, knew they needed to take more risks. I always said, "Listen, I'm sort of an outsider insider. Why wouldn't you do say, like stuff that you can do? Why wouldn't you do the origin of Wolverine?"
Bill Jemas, who was the president, at the time, said, "You know, I don't know the answer to that. We say we can't do that, but we can." We pitched it to Joe, and Joe resisted for about twenty seconds until he caught himself and realized, "Wait a minute. I don't know why I am saying we can't do this. Hang on a minute. Let's go pitch it to everybody." We pitched it to the editors and said no, no, no for about ten minutes. Then they said, "Okay, what are we doing here? This is our habit to say no. Let's say yes, and we'll get it."
Look what happened. That book, just remember the time and what the sales were like and what was happening. That book, and what I submit, was one of the changes in this industry, a game changer. Because it just made us go, "Well, you can do that kind of story." We were coming out of the dull drams of sales and all this stuff, all that pieces of attention that that brought paved the way for a lot of stuff.
Sacks: That was still a controversial story. I was listening to the Nerdist Writers Panel last weekend, and Chris Claremont and Len Wein were talking about how they thought it was a travesty. My attitude about that is: great, then don't read it because it doesn't have to be your Wolverine.
Jenkins: Exactly. I think I reason why I don't think it is would be a travesty would be this. We never set out to do anything more than answer three questions: what was his real name, where and when was he born, and why did he forget?
Now come on. If you're saying you're not going to go there at all, you're simply treading the same creative waters that you tread for thirty-five years already.  Why would you keep treading those same waters? That was the pitch. Why are we treating these same waters? This character has been wandering around forever, "I can't remember where I came from."
Frankly our solution is very eloquent. What I wrote is that he went insane because he accidently killed the girl he loved and made his mind break. Because he has a healing factor, he healed his mind. Now he can't remember what happened because his healing factor numbed his mind. I think that's quite a little eloquent thing to do and go okay, that's it. Now we didn't do anymore than that.
By answering three questions, we raised a hundred and fifty more questions. So why wouldn't you do that? I think it's anti-instinctive to continue to want to write the same story. As a writer, it's anti-instinctive. I think you should be instinctive and say let's agitate just a bit. Now let's be careful and not agitate and answer every question. So I respectfully disagree with those guys.
Sacks: In a lot of ways it seems the cusp at which Marvel really became Marvel as we know it today, to the point where now we have a female Thor and Sam Wilson putting on the Captain America costume, which is getting much more acceptance than I think it would have gotten ten years ago. 
Jenkins: Yeah, I think so. One of the things to bear in mind is when we did Marvel Knights and when we were rebuilding, and now that I am doing the things that I want to do in BOOM! it's the same type of story. When we did Deathmatch, which is a good little book that came out while Humberto and I did Revelations, these were mysteries.
This is what is gratifying is when you can write a book that's a mystery, that when your fans are in line, they are going to be talking about it. "Well, I know the end of this story, " they will say. "I know exactly what's going to happen." Not a single one in both of those cases, Deathmatch and Revelations, none of them got it right. They did not guess what we did at the end, and they were all genuinely surprised by the ending. However, I'll give you the Death of Spider-Man. The Death of Spider-Man a couple of years ago I can tell you the end of that story. He's coming back to life.
Sacks: Yeah, of course, we all knew that was going to happen.
Jenkins: Then our consequences fall in a way. We have no consequence in storytelling. We need to have consequence. I've got to have a mystery. I've got to know why should I read this story? What's going to happen? I wish I could guess what's going to happen. But in that case, by the beginning of the story, I'm telling you the end.
Sacks: Is that the whole concept where we are now with the creator-owned books? That's why people love a book like Saga,to pick a book that's not yours. Where the deaths really have impact because they mean something.
Jenkins: We did in Deathmatch. We knew we were killing a lot of characters. This is why I feel it was interesting. When we did that, I knew we had our readers when some readers started writing in saying, "You pissed me off. I didn't want to lose that character." These were brand new characters, so many of them created as throwaways, with readers feeling we shouldn't kill that one.
The agreement with BOOM! about Deathmatch is no matter how successful that series is, they are never coming back. Those people are dead and they're not coming back. That's our gentlemen's agreement between us. We are not bringing those characters back to life. When they're dead, they are dead.
That's what we need. Not because we need to keep killing characters. That story was about killing characters. But in a sense if I write anything and someone is going to die, then how important they are. Because then you can look at stories that will be challenging, like Walking Dead and Game of Thrones on TV. When they kill someone, they are dead.
Sacks: It's a big part of why people love Game of Thrones; the stakes are so high.
Jenkins: The stakes are high and have consequence. So you tell me: what do we want in our entertainment? I kind of stuck to my guns creatively and I've always said I think we should have consequence. We should adhere to storytelling methods and storytelling presentation that pays back the reader for the money they invest in our books.
I struggle with the idea that readers are paying four dollars a book for twenty pages now in the mainstream, four bucks a book. Really, you have read this to get through from this story to that one, this jigsaw puzzle of stuff. A jigsaw puzzle isn't stories; it's a jigsaw puzzle. I think this takes us all full circle back to why Kickstarter. It's the purest form of publishing that I can think of at the moment. There's a new one that is really quite interesting. The new one with if I do a page, you'll give me like five bucks. Whatever that is. Maybe you'll give me a buck. What is it called?
Sacks: Patreon.
Jenkins: Patreon. So Patreon is really cool. It is an interesting one. It goes back to a very, very old model from a long time ago. The model from a long time ago was, "Would you help me? Would you help me? I need patrons to get me through where I'm at." (Great! We're making money on Fiction. We have only a couple of hours to go, so we'll see how that goes.)
I need a patron. You cannot ask creative people to just live in a gutter and die as they try to create stuff for you. I'm struggling now a days with the concept of digital downloads and people stealing and how that works. Because if you pay for nothing, what will happen to the people that makes stuff for you? Who makes it? No one makes it, because no one profits from making anything.
Sacks: The beauty of Kickstarter is you have the ability to engage directly with the readers.
Jenkins: Yes.
Sacks: I think there is an investment there that is different than buying a book.
Jenkins: Absolutely.
So we wrote in all of our things, every time I wrote one, I said, "This is how I genuinely feel. I need your help to make these books real. You are my publisher. You guys are my publisher." That's tremendously, tremendously advantageous to have the people who care about…
It's strange; it's all about psychology, too. It's not about money. It's about people wanting to help. It's about people caring about you as a person. I went through a particularly tough situation of this race, bad luck. Years ago, when I blew out my knee, I got a very, very bad staph infection. It was of a strain that they couldn't identify. So we were trying to treat it with antibiotics. About twelve years ago it almost cost me my leg. I was probably two days away from losing my leg. So it was a very, very difficult and a very, very profound situation.
One of the things about it, for me, was there were certain things that happened at that time. I sweated through like two or three sets of sheets a night. I never get temperatures, but I got them. I had this taste of metal on my tongue, like as if you had chewed on foil on a gum wrapper. Every soccer injury I've had, and there have been plenty of them, I felt them all throughout my body, "Like oh no!"
So when that happened, I was struggling. The one thing it does is it makes you loopy. So it seems to attack some memory function where I might be talking to you as I'm talking right and I feel like everything I've said is just stupid and you've already heard it because I'm lost in the conversation.
So this happened to me and I was a couple of days away. My wife helped me through it because I was unaware of what was going on. I managed to get the right antibiotic at the last moment and I was okay. Well, it's come back in my sinuses two or three times, and it came back about three weeks ago. So I've been struggling for the last three weeks. I had to miss a convention, which I hate, in Arizona. So I am sort of okay here, somewhat. I'm doing okay.
Sacks: You sound great. You are holding it together this morning.
Jenkins: But it was pretty profound right in the middle of that race. So it was a struggle to get the information out and to pay a lot of attention to it with the travel schedule and being sick and making a short film in Atlanta. All those things together were tough. But guess what? We hit our number. I have to watch it. People can de-commit as well, which is difficult. People will bring that number down. That's frustrating and that's difficult.
Sacks: But it's exciting, right? When you are there at the last minute and you are over the top, it's fulfilling in a whole different way than really seeing the book and having it on the stand or something. It's a very powerful experience.
Jenkins: Yeah, so it's just a different kind of a thing. Why Kickstarter? Sometimes I ask myself the same question. Like why Kickstarter? What are you doing, you crazy bastard? Then other times I think: why Kickstarter? Why would you do it any other way?
Sacks: You know, at a certain point of your life, it's worth taking the chances too.
Jenkins: I think so. I think so. So that's what I'm doing, I'm taking this chance.
Sacks: We're about the same age. I'd rather just take the chance and do something different in my life. I don't want to be complacent.
Jenkins: I have always been that guy. I have always been that guy. I love to support, mentor, and help creators. I like success. I like to see fans genuinely being served, as opposed to paying lip service to serving fans.
I walk here at San Diego Comic Con and I see people that are tired and frustrated. I think that's not serving the fans; that's relieving them from the contents of their wallet. But genuinely seeing a few fans, just seeing something. Like someone was just telling me, a friend of mine was just telling me they saw a little boy with Downs Syndrome the other day and he was about years old. He walked around the corner and saw someone dressed like the Stay Puft Marshmallow man and it rocked his world. He was so excited and could not believe that the Marshmallow Man was standing in front of him.
When you see that joy and that stuff coming out, that's what I want to do. I think we can do it.