Walter Simonson is one of those rare cimics artists who has done it all in his career while doing things his own way. He's been involved in comics for about forty years, delivering legendary runs on comics like Fantastic Four, Orion, the classic "Manhunter" and a much beloved run on Thor that brought us Thor as a frog and that introdduced Beta Ray Bill. Now Simonson is working on his own creator owned series from IDW, Rangarok. I caught up with Simonson at this year's San Diego Comic Con and found this legendary nice guy to be as interesting and insightful as his fans all say he is.
---
Jason Sacks for Comics Bulletin: Ragnarok has a title that has a real imporance to it in your world.
Walter Simonson: Laura Martin is saving my ass with her color.
CB: I think you are doing some line work there too.
Simonson: Well, it's fun. A lot of work, but it is a lot of fun.
CB: A lot of work?
Simonson: Well, yeah, there's a lot of detail, especially early on something like that. Since it is the early issues, I really am having to invent the land, the world itself, the way characters look, the kind of look I want the whole thing to have. I'm doing a lot of pretty blasted landscapes right now, so I am looking at a lot of desert scenery and a lot of dead trees.
So it isn't like having a received universe where everything has already been established. It is really starting from scratch. So it just takes a while to get squared away.
CB: You are following your dreams of creating your own universe. How is it different from working in the certainty? Is it different sorts of challenges?
Simonson: Well, it's probably harder. I have to invent different sorts of stuff.
You know, it's fun. I just like telling stories. I'm happy to be able to tell them any way I have a chance to, really. But it is kind of exciting to kind of be able to hammer stuff out. I'm kind of the responsible guy for it, whether it rises or falls. So that's kind of neat as well.
But I would expect, if the book lasts as long as I hope it lasts, the time will come when I have a lot of the world established, a lot of the looks established. I will know what all the trolls look like. They will look pretty different as we go along. And I have other designs already done. So I've done a lot of work to get things squared away already, a lot of the structure drawings and preliminary model sheets and things of that sort.
The time will come when I don't have to do as much of that behind-the-scenes work in order to get an issue squared away. And I look forward to that, too, less work then. I'm doing a lot of drawing for every issue at the moment.
CB: I hear that for the Image books, too. As they start out, it takes a lot to get them rolling. But once you know the characters, the world, then it really starts to write itself.
Simonson: Sure.
CB: Have you found that to be true with other projects?
Simonson: Well, it's true. I certainly have written plenty of stuff for this already. I mean, for any book that I do regularly, like when I was doing Thor or FF, or Orion for DC, I found that you will get an idea. I'll be walking in the street, I'll be at a Con, I'll be hanging out somewhere and I'll say, "It would be really cool if this happened." Now sometimes it's only a brief note. Sometimes you have a whole idea for a story at one time. I've learned that I better write those down, or I'm going to forget them.
So what happens is, though I'm only one issue into the world as far as publication is concerned, I have files of ideas. I have more ideas already that I'm sure I'll be able to do in the run of the book. That doesn't mean you'll do all those ideas. But you write down the notes. You jot it down whether it's a simple note or a plot or whatever. I go back through and I try to sift though the stuff that I've got.
When I finished doing Thor for Marvel years ago, I had more Thor stories in my files than I had actually done in the comic. And that's happening again with Ragnarok, where I have a lot of ideas already in the files than I am probably not going to be able to do. But I do have some fresh ideas already lined up. They are going to make up to second and third and fourth story arts.
CB: Oh, so you are way out.
Simonson: Well, I plan way out. I haven't done all these, you understand.
CB: Right, right.
Simonson: I plan on. I do it in Thor. I did it in Fantastic Four. I did it in Orion. I like taking a long view if possible; its kind of what I do. So I've put a lot of time in to try and figure out.
Right now as it is, I have a beginning, middle, and end for the series in mind. But I also like a certain amount of serendipity. It may be that by the time I'm down the road with the project, I may change my ideas about where I want it to go. I don't try to get everything hammered down entirely. But it's nice to have kind of a guide as to where you're headed. Then if you decide to go somewhere else, take a side trip, or you change your direction, you can do that.
CB: That's something I've enjoyed throughout your career that you seem to be spontaneous. I think particularly of Orion, how it kind of takes some different directions. But there was also this very clear throughput narrative to the specific arts. It's good to hear you both sides to you.
Simonson: I try to do both. I try to map my art the same way. I want my art to look as though I spontaneously drew it right on the page. But really I have a lot more penciling, a lot more under-drawing, and a lot more structure than anybody actually sees. Because that's how I choose the look of spontaneity. If I were Bill Sienkiewicz, I could probably just be spontaneous, but we can't all do what Bill does. But that's how I get at it. I try to have a really solid understructure, so that when I do stuff that looks spontaneous, I really worked it out very carefully.
CB: Kind of the Alex Toth idea of simplification comes from really hard work.
Simonson: Well, if I thought I was simplifying, I would agree with that. But my stuff seems to be more complex. It's supposed to get simpler as you get older. Apparently I'm not old enough yet. But I'm hoping to get there one of these days.
CB: None of us are as young as we used to be.
Simonson: Boy, that's for sure.
CB: Can I ask you how "Manhunter" came about? Since I wrote about the 1970s, it would be interesting to hear that from you.
Simonson: Oh, really, that was pretty straightforward. I was really a new boy in comics. I had been in the business maybe six months. I had begun doing work for Archie Goodwin for his war books. He did Star Spangled War and some other stuff. And in the early days, when you got a break in to comics, mostly you were given little back up stories to do, make a few bucks, stay alive, and learn your craft.
At about six months in, maybe a little less, I did a story for Archie, a three-page Alamo story that a friend of mine name Don Krarr wrote. It was nonfiction. It was an actual story from the Alamo about a gentlemen, James Butler Bonham, I think. I think that's right, who during the siege decided to get out of the Alamo, to flee, to get out, to escape, and go look for help. He got out, broke the Mexican lines, got out and went out to look for help. Didn't find any; nobody was coming back to help these guys. And so he turned around and rode back. And he broke back through the Mexican lines, back to the Alamo to tell them they were it.
Then the final day, when the final attack came and no quarter was given, he was killed. But he was out. He could have just gone away and ridden away and never come back. So that was a little three page story. Most of my work to that point had been science fiction. So that story convinced Archie. And really it's not very good. It's the best I could do at the time. There are aspects of it that are very good and there are a couple of things that are really, I was new guy.
But it showed Archie that I could draw stuff besides science fiction. So he was thinking about doing a backup story for Detective Comics. He'd become the editor of Detective with the Batman story in the front. He wanted to put something in the back that would be a compliment to Batman. Where Batman was dark, it would light. Where Batman was Gotham City and the urban, Manhunter would be around the world. They used the name he wanted to give it trademarks active on characters. Nobody was using the name Manhunter at that time.
And Archie also as a writer, he liked guys who were not overly super powered. He liked low-level characters. He said the Green Lama was one his favorite characters, a guy from back in the forties. So Manhunter had a healing factor, but no superpowers. He was very good at what he did. So we did that, gave him some martial arts. I gave him a pistol, I had a Broomhandle Mauser model that was very cool, so we gave that. Archie had some books on Asian fighting stuff, the Asian martial arts, so I gave him bundi dagger.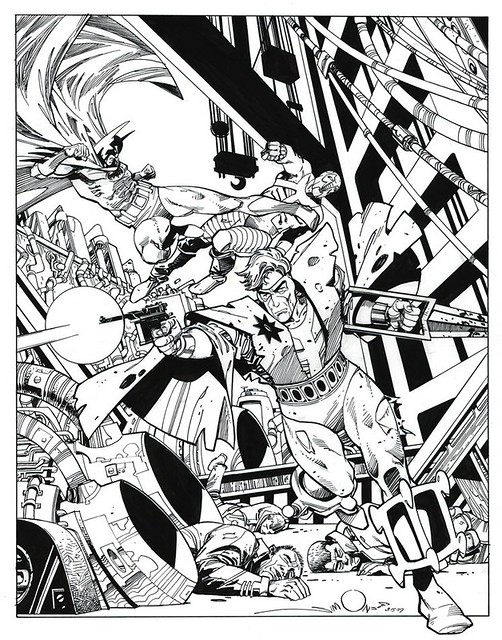 And we designed the character around some of that stuff. But it was really meant to be a counterpoint to Batman. Where Batman was just all urban, Manhunter was worldwide. Where Batman was, really, not weaponless but batarangs and small-scale stuff in a sense, Manhunter was a martial arts expert who was quite deadly. So there were things, counterpoints to help define the character, that's where it came from. And then Archie, having seen the Alamo job (I did not find this out for years), he liked it and that's why he offered me the gig doing Manhunter. It worked out for both of us.
CB: It's amazing, a little back-up becomes this legendary series.
Simonson: It was nice. IDW is doing an artist editon of it coming out in September.
CB: I didn't realize that.
Simonson: It's going to be a lot of my early DC stuff. Manhunter is the main focus. But it's going to be "Manhunter", including a silent story I did after Archie died. I did an extra story after Archie died. Archie and I plotted it, and he died before I was able to draw it so he could write it. We were working Marvel style, which meant that he would write the script from my art. But I did it as a silent story at my wife's suggestion, because I didn't want to write it. I'll never do that character again. I am done with that character because that character for me, it's me and Archie. So that's done. I did that story. It will be in the book as well.
Dr. Fate, I did a cape and cowl comic with Batman, a couple of editions of Metal Men. I'm sure a few oddball things that will kind of fill out the book. That's mostly what will be in it. That will be out, I gather, some time in September.
CB: That's exciting.
Simonson: Yeah, I like it too.