Jason Sacks for Comics Bulletin: Thanks, Zander Cannon, for joining me on this lovely Sunday afternoon.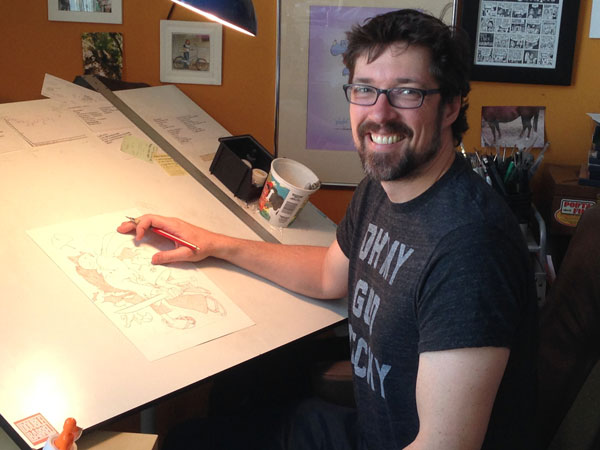 Zander Cannon: Well, thank you. It's lovely here in Minneapolis, which is new.
CB: May comes with flowers in my yard, so I'm a happy guy. Congratulations on the nomination for KAIJUMAX.
Cannon: Oh, thanks. That was a super great surprise. I mean, what a field it is this year! It's really exciting.
CB: You've done a lot of interesting comic work, but there's something about this series that just feels very different.
Cannon: Yeah.
CB: I don't think I've read anything that's quite this combination of different elements.
Cannon:I like to think I was certainly influenced by Top 10 and my time working on Top 10 and writing some of that stuff as well. I do feel like the template for comics has broadened quite a bit. Not everything has to be an action-adventure anymore. You can really be a lot more engaging if you do things that are a little bit more satirical, that are a little bit more deep, that are a little bit more.. that draw on the templates and the tropes on other media.
Like The Fix has just now come out. There's nothing about that that's anything like what comics has been in the last fifteen years, or what comics used to be twenty years ago.
CB: No, the word that I would use for this book in a way is like a stealth book in that the colors and the styles seem to imply something is going to be bold and bright and silly. Instead, it's the opposite.
Cannon: One of the things that I like about comics is that the buy-in is a little bit steeper. You can rely on a little bit more attention from your audience than you can with TV. People might see something like that as a TV show and go, "Oh, it's bright and funny." And it's like, "Oh, it's not bright and funny. Hmm, I'm out of here."
But with comics, it's like well, you bought it. You should at least sit through the first issue. And you as a writer have that amount of time to say, "Well, it's not what you thought it was, but it's this. And maybe you'll like this better."
CB: You also have the time in comics to shift people's perceptions. The way that issue one begins with the classic moment of the prisoner being taken into the jail. And then everything starts to explode. You had this moment of familiarity and then you take your readers into a different place than they might originally expect.
Cannon: Yeah. The nice thing about KAIJUMAX too is that… I was having this discussion with my studio-mates. They were all throwing out kaiju ideas. The nice thing about it is there's room for everything. Nothing is too ridiculous for it as long as it fits in with the crime drama template. If you can figure out a way that it seems like a drug deal or a gang or death row, then it doesn't matter what it is. It can always fit.
I think that's the mark of an extremely satisfying high concept for a comic, where there's room for everything that you might imagine would be in there.
CB: Yeah. It's like you have familiar tropes, but they are upended in some ways.
Cannon: Yeah. It's a constant struggle to not do the next logical monster movie thing, where you would think like, "Well, this monster has electrical powers, so maybe it starts a storm." But if that isn't crime story type of stuff, it starts going a little bit off the rails. It's a constant battle in my own head of, "Okay, I've got to keep this like morally gray. I've got to keep this crime related."
It's a funny thing where it's like simultaneously this huge expansive, anything-is-possible world and a very narrow path that you have to walk in order to keep KAIJUMAX what KAIJUMAX now promises to be.
CB: Right. Because you have the drug addiction storyline, the corrupt guard storyline, which we would almost expect is a classic hallmark of the genre. But at the same time you have Whoofy being visited by this mysterious little boy, which is completely outside what we would expect.
Cannon: Right, but trying to make it a little bit like insanity or a little bit like people trying to take an otherwise morally decent person and make them awful. And of course, I had to pay homage to All Monsters Attack because that's my favorite Godzilla movie, even though it's every other Godzilla fan's least favorite Godzilla movie.
CB: Yeah, I like how you have your write-ups and they are so idiosyncratic at the end.
Cannon: One of the things that's really fun about doing this series is being able to just come out and say "Monster movies are silly." Especially… the ones I like the best are the silliest ones in the '60s and '70s. And that's not bad. That's not something we need to cover forever, like downplay. Let's see it. Let's enjoy it for what they are.
Because of that, the super serious Gojira or like the millennium stuff, where these people are like, "We must hit this metaphorical beat so hard." That stuff can be a little bit dull to me because it's just like, "Yeah, yeah, we get it." But if one of the monsters is going to backflip and hold each other in a headlock or whatever…
CB: You are aware of the irony in you saying that with delivering such a serious book.
Cannon: Oh, I know. I feel like when someone says, "Hi, we've got to do a Godzilla comic and it's got to be deathly serious…"
I think of KAIJUMAX as having some serious ideas, but it's certainly not a serious book. The humor in it is pitch black. I will certainly admit that. The intent is that the humor is there throughout, that you're always having to accept a little bit of preposterousness with the saddest thing that you've ever seen or whatever. There's something about that aesthetic — that, like, incongruousness of both of those things together — that I really enjoy.
CB: That's interesting. Honestly by the time that Electrogor gets beat up (I shouldn't add too many spoilers) and goes through her torture, that's pretty damn dark.
Cannon:
It is dark. I remember when I was writing it, I was like, "Geesh, this is going into dark territory." Even though I knew it was going to be a bit grim, but it was like once I did, I was like, "This is worse than I thought."
Going forward, I had to really say, "This is not treated for laughs." Everything is a bit ironic and weird, but this is not treated for laughs. This is much more serious than I originally intended. Everything that happens in this book is a bit like x meets y, monsters meet prison. We are going to take the shower scene and then we are going to combine it with this monster movie.
You look at it in a mathematical way like that, but then you realize, "There's going to come a day when I need to draw that scene and I need to write that scene. This is how it's going to come across. People have invested a lot of emotions into some of these characters." That all has to be dealt with.
CB: I see the humor in some ways, but my feeling is the prison really takes preponderance over the monster side of it. In a way, it wouldn't matter who was in prison; they would still be going through this level of torture. What sort of creature was in prison if I put it a different way.
Cannon: Right. It's also a little bit interesting that a lot of prison stuff has come out lately. Bitch Planet predated KAIJUMAX by a couple of months. There's Kennel Block Blues. There's something called Escape from Monster Island. A lot of that stuff is varying takes on the concept. Escape from Monster Island, you'd think from the idea of it, it sounds almost precisely the same. But it's more of an action-adventure. I think it's more from the point of view of people trying to contain monsters.
That's the other way to go about it, as opposed to KAIJUMAX which is not about what is right or what is wrong or we have to accomplish this goal. It's the gray moral soup that you find yourself in compromising positions and stuff.
Again, part of the monster thing that you were mentioning is that it's my way in. I'm a middle class white guy living in America who has never been arrested. What do I have to say about prison? What do I really have to say about prison? Not much. But if I can use these monsters and the preposterousness, this heightened reality of the monster stuff to worm my way in, then I can talk about things that are a little bit more general, not feeling valued and addiction and who to trust, etc.
All of these are subtopics of prison stories, but people aren't really questioning my authenticity like, "This guy has never been to prison" because It's like, yeah, monsters can't talk either. I think there are a lot of things that are pretty ridiculous about this comic.
CB: It follows the long comic tradition too using these greater than human elements as something that people can relate to, right? That's why X-Men was so popular for so many years, as an example.
Cannon: Yeah. And more recently Zootopia. This great look at racism and sexism and creating a society and all of this stuff, while being able to show it to children and while being able to edge around some complicated politics.
CB: Yeah, complicated politics. That's an interesting way of putting it. I see the complicated politics in here, too. At one point, I think you make a comment, "This is absolutely an all-ages book." Do you still feel that way?
Cannon: Did I say absolutely it's an all-ages book?
CB: Or did you not say that? Sorry if I'm misremembering now.
Cannon: I had always thought that the stuff that was the most adult about it was pretty coded. There are no actual people swearing. You have to be an adult to understand what is really happening. Even the harshest stuff that has happened, it's like that's the same thing that happened in a kids' movie in the seventies.
I was always feeling like it wasn't all ages, but there was a plausible deniability about it, the mature readers thing. If you walked into the room and your eight-year-old was reading it, you wouldn't be smacking it out of their hand. There's some over-the-top violence, but it's nothing that's going to give them nightmares. It's not an all-ages book for sure. I think that it has basically just settled in now as a mature readers. Let's not quibble.
If there was a point to be made, that I was trying to make before, I've always wanted to keep it a little PG-13 because I think when you get too mature, you take away all of the fun out of it. It stops being an entertaining thing and starts being… It would be me taking myself too seriously, like, "This is serious business." I'm trying to invest people in it, but it's not serious business at all.
CB: In the end, it's giant robots doing crazy things, no matter how much blood might be on the page at the end of chapter five or something.
Cannon: Right. I always want to acknowledge the preposterousness of it. I always want to cram in an extra couple of jokes. I just don't think taking itself so seriously would help it at all. The only thing that we take seriously is this is a character that wants something and this is a character that we are rooting for. It's all only to invest people and get them turning those pages and getting them to buy the next issue and making it an enjoyable book that has some stakes to it.
Whether or not I'm trying to make a point… I don't feel like I want to make a point; it's more that I want to explore an idea and bat it around from both sides. If I'm trying to hammer a moral down, it's something I'm not aware of.
CB: I just recently read Heck also. I think that there's a theme there in that you really like to explore ideas. Some of it is people being affected by things that are outside of their control and trying to make sense of what they have committed themselves to.
Cannon: Yeah. Again, all of that stuff in Heck too was born out of wanting to make you turn the pages. Not to sound mercenary about it and not to sound like I don't feel compelled to tell an interesting story. The friendship and all of the darkness in that story was just me trying to create some stakes and me trying to give those characters something to strive towards and something to protect and something to try to get back.
I think it became very personal because that was just the stuff that was swirling through my own head at the time. That's what I started to choose as a plot element or a thematic choice or so forth. I think that exploring that kind of stuff is, at least for me, the whole point of doing comics in the first place or writing fiction at all. It's because, "Let's see what this science fiction or fantasy setup has to say about this element of daily life for people about regrets, or about why you do your job in the first place."
CB: I think cartoonists and creative people in general tend to be introverts and this is often a way for people to be able to explore their ideas and have a dialogue with themselves channeled through the work that they are delivering.
Cannon: Yeah. And also when you put it in the context of fiction, people don't argue with you about it. Because if you just wrote an essay and put it online, people would be like, "You're wrong and you're an idiot." But if you put it in a story, people…
It's self-selecting. People are like, "Yeah, this is really good," or someone else will be like, "Nah." I suppose. I see so many people who embroil themselves in so many Twitter arguments. I just think, "Man, I agree with you, but why are you spending your day like that? That just sounds miserable." And I suppose some people relish it. But the idea of having an argument with people on social media sounds to me like an absolute nightmare.
CB: Yeah, I've gotten in one or two and I need is one or two. There's no winning in those conversations.
Cannon: No. It feels so toxic because then also you're not really arguing because of one person, too. Somebody might be really civil, but then someone else might be like, "The gloves are off" and they come at you with both barrels. This is a waste of a good Tuesday.
CB: Right, exactly. I argue with my wife sometimes, but we both come to a conclusion and we can move on with our lives. On the Internet, it just lingers out there forever.
Cannon: It's brutal.
CB: One of the things I noticed reading Heck and then reading KAIJUMAX was you really are exploring some pretty significant themes, just maybe a little shrouded in the fictional stories. Is that important to you, to create something that has a deeper resonance to you?
Cannon: It's less than that's the outcome. It's more important to me that…
When you get people interested in a story, it's like you need them to have expectations. You're building their expectations. If you're exploring an idea and have a theme (say a theme of forgiveness or something like that) for an issue or for a chapter, it really ties everything together. It's easier to make some creative choices if you're saying, "I can do this, this, and this, but option B ties into the overall theme the best." Or if I paint this scene with the overall theme, it really ties into and it segues into the next scene really.
I won't deny that I like having a little bit of thematic oomph in my work, but so much of it is the mechanics of telling a story that interests me and telling a story that I think will interest somebody else. If you start exploring a theme, even if it's something…
Like I wrote a Transformers series, so it's like, "It's all about leadership. What are the aspects of leadership that we can touch on here?" I like the Transformers, but you don't think of them as dripping with meaning at every moment of the day. But even something like that you, you can say, "This is what is going to help ramp up people's expectations for what is going to happen in the final battle" or whatever.
CB: I think you talked about symbolism in one of the back matter pieces in Double Barrel, how it may mean something to the author, but once it's out of their hands, it's not under their control. And secondly, it shouldn't be the focus in any way. It should be something that essentially comes from the work, not forcing elements in the work.
Cannon If you were really into symbolism, there's a temptation to say, "This story is really about X." But I think too if that's what you're saying, then you're making it into a puzzle. If people figure it out, then they're done, like, "I looked at it. I saw the clues. This is a Christ resurrection story. And we're done."
When I say KAIJUMAX is about monsters in prison, that's what it's about. This resembles this idea and this resembles that idea. And this story examining the ideas of whatever, addiction or something, but that's not what it's about. The story will continue to orient itself differently according to what is necessary for the raw mechanics of it, these monsters in these stories.
If I say, "Alright, X monster has escaped from this prison," now it's more about fugitive lifestyle and stuff like that. It's going to be about different things according to the actual raw plot. It's not, "I established it being a metaphor for this at the beginning and now I have to see that metaphor through to the absolute bitter end."
CB: It reminds me of high school English reading Lord of the Flies. It was basically like creating a translation between what the author intended and what it "means." Instead you want to create stories that flow from character. It seems like character is very important to you.
Cannon:  You have to think about the character. You have to think about the concept. You create character, concept, and plot basically as your three tent pole things. Each one has expectations that you need to pay off.  If you're doing a Fast and Furious movie and you don't have the final climatic scene be a car chase that exploded and goes fast and furious, then you're not delivering on your concept at all.
And characters, too. Oh, you have a rogue-ish, sort of devil-may-care anti-hero who doesn't care about anyone. And if he doesn't maybe start to care about things by the end, then maybe you aren't delivering on your premise. You create occasions for all of those things in the plot, the characters, and the concept. You need to pay all of those things off. If they're slightly at odds, sometimes you can create something that's fairly interesting.
In Heck, the concept was this guy with a shotgun goes into hell. If the end doesn't have some big, bloody battle, you're going to feel a little let down. At the same time, it's a very thematically rich story. These characters have to resolve their own stories, wants, and needs in a way that's probably different from your usual action thriller.
That stuff can be really fun where you can have something that's one way extremely conventional and is in another way is completely different. It might be conventional for an entirely different type of story.
CB: To some extent, that's the joy of doing a creator-owned book where you can take some existing conventional approach to things, give it your own spin, which is nothing more than your own personal take on the world, and come out with something that's very personal that's unlike anything that anyone else would create.
Cannon: If you were doing it for a corporation who might have sunk X tens of thousands of dollars into marketing something and then have it turn out to be different, then you're going to be in trouble. Whereas with creator-owned stuff, you can put it out there.
When you're done, then you find out what it really was. I finished Heck before I ever started shopping it around. It was a completely finished book. And then I could say, "This is what the book is." But if I had to say that after I had done two chapters, it would have been completely different. If I had to see it through that way, I don't think it would have been as interesting of a story. It would have been much more conventional.
CB: Yeah, I really enjoyed how the story revealed itself as it was going along. How much did you have it tightly plotted before you started on it?
Cannon: Kind of the same as everything, which is that I kind of know what the climax will be no later than by the time I get to the end of the first act. Then I know what the final scene, what the final big moment will be.
But the tone of it… I certainly didn't have a script. I was really writing them as I drew them straight through. I would finish chapter eight and I might have a couple of notes for chapter nine, but basically I would start chapter nine the next day or whatever and just write it and ink the panels that I knew were final. I just kept going and fussing with it until it was right.
CB: That must have been a great luxury for working on a project like that that's essentially self-published.
Cannon: It was published by Top Shelf, but in a way that it was very creator-controlled.
Also it was something that I was working on in very short and intense bursts while I was doing layouts for DC Comics. They would say, "Superboy is running late. I need you to do twenty-two pages of layouts for the artist in the next three days." I would jump into that and do that. Then I would take two days and I would finish a whole chapter of Heck. Because of those short, intense bursts, it was really rewarding working like that and bashing it out.
When it's done, it's done, instead of going along stage by stage writing the whole thing and then penciling the whole thing, and then inking the whole thing, but just bashing it out chapter by chapter. It was really rewarding in that work environment that I had created.
CB: With KAIJUMAX you obviously have a lot more planning involved with that.
Cannon: Also because of the nature of the story, all the intertwining story arcs, I have to do a lot more planning ahead so that I know what I'm setting up and I'm being a little bit more efficient. And also it's a little bit more of a polished piece. It's color. It's all done digitally. I have to be a little bit more efficient about it. I'm on a tighter schedule, too, so I need to be a little bit more efficient and a little bit more workmanlike about it.
CB: You have a note in one of our essays, "Artists should view corporations the way pedestrians view cars." I suppose that aptly applies to you doing layout for that Superboy story in three days. Is the work on KAIJUMAX a little bit of a middle ground between making sure the trains run on time, so to speak, and having some freedom yourself?
Cannon: Oni is extremely easy to work with. Really I generally am working with just Charlie Chu, who is the editor. The nice thing is that Charlie saw what KAIJUMAX was going to be before I did. I pitched it and it was a little bit more serious and conventional of a story. I think he saw in it what it could become as fast or faster than I did. That's something that's very satisfying, when a publisher really understands where you're going and what you're doing. I wouldn't say gets out of your way, but says…
We'll sit down and he says, "Tell me about the upcoming stories." I'll lay it all out. I'll be like, "What do you think about this and this." He's like, "I don't know what you need my input for. You pretty much have it figured out. Go crazy." That's really quite satisfying to be able to work with them that way.
My comment about the cars and the pedestrians was more like cars can help a pedestrian get where they are going. But if also one of those things where you have to be extremely wary of them. You have to want them to be predictable in what they do when you're crossing the road. You don't want them to swerve. You also don't want them to stop in the middle of the road and wait for you to cross. You're like, "I just want you to go past. Do your thing. I will work around you." And if you get hit by one, you might be right and they might be wrong, but you're the one with the broken leg.
CB: Right. Your point about the editor trusting you, I think part of that just comes from working in the industry for over twenty years, right? You know what you're doing. You each know what the boundaries are. To some extent, it's you pushing yourself professionally to do something that's interesting for yourself.
Cannon: I was thinking about when people ask about breaking into the industry and stuff like that and when can you be good enough and so on and so forth. I feel like you're good enough when something that you have done that's about eighty percent as good as you can do is professional and looks like professional art.
Anybody can get to the point where your best work looks professional, but then the trick is can you keep on knocking those out? Or is it going to take you a month to do every page because it has to be absolutely perfect? That's one of those things where I've worked in comics for so long, but now I don't have to kill myself to have things be good enough. I can have some leeway with time. I can experiment a little bit and try something out and the story can still be what I want it to be.
CB: I think some of that doesn't even matter what field you're in; it's that you have this innate ability that's been honed over time, gone through enough experiences where you know your ability well enough to be able to improvise within that space.
Cannon: I think that that's one of those things, too, where I think there are a lot of people who sometimes look at someone who has had a ton of experience and go, "I can do X better than that guy can!" It's like while you, on your best day, might be able to do better than what somebody can on their worst day, but can you do it at this level all the time forever? And you like you said, you can adjust on the fly and do what other people need. You can make it what it needs to be and not throw a fit somebody tells you they need it different.
CB: That's a big part of it, the professionalism. It's one thing to be creating your own self-published work or your own web comic or be publishing a lot of mini comics. Once you try what you need to get that next level and be producing all of the time in order to be making a living, that's a big leap, sometimes a bigger leap than what people think it is.
Cannon: Oh, yeah. I agree. My studio partner for ten years, Kevin Cannon, and I did so much work for hire, all this freelance stuff. We did storyboards and we did whatever people needed. We would just knock that stuff out. You get to the point where you know exactly how long that's going to take. You know how much effort that's going to take. You know what it's going to look like. You do the process. Having that level of professionalism and dispassionate "oh, yeah, I think we do that for you pretty easily" skill level makes passion projects a thousand times easier.
CB: It helps that you obviously think a lot about the mechanics of creating comics, the four types of panels for example.
Cannon: Everybody's read Understanding Comics where Scott McCloud is talking about all of these transitions. I think that was super important, but I didn't feel like it was super useful to me on a day to day basis where I was trying to think about the process of making those panels and what was needed in each situation. It was for my own edification to put those ideas out there and think about making my storytelling panel choices be a little more deliberate.
CB: Do you specifically think about what type of panel is the abstract or do you follow your instincts to do some level?
Cannon: I would only think about it if something is not working. I feel like the most useful types of how to's are more like checklists for when something has gone wrong. Really the best stories are done in a flash of inspiration and excitement. Only when you're like, "Eh, the third act isn't working," do you start to pick it apart and go, "What can I change?"
It's nice to see a story where everything just flows effortlessly from one thing to another. That's always best. But it's important to be able to go, "Hmm, this person's motivations are a little bit flat. Let's analyze this and make a smart decision about how to fix it."
CB: You also have to guard against being too complacent, right? To trust yourself too much.
Cannon: Yeah, you're like, "Oh, I've got this figured out."
CB: I'm working on a comic project with a friend. We were just yesterday reviewing his draft layouts. We both have this flash of inspiration of, "What if we do this panel simpler? What if we go with an Alex Toth design?" All of the sudden, my friend pulls out the page. He has this complicated layout. Just the mention of doing it with a Toth design simplifies the image and makes it just perfect for what we are trying to convey. It's interesting how even just the interplay with somebody else will make something that was good become even better.
Cannon:  The idea that it could have been changed this way, but you almost need someone to back you up on the idea.
CB: Is that one of the reasons you like working in a studio?
Cannon: That's helpful. I have a friend in my studio named Steve Stwalley. I was showing him some pages from the latest issue. He goes, "I think that guy there should have a monkey on his shoulder." And it's like, "You know what? You're right. I don't know if I would have necessarily saw that myself, but you're exactly right."
Those are my studiomates. Steve, and then Lupi McGinty does webcomics. She's also in there day to day. It's really fun to have some people to just as a sounding board and going like, "What do you think about this?" or "Do you think idea A or idea B is better?" There's that day when I'm fried. I have thought about this too much. Everything seems the same to me. I don't know what decision to make. What do you think comes across better? What does somebody who hasn't been living and breathing this for the last six weeks have to say about it?
CB: Yeah, that's one of the interesting things about it. If you're living and breathing something for awhile, you can often not objectivity about it. Actually sometimes that just happens with spending too much time with your kids or something and you don't realize how odd your life is or whatever. Sometimes it's just like, "Have I fully thought through my ideas?"
Cannon: Right. Or you start to eat your own tail, too, where you're like, "Maybe I should put in more jokes and deeper references to this." You keep on getting tighter and tighter and tighter. Then it's like, 'This thing is like a puzzle to read. It's too complex." You need someone with fresh eyes to go, "That's too much. This scene needs to clip along a little bit faster."
CB: You make a point also in one of your notes about how you didn't want KAIJUMAX to be like Top 10, where so much of the background was in-joke references.
Cannon: I think it's like that. One, when we were working on Top 10, it felt a little subversive to cram a Marvel character in the background of what was a DC comic. Or something that made fun of a DC character in the background of a DC comic. Whereas when it's your own thing and you're the one who would get sued, all of the sudden those little notes aren't quite so precious anymore. You're like, "Eh, you know what? Make the references a little bit broader."
CB: You started out with Chainsaw Vigilante and went through Replacement God and all of your other projects. Is there one that you look back on that you worked on in the past and wish you could revisit?
Cannon: The Replacement God is the one everyone asks me about, other than Top 10. The answer to Top 10 is always like, "Talk to DC Comics. I don't have anything to say about that."
But The Replacement God is the one. I've always wanted to go back to it, but it's one of several things I wanted to go back to. I started writing that when I was 21 years old. I was still in college. It was about having people say that you're destined for great things and all of the sudden it's like well, now I'm 43. That was the song of my youth.
I'm in a completely different place in my life now. I think I'm a good writer; I can get into that mode for sure. But sometimes it isn't the thing that I think about in idle hours anymore. I would like to get back to it if there were an infinite amount of time. And there's been a lot of discussion. I'll probably get back to it in the next little bit. But there are always more urgent things to do, like the comic I'm currently working on.
CB: It's interesting how these youthful projects have changed in your mind over the years. I've talked to Matt Wagner about that with Mage also. That works just different things to him now than it did when he was originally creating it.
Cannon: I'd like The Replacement God to continue to be that thing to me. It's about that time of my life. I wouldn't want to say it follows me around from age to age the way that Cerebus did for Dave Sim. All of Dave Sim's kookiness aside, I think it's a fascinating piece because it's a three hundred issue mega omnibus that details his whole life. It should change as it went through all of that time.
Whereas I feel like The Replacement God, I would like that to be something that someone would read when they're twenty-two and go, "Oh, yeah. This resonates to me" and then move on to different things. It existed in that moment of time.
CB: Yeah, it's a little like the first album by a band that grew into something different. It captures this moment in time where they had this youthful enthusiasm that has grown into adult maturity.
Cannon: I like things to be able to exist in that moment in time or that moment in life. It's like you listen to certain albums at certain ages and they mean a lot to you. You see certain movies at certain ages and they mean a lot to you. I saw the animated Transformers movie when I was thirteen years old. Even at the time, I thought, 'This is super stupid, but it's the best movie that anyone has ever made in my entire life.' It had everything.
I watch it as an adult and I'm like, "Yeah, it was solid. It's dumber and more ridiculous than I even thought at the time." But it's great thing to watch at that moment of time. It's not something that you should watch at age 40. You would think, "Hmm, this is maybe not the best movie ever."
CB: It's probably not best to watch for the first time at age 40. It's best to allow yourself to be a kid on some level. It's interesting to revisit these things, especially as a creator, though. When I read stuff that I wrote when I was a kid in my twenties or whatever, I have this mixture of cringing and being excited to be reading that.
Cannon: There's a lot of leaving it all out there, too. You're trying so many new things that there's a real enthusiasm. When I find things that I really was trying my hardest on and really doing my best work that I could, I'm really not even ashamed of it.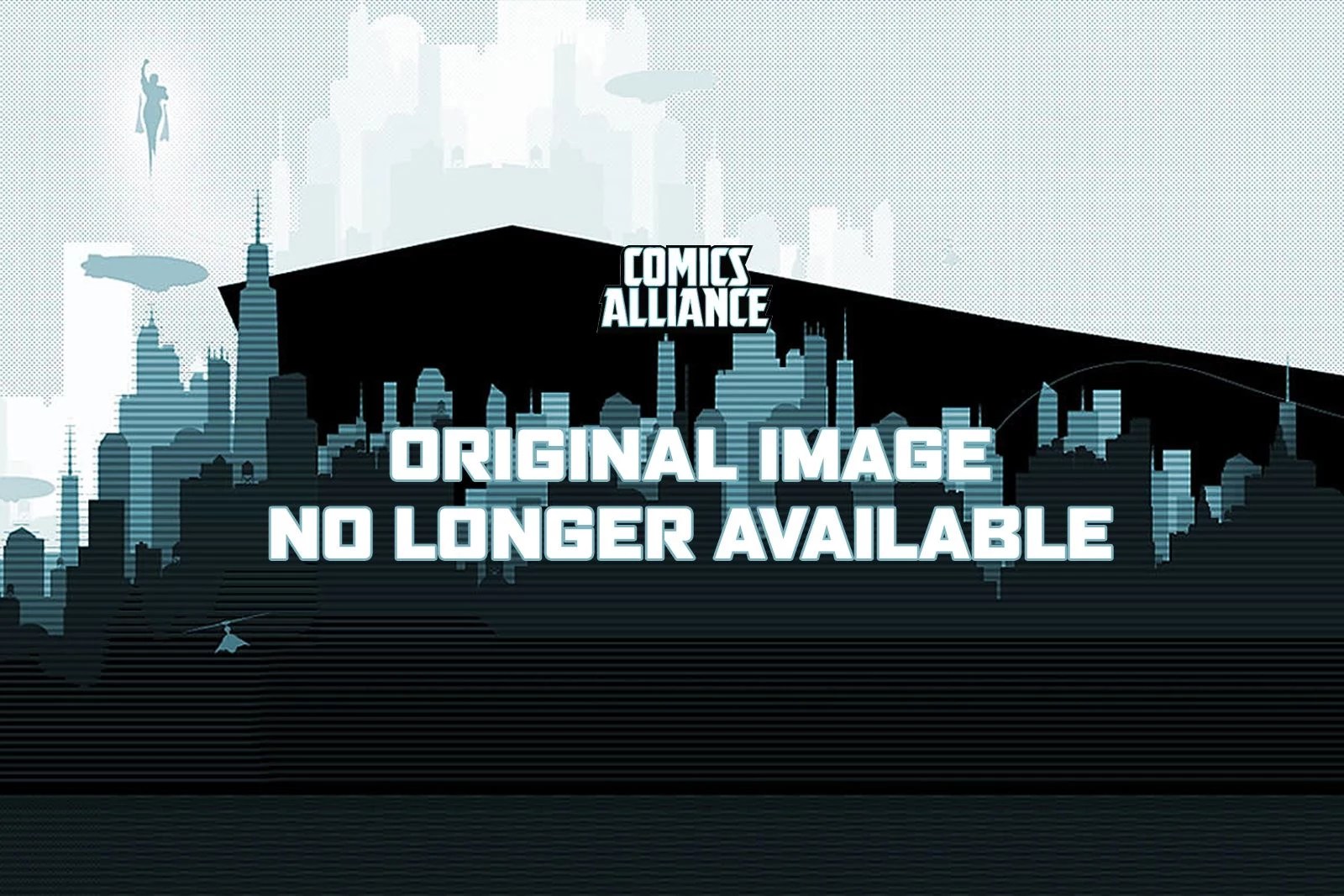 It's really only when I perceive a lack of effort or that I procrastinated too much and I had to hack it out. That's when I'm like, "Ugh, that's terrible." But when I see something that I had all of the time that I needed and I worked on it as hard as I could and it's the best I could have done when I was that age, it holds up. I'll see the lack of skill, but I will be like, "I can live with this as part of my legacy" for lack of a better word.
CB: It sounds like you're really loving working on KAIJUMAX though.
Cannon: For something that was intended to be a side project initially, it really has become the central. It really has become this resonance for my career that people are all of the sudden…
It's nice to be able to, one, be able to express my great love for the ideas, for the subject matter, but then also be able to have a comic that's broad in its scope that I can almost do whatever I want. And thirdly, to tie into an existing fandom in a broad way. Not saying, "Oh, I'm doing Godzilla and I'm tying into the Godzilla fandom." It's like I'm tying into the greater kaiju and tokusatsu fandom and be able to communicate with people on a level that's not available to everyone. I can make a reference to some crazy, super obscure kaiju movie and have some people go, "Yeah, that's what I'm talking about!" That's very satisfying and not something that I really expected that much. I wasn't expecting for it to resonate with people so much.
There was a lot of things that I thought were going to be sailing over people's heads. And they do sail over a lot of people's heads. But it doesn't matter how obscure the reference is; people get it.
CB: It's the internet era. People get everything, right?
Cannon: Yeah, people get everything. Or at least somebody will get everything. I thought this is a little bit too weird to have a character called Ape Whale. And I thought, "People are just going to think that's a dumb name." But what it was is it's a reference to Gojira, which is a Japanese portmanteau of kujira, meaning whale, and gorilla. And that's where the name Gojira came from. I'm thinking, "I'm just putting it out there because this is my project that I want to do something funny with." It's like instantly people are like, "Haha." Obviously everyone gets the joke that an ape whale means Gojira.
CB: I had no idea.
Cannon: Right. To some people, they are like, "Whatever. It's a monster name. There's no significance to it." And some people are like, "Oh that's the most obvious joke." I like that there's everything in between.
CB: What do we have to look forward to in season two?
Cannon: Charlie Chu loves to say that it's The Wire with giant monsters, which I think is funny. Believe me, I'll take any comparison to the greatest television series of all time.
Instead of being stuck in a prison this time, this whole season mainly takes place outside of the prison because we had an escape at the end of the last season. We have the police chasing it down. We have the fugitive having to live underground and trying to stay off the radar of the police, running into all of the other people in the kaiju underworld. Also we are going to run into a halfway house what life is like post-prison.
There's a lot of crime tropes on the outside of the prison world that I wanted to tick off my little checklist. It's great fun. Although I have to say that drawing cities in the background is a lot harder than drawing shrubbery.
CB: These abstract shrubbery images, right?
Cannon: Yeah, yeah. It's like, "Oh, man, I've got to draw Tokyo? Oh, man. Alright."
CB: You had to draw Tokyo at some point, didn't you?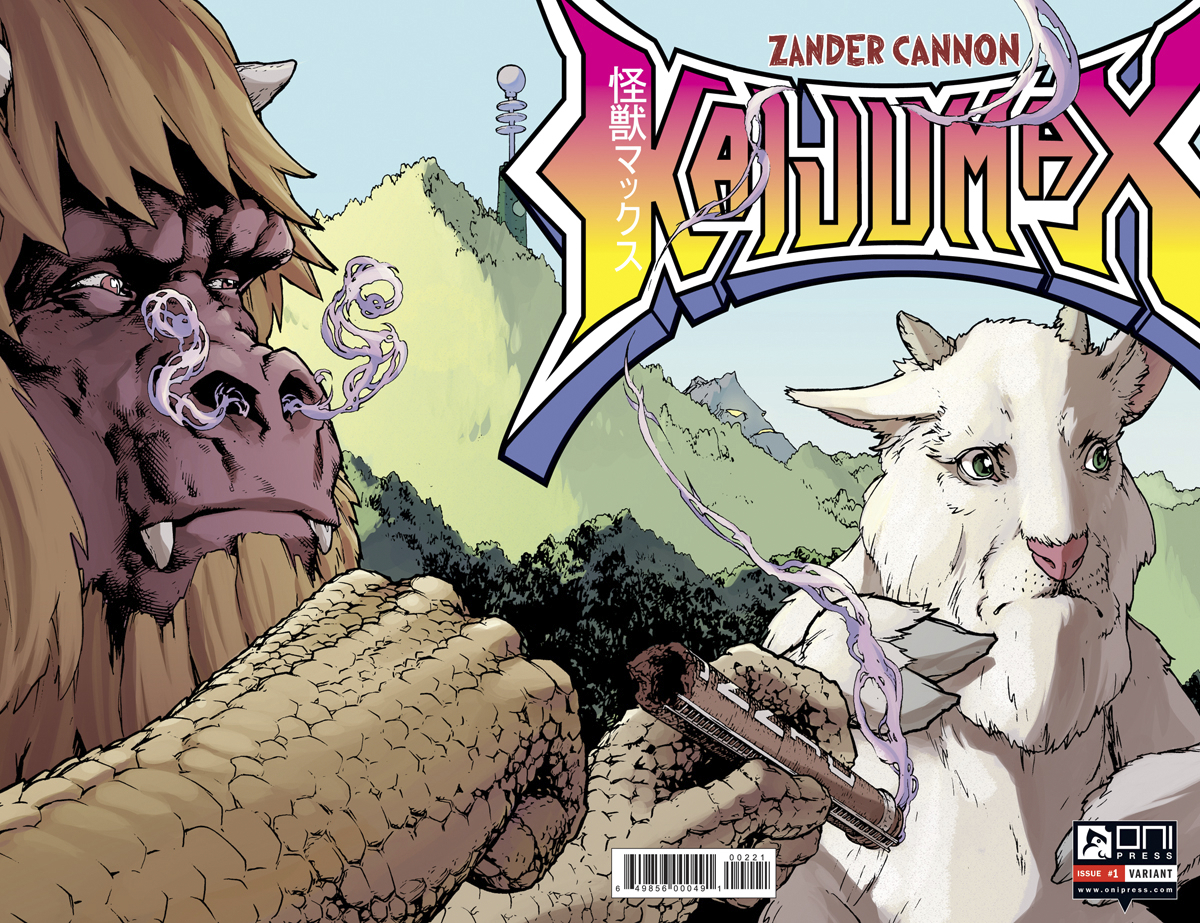 Cannon: Oh, yeah. Drawing like a writer too where you write all of this stuff is a little bit like having a budget, like, "Oh, no! Now we have to put Tokyo in the background." Instead of costing money, it just costs time. You're like, "Oh, man. I can't just hack that out. I've got to really go onto Google Image Search and start putting in real buildings in the background."
CB: I don't think you've been hacking much out for this project anyway.
Cannon: One of the things that recently happened is that that Caleb Goellner, who's a cartoonist, a writer I believe, who used to work at Wacom, arranged for me to get a Cintiq Companion. So now I have a workstation at home. I do a lot of inking as I'm watching TV or listening to music or drinking coffee in the morning. That has actually added a lot of polish to the book because then I can do a lot of inking and it takes up my spare moments that maybe would I have been just sitting around surfing the web. That's nice. I think that has been made the book quite a bit more polished. Thanks, Caleb.
CB: Inking can be such a tedious task. I've spoken to a few cartoonist while they have been inking pages. They're almost relieved to have a break from the tedium of it.
Cannon: I think it's really kind of fun, too. Sometimes the difference between an okay looking page and a really nice looking page is just an extra hour of just tidying up all of that shrubbery in the background or putting little extra bits of rubble or buildings in the background. Just a little extra care on the details I think can really make a page shine. Sometimes I really appreciate that extra little bit of time that I can spend just adding extra little lines, a thousand extra little lines.
CB: Not Rob Liefeld little lines, but little lines regardless.
Cannon: Yeah, hopefully meaningful lines. Not even that meaningful, but something that adds a little bit of dimensions and adds a little bit of texture, that kind of stuff. Not necessarily folds of fabric radiating away from someone's crotch, although it could happen. It could happen.
CB: It could fit the series very well actually now that I think of it.
Cannon: Anything is possible.
CB: It sounds like you're really loving this project.
Cannon: I have to say it feels like I'm getting away with something to be perfectly honest.