I'm writer/creator Kevin Powers. I'd like to tell you about the ultimate indie/small press/creator-owned project, Patriot-1, An action-packed graphic novel brought to life with fantastic line art by Dexter Wee and vibrant colors from Donna Gregory. It's also edited by the incomparable Keith Dallas who just co-edited and co-wrote the 1970s volume of The American Comic Book Chronicles, written by Comics Bulletin's own Jason Sacks (it's small world in comics).
Patriot-1 is the story of Staff Sergeant Ken Baker, a Delta Force operator who is the lone survivor of an attack in Afghanistan. Upon escaping captivity, he finds himself embroiled in a conspiracy that results in a team from the CIA's Special Activities Division seeking his help to unravel the mystery of "Operation Quisling." As the war in Afghanistan has all but ended, the conspiracy reveals a new threat, one that prompts Baker to make a unique statement in "super-heroic" fashion.
It's like Captain America meets Jack Bauer in a Tom Clancy-esque world.
But Patriot-1 isn't some macho, jingoistic American character. There's no politics at play. Instead there's a special operations operator – a real-life superhero – created and molded after the characters that established the roots of the superhero movement in the 1940s.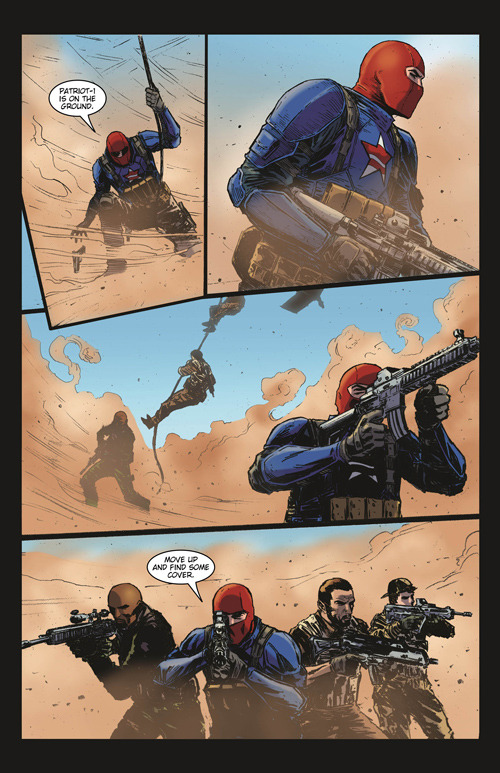 The Golden Age of comics was inundated with patriotic and American superheroes. The Shield, Captain America and The American Crusader are a few of the more recognizable ones, and they stood up to oppression and upheld the values and morals of the time. Sure, times have changed and those characters have changed with the times, but they still do what they feel is right. A lot of that is missing in today's pop culture. Captain America is still the upstanding example of the greatest generation, but as was proven in his latest film, there is still room for heroes that do the right thing without the need to be dark and brooding.
Patriot-1 is about standing up and doing what's right, no matter the cost. It's not about opinion and it's not about politics; it's about the human instinct to fight oppression and corruption.
It's also my passion project.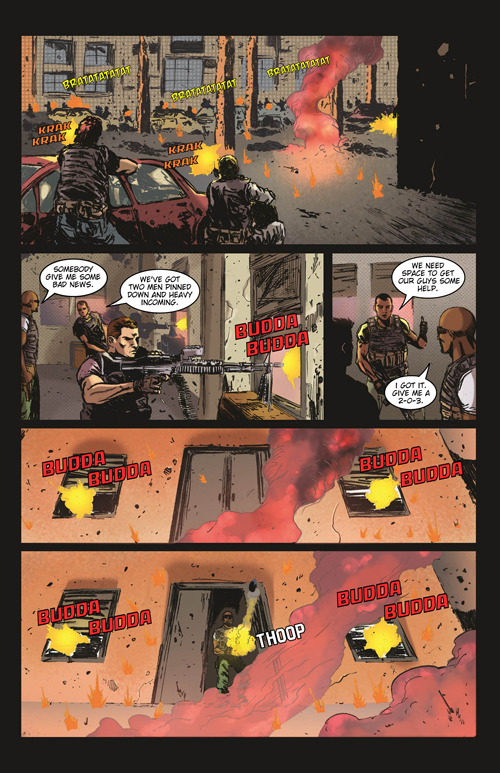 Making creator-owned comics on the small press and indie scene is no easy task. When you are the writer, creator and publisher rolled into one, it's that much more difficult. When you focus extremely hard on professional quality and results of a major publisher, your book is still at risk to be lost in a sea of white noise. And to top that off, it's expensive… even a financial burden.
Why you ask? Because after crafting your script or idea, you have to find an artist. You have to find one that is affordable, understands the pitfalls and tiny budgets of creator-owned/small press books and is also reliable. You also have to find additional artists if you need an inker or colorist. Even with all of that, you have to make sure the art fits your story.
And while you are paying the artist(s), you are likely making nothing.
It's a tough road, an expensive hobby even. But if you are like me, there are just stories you want to tell.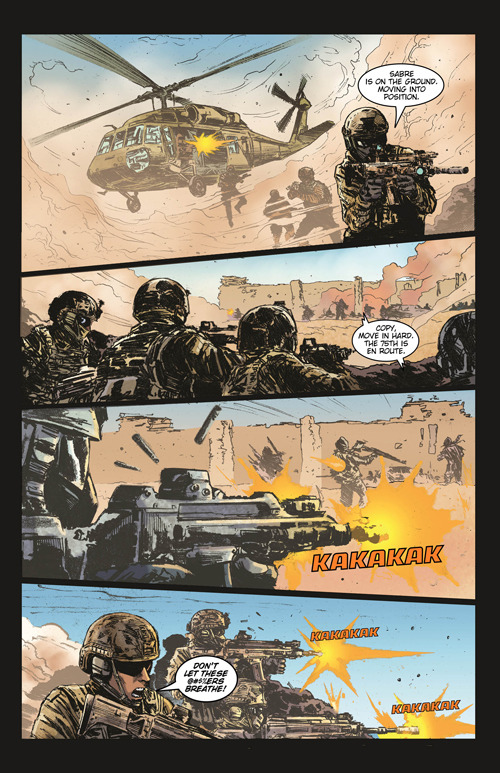 I graduated from Ithaca College with a screenwriting degree in 2006. I love movies and I especially love comics. I've worked part time at a retail store since I was 17. I founded my own imprint, TJ Comics, in 2009.
Currently, I'm a writer/content manager for WWE.com, but in college, I interned at Marvel Studios a couple years before they became the powerhouse they are now. Yes, Kevin Feige is a great guy and an absolute genius.
While at Marvel, Craig Kyle told me a simple thing that has stayed with me more than anything else, "it doesn't matter where you tell your story – comics, movies, TV – all that matters is that it's a good story."
A good story. That's all I want to tell.
Patriot-1 meshes my love of comics and big movie-like stories with my strong interest in the U.S. military — specifically special operations. Admittedly, I never had the stones to serve myself, but it's never wavered my interest. I consider myself an amateur historian of world, U.S. and special operations history and as such, my writing is often influenced by it. I've also never really enjoyed any author as much as I do Tom Clancy.
I've had ups and downs publishing comics and I have two books that had to go on hiatus because of Patriot-1. Yet, through that I learned that when I was going to put Patriot-1 out into the world, it would be the complete story. It went from a five-issue series originally to its current form – 176 pages – and it's the best thing I've ever written.
Since 2007, the landscape of indie and creator-owned comics has changed drastically. Seven years ago, Kickstarter wasn't a thing. By the end of 2013, crowd-funding (Kickstarter and Indiegogo) made up 2 percent of the comics market. Considering Marvel consistently owns 40 percent of it… that 2 percent is massive.
After years of watching the growth of comics on Kickstarter and seeing the market change first-hand, it only makes sense that it becomes the way for Patriot-1.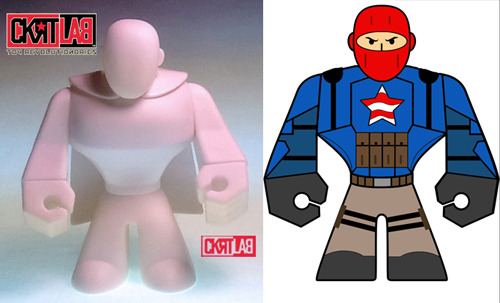 There are some really cool incentives for the campaign. An 8 x 10 character key, 11 x 17 prints, a Kickstarter-exclusive print by (the legendary) Drew Johnson, commissions by artist Dexter Wee, a custom cover (your head on Patriot-1's body) and a 50-piece-only hand-painted CKRT Lab Vinyl figure. A few of the figures have already been claimed, so you might want to jump on those.
Thanks for spending some time with me, I really appreciate it. Visit us at all these locations:
Patriot-1 Website with 23 page preview and more