Recently, reviewer Katy Rex and Comics Bulletin got the chance to skype in and talk to Shannon Watters, creator of Lumberjanes, to talk about the Mixtape from BOOM! box coming out December 24. The full interview in audio form is available as an episode of the podcast at Endoftheuniversecomics.com, click here.
CB: I actually just did a Comic Con in Virginia Beach, Tidewater Comic Con. And my friend and I that did the table, we had little prizes behind the table, and we said that anybody that was cosplaying as a Lumberjane or a Rat Queen would get a free gift.
SW: Awesome
CB: Yeah. Tragically, it was not a huge cosplay con so nobody got a free gift, but…
SW: Aaawwwww… It was pretty cute, I did a si- I'm from Northern Arizona, like, Flagstaff/Sedona area, and I was home for my grandma's birthday over Halloween, and it was pretty adorable, my mom's friend was doing this Halloween thing in town and was just like, "Oh, Shannon should sign," and I was like, "oh, all right, fine fine fine fine" and so all the local comic shops were advertising it, like in Phoenix and stuff, and I totally had cosplayers! It was the cutest darn thing I had ever seen.
CB: That's awesome!
SW: I was like, oh my gosh! This is like, a little small town signing, too cute.
CB: That's great!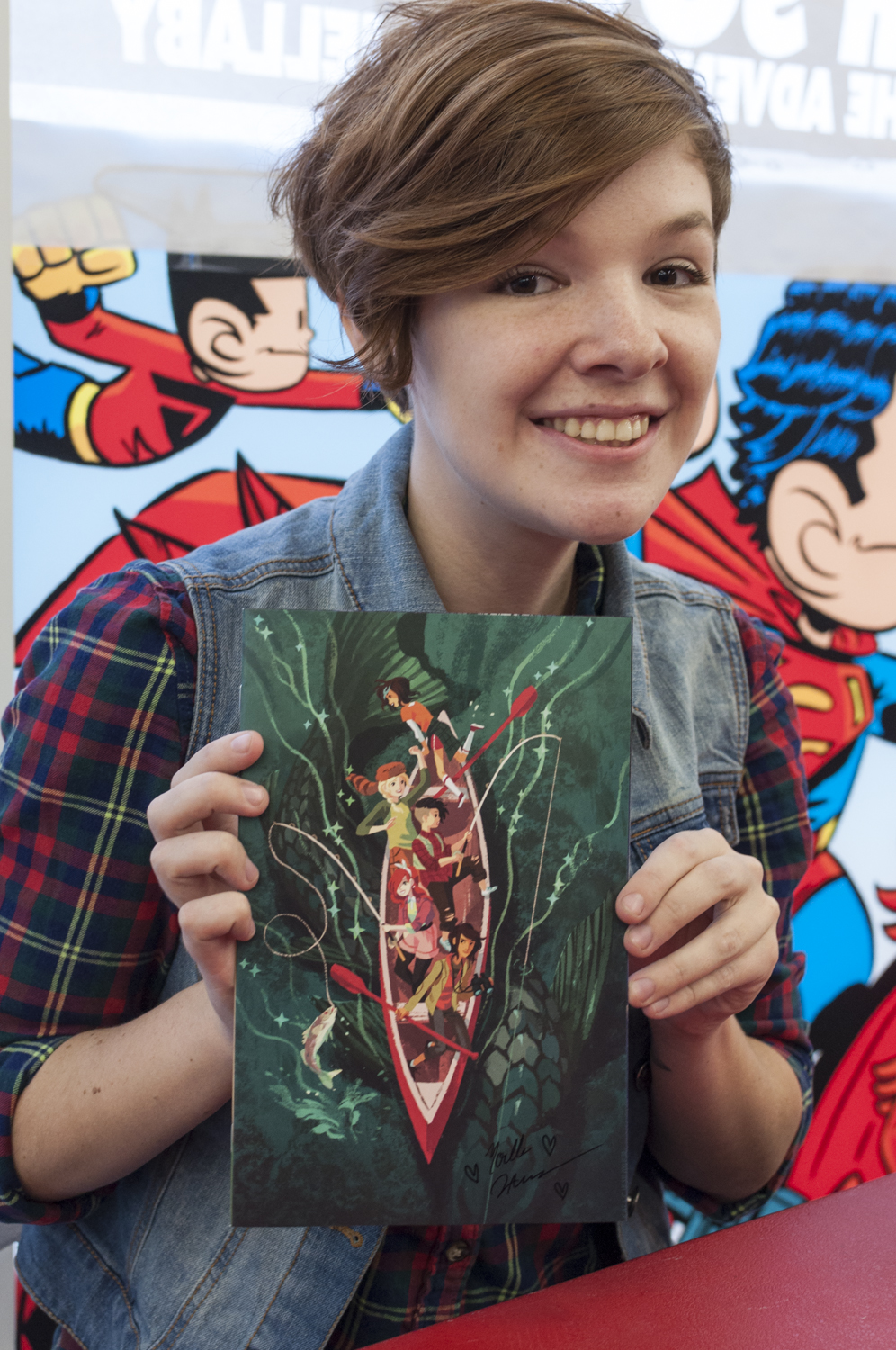 photo: creator Noelle Stevenson as Mal
SW: So, you never know! It's always good- plan on cosplayers, always, is my feeling.
CB: Absolutely. Speaking of cute, though, actually, do you find that most of your audience are adults? Or children? Because it's- I think it's accessible to just about everybody but who tends to like it the most?
SW: We honestly have like a really good mix of folks who love the book. It's really interesting, we get everybody from grandmothers to little kids. Our CEO's 3 year old is obsessed with Lumberjanes, has her dad read it to her every night before bed, says the catchphrases, et cetera. And this is you know, a 3 year old. And she plays Lumberjanes, it's the best.
CB: That's amazing
SW: Yeah, it's just, like, ridiculous. But we also have a ton of adult fans, we have a ton of people who see this as kind of a series that they wish they had around when they were a kid, which I find obviously very fulfilling because we're making it as the series we wish we had when we were kids. So it's very fulfilling. It really is accessible across all demographics, which is surprising and exciting. A lot of comic book retailers I talk to, they say they keep #1 in stock as much as they possibly can, because more than ever these days you've got a lot of people who are just getting into comic books for the first time. They're coming in from like a Guardians of the Galaxy place, or something like that, where they're checking out comics for the first time. And Lumberjanes is, I've heard from retailers, a very accessible book for a first time comic book reader who comes in and is like, "I don't know what I like, what's a good comic for me?" A lot of retailers say that they point out Lumberjanes as a good first comic for people and a lot of people then tell me that Lumberjanes was there first comic, that they have a pull, and you know, Lumberjanes made them get a pull list and now they're reading Captain Marvel and that kind of thing, which is really amazing and fulfilling and intense.
CB: That's really neat
SW: Yeah, it's pretty cool. So, I guess, it's all sorts!
CB: Awesome. Did you go to summer camp when you were a little girl? And was it like a hardcore-lady-type kind of camp?
SW: It was, I went to Girl Scout camp, but it was never for the whole summer, it was always kind of… I did this like dad/daughter camp with my dad when I was a really little girl, but I was a big camper in general and I grew up in the woods, actually. I grew up in Oak Creek Canyon, which is this giant Ponderosa pine forest canyon between Sedona and Flagstaff, Arizona. And so I was really lucky, my grandparents lived just up the road, my family's kind of Old-Old Sedona, they settled there in the 1940's, in Oak Creek Canyon, and so there's a lot of roots there, and a lot of history there. And so I was running all over the woods a lot when I was a kid. You'd always see pop culture depictions of summer camp and think, god, that would be the coolest, I'd love to do that, and I always thought how cool that would be. But it was really funny because it's like, I lived in the middle of the woods, every day was summer camp, there was no reason for me to be lusting after summer camp. But I did, even despite growing up in the woods. And I think you know it's kind of a clubhouse narrative mentality, there are certain especially in ensemble narratives it helps to kind of to have a "clubhouse" quote-unquote to go back to, something like Scooby Doo or the Babysitter's Club, they work because it's structured in a way where there is this core, there is this clubhouse, and everything is kind of an external force that comes into that clubhouse, and in this case, you know, summer camp's a great clubhouse, because you're in a situation where you're free of adult supervision, and more or less free of adult supervision, and all the influences that the outside world presses into you, and magical things happen when you are free of those influences, and so you know, I never went to summer camp but I really wanted to because I think I wanted that clubhouse, I wanted to go somewhere where that was the case even though I essentially grew up with summer camp in my own backyard.
CB: Now with Babysitter's Club and with Scooby Doo, the difference that I see between that and the summer camp thing is that summer camp is this weird way of viewing linear time, if that makes sense? Because the first 2 days of camp are incredibly jarring, and everything's new, and you don't know anything,g but then every single day until the last one is both incredibly temporary and infinite, and sort of feels like it'll never end, it feels like you've always been there and always will be there, and then… it isn't.
SW: Yeah, exactly. Which is something that really interested us too, about summer camp in the context of Lumberjanes, because essentially we're in this situation where this series could go on forever, really, because like you said, there is this sense that time doesn't pass but it also passes too quickly. Which is really fascinating to explore, in a cool clubhouse kind of a vibe. But then again, I mean, the Babysitter's Club stayed in 8th grade for, how many years? How many Christmases did they have? Every year there was a Christmas book, and yet… same Christmas.
CB: Speaking of ensembles, how did you come up with your creative ensemble? I think that was a pretty good segue, I get points for that right?
SW: Totally. It was… so, Lumberjanes kind of started out as an assignment from Ross, our CEO. He was looking for something that he could do for a presentation he had lined up, and I think he thought I—he needed it right away, that was the rub, was that he needed something right away, and I think he thought that I was going to go out to somebody and tell them, "Oh, come up with something really quick," and I had like a day and a half, and you can't just like reach out to people and have them do it. So I went home– Grace and I have been friends for a long time, and creative partners, and so I skyped Grace and we just kind of hammered out three pages worth of just worthless concepts, just, like, terrible… like, you know, literally phrases, they were like "dinosaur night club," just terrible, and one phrase I think, it was something like "girl scout camp, but supernatural?" So it was something like that, and we had been wanting to do kind of an ensemble thing for a while, you know, an ensemble girls thing. And we had some loose character outlines, and so Grace worked up some initial character descriptions, and Brooke–  is a friend of one of our associate editors, my right hand, Whitney Leopard, and Whitney had brought Brooke into the fold here at BOOM! and really wanted Brooke to work on something. So she did some really quick & dirty character designs, and that was kind of the beginning of Lumberjanes. And we didn't really have a story, we had this really loose concept, and the thing that Ross did the presentation for ended up not really being a thing, so it just kind of sat there. And then pretty soon after that– Noelle had been my intern a few years ago, she was still in college, she was the design intern for a summer and she was moving back to LA she had just graduated, and we were taking her out to brunch, and I mentioned that I had this project that I needed updated character designs, cleaner character designs, and I needed a writer, and I just kind of pitched it as a girl scout camp where the girls are fighting monsters and Noelle was just in, she was just like "yes, yes, absolutely yes." So she really helped bring it into a real fully formed situation, and that's how the creative team came together. Brooke was kind of what we wanted from the beginning, and we tested some other people just to make sure we were doing our due diligence, but the good thing about Brooke is that she really understands, when she's drawing the characters even when they're not doing anything, even when they're essentially in the background, they are still so themselves, which is really cool. That's not a thing a ton of artists do. My favorite example of this, the example that I always give, is in issue 3 I think when they're running away from the statues, in the cave, Ripley is running like a monkey. Like she's up on her hands.
CB: Like Ripley would
SW: Like Ripley would! Exactly. The script didn't say "make sure the girls are running the way that they would run," but Brooke knows Ripley is like a little critter and so of course that's how Ripley runs. Brooke was just great for it and so essential, so she came on early, and you know right now everybody's— we did the first 8 issues and it was pretty breakneck speed, so everybody is kind of taking a deep breath, we're giving Brooke a 4 issue break so she'll be back in issue 13, or 14? 13. She'll be back in issue 13. Grace is taking a break, and Noelle is helping out where she can, so everybody is kind of taking a breather as we go into Ongoingland. So.
CB: And actually I think April's character is one of the most interesting character designs that I've seen recently. Because she's so cute!
SW: But she's such a B.A., right?
CB: Yeah, she totally is.
SW: Yeah it's funny, because April was the first character design that Brooke did, and she's the only one that didn't change at all when Noelle redesigned the characters, like April just didn't change at all, she just stayed exactly the same.
CB: That's good because she's perfect.
SW: She's perfect, and we talk a lot about April's deal. April is essentially like, April and Jo have been friends since they were kids, since they were really little kids. And April– the whole thing with Jo is that she's essentially like this genius, she's this really smart kid with these rocket scientist dads, and that doesn't faze April at all, April's like "I'm not impressed."
CB: Why would it? She's the best.
SW: April is very much the type of girl, and everybody knew the type of girls that was like effortlessly coo, but the kind of girl that didn't give a crap about that. Llike April reads The Rookie a lot, April's music tastes changes week to week, April is incredibly strong and kickass, failure is never an option for April. April is very much, she wants you to be your best self, 100% of the time. That is failure to April, if you are trying your hardest April is like, "yeah, yeah! It doesn't matter that you failed because you're going to succeed next time, it's fine." But letting yourself down, you know, not being your best self, that's failure to April, that's the worst thing you can do to April. Which I find a really interesting lady character to be around in pop culture because, I don't know, a young teen character to be around… because you know people like that but it doesn't get a lot of play in YA I don't think.
CB: The other characters appear outwardly to be more radical in terms of how they construct gender norms or, I mean, Ripley has blue hair, Mal has the side of her head shaved, these are punk rock girls and April is so adorably feminine.
SW: Yeah. I think that April definitely thinks about it. I guess that's what's interesting about being a teenaged girl. When I was a teenaged girl you had Daria, you know, but there was not a lot of information out there that was essentially validating being a teenaged girl, and being different, and being yourself as a teenaged girl. The Spice Girls were going "Girl Power!" and that was great, but–
CB: Whatever that really means though.
SW: Exactly, they were still essentially playing the same part that everybody has played for a hundred years. And so but what is interesting about being a teenaged girl today is you really can't overstate how awesome the Rookie is. If you're a teenaged girl. Like, I'm definitely a Tavi fangirl in that I admire her so much. The Rookie is really cool because you have articles teaching about on the Rookie, the rookie is perfectly structured first of all for a teenaged girl lifestyle, you've got your article that comes out in the morning before school, after school, and then before bed, there are essentially 3 articles that get published every day and that's it, that's all, there's no information hitting you in the face if you're a girl who reads the Rookie. You have a schedule to read the key posts, so there's a structure. But also it deals– it's very empowering website, it does articles about things that are serious, that are intense and harsh, but also about friendships, like they'll do an article that's essentially just people talking about their best friend, you know, and empowering those friendships. And stuff about sex, and stuff about things changing and things being hard, and about Riot Grrl music but also about how Riot Grrl music was maybe problematic and maybe the Riot Grrl revolution was maybe problematic. And most of all, it always has this tone about it that makes it seem like it's a cool thing. It's cool to know about all this stuff. It makes you feel cool to read it. And so we designed April as, she is THE Rookie girl. She is the girl that, where she feels like anything is possible, and she feels like she is the coolest but she doesn't need anybody else's validation to be cool.
CB: And her feminine badassery doesn't seem to be such an oxymoron as when like we had Buffy who was a really great character but whose choices about dresses or nail polish always seemed to screw up her ability to be The Slayer.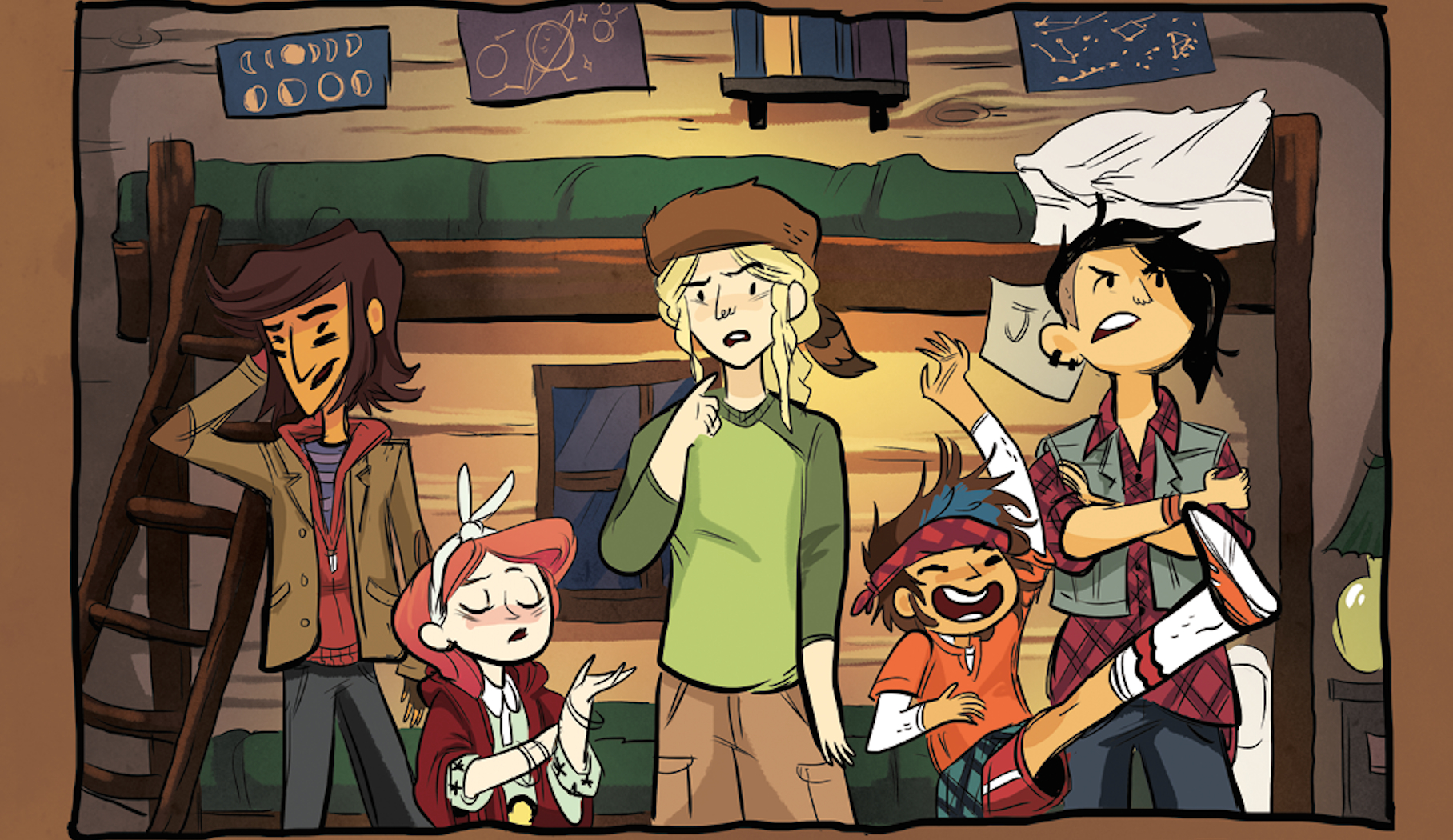 SW: Totally, that's a really good point. Being a– there's this whole thing in the queer community, there's femme invisibility, and there are people talking about how if you're femme, are you queer enough, et cetera. And that's, you know, it's the same, it's essentially the other side of that exact same coin, because April being femmie is powerful and conscious, and only helps her be more confident and be more powerful in her own skin, because it's a choice that she is making. And we felt like that was really important. To have somebody where that was the case. Because you don't have to be a tomboy to be powerful, you know, you don't have to be– thank god there are more and more expressions of tomboys out in the world, but you don't have to be a tomboy to go on an adventure, and you don't have to sit there on that adventure and be like "oh my god my heels are sinking into…" you know, that doesn't have to be the character that you are because you have heels. Maybe you're freaking good at running in heels. Maybe you've trained for this every moment where you'd have to run in heels.
CB: I love that. I—that's, um, as important as characters that express gender norms in very different ways are, I think having a character that accepts femininity in a way that is about her and not about what other people want her to be is so powerful.
SW: Exactly. That was really important to us.
CB: Let's talk a little bit about queerness real quick, because this is very… I don't want to say asexual because it's not, but it's also not sexual at all.
SW: No, yeah absolutely.
CB: I know that a lot of people feel like queerness has to be sexual for it to be… gay enough? Which is ludicrous especially given that these are little older than kids
SW: 12 year old girls. Yeah, you know that was a really important thing to us going in as well, it was that when you're 12 it is very rare for your crushes and your relationships with other people, even when they are boyfriends, girlfriends, crushes, to be sexual, you know, it's ok for somebody to have a crush and for it to just make your chest swell and to make you fantasize about them holding your hand on the playground. And that, you know, that is part of being young and queer. To be perfectly honest. When you're dealing with 12 year old girls especially, it doesn't necessarily have to manifest itself in something big, and personally, it doesn't have to manifest itself in a coming out story per se, a lot of YA stuff for queer women– it seems like every one's a coming out story. I'm so glad that it's out there because every single minute somebody needs it, but you know, lots of people are doing it incredibly well. And to normalize being young and being queer, you have to also normalize that being young and being queer doesn't mean that you're getting a girlfriend when you're 10. And I'd argue that Lumberjanes could be considered just totally queer. If you're not reading it that way that's ok, it's still normalizing the actions and the tone of people that are queer and ok with being queer, in a way that hopefully is subversive. If you are a kid that needs that, if you need to see queerness in Lumberjanes, you're going to see it, but if you're somebody's grandma who does not want to see that, you are going to see essentially girls wo are not normative doing rad things and being positive role models and that's ok too. That does not need to be– if we had slapped a big "this is gay" sticker on the front of Lumberjanes, it doesn't get into the hands that it needs to get into, it can be a queer series without there being a "this is gay" sticker on the front, because it is normal. You know? It is normal to be young and queer. It's ok to be young and queer. And it's ok to be young and gender non normative and still be a badass. And those kind of narratives are good for everybody, whether you're dealing with your own latent feelings or not, it's still doing something for you and something positive. Whether you see queerness in it or not, you are still seeing queerness in it.
CB: I think that the really exceptional thing about not having it be about coming out or having a formal relationship too is that queerness doesn't always mean necessarily having a specific label
SW: Oh absolutely. Noelle was on– I moderated the Gays in Comics panel at San Diego this year, and Noelle was on it, and she was also talking honestly about asexual representation in Lumberjanes, and in pop culture in general, because there really isn't any. And when she was a kid, everybody was talking about boys, and everyone was talking about having a boyfriend, and that was not something Noelle wanted at all. But that was everywhere, that was bombarding her from every single side, people were encouraging people to pair up, and Lumberjanes is not necessarily like that, we did want it to feel a little asexual because that is not its priority, it's not the girls priority.
CB: Definitely. I'm almost out of questions here, and I know that we've been talking for quite a while and I don't want to take too much time out of your day, but I do want to say that Rosie is amazing, and that you don't get a lot of series– even the ensemble stories that you talked about previously– where there's an adult that just completely accepts the girls' autonomy.
SW: That was another thing we were very passionate about starting out, was that Rosie would just kind of… she was going to Dumbledore it, man, she was just going to be like, "yeah, these girls know what they're doing, I guess." There's a whole thing behind Rosie, her story and stuff, but the number one guiding principle with Rosie, even from the beginning, was that Rosie was not going to be an adversary. Having adults be adversarial, and the main quote-unquote "villain" in children's stories is awesome, and a lot of people do it incredibly well, but in this particular case we did not. We never wanted Rosie to feel adversarial at all, we wanted Rosie to feel like kind of a benevolent overlord, if you will. She is there, and the girls love her and trust her. You know, and feel protective feelings toward her. But she's never– and when she says to do something, the girls do it, the girls trust it's the right thing to do but it's because she, like you said, she treats them with autonomy, she does not condescend to them. Which is really, I feel like, an important dynamic to show, because it just doesn't get shown very often, people treating children like people is a very powerful notion.
CB: And you give these children a lot of credit for being people in this book.
SW: Yeah, you know, seriously though, you're absolutely right, it's very intentional, it's very… we're very passionate about that. Because we all believe that children are really smart and really interesting and have really rich inner lives that not a lot of people give them credit for, and it's really interesting to see– on the YouTube page for the new Teenage Mutant Ninja Turtles trailer, there was a comment right at the top that I saw when I watched it, it was like, "uhh, yeah, this is going to be awesome. None of this kid stuff."
CB: What?
SW: And I was like, what about Teenaged. Mutant. Ninja. Turtles. has to be hardcore? What about that needs to have a quote-unquote "mature" spin on it?! People condescend, people think kids are idiots. People think kids are idiots all the time. People think to make something for children is to make something that condescends. People who are making entertainment for children think that. So much. And that's the best entertainment for children, obviously, is stuff that DOES NOT do that, that treats kids like people with rich inner lives, like they can make decisions, and sometimes they're the wrong decisions, obviously, but they can make decisions, and they can figure out big words and hard things. The coolest thing, as a kid, is seeing a word or a concept that you don't understand, and asking your mom, or a book, and figuring it out and then feeling like, "oh my god, I'm in on a secret. I'm in on a grown up secret." That's freakin' awesome. There's no reason that entertainment for kids should be dumb, or be perceived as dumb. So yes, that was very important to us.
CB: I think it's amazing. Tell me a little bit about the upcoming BOOM! box thing.
SW: Oh, the Mixtape! Yeah! The BOOM! box Mixtape is something that I'm really excited about, we… you know, BOOM! box has kind of exceeded my expectations. When we first got it underway, BOOM! box was kind of this "keep comics weird" imprint where we get to do things, and let people do things that don't necessarily fit in other imprints, or aren't necessarily series that you'd see in comic book stores. It's our little exploring in print, and so the BOOM! box Mixtape is an opportunity for people to buy a book and get to see a lot of weird little interesting stories and characters and artists, to be perfectly honest, they wouldn't necessarily see anywhere else all in one volume. It's meant to be, we called it the Mixtape because it's a bunch of comics that are kind of sweetly made with love like a mix tape would be, that are a little goofy, and a little weird, but they are all intensely uncynical and made with love. And you get to buy one thing, you know, you get a new Lumberjanes story, you get a new Teen Dog story, you get a new Midas Flesh story, you also get a preview of two new series that are coming next year from BOOM! box, an adaptation of Munchkin, which is an awesome card role playing game–
CB: Oh! That Munchkin. I've played it, I love it, it's the one that makes fun of D&D.
SW: Yeah, exactly, it makes fun of D&D. So the Munchkin comic book is going to be– the preview comic that's in the mixtape is our first Munchkin comic, and it's done by John Kovalic who does all the cards for Munchkin. It's going to be kind of a Looney Toons slapstick, just a really funny potty book. And it comes out in January, so there's a preview of that, all new, all original, not appearing in the actual Munchkin comic. And that's going to be a lot of fun. And also if you are a Munchkin fan, there's going to be an exclusive card that comes in every issue of the comic.
CB: Oh dang, I guess I better get that.
SW: There you go! And then there's also a preview of Help Us Great Warrior, which is a new series that's coming from BOOM! box in February. And Help Us Great Warrior is like, if Cher from Clueless was Conan, that's basically what it is. It's a magical girl series, and it's about a little tiny warrior who is the strongest, best, coolest warrior in the realm, and she beats up a lot of people, and she's also incredibly fabulous. She's like this little potato-shaped warrior with a bow on her head, and she is the most fabulous. And that's done by Madeline Flores, and there's a preview of the first issue in the Mixtape.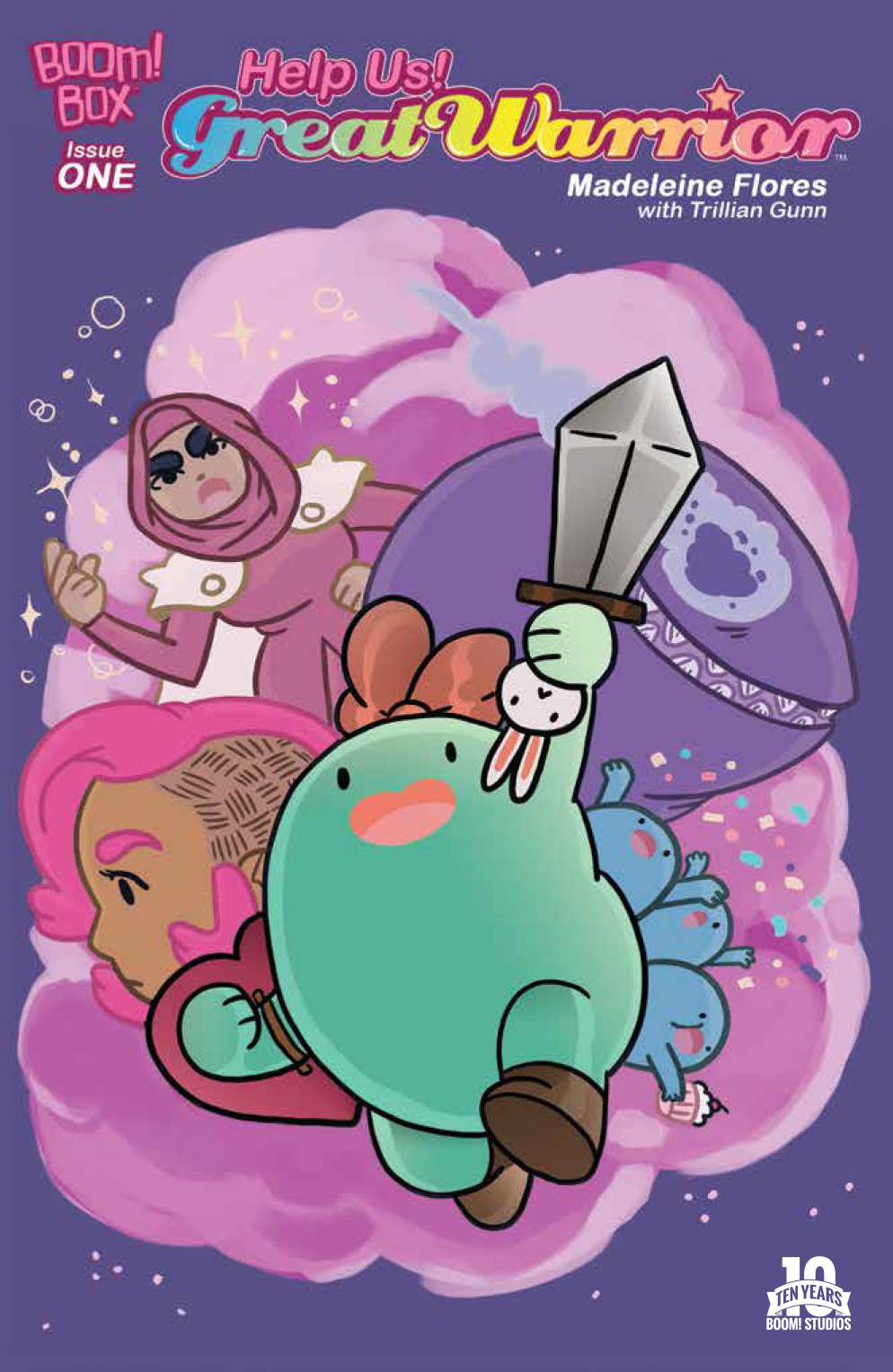 CB: You said that's out in February?
SW: Yeah, it's out in February.
CB: Does that mean it's in the December Previews?
SW: Yes, it is in the December Previews, you can order it right now!
CB: So now would be a really good time to preorder it, because the December Previews just came out.
SW: That's right. Please, pre-order; if you like Lumberjanes, if you like funny lady-centric stories like Lumberjanes, you will LOVE Help Us Great Warrior. It is so funny. Google Help Us Great Warrior and you can read some of the strips that Maddie's done for it, it's really funny, it's just so good. Every single page makes you laugh.
CB: Yeah I'm going to call my comic shop and add it to my pull as soon as we're done, this sounds amazing.
SW: It's so funny. And just great. And also on the Mixtape, you're here for Lumberjanes, so the Mixtape has a Lumberjanes short called A Girl And Her Raptor and it's about Ripley and her raptor friend.
CB: Oh good! Oh good! That's awesome! I loved how excited she was about the dinosaurs.
SW: She was SO excited. So, please pick it up. It's kind of goofy, but there's a lot of great stuff in there and a lot of really great artists to discover and we're really really happy with it and proud of it.
CB: Well, thank you so much for taking the time to do this, I really appreciate it.
SW: Absolutely! It was a ball. This was lovely.
CB: Thank you.
SW: Any time! Hope you guys keep reading Lumberjanes, thank you so much.
To preorder Help Us Great Warrior (Diamond code DEC141209) or the Munchkin comic (Diamond code NOV141115), ask your local comic shop to add it to your pull!