Tiny Pages Made of Ashes is Comics Bulletin's small press review column
Maple Key Comics #2
(Neil Brideau / Josh Lees / Luke Howard / Sasha Steinberg / Laurel Holden / Joyana McDiarmid / Sophie Goldstein / Laurel Lynn Leake / Mathew New / Bill Beddard / Iris Yan / Dan Rinylo / Rachel Lindsay / Carl Antonowicz / Nicole Georges / Adam Whittier / John Carvajal)
If you like the idea of the ongoing Best American Comics series, and having a place, in book form where you can read a variety of different, shorter-form, non-mainstream, comics, the "comics anthology magazine" Maple Key Comics will interest you. The way I think of it is as a literary magazine for comics, though it comes out every two months, rather than quarterly, and it's not affiliated, not officially, with a school. Though, published in White River Junction, Vermont, Maple Key Comics seems a place where grads from The Center for Cartoon Studies MFA program, located coincidentally in the same town, can get their stuff out to a larger audience, though I think Editor Joyana McDiarmid's vision is to eventually be accepting artwork and artists from anywhere.

I think, too, that the idea of Maple Key is to offer a place for artists working in non-mainstream comic form can get a larger audience, instead or, or in addition to, going the zine route. It's a great idea, and I wonder if even more anthology magazines like will be appearing. I hope so. For $15, you get 266 pages of a huge variety of comics. That's a great deal.

One thing I didn't like, though according to the Maple Key Comics website it's the main focus, is the serialized stories. Even though the artists included "The Story So Far" pages at the beginning, I just found myself a little lost. And/or those stories were just not as interesting as the stand-alone stories which comprise about half of this issue.

The best story is "When We Tried to Go to Soul Vegetarian After CAKE in 2012" (sic, I guess) by Nicole Georges, author of Calling Dr. Laura, and the "Star Artist" of this issue. Even with a more minimalist art and dialogue style, though with new interesting surrealist touches, "When We Tried" just feels more confident, and if it's not a 'story' so much as a humorous sketch of a humorous night in her life, it feels the most human of all the pieces in issue #2. Or, that is, I felt the most connection with it. Or, that is, it made me feel the most, empathize the most with her situation.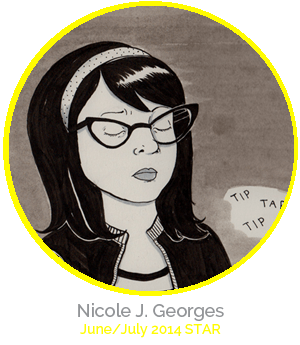 There are some other good stories in here. "Hotline" by Iris Yan, another serialized piece, but it's a collage of individual moments of her job as a crisis hotline phone volunteer, with everyone drawn as animals, and Yan as a cute pig. Also "Rachel Lives Here Now" by Rachel Lindsay, another collage-y graphic memoir about Lindsay's decision to leave her high-paying job in New York City to move to Vermont and draw comics. These particular sketches are about her day job as a cashier at a grocery store. I may just like this one because I like the idea of leaving one's job to pursue an authentic life, which I've done, and therefore living a life of voluntary simplicity (i.e., poverty). Both of these stories I expect to end up as part of larger graphic novels by the artists.
And, Maple Key Comics is visually interesting. If not a feast, then a good meal for the eye. There are a couple of stories with no dialogue at all, though they're just more weird than actual stories. If you're main interest is in good art, you will find plenty here.
But I keep coming back to stories. I like stories. I like an actual storyline, but I also like well done characters and dialogue, and the serialized pieces especially seemed clunky. Small things like, if a character is speaking, she'll 'speak' using apostrophes: 'You're' instead of 'You are'.

But that's me being picky and, the comics crowd being what it is (that is, all over the place) Maple Key I think appeals to a slightly different sub-section of aficionados. Again, it's $15 for 266 pages of experimental comic art. That's a good deal, and worth picking up at least one issue.
– John Yohe
For more information on Maple Key Comics, visit their website.
---
Fugue
(Matt Sheean)
It's not often that I start a review of a comic with a dictionary definition, after all I'm no High School Freshman writing a tortured essay about Atticus Finch's eroticism in To Kill A Mockingbird, but in order to write about Fugue, Matt Sheean's 21 page black and white comic, it seems apt. So here it goes…
According to those pig-faced drunken bastards at Merriam-Webster, the word "fugue" means: "a musical composition in which one or two themes are repeated or imitated by successively entering voices and contrapuntally developed in a continuous interweaving of the voice parts."  It has a second definition as well as: "a disturbed state of consciousness in which the one affected seems to perform acts in full awareness but upon recovery cannot recollect the acts performed."
These definitions are important. They provide both access to understanding and a structural jumping off point from which to consider what Sheean is attempting with this book.
What are the repeated themes here? Are there acts that the perpetrator cannot recall? Or is there some other thing going on?
On the surface, the story concerns what Sheean describes as "A lonely music priest loses his way, and finds it again, and then loses something else."  Obscure? Certainly, but once again, access. Sheean points to the musicality of his book here, as well as the repetition of loss. But there is more going on, and that disturbed state of consciousness thing may by the key master.
In Fugue, a small woodland fairy creature talks to our errant music priest. The creature talks about Nall, the ancient god she serves, and how "(h)e is chained in the world below, by law – that jealous art that repudiates imagination, that sets traps for lovers and turns justice into an equation."
Finally, further access, definition through negation: the fugue state that can also be called the creative moment. Artists in touch with their muse often report losing touch with the world around them. They step back and look upon what they have wrought with awe and/or fear.
Creativity is the opposite of the staid and the safe. It is a monster who destroys to create and creates to destroy. It is the Dionysian beast. And it stands in the way of order, of predictability, of the Apollonian need to cage and classify and anticipate. Nall is the god of procreant urge and he stomps on the terra hard.
When set free from the chains, Nall rampages and feeds and destroys. Nall rewards his followers with brief gifts and access to power. But his rule is the rule of chaos and as stifling as the imposition of order is, it must assert itself if social systems are to function.
Artists will throttle each other in the end. Laws keep our hands off each others throats. We know this, though every time we have to shoot down another creative eruption, what more do we lose of our potential?
What causes the solider to weep at the end of this book?
Matt Sheean's Fugue explores all this with humor and a light touch. His art is open, imponderous, and sylphlike belying his declarations which need to be pieced out as they are pieced together.
Get this book. It's good.
– Daniel Elkin
You can purchase Fugue from Matt Sheean's Etsy page here.
---
On the Books
(Greg Farrell)
One of the last surviving large independent bookstores in the United States is the Strand in New York. You've probably heard of The Strand: it's the store that advertises "18 Miles of Books" inside its block-long space. As you can imagine, it's filled both with real treasures for book-lovers and with a knowledgeable and empathetic staff (along with some cheesy tchotchkes to help with the cashflow, don'tcha know).
Unfortunately there is trouble in book lovers' paradise; as Greg Farrell tells us in On the Books, a new graphic novel from Microcosm Publishing, the labor situation at the store is difficult and complicated. For many years, there's been an ongoing battle between the store's owners and their employees. The owners of the store are always trying to squeeze worker wages, while the workers – represented by the United Auto Workers union of all things – find themselves struggling to make a living wage doing work that they love. Farrell has been an employee of the Strand during this era and shares his story in this fascinating graphic novel.
It's a fascinating tale for a few reasons. First and foremost, Farrell's book, which started as a series of mini-comics distributed in New York, tells the day-to-day events of the struggle between management and rank-and-file. With this approach, readers can see the story ebb and flow, read about the blind alleys and seemingly endless problems that arise on an almost daily basis. This allows us to feel ourselves in these peoples' shoes and get a sense of the daily grind in a way that a more conventional history might not do.
On the Books also provides an on-the-ground chronicle of the problems that labor unions have in today's environment, giving a detailed, as-it-happens tale of practical ambitions clashing with uncaring ineptitude and bureaucracy. It details the painful ways that the employees of the Strand have to battle, tooth and claw, just to be noticed or to gain any traction on their efforts to win a living wage. We can see a narrative of America's labor movement in microcosm via Farrell's empathetic storytelling.
Maybe the most interesting part of the account is the personal commentaries sprinkled throughout the book. Farrell takes personal comments about the store and casts the speakers as animals, tacos, whatever really conveys the people without actually drawing them. This odd conceit actually works for the comic; by depersonalizing the speaker, Farrell paradoxically makes them more real. They carry more authority than they might have with Farrell's loose linework and this helps to emphasize that the staff at the Strand is full of individuals joined by their love for books and their frustration with management.
None of us who love books want to see problems with The Strand bookstore, but it's fascinating to read reality clash with daydreams, and to read how about how difficult it can be to solve problems in America circa 2014. On the Books tells a sober but important story about our country and our world. This graphic novel has stuck in my mind since I read it. I find myself thinking long and hard about the ideas explored in the book and about their implications for the wider world around us.
 – Jason Sacks
Order On the Books from Microcosm Publishing.