Donny Cates' relaunch of the Marvel Knights imprint begins in earnest today with the launch of Marvel Knights #1 (come back later for our review). If you're wondering what the big deal is, the original Marvel Knights focused mostly on street-level characters and allowed creators to embrace mature themes that wouldn't be found in Marvel's mainline books. They ended up being hugely successful and, for the most part, critical darlings. And since we're not completely above fishing for page views, here's some classic Marvel Knights titles to check out.

Daredevil: Guardian Devil by Kevin Smith and Joe Quesada
For many, this is the story arc which define what exactly a Marvel Knights title should be. Anchored by the writing of Clerks and Dogma era Kevin Smith and the dynamic artwork of Joe Quesada, "Guardian Devil" is often cited as one of the top Daredevil stories ever, which is quite a feat considering the character's acclaimed publication history. What the creators managed to do was play up the two biggest elements of Daredevil's history: Matt Murdock's Catholic upbringing and the endless tragedy that has followed him.
Influenced by both his own experiences and his admitted ignorance regarding what to do with a key character, Kevin Smith's script features his trademark naturalistic dialogue combined with a surprising amount of genuine character-building moments. Much of Matt Murdock's arc is attributed to the *spoiler* death of Karen Page *end spoiler* which, though in hindsight may come under scrutiny as "fridging," is a familiar storytelling beat for the Devil of Hell's Kitchen. Like Elektra before her, Karen finds herself the victim of Bullseye. Karen's love for Matt may not have had been fueled by the animalistic passion that he shared with Elektra, but instead was based on a mature, emotional connection that has made her death more impactful. It would eventually be the fuel for another acclaimed project (Daredevil: Yellow), but it also would act as the driver for the remainder of "Guardian Devil," an emotional roller coaster through its final pages.

Inhumans by Paul Jenkins and Jae Lee
It's been a rough few years for the Inhumans. Donny Cates slaughtered them in Death of the Inhumans. Their feature film was downgraded to an unimpressive and quickly cancelled television show. Marvel's attempt to prop them up as an X-Men replacement was met with disdain and rejection from readers. But it was this series from Paul Jenkins and Jae Lee (his first appearance on this list) that the Inhumans were even thought of a major player in Marvel's lineup.
An Eisner winner for "Best New Series," Inhumans (vol.2) by Jenkins and Lee was a part of the original wave of Marvel Knights titles in 1998. Lee's art shows flashes of the artist he would grow into, but at this stage it is very raw. The real draw it the story by Jenkins, which uses Inhuman society as a springboard for commentary on society at large. The world built by this creative team is not just a meritocracy, but an oligarchy that favors those deemed to be "genetically superior." As the political landscape has shifted in recent years, this story is worth revisiting 20 years after publication.
Black Panther by Christopher Priest and Mark Texeira
A black superhero written by a black writer quickly labeled Marvel Knights' Black Panther as a "black book," but that label was prematurely and disingenuously applied to Christopher Priest's 62-issue run on the title. After all, Ta-Nehisi Coates' is considered genuinely great on its own merits. However, that probably speaks to the difference from 1998 to 2018, as today Priest's run on Black Panther remains the unequivocal standard by which all other writers of King T'Challa are measured against.
Alongside artist Mark Texeira, Priest portrays T'Challa as a leader that puts the needs of his people above his own. Against the wishes of Marvel editorial, Black Panther retained his stoic and regal nature instead of adopting a persona described by Priest himself as "street." Instead, Priest and Texeira would develop the hero into an inspirational figure for minorities, beginning a pop-culture trajectory that would reach its apex with the 2018 feature film. And those elements that people fell in love with in that movie can be traced back to this title.
Fantastic Four: 1234 by Grant Morrison and Jae Lee
Grant Morrison was already an established name within the comics industry when he was paired with Jae Lee for the Fantastic Four miniseries 1234. Lee, coming off the success of the aforementioned Inhumans, used this opportunity to further build his reputation for beautiful, moody visuals. Meanwhile, Morrison would play with the idea of "what is reality" while deconstructing heroes, a trend which would ultimately lead to his magnum opus The Multiversity.
1234 sees the Fantastic Four as a fractured family, a stark departure from the tight-knit group most associated with Marvel's First Family. Instead, we see a Reed Richards capable of committing terrible acts, a Ben Grimm toying with the idea of leaving the group in the hope of regaining his human form, and a Sue Richards with serious doubts about her marriage. This is a dark, gloomy departure from the normally good-spirited team book that captivates from start to finish.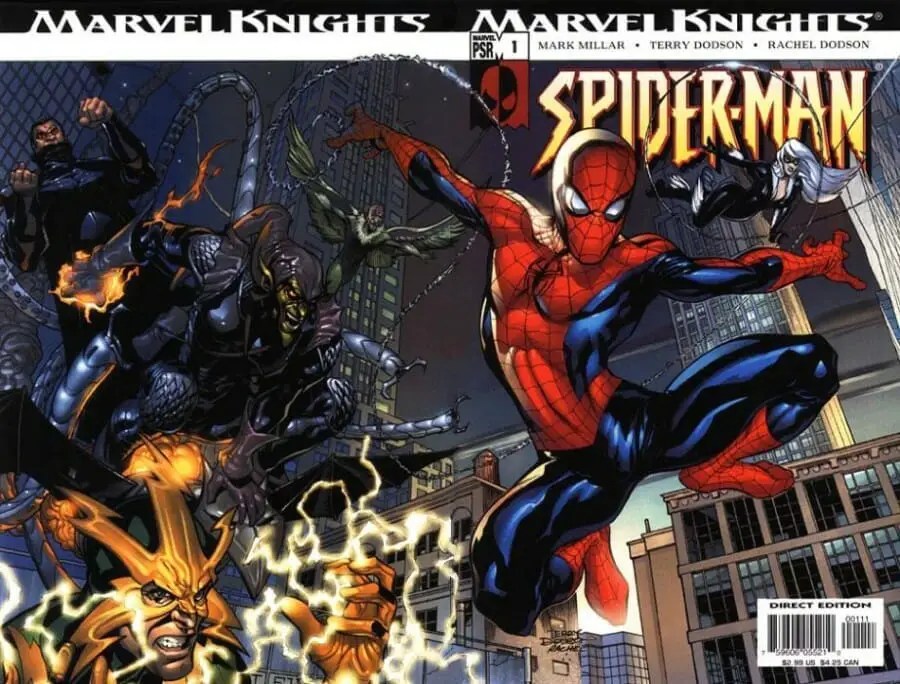 Spider-Man by Mark Millar, Terry Dodson, and Frank Cho
Full disclosure: this is personally my favorite Spider-Man story. Everything there is to love about this era of Spider-Man comics – especially this era of Spider-Man comics – is found here. A fully intact and functional marriage between Peter and MJ? Check. The bullshit ruse of Aunt May not knowing Peter is Spidey is tossed aside. Norman Osborn is alive and well, and a thorn in Spider-Man's side. Eddie Brock's Venom plays an integral role, as does Black Cat. In many respects, it adopts the formula seen in the Batman stories The Long Halloween, Dark Victory, and Hush and then perfects it.
When completely left to his own devices, Mark Millar's writing can be polarizing. This is rather unsurprising for Grant Morrison's former protégé, as Morrison himself has come under similar criticism. However, with Marvel's editorial to reign him in – especially at this time during the equally acclaimed run by JMS – Millar's tightly plotted script not only hits the classic beats of great Spider-Man stories of the past but gives them a fresh and accessible update all found within the pages of a singular title. The clean lines and stylistic similarities of Terry Dodson and Frank Cho make the transitions between artists smooth. With regard to the artwork, the focus instead shifts to the emotional weight given to each sequence and dynamic action seen throughout.
Honorable Mentions

ELEKTRA by Brian Michael Bendis and Chuck Austen: Writer Brian Michael Bendis' earliest work within the world of Daredevil was actually tackling his on again, off again (and occassionally deceased) love interest Elektra Natchios. Teamed with artist Chuck Austen, the story saw Elektra headed off to Iraq in what is arguably the most "adult" of the Marvel Knights titles
PUNISHER by Garth Ennis and Steve Dillon: The precursor to the beloved Punisher MAX line by the same creative team, Ennis and Dillon gave readers Frank Castle as they've never seen him before – completely unchained. Ultra-violent and gritty, the Ennis/Dillion Punisher remains the standard-bearer by which readers have compared every subsequent take on the character.