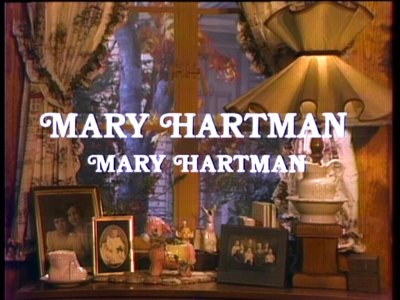 Can you hear someone calling your name?
Twice?
Like a haunting echo?
The double-calling of Mary Hartman's name at the beginning of every episode of Mary Hartman, Mary Hartman is used in different ways within the series. As this five-night-a-week show evolves, it takes voice as a forlorn cry as her mother calls her name: for a child lost, but also for a woman succumbing to too much bombardment of conflicting agendas, ideologies and media.
Various characters use Mary's name doubly in different ways; sometimes for humorous effect, sometimes for emphasis, sometimes as if to drive a nail right through her skull into her brain.
The most poignant use repeating her name comes from Mary herself (played by Louise Lasser) as if the individual woman, the housewife, the mother, the target of advertisers and those in the media who suggest they have the answers to life, will be lost until she can hear her name within herself and know who she is. That echo seeks a validation of her, and us, as individual human beings.
Bruce Solomon's Police Sgt. Foley becomes an increasingly complex character as the series progresses, altering from initial perceptions. His impact on Mary cannot be understated, and there is a tight-rope performance by Solomon that is uncomfortably intense that only enhances Louise Lasser's own tight-rope dance without a net as she plays Mary.
Mary Hartman, Mary Hartman was truly a groundbreaking television series. Its existence in 1976 was unlikely. Norman Lear's idea was to use the daytime soap opera platform for a series that on the surface. It was supposed to just be a satire of the form but in fact was infinitely more complex. Mary Hartman, Mary Hartman was not just one thing. In fact it was not just about two things.
The show dealt with sexuality on television with a candidness that had seldom been seen on American home screens, and certainly not in the mostly barren wasteland of mid-'70s TV programming. This was rare territory for pop culture to explore at all.
In fact, the themes and targets of Mary Hartman have not become dated.
Relationships between husbands and wives, between men and men, between women and women remain as complex and demanding as they were forty years ago. The intervening decades haven't changed that.
Some of the most harrowing scenes between a man and woman in bed on television were done on Mary Hartman. They are often complex and sometimes go in unexpected, emotional directions. The scenes can be uncomfortable. The emotional scarring and psychic battering can make one flinch. Greg Mullavey, as Mary's husband, Tom, did not receive much credit during the run of the series, but he has to go face to face with Louise Lasser, and match her honesty. Mary and Tom, and Foley, are the most dimensional people on the show, and the interactions of the men with Mary is at the core of the show. When Tom rejects a tender gesture from Mary it is anguish displayed so despairingly. When Mary screams and moans what tears her apart inside, all the laughter is gone. This is about two vulnerable human beings capable of inflicting incredible pain upon each other with words and actions. Verbal barrages that will leave shrapnel like wounds embedded in the mind. Such marital trauma has seldom been captured on a television series before, and less in a continued format, so devastatingly.
The bombardment of commercials on television has only increased in the intervening years, more ads selling us more things. An hour show once ran 50 minutes. Now, an hour show can run less than 43 minutes, and all those minutes are used to jam more ads selling us deodorants and floor waxes that assert that they can make your linoleum and life shine.
Mary Hartman seeks a red hotline help phone to connect to unknown people, not unlike Facebook with friends whom you have never met, who are listed as friends and may actually be friends, or also just the opposite. Yet it is an attempt to isolate from inside the womb of the living space to the battering of the outside world without really having to engage with it.
How many different ways do various groups have of claiming they know the true way to live? How many believe that their political stance is the only one that is right and true? How many feel that their religion vanquishes all other religions, and is truly the only holy way? How many talk shows have people offering platitudes, books and self-help seminars that only do, namely make the successful person behind the group rich?
The writers, through Mary Hartman, take aim at the groups of their time, EST training, getting in touch with your inner self, Biblical proclamations from individuals with revivalist energy and dramatic persuasion.
Elmer Gantry as an 8 year old evangelistic orator who hears the Word.
They are all still here, just more of them as the population of these demagogues have more than doubled since Mary Hartman, Mary Hartman aired. With asides to mundane queries on waxy buildup on floors, or what deodorant works best.
The amount of lines the performers have to memorize for each episode would paralyze me. I would not act in my own film version of Detectives Inc., not because I would not be allowed to, but because I'd never be able to remember my own lines, and I would want to ad lib, and then I'd get the writer pissed off at me, and I hate when I have to get on my own case.
On top of that Mary Hartman does not have traditional soap opera scripting, and it is often asking for many emotions within a sequence. Often times, especially with Mary, Louise Lasser's dialogue is elliptical in nature, circling in on itself, spiraling schizophrenically, plunging radically back to the central topic under discussion.
It must have been a formidable task, day after day, having to know not just the words, but to feel the words, to portray the radical mood swings of the truly depressed. It impresses me to watch Lasser portray this for weeks on end. It has to have a profound impact on your personal daily life since you are preparing each day to perform this role.
For the Barnabas Collins Dark Shadows fans, Mary Hartman, the iconic middle class woman and the iconic vampire together.
Shout! Factory has done another in their long series of rarities, releasing the complete 325 episodes of this cult classic in one DVD set, a release that surprised even the sho
ws most ardent fans. Thus, every episode of Mary is available in one package, showcasing her journey, and the sideline tributaries of her immediate family and friends, to journey's end.
The color prints are exceptionally bright and sharp. The episodes are uncut and can be viewed in chronological order. In addition, Shout! has included two bonus discs with the 38 DVD box set, containing behind-the-scenes interviews with Louise Lasser, Norman Lear and Mary Kay Place, who plays Mary's next door neighbor and best friend, country singer wannabe and convinced-she-will-be superstar, Loretta Haggers.
Charlie (Graham Jarvis) primes his shotgun to protect his country singing wannabe and convinced she will be superstar, Loretta (May Kay Place) from the father of a child Revivalist minister. What are the odds it won't end well?
On one bonus disc, Louise also discusses the still well-regarded and emotionally devastating descent into oblivion in the first season's final episode.
Lasser's performance on that episode, in a scattered and rambling monologue has her smiling through tears, voicing truths she has lived with all her life and that no longer console her. It has her desperately seeking a connection to the experts she has been told are smarter than she is and who have the answers she desperately desires. But at the end of her shattering speech, she is confronted with their dismissive and judgmental stares that shatter her last fragments of belief. Finally turning to the television camera as the episode closes, Lasser delivers her shattering monologue, live cameras recording all, trying to plead to it to not expose her to the world, and at the same time confess to it in a heart-rending end. It's a brilliant and devastating performance.
Ten episodes of the spin-off series Fernwood 2-Night are included as bonus features with the set.
The collector's episode guide book is beautifully done. The nicely designed booklet is delightfully useful. Since there are over 300 episodes of Mary Hartman, and they don't have titles, the writer of the guide is clever and humorous in his liner notes. There is enough information in the notes for you to re-find an episode, without the details giving away explicitly what has happened in the episode. If you've seen that episode, there's enough of a fun clue to help you relocate it when someone comes over and you want to show them a specific scene or moment. Or just if you want to go back to viewing a segment but you can't recall where it happened in the course of the series.
Mary has the most consistently antagonistic relationship with her daughter, Heather (Claudia Lamb). Heather seems to disappear for long periods of time, but within the first months' worth of episodes, before the first season ends with Mary on the David Susskind Show, Claudia grows so rapidly that she is almost as tall as Mary.
Although Mary Hartman was often written about in magazines and newspapers as if it were completely the brainchild of Norman Lear, an interview with one of the lead writers, Ann Marcus, details much of how Mary Hartman evolved.
Initially Norman Lear had specific ideas he wanted in a pilot episode about a beleaguered mother. It included topics the suits at network television would never understand, from a mass murderer in a suburban neighborhood, a grandfather exposing himself to passersby in a small town, a husband who is impotent, and a sister who is promiscuous.
Lear had Gail Parent, who is credited in the opening of Mary Hartman, write a sequence with the still-undeveloped personality of Mary, but that sought to capture the tone of dialogue Lear desired. Gail Parent's participation in Mary Hartman is this one scene with Mary talking to a delivery man.
Thereafter, though Gail's name is always in the opening credits, she is never around again.
Ann Marcus becomes one of the lead writers, and along with Louise Lasser, who, after some initial reluctance to play Mary, contributes daily to the defining of who Mary Hartman is. Two voices. Ann Marcus and Louise Lasser.
Ann Marcus writes an unusually candid piece on writers and television and Hollywood. As a writer in pop culture, especially comics, where nothing exists until the writer writes it, the words get as lost as the echo of Mary's name.
You can read Ann's informative piece here, and if you are interested in writing for television, her piece is insightful, balanced and filled with historical background.
Viewers would either get Mary Hartman, or they wouldn't.
The audience would empathize with her psychic pain and emotional anguish or they would wonder what in the hell was going on.
Seen all together here, I suspect, if you don't feel for Mary Hartman in the initial episodes, by the first season finale she will break your heart.
Grandpa Larkin (Victor Kilian) as the Fernwood Flasher, with his grand-daughter, Mary, trying to protect him (as she does with so many she cares about) while confused by what the hell is going on in the world around her.
Which is not to state that there is no comedy in Mary Hartman. Or that there isn't some soap opera satire. There is. Those just aren't the major concern of the show: Mary's slow disintegration, her enveloping disconnectedness the more she tries to connect is always at the core of the show.
But there are classic moments of the bizarre in the mix.
Drowning in chicken soup.
A collision with a bus full of nuns.
Mary and Tom smoking a joint.
Mary and Tom high at a televangelist's healing harangue for Loretta.
Mary becoming part of a very special television family.
There are even moments when it is laugh out loud funny.
Loretta and Charlie (Loretta's considerably older husband played by Graham Jarvis) handle most of the soap opera absurdities, one tragedy piled on top of the other.
The only time the writers really have one of the characters totally act out of character is when Charlie's ex-wife, played deliciously by L.C. Downey, appears. The actress is pure soap opera evil in manipulating the couple, but after months of showcasing Loretta and Charlie's consuming love and sexual attraction for each other, I don't buy it for a moment when Loretta turns on Charlie for the supposedly face-scarred ex-wife as fast as a heart-beat fueled on adrenalin.
But it is true dumb-as-a-tree-stump obliviousness to the outrageous manipulation of soap opera heroines.
Tom (Greg Mullavey) has an affair with Mae Olinski (Salome Jens) during the time when he can't get it up with his wife, Mary, at home. Salome appeared with Robert Culp in the classic Outer Limits episode "Corpus Earthling," one of the series's bleakest, most nihilistic ent
ries. It's my favorite Robert Culp Outer Limits, though his own remembrance of that particular story was having to climb up a steep flight of stairs, time after time, carrying Salome. But she also appears with Bob Culp in one of my favorite I Spys, where it is Bob Culp that breaks down, weeping, not Mary Hartman. And Salome knows that Kelly and Scotty are spies.
Shout!'s Mary Hartman, Mary Hartman: The Complete Series has my vote for the best DVD TV collection of 2013.
Naked City – The Complete Series from Image includes all the half-hour episodes that have not been on DVD, and include ALL of the hour-long episodes. You will never see New York City filming of this extensiveness again. The show had access everywhere, and it is a record of what New York City and the boroughs looked like in the 1950s and early 1960s, preserved on film with fine performances from new actors just beginning their careers, from Dustin Hoffman to Robert Redford to Robert Duvall, and Hollywood performers coming off a life-time of film endeavors.
The titles are in order and uncut, but superior prints were used on many of Image's earlier Naked City releases, including the bumpers with New York City illustration in the background.
If only the care that Mary Hartman received had happened to Naked City.
Still, these are two of the most unique and influential TV series released in 2013. Both were unexpected late arrivals in the year.
Both are shows that transcend their time. Both are profoundly unique and worth seeing and owning.
---
Copyright © 2014 by Don McGregor
You can order Mary Hartman, Mary Hartman directly from ShoutFactory.com here or from Amazon.
The hardcover edition of Detectives Inc. is still available. You can order it from Amazon. Continued sales on the series can help make the new Detectives Inc.: A Fear of Perverse Photos/A Repercussion of Violent Reprisal a reality.
And new things are about to happen at donmcgregor.com.
Torsten Lehman in Germany has a email address where you can reserve a copy of a limited print run of the Zorro Newspaper Strip With Color Sundays here. If the company reaches 100 orders you'll be a part of the select group of collectors!