One of the most moving and interesting graphic novels I read this year was Long Walk to Valhalla from Archaia Publishing by Matt Fox and Adam Smith. As you'll read in the interview below, the book is complex and real, affecting and bizarre. I had a great time catching up with Matt and Adam at San Diego Comic-con 2015 and am delighted to share this interview with you.
---
Jason Sacks for Comics Bulletin: Why don't you talk a little bit about the book? What is the story about?
Adam Smith: The basic gist of it is this dude is leaving a small town in rural Arkansas and his car breaks down on the side of the road. He meets this young girl named Sylvia who says she is a valkryie that is there to take him to Valhalla because he is going to die.
The book flashes back to when he's a young boy growing up with his older brother and single father. People think that his older brother had these learning disabilities because he sees all of these imaginary creatures and stuff like that. Sylvia is attempting to convince Rory that she is a valkyrie. She is also trying to convince him that Joe is actually magical.
You start to question if Rory every doubted that or if he doubts Sylvia and follows him throughout this whole life from being a young kid to a teenager to where he is now as he leaving town.
CB: One of the things I enjoyed about the book is it doesn't draw conclusions about the characters. You have these ideas that you present, but you don't necessarily give us answers for the ideas. How did you approach creating this book? Was one of your goals to create something that leaves a lot to the reader's interpretation?
Smith: Yeah, we left it intentionally ambiguous because we wanted readers to participate as much as possible. It's been really cool to see people that believe one way and don't believe another or vice versa. Even as dudes that made it, Matt and I will vary depending on how we feel that day about whether or not Sylvia is or isn't a valkryie. It's one of those things that we like the characters so much, we didn't want to give them a definitive ending. We wanted to be something that a reader can enjoy as much as we do and draw their own conclusions.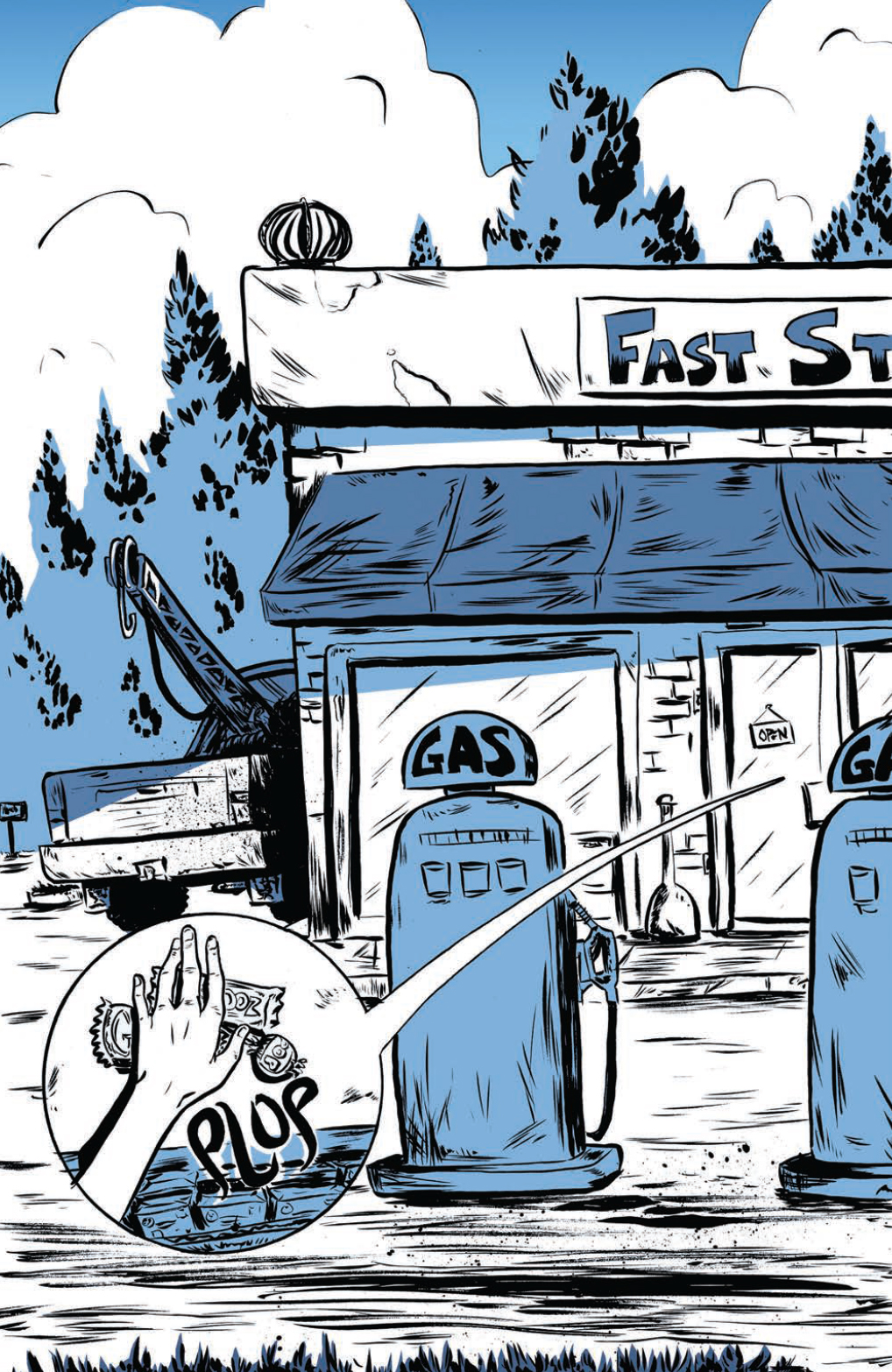 CB: But you took a completely different approach to what is implied in the title – a very mythological based comic, but you also have this concept of valkryie. You have a southern, gothic, very rootsy story with a supernatural element. I am not sure I have a question there as much as an observation.
Smith: It's a great observation.
CB: Okay. I guess from an artistic standpoint, how do you approach creating a world that is both grounded and a little bit fantastic?
Smith: It was difficult. From the beginning we almost wanted these fantastical creatures to be based in Norse mythology. That was one of our initial ideas. But once we started really getting into the characters, it became more about those individual characters than it was trying to stay true to these great mythic themes.
From a design sense, these magical creatures were coming more from those kids growing up and their experiences and the things that they saw. The older brother who would see these creatures, we didn't really give a lot of information like the origin of these creatures, but those origins were all in our heads. They definitely influenced the design of them.
Again, we tried really hard to keep a lot of things ambiguous so that the reader could draw their own conclusions. There were a lot of conversations where we were going back and forth, where it was like, "Are we giving too solid of an answer here with this scene or with this sentence?" It was a lot of push and pull and back and forth. It was really evenly spaced between the writing and the artwork.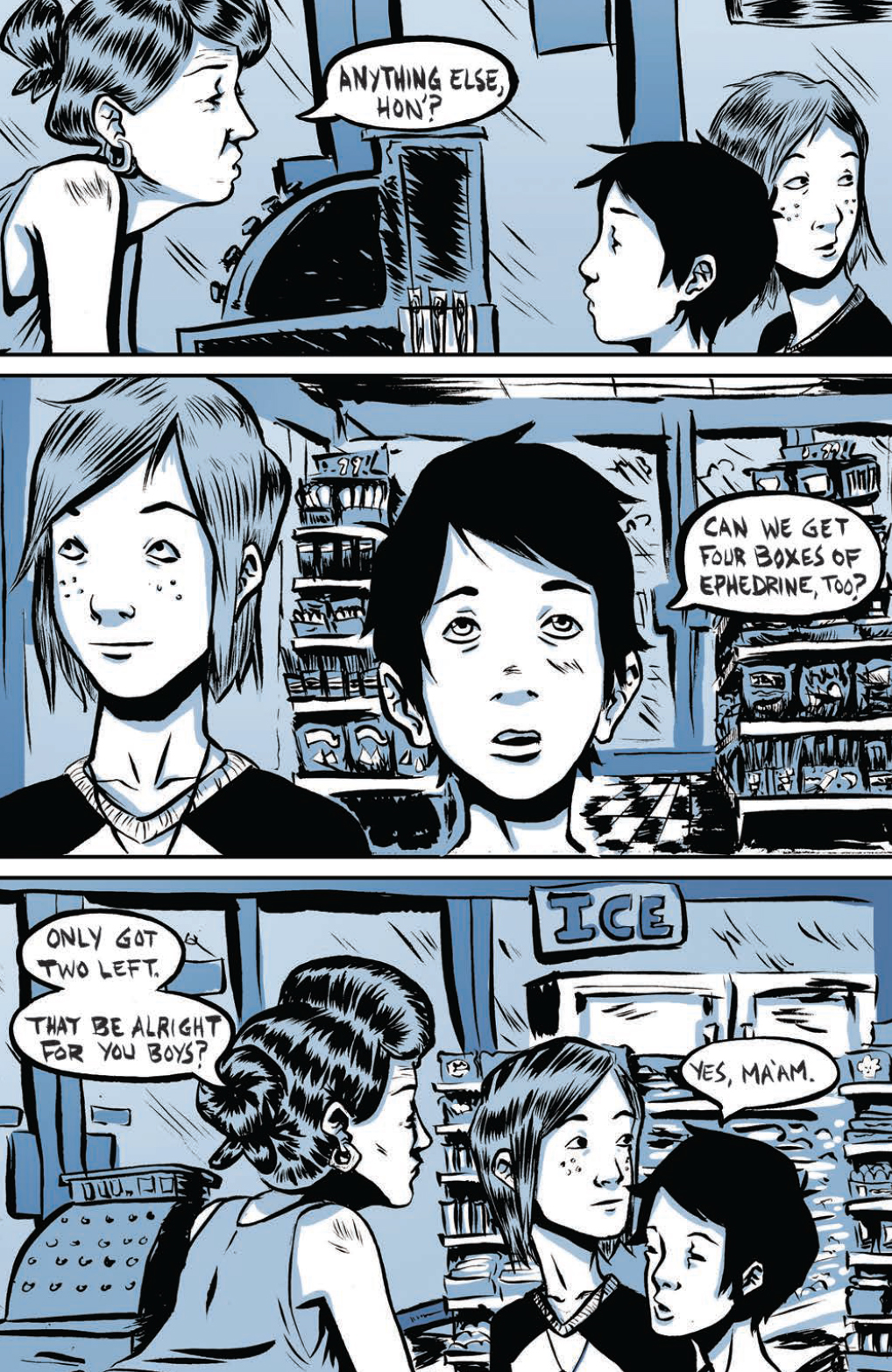 CB: One of the things that is really striking about the book is the setting as well. That's clearly a place that you guys lived. Can you talk a little bit about how you relate to the world that your character lives in?
Smith: Yeah, there were a lot of scenes that started with experiences we had growing up.
There is a scene that I really like that Matt illustrated amazingly. It was when they were fishing for crawdads, which was something we both did growing up. You can take a rake and run it across shallow water and it will shift everything around and these crawdads come out.
Or you can take piece of bacon and wrap fishing string around it and throw it in the water and crawdads will grab onto it. There were a lot of instances like that where we had these memories of doing stuff like that when we were kids. We used those as a jumping point to go into the next scene or tell the next little bit of their story.
CB: And it's drawn in such a richly- I don't know how to put it. It feels very atmospheric. How did you work out the visuals?
Matt Fox: Really just as I went. When we started, I didn't have a whole lot of experience with comics. It was a liberating feeling in one way because we could do whatever we wanted. But a lot of times I was sitting there thinking, 'Oh, man, I am doing comics all wrong'.
CB: That's interesting. How did you feel you were doing comics all wrong? What did you feel you were doing right as opposed to wrong?
Fox: I don't know.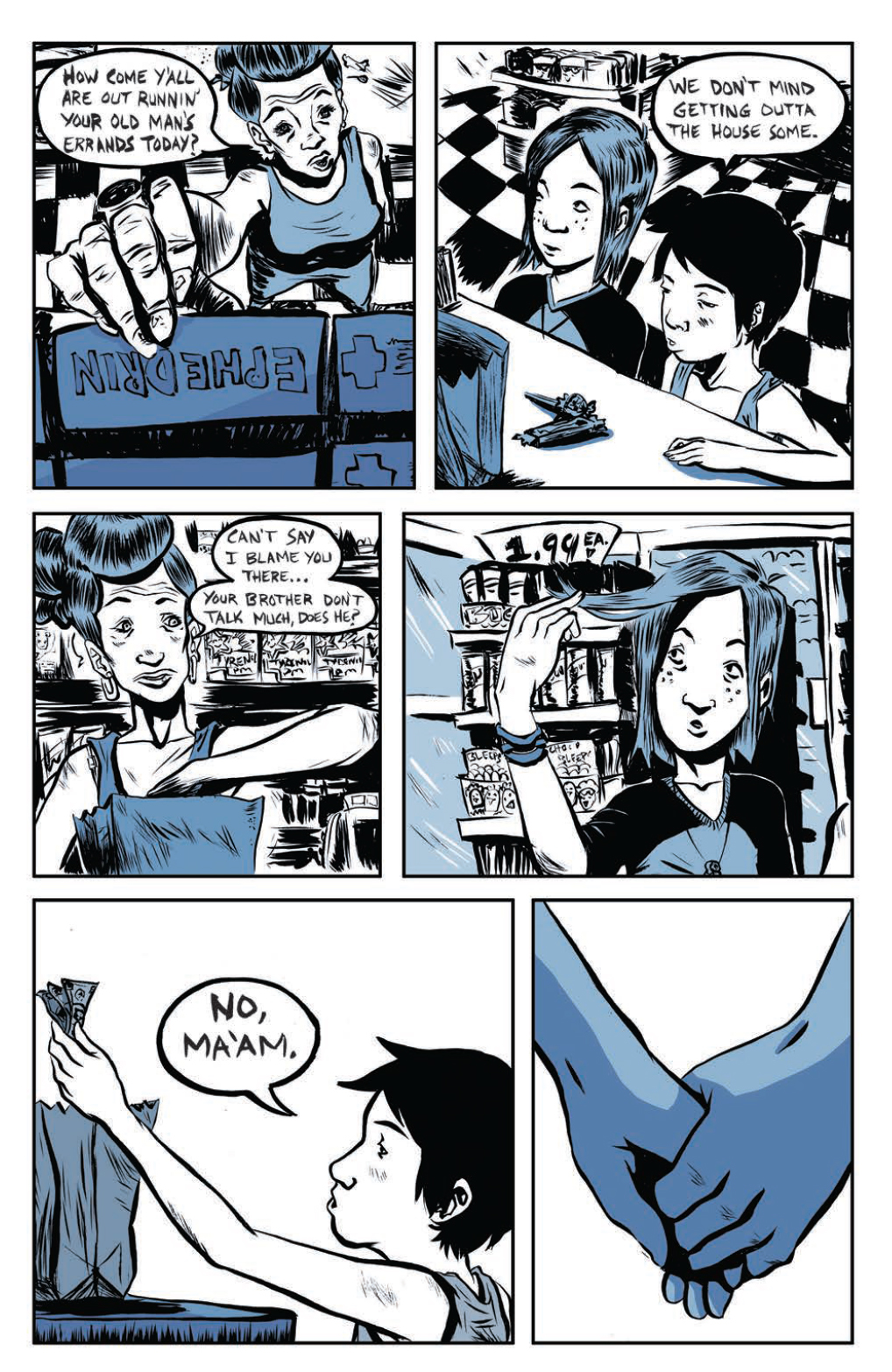 As far as doing comics wrong, sometimes I thought, 'these visuals are too quiet or too muted.' I love all kinds of comics. I love comics that are mystery or action or slice of life and everything. I would even see some of my friends drawing some comics that were chaos and kinetic energy. It was like, 'well, maybe I should be doing that kind of stuff.'
But really it would all dwindle down to, 'This is how I draw. This is how I like to tell stories visually.' Part of me wanted to break out of that, but another part is like you can't really change your personality. I couldn't really change the way I drew or told the story. Some of that may have been inexperience. But I knew that I wasn't the best artist that I know. I knew that I was alright at telling a story visually. Throughout the book, my focus was, 'don't try to do anything cute; try to tell the most clear and honest story that you can.'
CB: Honest is a good word for this book, I think. It seems to really come from the heart.
Smith: Yeah, it was one of those things where we, like I said earlier, we really left the characters.
This is originally going to be a twelve-page comic. We had done one eight-page mini-comic before. We were like, "Let's do twelve!" And it grew into a hundred and thirty-three because we kept coming up with other ways that we wanted to have the reader relate to the characters.
Sometimes it was really easy and sometimes it was really hard. I remember there was this one scene where Matt felt like the transition into the next one needed something with Rory and Sylvia having a conversation. I was like, "Oh, I can try." And I sat down and wrote something in, I think it was fifteen minutes.
And then there was another scene where I wanted to add a transition again and it took me over three weeks to write what came out to be something like six pages. But once the foundation for those six pages worked, I really liked that scene and I still do. It's the one where Rory and Joe are getting ready to leave for the funeral. They have the conversation with Dwayne, the father. I think what took so long was I had it in the wrong setting, because I was going in with this, for whatever reason, mindset that it needed to be in a school. I couldn't get it to work. But as soon as I changed it to their living room, it was super easy.
CB: I almost want to say these are characters who have broken lives, but they don't really. They have a lot of circumstances in their lives that are broken up obviously. The first scene is the boys buying ingredients to make meth. It doesn't get more dysfunctional than that! But at the same, they are there just really living their lives in a way that has integrity.
Smith: That was the big driving force for Matt and I both. We wanted the characters to be fully dimensional.
I don't think any person's life is fantastical all the time; I just don't. I don't think anyone's life if horrible a hundred percent of the time. I think everyone lives and experiences things and the way you respond is what makes you a human. That was really the story we wanted to tell of how this guy responded to situations. Even though we talk mostly about the bad stuff that has happened to him, we talk about the good stuff a little bit. Like Matt was saying earlier, we had all these backstories.
There's a whole bunch of other really cool stuff that happened to Rory in our head that we didn't put in the comic.
Fox: And I think too, just from a storytelling point of view, showing a character feeling sorry for themselves is not going to make the reader connect to them. Showing the character living their live and living it almost stoically, if it's kind of a bummer life, you connect more with them. You feel bad for them even though they don't feel bad for themselves.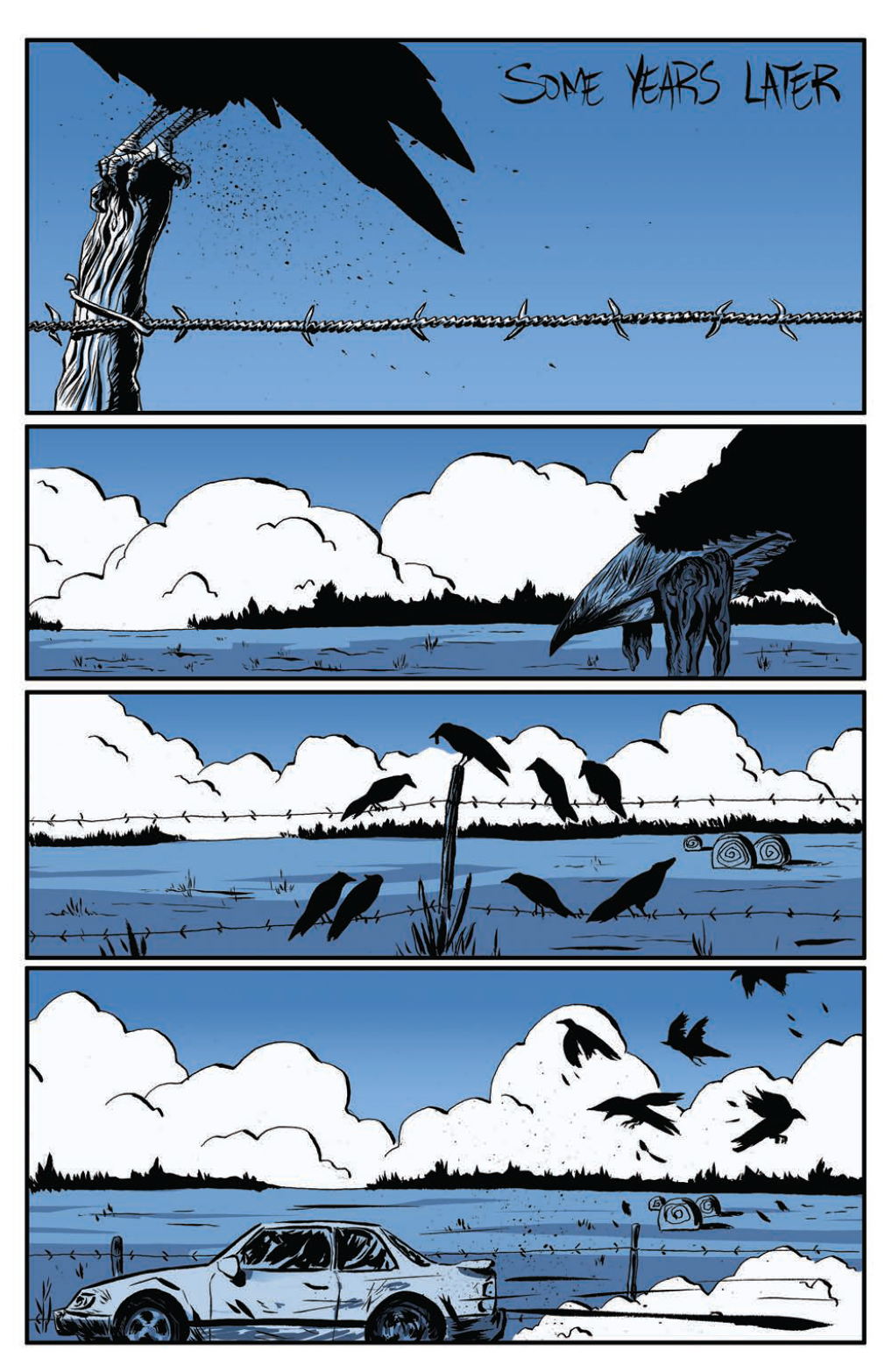 I think that was something that carried throughout, especially with the main character. It ties into the theme of why Sylvia at least believes that he is a very powerful warrior. It's because all of these things that happened to him, he took in stride his whole life up until a certain point where it finally broke him down, which is where we find him at the beginning of the book.
CB: Powerful warrior for having gone through everything he went through in his life. That's got to be a theme that has some meaning to you, just if you are going to create something like that, without getting too deep or psychological. Do you guys both feel some of that? Maybe all of us do to some extent.
Smith: Yeah, I think it's important to believe in yourself and also have other people believe in you. Whenever he runs into Sylvia and she is pointing out all of these great things, he initially is shrugging everything off. It's like, "That wasn't the way that happened at all." But then she puts a different perspective on it. I think we experience things and look at it a certain way and convince ourselves that is the only perspective you can take. When someone like Sylvia comes along and starts showing all of these different perspectives, it changes the way you look at it also.
CB: Such a sad story, but so sweet also- the bit with the baby and the violence and the brother. But also there is a lot of hope in it, too. I think in some ways the creatures symbolize the hope.
Smith: Yeah, we really wanted this to be an optimistic story. Whenever we give someone the elevator pitch, it doesn't sound like it's going to be at all or even halfway through the book. Some people even think the end isn't as optimistic as I know we both see it in our heads. It's like, "Oh, but no all the school stuff, right?"
I remember when we were first working on Valhalla and Matt was showing pencilled pages. They were like, "Oh, my god, this sounds like the most depressing book ever." This is the happiest thing I've ever written!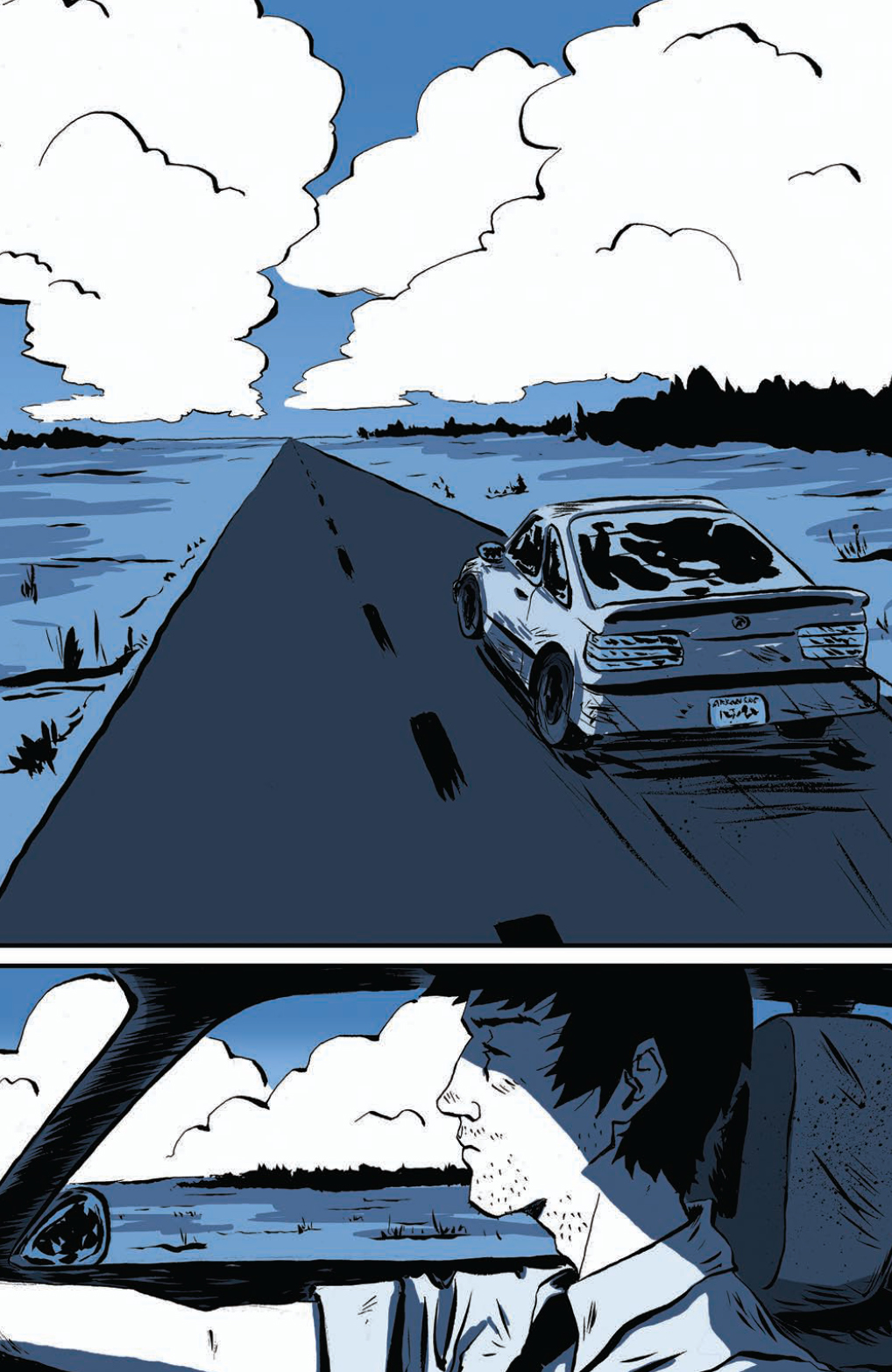 Fox: We were really surprised, yeah. We had a couple of editors. You know, you have a lot of people reading once you get close to the end of the book to make sure that everything works. You've got as many of eyes on the book as possible. There were a few people that had cried during the book. That was really surprising to us. We were like, "This is the happy book!" But then when we sat back and looked at it, it was like, "Oh, I guess we can see that."
Smith: You can see where that could bum you out.
Fox: It could be a little sad.
CB: The baby scene is devastating.
How did you end up with Archaia?
Smith: Their open submissions. We had self-published the first twenty-two pages and were maybe a few pages into what was going to be the next self-published thing. I got a job working in Alaska for a few months. I went up there to do that. Matt was still in Kansas City and went to a Con and got some really great positive reinforcement and encouragement from some creators.
He just submitted it. He wrote the whole pitch and sent them the first twenty-two pages. I had gotten back from Alaska and went on a motorcycle trip. I was actually on my way back to Kansas City. It was raining and miserable and a terrible, terrible day. I got this email from Rebecca Taylor that was like, "Oh, man, we love your book. Do you want to be a part of the Archaia family?" Then Matt and I talked on the phone and screamed and shouted.
CB: Tay is great at shepherding interesting work. She's got a real passion, especially for people who create fully fledged worlds. It's an interesting fit for that line because there are some very fantastical type works. It's interesting to read something that is a lot more grounded, but also has the fantastical elements of that group.
Smith: We can't thank her enough. She really did the most amazing job being encouraging and with her guidance and how wonderful she was to us the entire time.
Fox: Yeah, she's amazing. We can't stop singing her praises.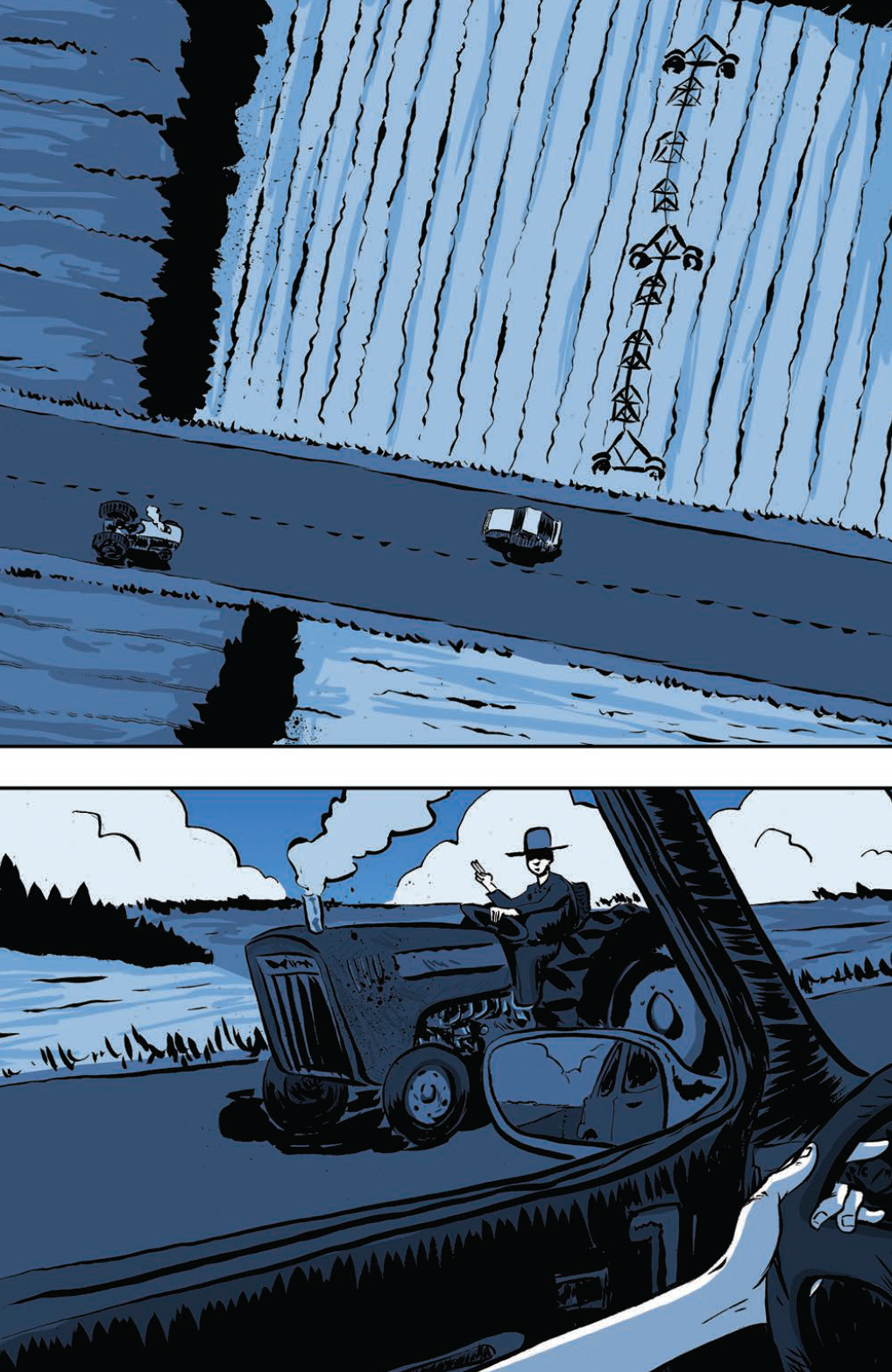 CB: I have to ask one more thing at least that I have been meaning to get to, which is the color palette. Black, white, and blue- was that always part of the plan or was this something that developed as you were working on it? And why blue?
Fox: Some of it was utility. Initially we were going to do full color. We have a lot of flashbacks in the book, so in order to break that I, I thought I needed to change the color palate for that. All of the flashbacks were in blue monotone. It felt better reading those scenes. So I went back and recolored the first twenty-two pages and went from there.
A lot of the book takes place outside on the flat plains of rural Arkansas. Growing up in Arkansas, it's very colorful obviously. But for some reason my memories are all monotone. I don't know why. It felt right doing it with that. And also because I had to do everything myself (I had to letter and color and draw), it definitely helped as far as finishing the book before I turn forty.
CB: The lettering also is unique in the book. Is it hand lettered?
Fox: It's… sort of hand lettered. Again, just for reasons of time. I wanted to hand letter the whole thing, but I asked some friends if there were any font maker things. I found a website. You basically print out a sheet, hand letter, and then from there you can type your lettering. It was still very much that I had to move it around and place it and find the right spots for it and everything. But that was one nice time saver.
CB: What's the reaction been to the book so far, now that you've had a chance to meet a few people?
Smith: It has been really positive and amazing and really surprising, too. As two unknown creators with a twenty-five dollar book, we didn't expect to sell a whole lot. It's been going to like crazy. everyone has been incredibly nice and kind and nothing but good things to say. Tay, our editor, she also told us that everybody in the studio was reading the book and they loved it. There was a little deep down inside part that doesn't believe her. You're like, 'Eh, that's nice of you to say, but I doubt anyone is reading it.' But then we get up here and everyone from BOOM! has come up and told us how much they love the book and talked about their favorite scenes or whatever. It has been really awesome.
CB: There's a sincerity to it that you don't always see in comics.
Smith: Thank you so much. That's a really nice thing to say.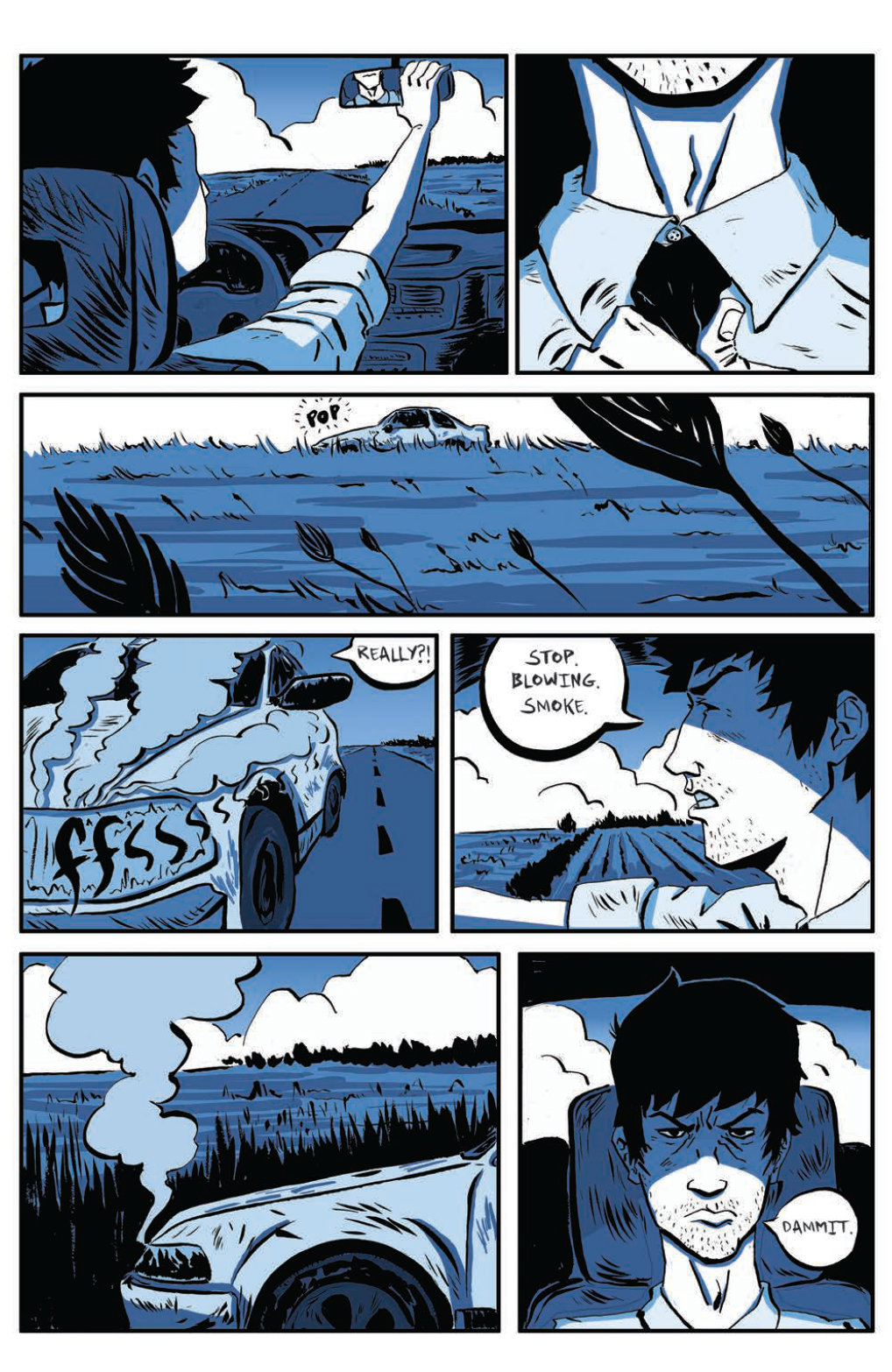 CB: Are you thinking about your next work at this point or are you going to give yourselves a little bit of a break?
Smith: Matt is working on UFOlogy right now.  He's finishing up. I think he's got three more issues.
Fox: Two more.
Smith: Two more. But we have three books that we for sure want to do. One of them we know that we are not capable of doing right now, because we don't think either of us are talented enough to do it right now. It's a very long involved thing. But the other two will probably be pitched within a few months after Matt finishes UFOlogoy. I've got like a bare bones outline, but I haven't started scripting anything.
CB: Okay.  Are you going to go with the sci-fi elements, the fantasy elements, the real life elements, or all to found?
Smith: One of them is a shorter book; it would probably only be something like forty-eight pages. But we also said this was going to be twelve pages, so God knows. But that's a horror séances. We are both big fans of horror and séances in particular. We thought that would be a cool thing to play with. The other one is very much a slice of life, but it also is a heist book from my experience of working in the ski lodge in Alaska. There's also blues and an underground boxing ring.
Fox: We want to do a southern trilogy. That one would probably be the next one in the line.