The Big Two may have some decent books out this week, but none of them made the cut. The books we're looking forward to the most this week come from minor publishers, self-publishers, and a greater focus on creator control.
Drawing Blood: Spilled Ink #1 (Kevin Eastman Studios)
(w) Kevin Eastman (a) David Avallone
While I wouldn't necessarily call a semi-autobiographical comic original, one coming from the co-creator of the TMNT certainly piqued my interest. Since creating the Ninja Turtles with collaborator Peter Laird in the 1980s, Kevin Eastman has rarely created anything that wasn't connect in some way, shape, or form to the popular reptiles. Though I don't expect an new Eastman story to have the same raw energy of his early stuff, the fact that he found a project that was passionate about says a lot about this story's potential. In addition, his collaborator David Avallone has built a strong reputation through Dynamite books such as Bettie Page and Elvira, meaning readers can at the very least count on Drawing Blood to look good.
Mary Shelley: Monster Hunter #2 (Aftershock Comics)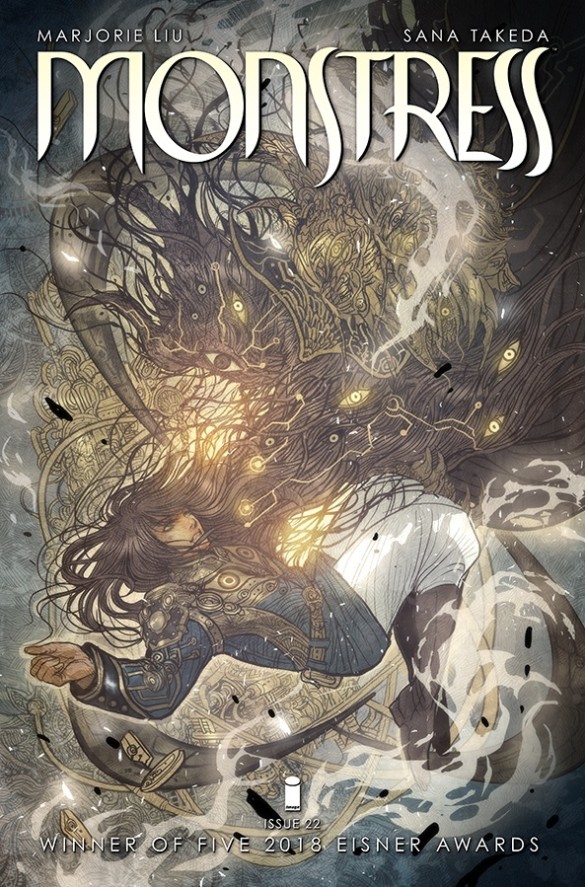 (w) Adam Glass & Olivia Cuartero-Briggs (a) Hayden Sherman
The first issue featuring the revisionist history of Mary Shelley was a surprise delight. Here's to hoping for more of the same in the second issue.
Monstress #22 (Image)
(w) Marjorie Liu (a) Sana Takeda
Personally, Monstress isn't my cup of tea, and it pisses me off. For some reason, I haven't been able to connect with it. However, I cannot deny that it is objectively one of the absolute best comics being published today. Marjorie Liu's personal writing has been affecting to most readers, Sana Takeda's stunning artwork alone is worth picking it up.
Road of Bones #1 (IDW Publishing)
(w) Rich Douek (a) Alex Cormack
The funny thing about history is that there's always something new to learn. As we learn more about the past, the more creators have to draw on for new ideas. Russian history in particular is full of fascinating pockets of information writers can exploit for a good story. Such is the case for Road of Bones #1 from IDW Publishing. Dealing with a potential escape from a Siberian Gulag and subsequent journey across the perpetual winter wasteland, Rich Douek and Alex Cormack's story looks to expose some of the horrors of history that many try to forget or romanticize.