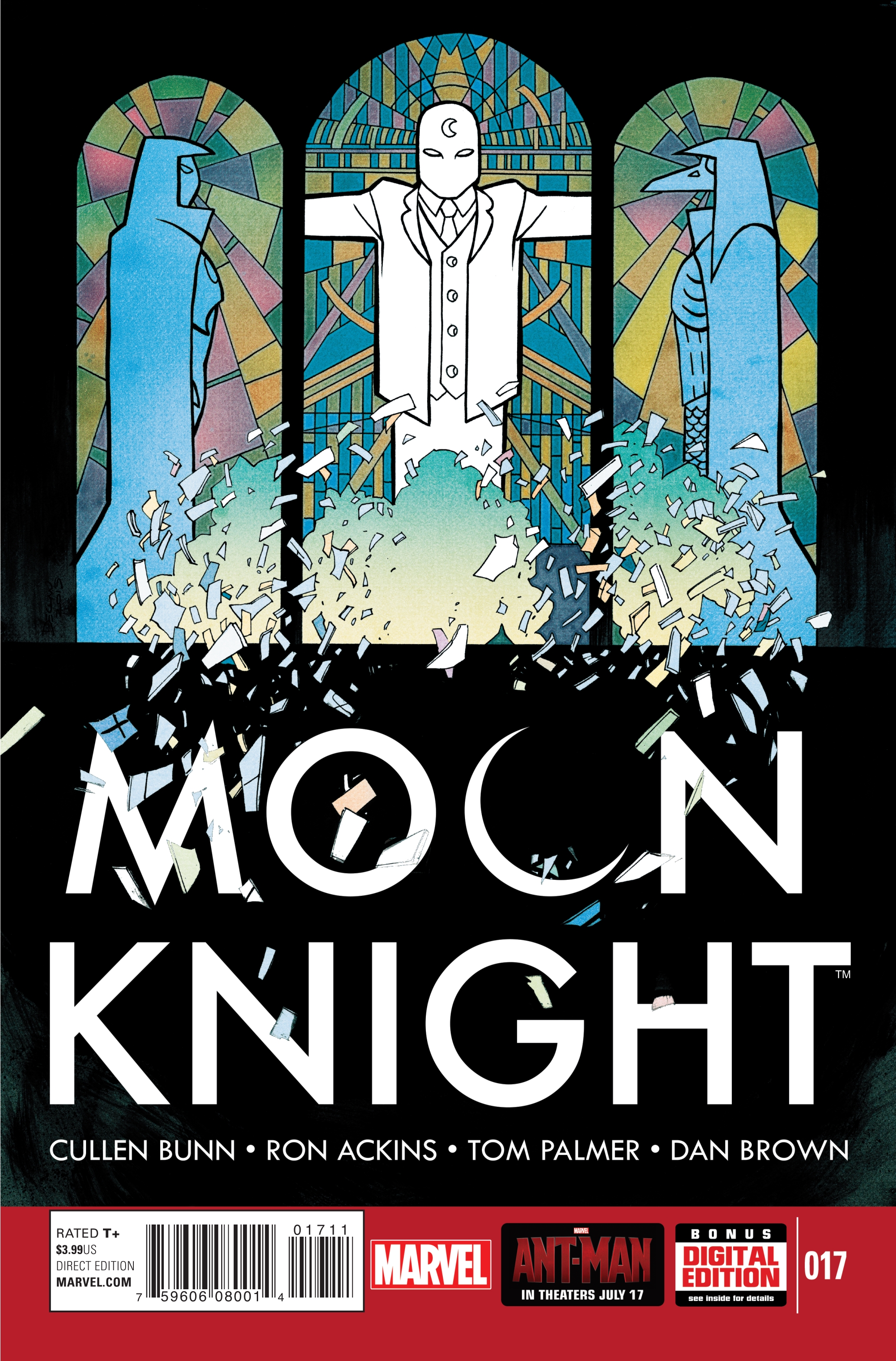 Cullen Bunn/ Ron Ackins/ Tom Palmer/ Dan Brown; Marvel Entertainment
Moon Knight #17 "Duality" is a criticism of churches, believers and the manipulation of religion. As a precursor, it's probably worth noting that I am a Christian. Whether this statement matters to the observations I've made is debatable, I believe it does help add some perspective. This lens is a natural perspective for me to consider when reading and evaluating texts. Even for those that don't follow the faith, there is enough exposure in the Western world – especially the United States – that this isn't much of a stretch for most to consider. But I'd still like to include a perspective from a practicing Christian that is socially liberal, a proponent of marriage equality and lives for understanding and compassion.
Cullen Bunn wrote a magnificent script that accurately illustrates what it's like to be a believer in today's society. This isn't a Christ figure story, but rather, a perspective that isn't terribly common in the mainstream.  Moon Knight doesn't represents a Christ figure in this issue just because he's a protector, but a believer that questions and challenges his faith and leaders that manipulate religion.
"Duality" begins at a homeless shelter that's run by prim, wide-smiled workers that put on a face to make visitors feel welcome. The first two pages drawn by penciler Ron Atkins and inkers Tom Palmer and Walden Wong, depict the shelter workers with exaggerated smiles that reek of falseness. It's representative of the two-faced, "Sunday Christian" that plagues the community. It places the foundation of intention and the idea of being judged not by what's on the outside, but what's contained in the heart of the believer – a sort of walk-the-walk/talk-the-talk argument.
This can be further illustrated by the use of the character, Marc Spector, who is known for using multiple personas, not only as the Moon Knight, but aliases such as Jake Lockley and Steven Grant. While both the shelter workers and Marc Spector hide who their true identities, the separation is in the intentions behind their actions. The shelter workers intend to exploit their congregation for selfish gain, while Spector tests the faith and "fruit" of those in charge. This is a biblical concept. It's encouraged to 'test the fruit' to leaders and elders to essentially make sure they're legit. This can be found in 1 John 4:1-3.
They repeatedly utter the phrase, "Everything's going to be all right now." The phrase is said robotically and gives off a sense of uneasiness and just skepticism. The workers' continual use of the phrase is brainwashing, reassuring the visitors that things will be fine without explanation. It's implied not to question what is actually going on in the operation and to follow blindly. There is no explanation or hope given. Dan Brown's coloring guides our uneasiness, giving the workers an almost-colorless gray skin tone – lifeless, soulless, and empty – just like their words of encouragement.
Marc Spector, disguised as a homeless man, continues on into the shelter where the workers pass out panhandling signs that have been mass produced for the use of exploiting the homeless for money. Spector catches on and is apparently the first to notice and question the sketchy behavior and motives of the shelter. For this reason, he has a special purpose – to be sacrificed at an underground altar of Khonshu.
This sort of behavior resonates with churches that promise milk and honey, but only want to fill seats to pad the church's bank account. It isn't uncommon for those who bump heads with church leaders to find themselves quickly ostracized and even removed or be unwelcome in the congregation. When I was younger, we attended a church where the head pastor took a call to another church and when the associate pastor took over, divisions were made. It was sort of a "old vs. new" member contest. Marketing pushes were made that heavily focused on new membership and gain – dreams of money and reaching megachurch proportions took over and older members were shoved aside, their opinions heard, but never seriously considered.
As the story continues, Spector reveals himself as the Moon Knight and is faced off with his wife/sister. She says he was mistakenly brought for sacrifice because they didn't recognize him as a believer.
Once again, this is something that happens frequently in some circles of Christianity. I have visible tattoos, am not clean cut, has stretched ears, listens to metal and has a friend base that is more atheist or questioning. I rarely dress up for church because my church doesn't care, but I understand being judged or having "righteous" people tell me I can't be a Christian because of this, that or the other – shallow things solely based on appearance.
The most significant line in the issue comes when Moon Knight questions his wife/sister and calls her out on her actions, stating, "…figured out a way to twist it [Khonshu/God] to serve your own needs. You're using people…making them serve because you like the attention…making them steal for you because you like the money."
There're countless moments in our history both personal and collective, that scriptures have been used out of context or inaccurately to push and defend agendas of the gods we've created. Bunn completely nails it with this line and it couldn't have come at a better time, just weeks after the same sex marriage ban was lifted by the Supreme Court. The backlash of this decision was embarrassing. Regardless of how one feels about the decision, the number of hateful and discriminatory comments were staggering and uncalled for. It completely destroys the entire concept of grace that Christ came to Earth for and goes against the most important commandment he gave. Most people call it the golden rule, but it's to love one another. Something so simple, but most often an afterthought or considered in hindsight.
The issue ends with Moon Knight walking away from the shelter gone ablaze, bruised and bloodied, embraced by his god Khonshu, telling him, "Everything's going to be all right now." Spector's relationship with Khonshu is strikingly resonate with my own relationship with Christ. Spector pushes back. He disagrees sometimes. He gets angry. He disobeys. He falters. He does things most people don't think is "okay to do," but challenging faith is different from wavering in faith. I've done both. He comes back though. He reflects and learns. It's an extremely personal experience, but it causes growth, trust, respect, and love.
It's an accurate portrayal of what it's like to stand up for your beliefs in today's society, in the context of a church. It reflects the difficulty of not only standing your ground against those who share different beliefs, but the more complex task of standing up to a group that claims to have similar beliefs. Furthermore, it provides insight into the institution of the church and shows that while congregations may hold similar beliefs and values as a whole, individuals within the church don't necessarily always agree 100% – or have to.