Acetylene and paint fumes filled the air, sawdust coated the floors, glass blowing heated a nearby studio and there I sat, amongst a small group of comic enthusiasts and creators in the middle of an adjoining studio and showroom at the Hot Shops Art Center in Omaha, Nebraska.
OmahaBound Entertainment organized a Panel Exploration event graced by several comics creators including Phil Hester, Cullen Bunn, Eric Gapstur, Bruce McCorkindale and keynote speaker Stan Sakai.
This was not a comic convention. There were no cosplayers. It was free to the public. It was on a Husker game day – something we take seriously around here. You really had to like comics to be there. The event was designed in mind to educate and bring exposure to the comics medium through an intensive day of panel discussions. There was an intimacy that comic cons typically lose amidst the crowds. There wasn't a massive expo floor. We sat, enveloped in a creative environment, among artists in their studios. It was an intimacy that I want to share with you readers.
Most cons have panels that focus on how creators broke into comics. Those rooms are filled with eager and aspiring creators, pens in hand, notebooks on laps, ready to soak in all it is they need to know in order to make it in comics. I know how that goes. I've been there. That's how I started my Saturday morning in Omaha.
It was during the second panel when Phil Hester and Cullen Bunn tag-teamed and delivered a one-two-punch to my unsuspecting chest.
"Trust your creativity." – Phil Hester.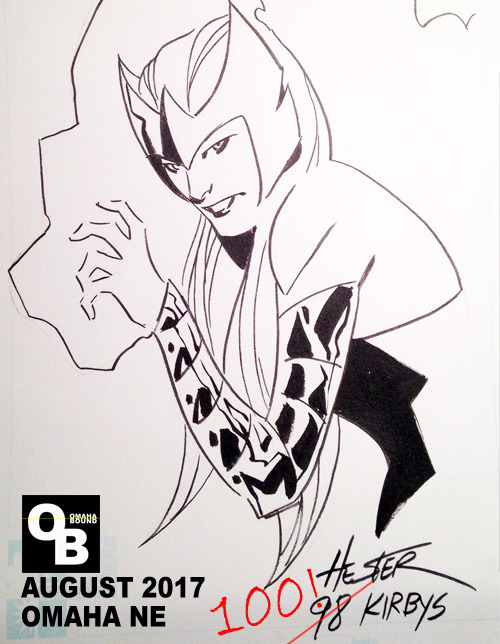 This was followed up by an anecdote by Cullen Bunn that revolved around his early years of creating comics. It's a story most of us know all too well. It's the story of working and working and working and seeing nothing. No end in sight. Nothing but an anxious, seemingly endless tunnel of self-doubt, sleepless nights, awful drafts, crumpled papers and deleted computer files.
Then came the uppercut.
"I grew bitter and angry with my friends that were finding success." – Cullen Bunn.
It was at about this point where I set my pen down and shut my notebook because it was exactly what I needed to hear. Here's the thing. You can emulate. You can use the same kind of Bristol board or pens or ink or brushes that your favorite artist uses. You can use the same writing software and write at the same time of day or night, study plot structures and page layouts or storyboard processes, but none of that will matter if your focus is not on trusting your creativity or if you waste energy being bitter about the success of others.
Bunn followed up his anecdote by saying it wasn't until he dropped the bitterness and took writing seriously, treating it like a full-time job, that things took off for him.
They didn't teach me anything I didn't know. I say this as kindly and humbly as possible, in efforts to not come across as a know-it-all prick. What I mean from this is that I've been writing for a while now and I know the importance of maintaining a routine and treating my writing seriously. I know that choosing life as a freelancer means sacrificing other hobbies and nights out in order to hammer through another chapter or work on character development or getting a scene just right. Or shoot, not just right, but just finished. I know that writing takes hard work. I have a long way to go, but that's just it. I stopped. I took a seat on my writing path and started to wait it out, perhaps for a bus headed to opportunity.
So while I may not have taken away as much as an aspiration filled high schooler or college freshman English major in relation to the writing craft, I took away – no, I was given – something more valuable by the Panel Exploration.
They reawakened a hope and determination that has been dormant and held captive by bitterness and self-doubt, because somewhere along the lines my passion and motivation has been strangled by a full-time job, life as a college graduate in the "real world," and a mountain of stuff that never seems to end.
The secret I want to let you in on, is that there is no secret or trick if you want to start creating comics. Natural talent can play a role, sure. Knowing the right people helps, but it isn't that simple in that regard. It comes down to trusting your creativity and focusing on what motivates you to create and then doing something about it. That's where a lot of people stop. They have ideas, but they can't get them down. The only choice is putting them down, because simmering ideas evaporate eventually.
Here's my advice. Next time you attend a comic con or have an opportunity to learn from creators in any capacity, quit worrying about what tools they use. Quit trying to copy their routines. Ask questions about pitching and publishing. Learn about the different avenues of comic distribution. Take the opportunity to listen to their stories. Revel in their success and dream of one day achieving it. Listen to their failures. Please God, listen to their failures because it will make you feel better about yours. Failure is a rite of passage in the creative world. Soak up the wisdom that they have to offer beyond technique and craft, because self-improvement is integral to your work and growth as a creator. That will come with time, but if you don't put in the work, that time will never arrive.