For books hitting the shelves on 3/25, the top slot is basically a toss-up between Eric Stephenson and Simon Gane'sThey're Not Like Us #4 and Kurt Busiek and Benjamin Dewey's The Autumnlands: Tooth & Claw #5. The former is an adolescent power manifestation riff that feels like a modernized version of what happens when the X-Men premise meets Brian Wood and Becky Cloonan's Demo, and the latter is superb fantasy world-building that contains some very subtle elements analogous to the post-9/11 present day, both published by Image Comics.
Image Comics also has some of their best sci-fi offerings available this week with Drifter #5 by Ivan Brandon and Nic Klein, and The Fuse #11by Antony Johnston and Justin Greenwood. If sci-fi isn't quite your thing, you could always turn to the immensely popular post-pop quasi-religious treatment of fame in The Wicked + The Divine #9 by the team of Kieron Gillen and Jamie McKelvie.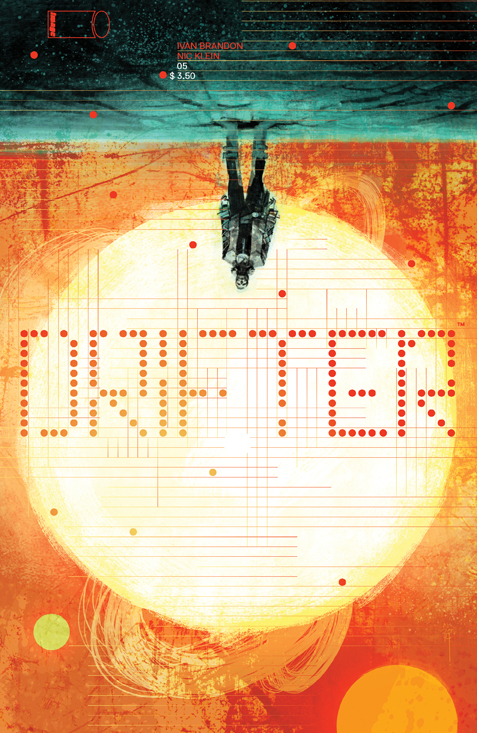 If corporate comics are your thing, I'll recommend The Multiversity: Ultra Comics #1 by Grant Morrison and Doug Mahnke, which is DC's Earth-33 (hey, that's us!) installment of Morrison's multiverse project. I'm so thoroughly confused by DC's current (lack of) continuity and what's about to happen with their (Fourth? Fifth? Sixth? Is anyone counting? Does it matter?) line-wide (partial) reboot as an outsider who rarely dips my toe in any longer, but Grant Morrison comics are still usually worth a look and an insightful meta-chuckle. Marvel also has Darth Vader #3 out from Kieron Gillen and Salvador Larroca. I haven't been convinced that Gillen really has Vader's voice down in a convincing way, but hey, it's Star Wars, and it's hard to look away out of sheer nostalgic curiosity.
Oni Press has decided that it's a good week to be a Joshua Hale Fialkov fan, with both The Life After #8 (art by Gabo) and The Bunker #10(art by Joe Infurnari) available. I'll admit I'm losing interest in The Life After unless it's all Hemingway all the time, but The Bunker is still a solid time-jumping thriller that's steeped in the type of paranoia-fueled drama that's easy to get sucked into.
IDW is offering the much-hyped Jem & The Holograms #1 by Kelly Thompson and Sophie (nee: Ross) Campbell. Shameless Plug: My LCS, Yesteryear Comics in San Diego, has a great variant cover by Amanda Conner and Jimmy Palmiotti, so check it out! But, I'm really interested in this for so many reasons, to see what this reimaging looks like, to see if the book will live up to the hype and have one of those cult followings, and I'm always curious to chart the career paths of fellow critics making the jump to other roles in the industry, be it editorial or writing.
On the collected edition front, there's several solid picks this week. First up, we have a Dark Horse collection of Ed Brisson's Murder Book, a little cottage industry with multiple artists that showcases the strength of low-budget crime vignettes in a sordid manner that's reminiscent of the work of David Lapham on Stray Bullets, with perhaps a little more noir thrown in for good measure. Oni Press has Charles Soule and Alberto Alburquerque's Letter 44 Volume 2: Redshift, a terribly fun drama that's easily parsed as Independence Day meets The West Wing. Lastly, Image Comics is offering Low Volume 1: The Delirium of Hope, Rick Remender and Greg Tocchini's take on a post-apocalyptic underwater future, one which is initially a slow burn, but then hones right in on Remender's go-to theme of familial bonds fueling the narrative through so many clever obstacles.