Like many readers of my generation, I was first introduced to Ralph and Sue Dibny in the pages of the controversial miniseries Identity Crisis. At the time, I didn't understand the outrage. Not the outrage that Sue Dibny was (spoilers for a decade-old story) raped by Doctor Light. That outrage was very understandable. It was the outrage that they had unceremoniously killed off a character that, in my uninformed opinion, was insignificant. I shrugged as the concept of using the two as "ghost detectives" was introduced in 52 only to be never followed up on. When the two avoided resurrection in Brightest Day, I didn't flinch. I mean, this wasn't Batman or Spider-man or even Spawn. This is the Elongated Man and his wife. Not necessarily marquee material.
This was essentially my stance on the two until I started to read Justice League. Not the much-hyped 2011 book that was the flagship of DC's now infamous New 52 initiative, but the 1987 comic that would evolve into the beloved Justice League International by Keith Giffen, J.M. DeMatteis, and Kevin Maguire. The two aren't introduced until well into the run, and aren't regulars until the spin-off title Justice League Europe, also written by Giffen and DeMatteis, but with art by Bart Sears. As I read, I was amazed by the chemistry between the two. Their playful banter, snappy dialogue, and loving looks they shared with each other really sold their romance. They were portrayed as people that just happened to be in an extraordinary situation, which in turn made their romance even more believable.
I craved more of these two, but I really didn't (and if we're being honest, still don't) have the capital to buy the hundreds of Silver and Bronze age Flash, Justice League, and Detective Comics issues they were featured in. Luckily, my local comic shop had a solid solution: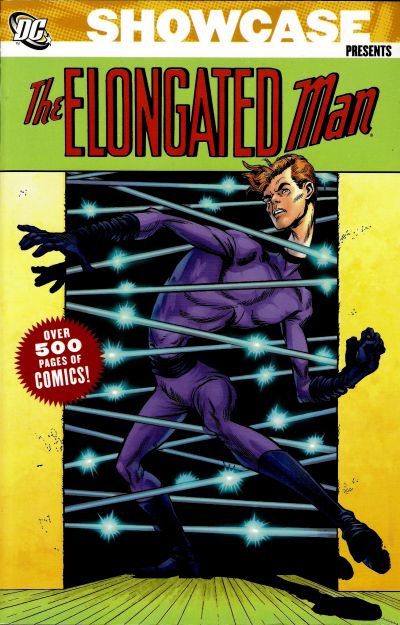 Yup, that's one of those bargain Showcase collections DC used to put out. A whole bunch of material ("over 500 pages of comics!" according to the cover) for a relatively cheap price. I often hear or, more accurately, read testimonials that these collection are great, but if I'm being fully honest, I think they suck. They're printed on cheap newsprint, and only in black and white, devoid of the life-giving color that the original stories possessed. And in most cases, they're a chore to get through. But not this edition. This is a real diamond in the rough, as readers get to follow one of comics' greatest romances through a couple decades' worth of stories.
Amazingly, readers were introduced to Ralph Dibny as a bachelor in the pages of The Flash #112, and his entire courtship with Susan Dearborn occurred off-page, with their marriage announced via newspaper headline in The Flash #119. That same issue saw them in their first adventure together (during their honeymoon no less). Though Ralph would continue to make guest appearances in the pages of The Flash, the two lovebirds would not be seen together until becoming a regular back-up feature in Detective Comics beginning with issue #327.
Detective Comics #332 would mark the first of what became an anticipated Dibny tradition: The Birthday Mystery. The premise was simple: for Ralph's birthday, Sue would set up an elaborate mystery for him to solve. Sometimes the mystery was simple, but most of the time it was an overly elaborate setup involving oversized machinery, shapeshifters, and other science fiction elements worthy of a superhero detective. My personal favorite of these mysteries can be found in the pages of Justice League Quarterly #6, a spin-off title of the then popular Justice League International/Justice League Europe books by Keith Giffen and J.M. DeMatteis. This particular issue was written by an up-and-coming writer named Mark Waid. The story is big, bombastic, and like most Justice League comics of that era a ton of fun.
Perhaps the most understated element of this tradition was the pure brilliance displayed by Sue. From the beginning, she's been portrayed as a smart woman with personality. Very rarely is she a damsel, and in those few occasions she's hardly in distress. In the Elongated Man: Europe '92 miniseries, Sue spends much of the issue captured, but often reiterates that she is not concerned for herself, but rather how it might impact Ralph. It's a reversal of [sadly still present] gender norms where the man is emotionally stable and the woman is not, and a reversal that carried on to the present. Sue's strength as a character is showcased further in Gotham Knights #41, where she manages to solve a mystery before either herself or her husband can.
But it is not their individual characteristics that make the Dibnys a great couple, but rather the chemistry they share on the page together, no matter the circumstance. The aforementioned "ghost detectives" proved to be a highlight of the celebrated maxiseries 52. While they are featured throughout the 1960s-1980s in Justice League of America and Detective Comics, it is their time in the pages of Justice League Europe and the "Superbuddies" books Formerly Known as the Justice League and I Can't Believe It's Not the Justice League where they truly shine. Ralph's overly cheesy dialogue combined with Sue's sharp, witty retorts – all while being able to keep their hands off each other – makes for an absolutely magnetic romance.
This brings us back to Identity Crisis, and what a true shame it was that DC decided to destroy this couple. The entire story was a teardown of a genuinely happy and healthy relationship, something that superhero comics are sorely lacking. Thankfully, with time comes wisdom, and the two were restored in the pages of Gail Simone's Secret Six to the delight of everyone presumably not named Dan Didio (did you really think I wasn't going take a shot at him?). Though they have not been seen since the end of Secret Six in 2014, the "Rebirth" era has provided a modicum of assurance that when they do reappear, it will be as the sickeningly sweet lovebirds we've grown accustomed to over the decades.