Despite my occasional beat on Dark Horse titles and other contemporary fare, those of you who've followed my classic interviews will realize that I'm sort of the nostalgia guy. I very much enjoy plumbing the history and roots of this American art form we call the comic book and I've done enough work for BACK ISSUE that I believe my Bronze Age bonafides are in good order.
I jumped at the chance to review E-Man, The Early Years for a few reasons. Perhaps one of the biggest was my admiration for Joe Staton, who, you may recall, gave me a wonderful interview that you can find here in the archives. Joe has always been friendly and helpful whenever I've called on him (and I've called on him a few times) and of course he is a superb artist with plenty of experience and ability.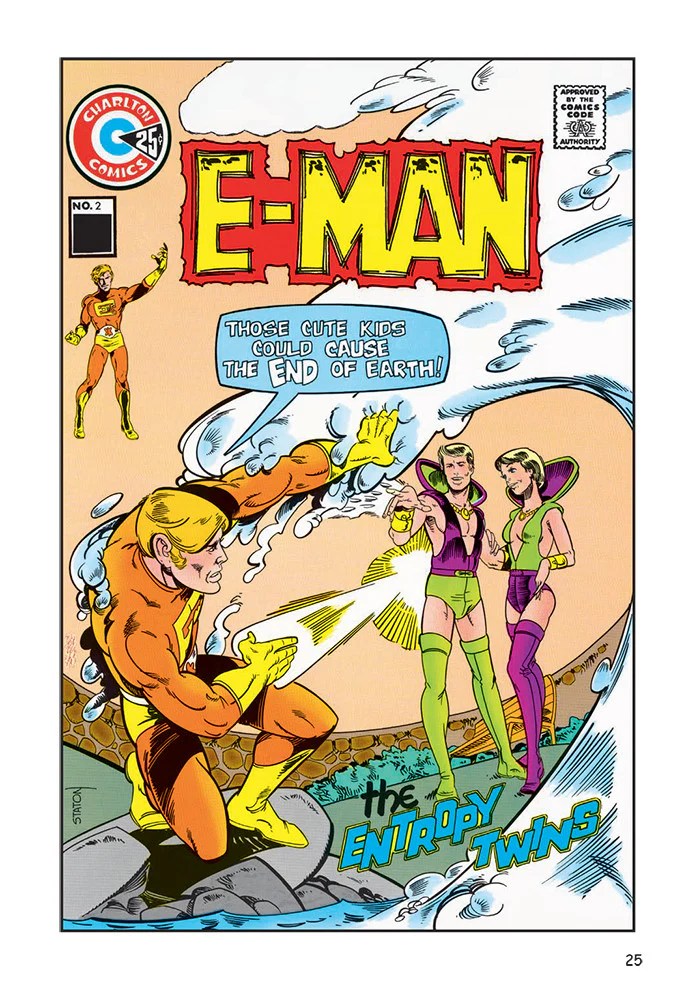 Joe's work speaks for itself, but he and writer Nicola Cuti did something really special when they co-created E-man. The original run was in the pages of the late Charlton Comics and this creature of pure energy who came from the stars as a direct result of a nova made his debut in 1973.
E-Man, whose bright orange costume bears Einstein's famous "E=MC2" formula, can alter himself into any form his mind can conceive and he does a lot of that in the pages of his adventures, taking a cue from Jack Cole's immortal Plastic Man. E-Man is not, however, a carbon copy of the pliable pretzel, but his adventures have a similar feel and appeal as he finds himself and his girlfriend, the luscious Nova Kane in offbeat situations that span the gamut from taking on the menace of the brain from Sirius to the "Faro" of ancient Egypt. They take on the Entropy Twins and team up with the noir-styled Michael Mauser, Private Eye.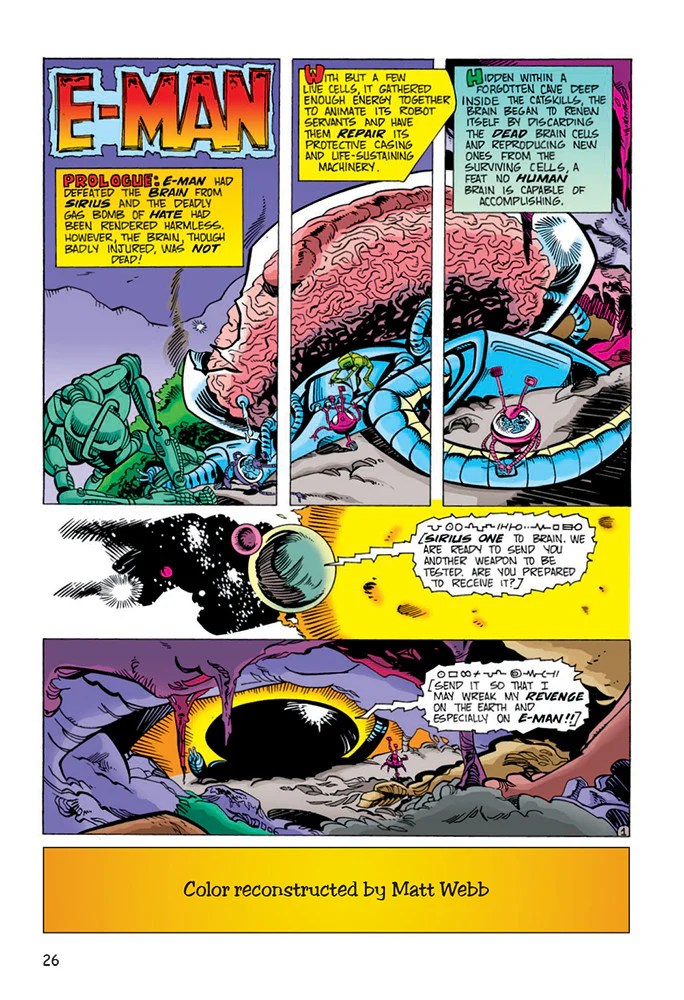 E-Man can not only perform as a formidable shape-shifter, but can beam energy bolts that can harm or alter atomic structures. He can travel through telephone lines (though in this day and age of the cellular phone, perhaps that's not as big an advantage) and through it all maintains a child-like sense of wonder at his adopted planet and the things going on around him. Using the civilian identity of Alec Tronn, he is ever on the lookout for opportunities to help those in need on his adopted planet Earth.
Nick Cuti's writing takes full advantage of the wide range of possibilities with this character and in addition to the things I've already mentioned, you'll find stories in this volume that offer a loving homage to the Li'l Abner strip, tackle topical material like the energy crisis and even provide a public service announcement. You'll see sandcastles and Mermen. You'll see sight gags galore and even a few key cameos like Plastic Man himself and in the final tale Nick and Joe themselves, running a restaurant bearing their names. Backup characters like Peter Bold and Rose Rhedd only add to the fun.
Nova Kane (whose real name is Katrinka Colchnzki; wouldn't you go by your stage name too?) has a charming sexiness, partly due to her status as an exotic dancer by night as a method to finance her college tuition. She is E-Man's partner and as the stories unfold she becomes much more, but I don't want to provide any spoilers.
Joe Staton's gifts shine through on each page, whether it's his figure work, his ability to draw any scene of any sort, or his talents with everything from woodland creatures to imaginative space scenes. Don't overlook the innovative panel designs and action scenes that refuse to be constrained by the panel gutters.
E-Man was a book with such a strong following, that it continued to be reprinted by publishers like First Comics and Comico and even had some spinoff tales of Michael Mauser. When you read E-Man: The Early Years, you'll see why this hero has had such staying power and like me, you'll rediscover what made him great. Don't wait to pick up this delightful collection for yourself. You'll find it's a most pleasant way to enjoy these timeless stories that will thrill, delight and provide hours of enjoyment.