The second manga of newcomer Izumi Mitsu, known for his work on AnoHana (Ano Hi Mita Hana no Namae o Bokutachi wa Mada Shiranai), 7th Garden is published in Shueisha's monthly shounen magazine, Jump SQ. Viz provides the English adaptation under their Shounen Jump label with Tetsuichiro Miyaki, known to readers of this site for his work on Idol Dreams and Twin Star Exorcists, on translation. Annette Roman assists with the localization.
In the Holy Kingdom of Braith where religion is everything, our young hero, Awyn, shuns the faith in favor of his hopeless devotion to his duties as a gardener on the estate of his mistress Marie. Even awakening a seductively-clad demon named Vyrde in a hidden garden doesn't faze Awyn. Despite witnessing her powers first-hand and the devotion of the kingdom around him, Awyn himself professes that he doesn't see much of a point in believing in God or demons. Yet Awyn's peaceful country life quickly changes when his village is attacked one night by the guardians of Braith's religion, the Anti-Knights.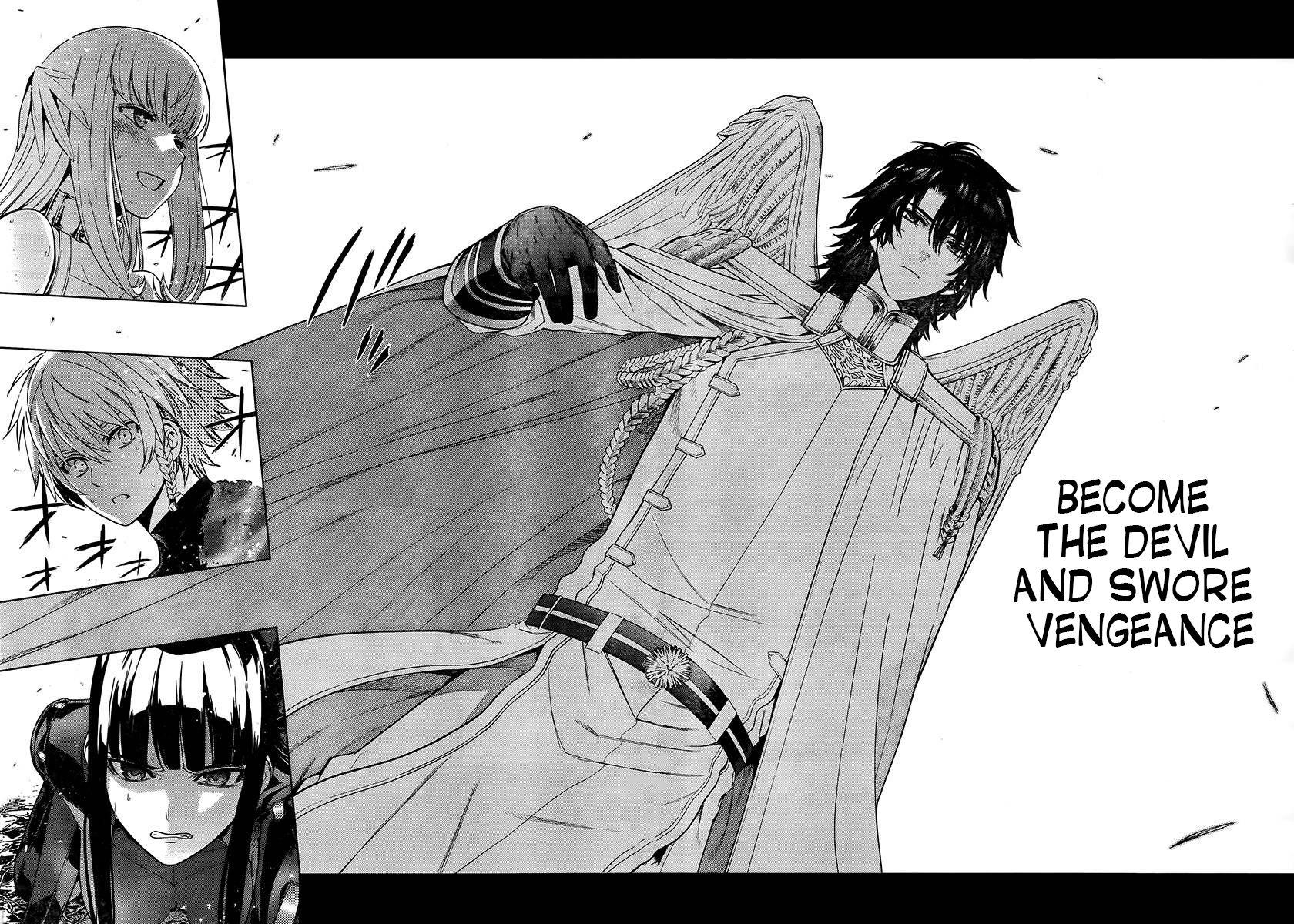 Witnessing the death of his lady Marie right before his eyes, Awyn is spurred into action and accepts Vyrde's offer, binding himself to her and becoming her servant. In return, Vyrde grants him the power to defeat the Anti-Knights and return his village to normal, restoring Marie's life and those of all who were killed in the slaughter. However, the failure of the Anti-Knights doesn't go unnoticed, and it isn't long before Awyn finds himself thrust into conflict again, relying on Vyrde's powers in a fight against not only a Braithian prince but also one of the angels that Vyrde seeks to destroy.
The anti-religious bent of the story that Izumi sets out to tell in 7th Garden is about as subtle as the constantly repeated garden metaphor that gives the manga its name. Izumi wastes no time in establishing Awyn as a lone wolf hero, pitted against impossible odds as he seeks to protect that which matters most to him. It's a different formula than what's usually seen in shounen manga, where heroes are usually accompanied by at least one companion who gives them strength on their journey, but one that seems to reflect the older audience that Izumi is writing for.
However, although Izumi sets himself apart from the genre, at times the motivation that he provides for Awyn comes off as needlessly cliche. In particular, when we're shown that Awyn's mother and father both died at the hands of the Braith Kingdom's justice, it's somewhat superfluous to have a scene of Marie tragically dying in his arms only for her to be revived without any issue a few pages later. The excessive fanservice in Vyrde's design and that of the angel we see later in the manga are also completely unnecessary and presented without any sort of justification aside from "this is what a demon looks like."
Despite these flaws, the plot does show promise with foreshadowing of a deeper connection between Vyrde and her angelic foes as well as hints of how Awyn's history might come to bear in their conflict. Izumi also wastes no time in pacing, leaving the readers guessing at what might be next with a well-played cliffhanger at the end of the volume.
All fanservice aside, Izumi's art does display an impressive amount of detail in costume and setting on the page. His paneling gives a good sense of movement on the page and the fight sequences, though short-lived, are dynamic and well-drawn. Perhaps the only critique here is the same-face syndrome that emerges among Izumi's main characters. Save for differences in costume and hair styles, there's no fewer than four different characters in the first volume alone who look nearly identical.
In terms of translation, Miyaki's work unfortunately still leaves something to be desired. Translation still leaves something to be desired. While 7th Garden doesn't have as many instances of awkward phrasing as his earlier works, his phrasing still comes off as overly wordy and stilted in places. Furthermore, calling a busty, scantily-clad angel an "androgynous jerk" misses the mark in terms of accuracy.
Overall, 7th Garden is a well-paced, well-drawn action manga if you're willing to look past the flaws. While the fanservice and heavy-handed metaphors are a justifiable turn-off, the first volume show seeds of promise in the story that Izumi's set out to tell.
Summary
Article Name
Description
An review of "7th Garden" by Teresa Kramer.
Author