Review: 'Brass Sun' is an Intriguing Clockwork Science Fiction Adventure
At the center of everything is a wheel of worlds, a clockwork cosmology of planets that are joined by a interstellar transportation system of sorts that allows people to move between planets. But there's a problem, a major crisis that has hit this once flawless system. Gears run down. Energy is used up. Suns turn dark. Matter accrues upon gasses, transforming the environment. The relentless power of inertia hits everything, and the precise wheel, that perfectly aligned machine that could survive forever is slowly slowing down.
That's roughly the core plotline of Brass Sun, a mechanical sci-fi story by Ian Edgington and I.N.J. Culbard that initially ran in 2000 AD and is now collected in a gorgeous oversized 160-page graphic novel.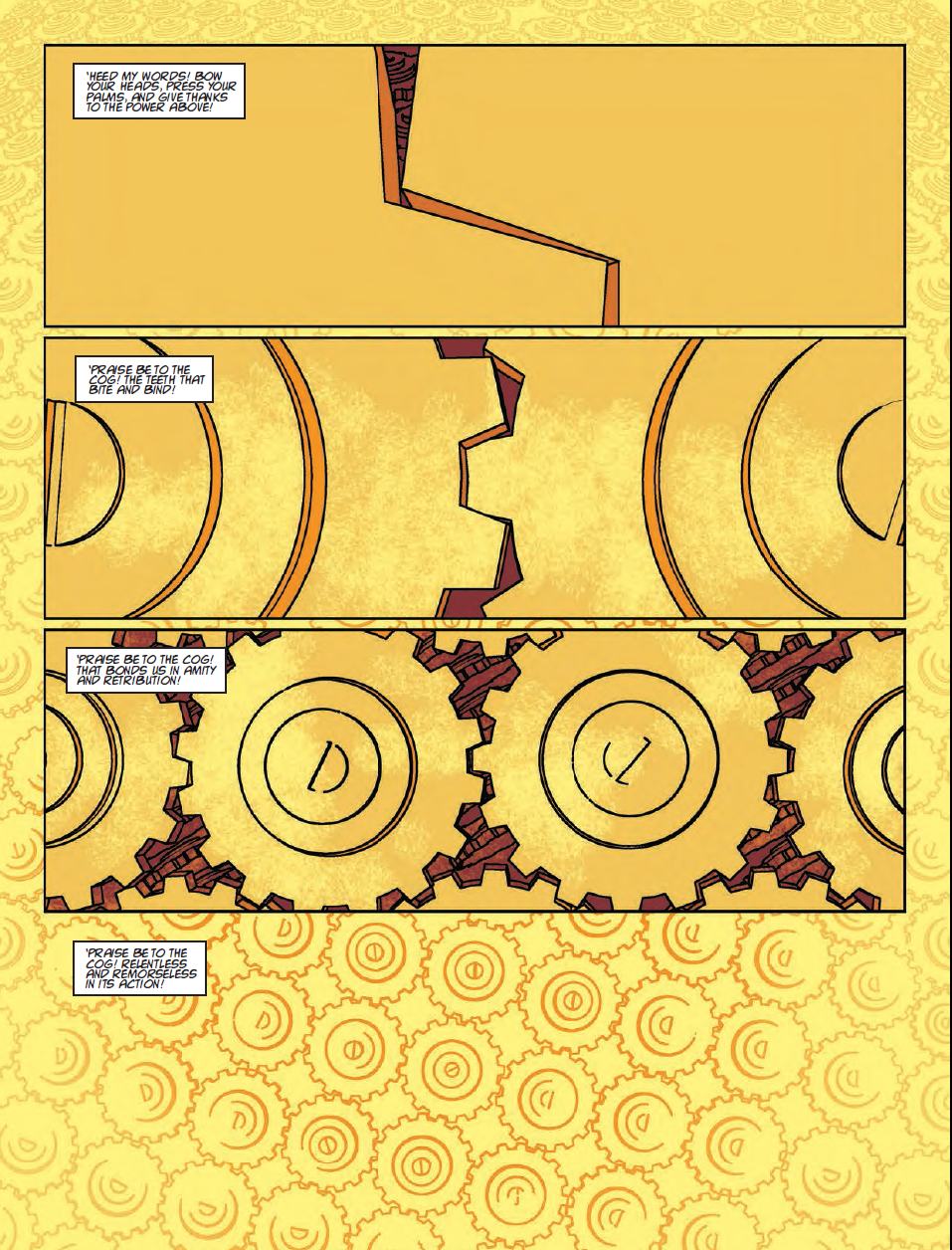 The wheel of worlds is an elegant concept, a hand-hewn clockwork scheme that is a perfect idea engine. There's deep philosophy and a metric tonne of story building in this smartly designed collection, but what really makes Brass Sun work is the human element to the stories that are part of this larger voyage. At the heart of this book is a brave girl and a monk who are on a mission to save everything from falling apart. Their perils are real, their journeys mysterious, their best ways to fight through problems sometimes obscure. They have the nobility and steadfastness of youth but also the inexperience of youth and the indefatigable sense that they can always find their way through an impossible situation – until, of course, they run into a painful and frightening reality.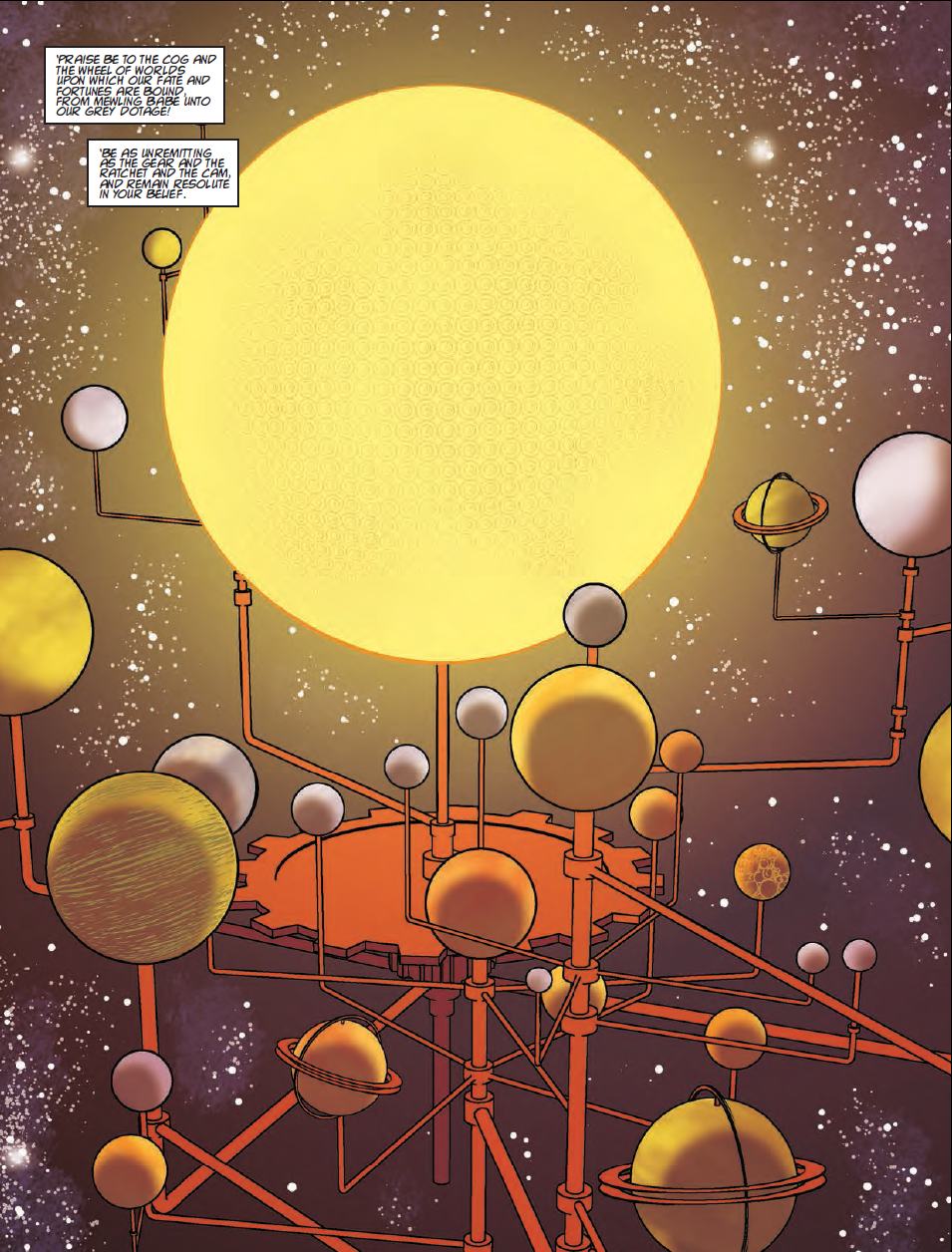 In the hands of Edgington and Culbard, the reality of these characters is a head-spinning collection of planets along the wheel, an intriguing group of places that stun the reader with their implied detail and their exotic, high adventure thrills.
The story starts on a planet in which religious fundamentalists are in charge. These fundamentalists worship the Gear and destroy any heretics who dare to challenge their orthodoxy. There are scenes of horrifying fear and thrilling escape in that place, with Culbard creating images that have a depth of field and complexity of thought that is fascinating and terrifying at the same time.
Edgington and Culbard bring us to other planets in this strange intergalactic tale. Our heroes first emerge – from their bullet-shaped maglev vehicle — onto a domain that is, in effect, one giant house ruled by an inbred and petty royal family. The opening vistas of this chapter are especially powerful, titanic hands, feet and faces of statues dwarfing our young heroes as grass grows above their knees. We feel worry for the protagonists because they are dwarfed by their surroundings, all the moreso when they are attached by outlandish unearthly mechanical creatures.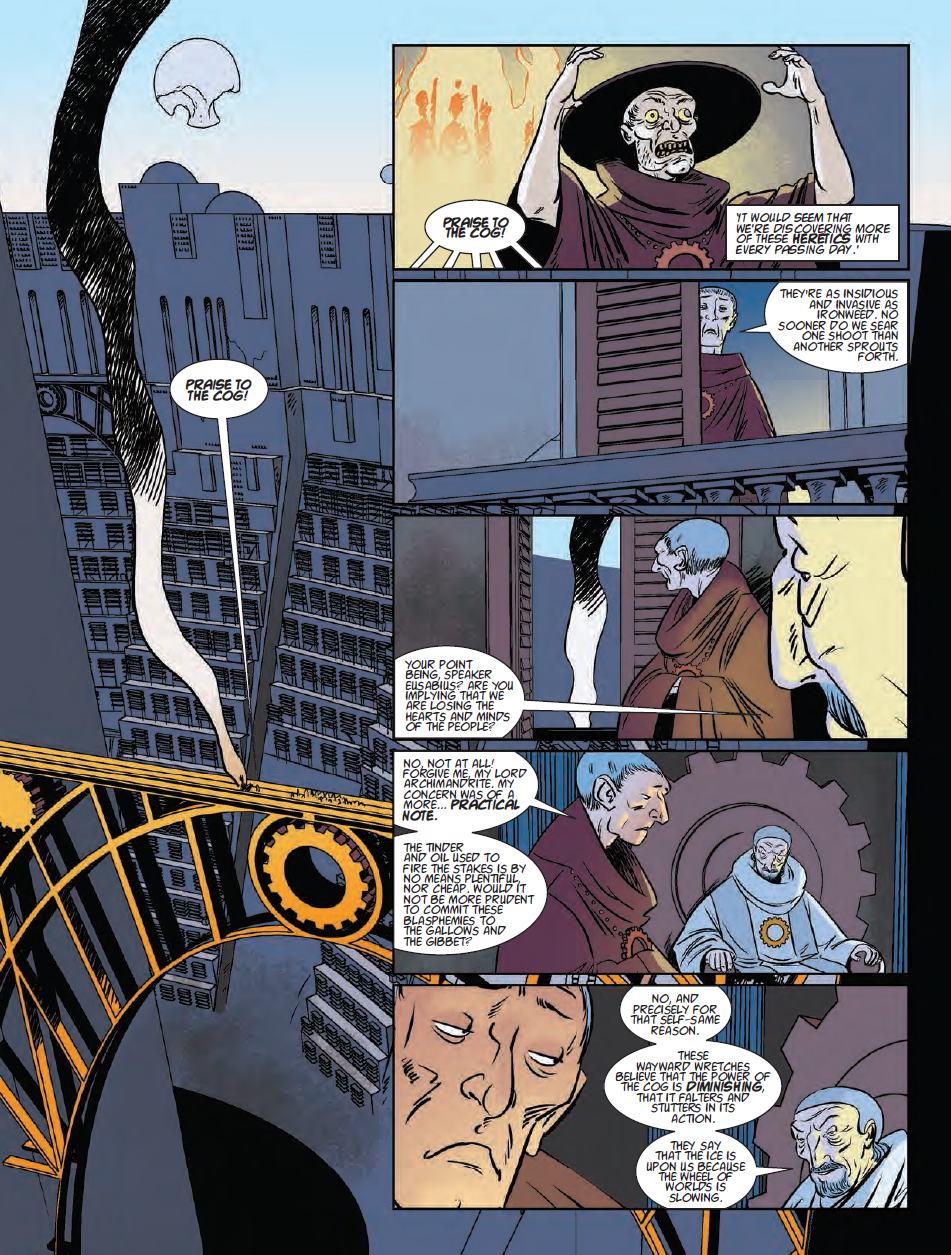 From there Brass Sun moves to a quasi-Victorian clockwork place with mysterious mirrors and strange men who speak in binary. There are betrayals and passions, and shortly a war breaks out in the middle of a celebration. The weapons of the war are so exotic that we end up sitting back and smiling at the sheer ingenuity and joy that the creators take in their work, and at the way that they juxtapose familiar tropes – a man hanging by a thread from a window in a tall tower, or the desperate fortuitous escape from peculiar evil creatures – and give those moments their own very specific spin.
Brass Sun is all about placing the familiar and the otherworldly next to each other and given their own particular turn to fit the plot. There's a wonderful scene in a vast library that has a vista that seems to go on for miles, for instance, in which the contents of the library are far more banal than one might first imagine. But the banality makes wonderful, perfect sense.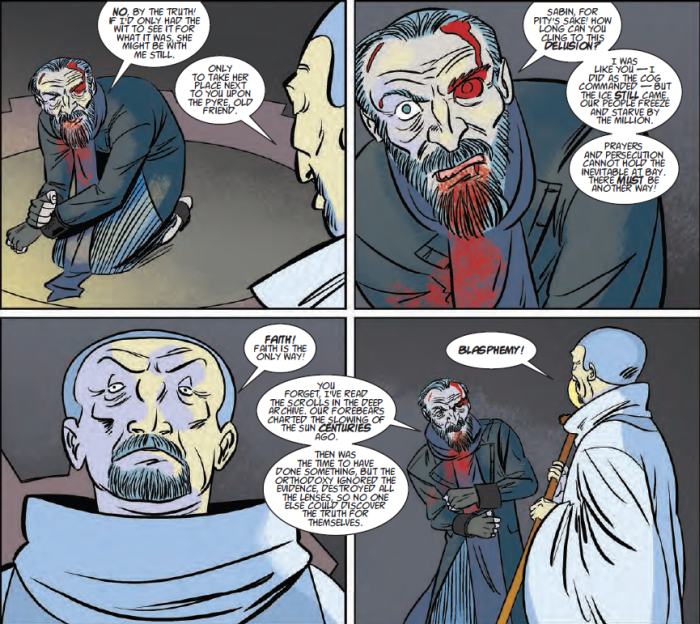 Later chapters move the story to other steps along the spatial subway. Hot Air is a gorgeously designed existence of the skies, with pirates of a sort, and bizarre floating creatures and antagonists who are only slightly evil and mysteries piled atop mysteries about this clockwork world.
By the time we get to the final chapters of this book, truths are revealed and we literally meet a deus ex machine. The god in the machine leaves more questions than answers and implies an even deeper set of truths than we might have expected from what came before. An attentive reader will notice seeming anachronisms like a reference to chess in an early chapter; the mindbending twist (which I have to admit made me confused and intrigued rather than satisfied) puts a whole different perspective on what has gone before and promises even more intriguing action and perplexing philosophy in the next chapter.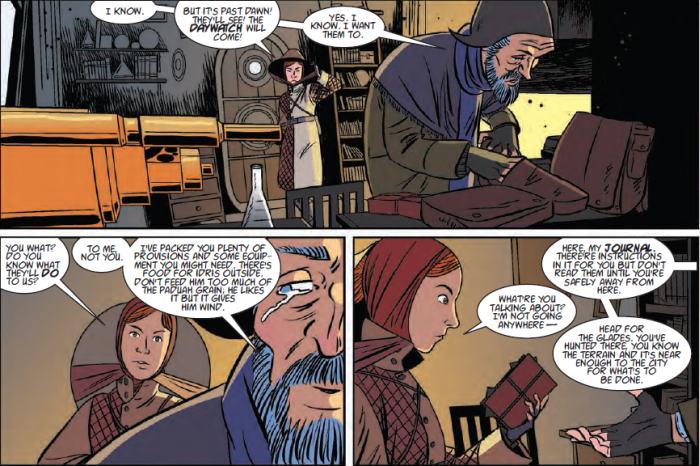 In a graphic novel like this, so much depends on the ability of the artist to bring these strange scenes to life. In the hands of an artist without empathy, these ideas might fall flat or cause us to lose empathy for the human characters at the center of Brass Sun. But I.N.J. Culbard does a gorgeous job of creating all these eyepopping vistas and odd alien creatures while keeping the reader focused on the characters he's portraying. It's striking to focus on facial expressions as they encounter unbelievable oddness each step along these adventures. These are people at the center of the tale, most especially a pair of early teenage children who are fresh to this whole cosmic world in which their live, and their reactions help to keep us involved in the story. We come to care for these characters, not as abstract plot drivers looking to solve problems, but as humans who are resourceful and smart and who grow strong bonds between them as they fight to survive.
Brass Sun comes from the pages of 2000 AD, but this is no Judge Dredd tale with a square-chinned protagonist. This is visionary science fiction adventure from a very talented team. It's thrilling, fascinating and powerful, a great and dense read for those who want some intriguing food for thought.