With the weather about to start turning cold and Halloween coming in a few weeks, this seems like an appropriate time to find a book of spooky scares to keep you trembling. Ben Catmull's collection of frightening drawings and short descriptions can send a chill down your spine.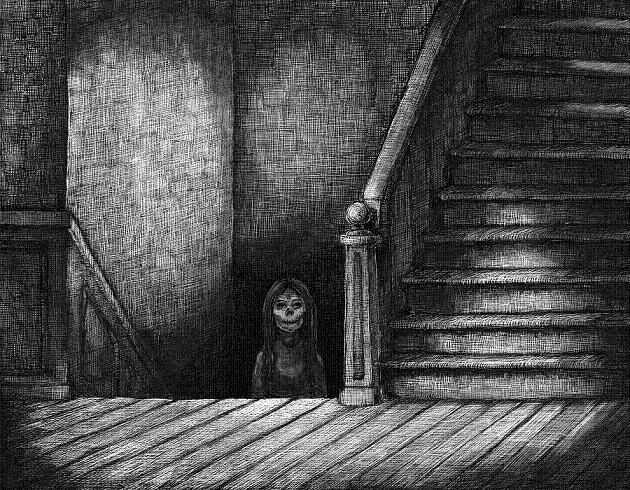 In this slim, 82-page book, Catmull presents a kind of printed portfolio of his unnerving drawings, with the illustration on one page and a very brief description on the opposite side. (For the drawing above we're told "Say her name 13 times while not looking in the pond, and she will watch you when you clip your toenails.") Ghosts and Ruins reminds me just a bit of the Edward Gorey books I loved as a kid, stories with odd, which presented woodcut-type illustrations that were created to delight and thrill as much as they were intended to scare readers.
Catmull is a powerful and subtle artist, with what seems like an almost obsessive level of detail devoted to his artistry. The image above has a huge amount of detail applied to its crosshatching and lighting in order to make it scarier the more that you stare at it. Everything in Catmull's art, from faces to blocks of wood to the walls that seem to always envelop his characters in bleak fear, is consumed with the feel of the item. There's a visceral, very real sense to the horror here – a feeling that the reader can reach out through the page and actually feel the strange items that we're seeing.
I adore the strange and spooky look that Catmull gives that skeleton above, an appearance that implies an eerie sort of inner life.
These pictures are wonderful, but I kept wishing that this book could deliver full sequential stories rather than basically act as a portfolio for some unnerving artwork. As you can see from the sequence above, Ben Catmull can create a nice progression of story elements that's extremely disturbing. I wanted a good horror story to help get me ready early for Halloween. Instead I'll have to keep myself content with these strange drawings.