Review: 'Operation Ajax: The Story of the CIA Coup that Remade The Middle East'
Text by Mike De Seve
Artwork by Daniel Burwen
Verso Books 2015
ISBN: 978-1-78168-923-3
Looking for a graphic novel with violence, intrigue, espionage, explosions, guns and even hot women in cat costumes? Operation Ajax has all of that. The thing is, it's all true, it all really happened, and our American government was involved. And, as the book points out, we are all still involved. The subtitle of the book is The Story of the CIA Coup That Remade The Middle East. That is, remade it into the mess that it is now.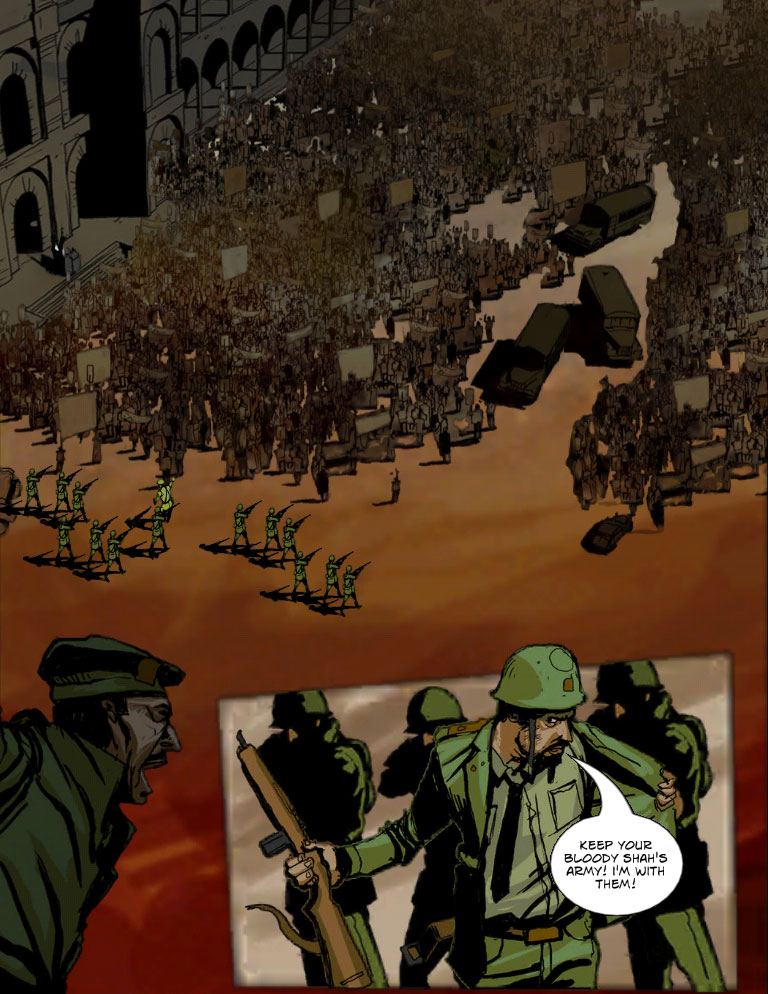 Hard to believe, but Iran was actually a democracy at the beginning of the last century, a constitutional monarchy like Britain or Spain. We think of Iran now as a theocracy, and Operation Ajax shows the roots of how fundamentalist muslims were able to come to power. With our help. Yes, and would you like to guess why America was meddling in Iran's affairs back then? Correct: oil. Though you could argue that it's more than that, that it's about imperialism, and colonialism, left over from the 19th century (or even earlier really).
The main action starts around 1953, post World War II, though even before then empires like Britain were becoming aware of the need for plentiful supplies of oil to power both their military, and eventually domestic, vehicles, and economies. Iran's oil was vital to Britain's survival in WWII, and Britain meant to keep control of it—except that the Iranians didn't like being exploited and treated like shit. So, with India already breaking away from the British Empire, the Iranians had the crazy idea that they too could be independent, and actually own their own oil. In the process, Mohammad Mossadegh, a leader and defender of democracy, wanted to save Iran's constitutional monarchy. To do this, as Operation Ajax shows, he had to align himself with the fundamentalist muslims, led by Ayatollah Kashani, who was just as fervent about 'Iran for Iranians' and nationalizing the country's oil, though not-so keen on the whole democracy thing. Guess what happens?
This book doesn't go into it, but also after WWII, America had already made its own deal for oil with Saudi Arabia, a bastion of dictatorship in the Middle East, where, according to Harper's magazine, the "Estimated percentage change in the past year in the number of beheadings" there has increased 267%. That's who we do business with. (Also, side note: Saudi Arabia's Ministry of Civil Service website is advertising executioner jobs! Who says the economy is still in a slump?!).
America at first comes off in Operation Ajax as the relative voice of reason, with President Truman "sympathetic to Mossadegh" and trying to prevent Britain from using violence and ruining the region, though there's of course more than a little bit of self-serving-ness in that stand. Still, Truman does seem to have recognized the importance of a democracy in the region. Later though, when Eisenhower gains office, American policy changes, in the hunt for evil communists, and Mossadegh (who did not support communism, but oh well) must go. Guess what happens? Sure, of course, America restores democracy! Don't we always?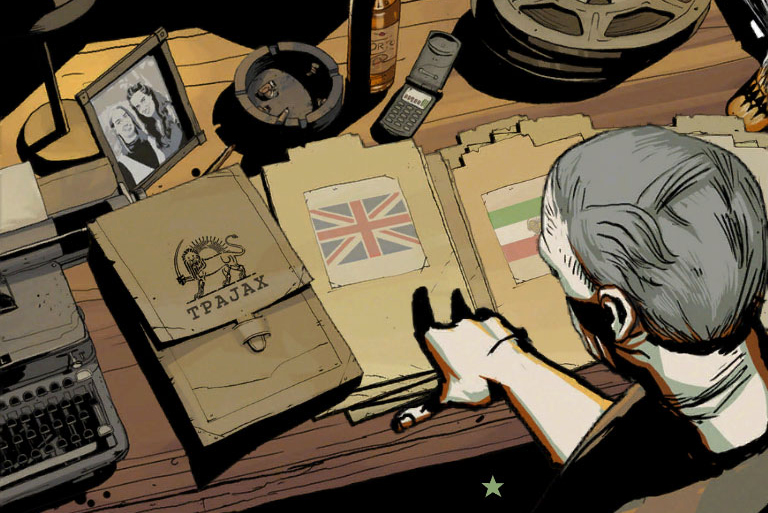 Operation Ajax is adapted in large part, from the book All The Shah's Men: A Middle East Coup and the Roots of Middle-East Terror by Stephen Kinzer, who is also credited as the editor of this graphic novel. The strategy for Operation Ajax seems to have been to 'story-ize' All The Shah's Men, a bit more than non-fiction graphic novels like the For Beginners and Introducing series. I think this was to make the larger 'story' of what happened (and it is a big, HUGE, story) more accessible to readers perhaps new to Middle East history and politics. I appreciate that, though find the results a little confusing: There's a two page 'dramatis personae' at the beginning to help readers keep track of who's who, which I had to consult constantly, because the points of view change constantly.
They do introduce a minor-level CIA operative who remains nameless for most of the book, until the end when he's called by other simply the "Kid." I'm not clear if he is based on a real person, or is an amalgamation of real people, or if he's just fictional and being used as a sort of storyteller, since in most of his sections his thoughts appear, in first person, in panel captions. Since he's not named, when he appears in the beginning, I kept checking the Dramatis Personae but, confusingly, he isn't listed. And then he drops out for while.
The 'main' character, who was definitely a real person, and the only really 'good' person, is Mohammed Mossadegh, Prime Minister of Iran, though first we have to get some history leading up to him. The creators' sympathies obviously lie with him, as do mine. As do those of the Iranian people in the book, for a while at least, until the CIA gets through with him. Really, Operation Ajax is Mossadegh's story. The Kid is just a spineless order-follower, and doesn't add much to the story except maybe a sense of how inept the first CIA operatives were. In any case, I found myself wishing for less 'characters' and more history, for an Operation Ajax For Beginners, or Introducing Mohammad Mossadegh. Or, really, to read Kinzer's All The Shah's Men.
That said, what is clear is that this coup, this time in history (or maybe all history?) is in large part a battle of personalities: Mossadegh seems to have been a genuine lover of democracy and the Iranian people, but he certainly had an ego, and that ego bumped up against another big ego of the time: Winston Churchill. And Ayatollah Kashani. And then Eisenhower. And all the Harvard egos in the CIA.
What's most scary with a book like this, or even in general, if you've heard of this before, is how everyone, conservatives and liberals, all acknowledge that America, even before the CIA, though regularly after its creation, routinely did stuff like this around the world: taking down a democratic country and installing some form of dictatorship. Guatemala anyone? Chile? The Philippines? And we talk about this as if they—we—couldn't possibly be doing it anymore. But, for example, have you been paying attention to what's going on in Ukraine these days? Or do you believe CNN when they say it's all Putin's fault?
Operation Ajax was written with an agenda: it might be reminder of Santayan's warning that those not knowing history are doomed to repeat its mistakes. Except, neither the American nor British governments seem to really think they're making mistakes. Because, they got Iran's oil. Mission Accomplished. Sound familiar? No, the agenda is to show us American and British readers just why people in Iran and the Middle East in general might not see us as liberators. Not to say that the current Iranian government is that great, but…the American government made it possible. All in the name of oil—er, democracy. Right?