Review: 'Peanuts Every Sunday, 1952-1954' You're a Good Man, Charlie Brown
In seventh grade, my class did a production of the stage play You're a Good Man, Charlie Brown. And while there was much jostling about who would play Linus and Lucy (you won't be surprised to hear that there were plenty of cranky, self-centered 11-year-olds who were perfect to portray cranky, self-centered Lucy), there was no doubt who would play Charlie Brown in the play. That role went to me.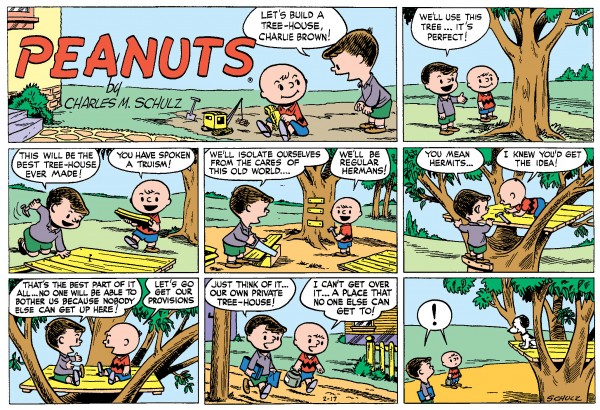 I got the role for a few reasons; first, because then, as has always been the case in my life, everyone knew how much I loved comics. I spent a lot of time immersed in Peanuts collections in those days – those conversations between Charlie Brown and Linus would get my deep-thinking mind spinning at a frantic pace that was just slightly slower than Charlie Brown's feet as he ran to kick the football that Lucy would always yank away from him.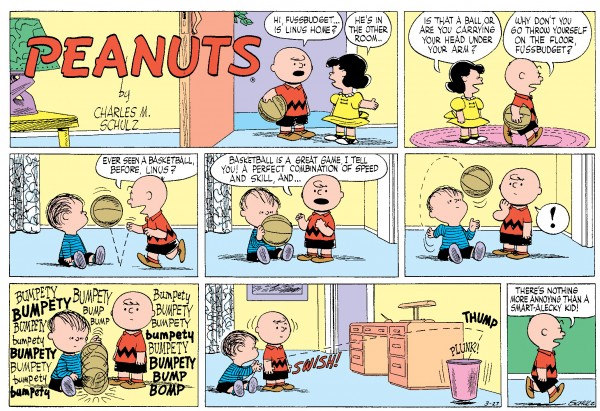 I also got the role of Charlie Brown because, yes, it was typecasting. I was a… morose young man, a boy who felt ill at ease in society, who felt a bit awkward, a bit of an outsider, a bit of the kid who could never quite figure out how some people always managed to win while I always felt like I was losing. I felt like Charlie Brown.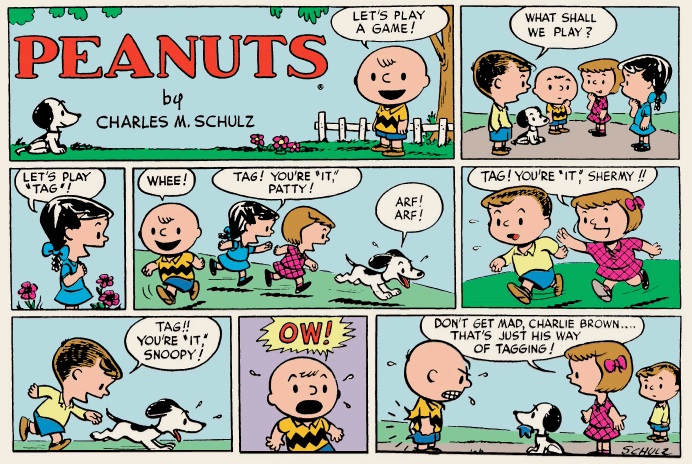 I wish I could tell you that playing that role brought me closer to the sort of self-realization that I wish I had, closer to the sense of being content in my own skin and calm in the way I approached the world, but in the end I came to peace with the idea that I would always feel a bit of an outsider, a bit different from other kids, and as I became an adult began to really embrace that idea. I went to a college that helped to foster the importance of individuality inside myself, and in latter life have seeked out friends and work that fostered that individuality in myself — though I always carried those philosophical conversations that Charlie Brown and Linus had, inside my head. I could never quite move away from the world that Charles Schulz created.
Charles Schulz was one of the great comic artists. More than that, he's one of the great minimalist comic artists of all time, who had the astonishing ability to make a block-headed kid into the symbol for my own block-headed life.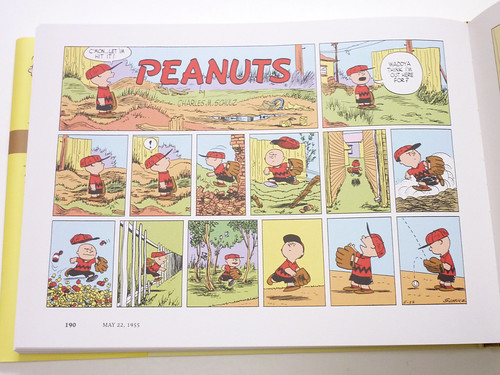 So I picked up Peanuts Every Sunday: 1952-1954 with a tremendous sense of excitement. Charlie Brown, Lucy, Linus and the rest of the kids mean a lot to me, and it's a wonderful joy to get to read their classic adventures all over again.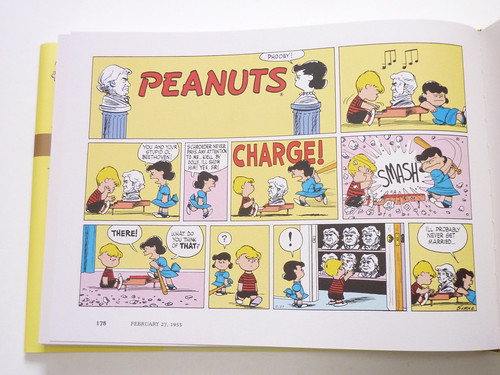 My biggest apprehension about this book was that this was early Schulz and early Peanuts, before the strip really got its legs under it and became the brilliant force that it would become. And as you can see from the images that accompany this review, that fear is well-founded: Schulz's art is more primitive than it would be ten or twenty years hence; Snoopy walks on four legs; the kids in the strip really do act like kids rather than the preternaturally mature characters that they would become; Linus was still a baby.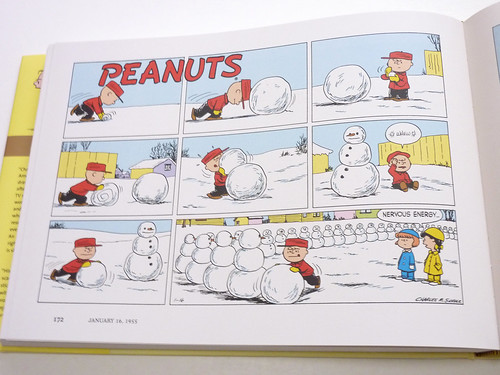 Over and over while reading this gorgeous and generous collection, the reader is reminded of the fact that the greatness of Peanuts is yet to come, that the brilliance of Charles M. Schulz would emerge within a few years, as the key tropes of the comic would emerge, he would find his voice, and these intriguing characters would become truly iconic.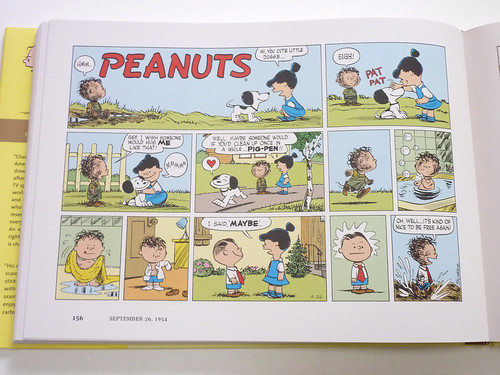 But that said, this is a completely joyful collection, a true celebration of the early years of Peanuts and a fascinating auteur approach to the world that is completely, singularly, that of Charles M. Schulz. You can see Schulz in the wonderful way that he invokes character with just a few lines, with the charming exaggeration of the different scenes, of pure undiluted joy of the way that Schulz uses his inks in all kinds of quirky, imaginative ways to convey scenes.
Over and over again, you can see glimpses of Schulz the future master shining through his more pedestrian material. We get a group of wonderful strips about Schroeder and his toy piano. Charlie Brown begins flying his ill-fated kite. The kids play baseball and always lose. Snoopy has adventures with animals in his neighborhood and we start to see the magical properties of his doghouse. We even get the origin story of Linus and his blanket in this volume.
So even though the world of Charlie Brown and his wonderful friends doesn't quite come alive here in the full flowering of creative mastery that Schulz would bring later, that fact somehow makes this collection even more enticing. I have such an intimate knowledge of this comic that it's fascinating to see these concepts become formed and take shape.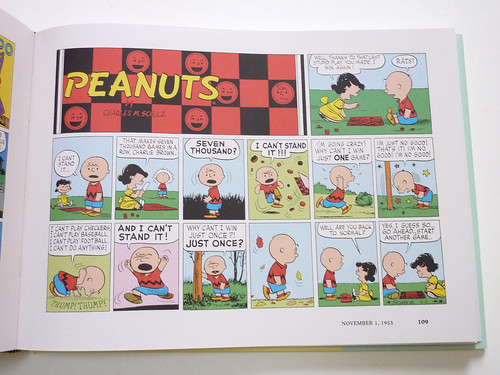 Eleven-year-old me would have been enchanted by this view into a world of Peanuts that seemed like a lost legend; adult me is intrigued and charmed by the level of craftsmanship, intelligence and scene-setting that Charles Schulz brings to this story. Future volumes of this series will be brilliant. This volume is merely wonderful, but in my world that makes it essential.