Ayn Rand has an interesting history with superhero comic books. Many of the artists and writers for the Big Two, especially Marvel, were readers and fans of her work in the 70s. One character, Iron Fist/Danny Rand is named after her, and while Danny Rand was supposed to embody the Randian ideal, like her character John Gault, Iron Fist was never more than a minor character (confession: I always liked the idea of him—not the rich corporation owner, but the kung-fu fighter).
No, the best example of a truly Randian character nowadays is Iron Man/Tony Stark, played by Robert Downy, Jr. in the Marvel films. My favorite character of the franchise, Stark is charismatic, smart, handsome, and the rich guy that will save us despite—and maybe from!—government regulation. The result, if you'll remember, was Ultron.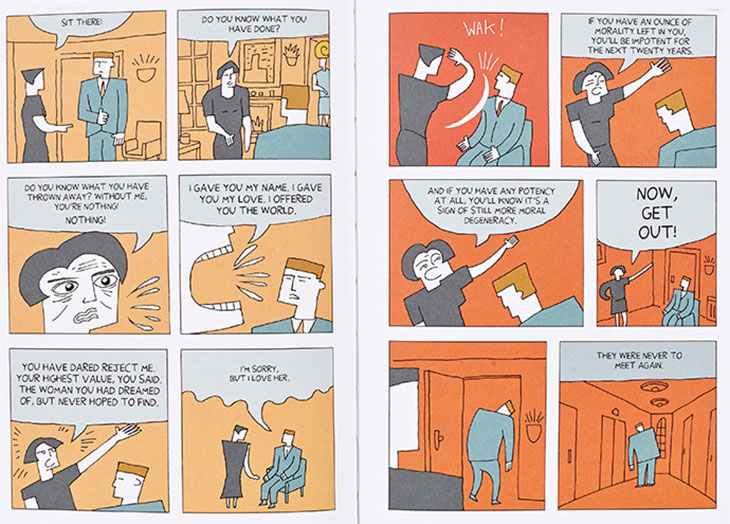 The Age of Selfishness: Ayn Rand, Morality, and the Financial Crisis, explores the influence of Ayn Rand in American politics and the economy, especially in the Great Crash of 2008. The book is divided into three sections. The first is a mini-biography of Ayn Rand, along with an explanation of her philosophy, which is in fact about selfishness being a virtue (!). In doing this, Cunningham lays out—fairly, I think—the philosophy of libertarianism, and the Tea Party. He also, fairly, points out the shortcomings and defects of that philosophy and Rand's own personal life. Or, that is, Rand's personal life serves as the reason why libertarianism doesn't work: when individuals just do what they want for their own interests, like sleep with each other's spouses, other individuals gets hurt.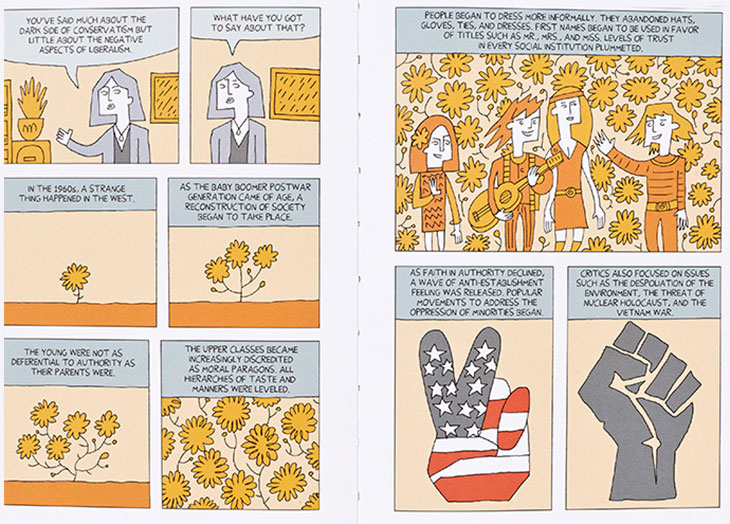 If Cunningham had only written (and drawn) about Ayn Rand, he already would have had a fascinating book. Instead, he goes on in part two of The Age of Selfishness to show the effects of Rand's influence in the Great Crash of 2008. This includes not only the still sizable sales of her books, but also in a key person: Alan Greenspan. Yes, that Alan Greenspan, head of the Federal Reserve for decades, across multiple administrations. Turns out Greenspan was part of Rand's inner circle. And, he applied his mentor's philosophy all that time in the Fed, deregulating whenever possible, lowering interest rates to everyone could buy a house, even those who couldn't afford to, and refusing to use regulation powers the Fed actually, had even when things went wrong. His belief, and Rand's, was that companies don't need regulation, that they will regulate themselves because they care about their reputations: If they get a bad reputation by supplying a bad product, they'll lose business.
Sounds ok, sounds kinda true, right? Well, that doesn't, for example, take into account companies' (or banks', which are for-profit companies too after all) ability and willingness to lie to people in order to make money. And when there are only three or four megabanks, or megacorporations (they're not monopolies though, right? Because monopolies are illegal, right?) and all three or four are lying and being dishonest equally—even if people knew about it, what choice do they have about switching to someone more honest?
Cunningham's The Age of Selfishness really shows the power of the graphic novel: making something really complicated and confusing somewhat accessible to the lay person. The key is in the artwork: By keeping his panels fairly minimal, with minimalist caricatures of both real people involved (like Rand, and Greenspan) but also Regular Joes and Plain Janes to insert questions at key points (questions that I think many of us had around the financial crisis in those years)(or still, even now!) Cunningham offers space: space to absorb the explanation and information in the text, which would otherwise just accumulate into fact upon confusing and depressing fact.
Also, more importantly, the artwork, the caricatures, the expressions on people's faces, gestures, or their word balloons, offer some lightness, some much-needed humor to assuage the potential despair. The fact that we taxpayers paid for the bank bailouts, without any debate in Congress—and I mean trillions of dollars—and that the banks basically used that money not to help their customers but to give out bonuses to the very executives who created the mess….well, when you read about that, it helps to see cartoon faces showing the shock and confusion and absurdity you feel.
The Age of Selfishness isn't just a how/why book though, not in the sense that you might have a Ayn Ran For Beginners or Introducing The Crash of 2008. Cunningham is producing an argument, for why the Randian/libertarian/Tea Party-ian idea of deregulation not only does not work, but helps conservatives achieve what they really want: by putting governments in debt paying off the mistakes of Wall Street, those governments 'have to' (or claim to have to) set in place 'austerity measures'—which is a euphemism for cutting government programs that help the poor and needy.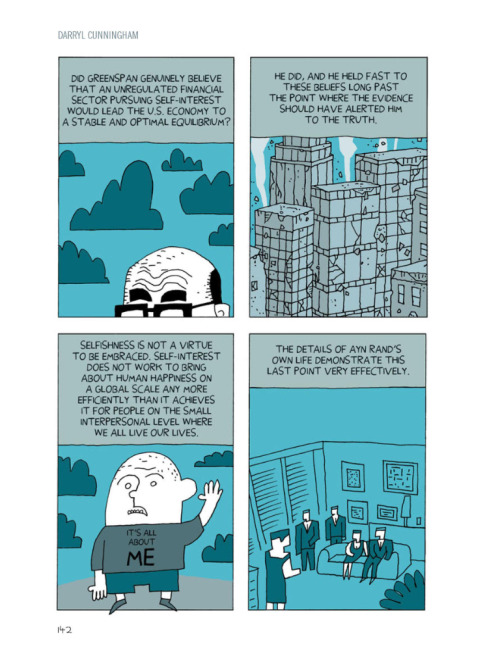 I'm not clear on whether Tea Partiers at the lower levels really understand this—that social security, welfare, food stamps, anything that helps people, and their families, survive when they lose their jobs and houses to forces beyond their control—that rich conservatives want all that gone, so as to force people to work shit non-unionized jobs and be grateful for it. Although to be fair, as The Age of Selfishness demonstrates, so-called liberals are just as bad: The Clinton Administration continued the deregulation work started by the Reagan Administration. The Obama Administration isn't much better: both Obama and future President Hillary Clinton support free-trade agreements—free-trade being another term for deregulation, on a global scale.
Cunningham also leaves us with a warning: Nothing has changed. Few people actually went to prison for any of this mess, and banks remain unregulated—they're just gotten bigger, since some (perhaps those without former employees in key high-level government positions, Timothy Geitner?) went out of business and were swallowed up. This could all happen again unless Congress gets some laws on the books that actually regulate. Should be easy. Congress performs the will of the people, right?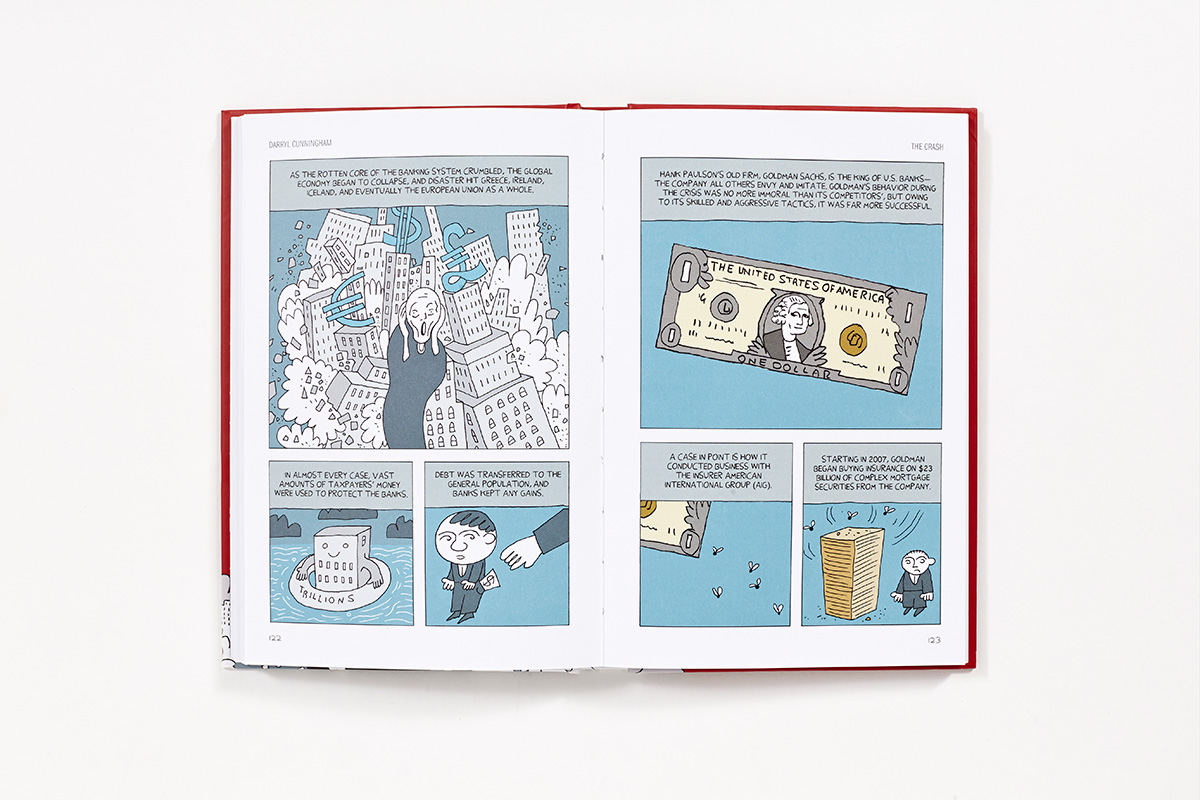 And that's just the first two-thirds of The Age of Selfishness! In Part Three, Cunningham explores the differences, historical and psychological, between liberals and conservatives. And while his leanings are obvious, he does make sure to point out the bad side of liberalism too. It's really a fascinating read. Again, any of the three parts could have been its own book. Instead, combined, Cunningham gives a really big picture of American (and British) economic history.