Review: 'The Complete Far Side' is a Series of Sculptures
Which is more impressive: a majestic, towering cathedral built from thousands of stones, or a small, intricate sculpture of a cathedral carved from a single stone? There's no right answer, of course. It's a matter of personal preference. Most of the time, I would probably say the cathedral: the vision of one or a small group of architects, carried out by hundreds of master craftsmen all with various talents and skills to create something greater than themselves over the course of months or years or decades. (This metaphor probably works for any large-scale building, but I just read Ken Follett's Pillars of the Earth, so medieval cathedral it is.)
Then again, there's always something to be said for the delicate craftsmanship and meticulous attention to detail in a sculpture made from a single piece of stone: the singular vision of an artist, brought to life by his skill and his skill alone.
In general, comic books feel like cathedrals to me. Scripters, pencilers, inkers, colorists, and letterers are all needed for those books. Very rarely will any one person handle all of those duties. Each panel in a comic book is like a stone – building on each other, continuing on from one to the next. Taken individually, they may not mean much, but taken as a whole, they form something grandiose and magnificent.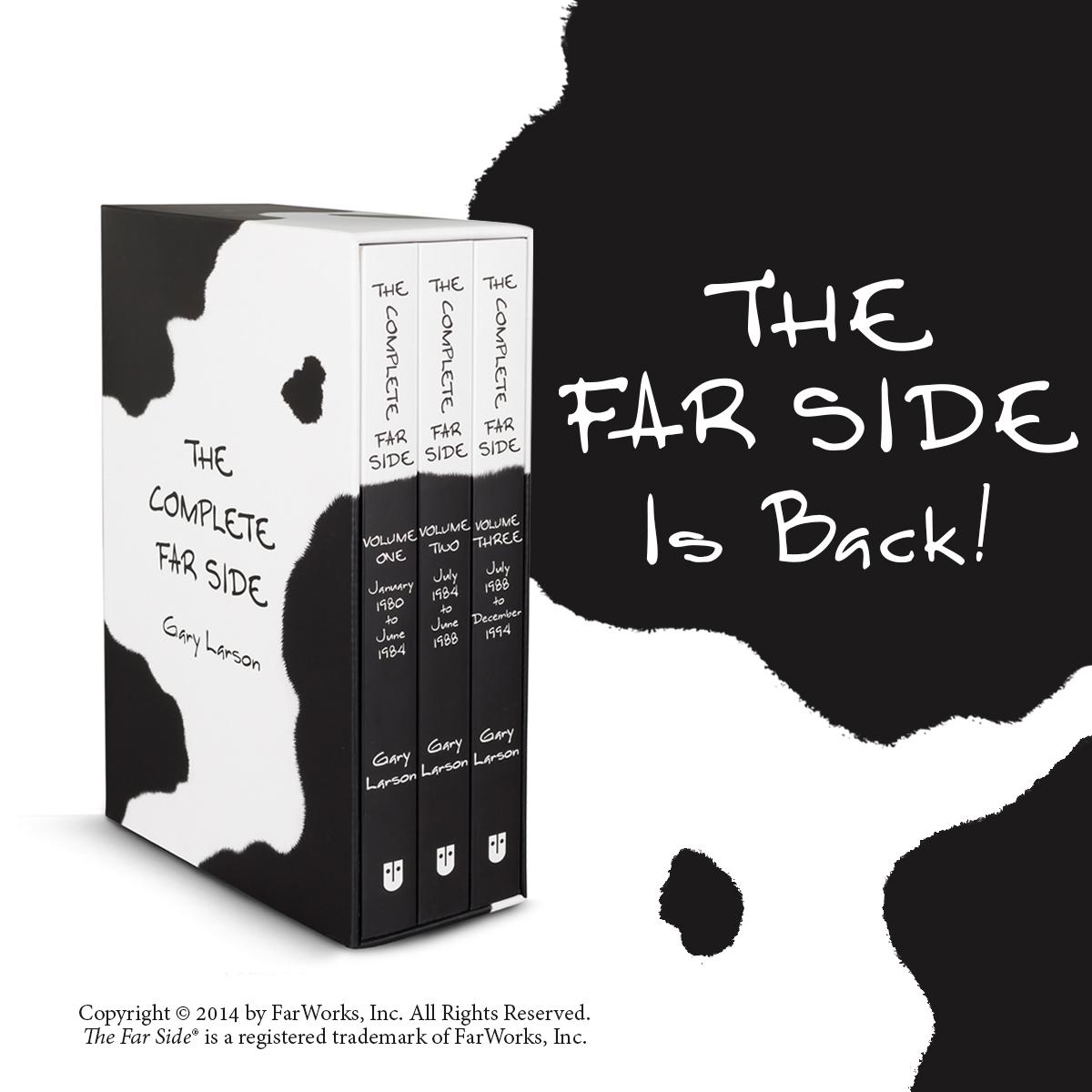 The Complete Far Side by Gary Larson is different. It is a three-volume set, with over 4,000 panels, yet the panels do not build upon one another. Each is it's own individual sculpture – succeeding or failing on its own merits and its merits alone. It's why reviewing this set was a bit difficult for me. This isn't a singular work – it's a man's entire oeuvre.
That isn't to say there aren't themes that can be derived from this collection. There are a few that pop up again and again from the first page to the last. Perhaps the most prevalent is the "reversed point of view" or "walking in another man's shoes." Although in the Far Side, the person walking in those shoes is usually either an animal or an alien. This fact is key in understanding the appeal of the series. Rarely is one type of person shown to be superior to another type of person – there is no liberals vs. conservatives, no jock vs. nerd, no rich vs. poor. Instead, by having animals or aliens as the judges and juries, humanity itself is always on trial. It is a rather unifying storytelling technique. Each reader will look at the comic, be confronted with an "am I a person or a cow?" and come to the same conclusion.
Another is the juxtaposition of the common with the absurd, frequently by showing someone failing at something that seems laughably easy. Two great examples of this: first, a man at a "cymbal audition" completely missing hitting the two cymbals together; and second, a boy at a "school for the gifted" unable to get inside the building because he's pushing on a door that says "pull" on it.
That second one might be one of the most famous in the history of this strip – and it means something different to almost everyone. I know people who see it and say, "smart people may be 'book smart' but completely lack common sense." Others will say it exemplifies the perfect entrance exam. Perhaps it illustrates that everyone has at least one weakness to go along with their strengths. I even know one person who believed that since the kid probably spent all his time studying, he didn't exercise much, and was therefore winded after climbing the three steps to the door. The "push" sign was inconsequential – he was simply resting and trying to catch his breath against the door.
Such is the beauty of a seemingly simple work done well. I can't say with any certainty that any of those interpretations is wrong. (Well, the last one might not be right, per se, but I can't argue with the logic behind it.) Those are all wildly different takes, but they're all valid, they all made the reader laugh, and they all caused the reader to retain it years after they had initially read it.
I'd be remiss if I didn't at least mention the frequently utilized comic misunderstanding. Take, for instance, a pair of conquistadors who find a soda shop in the Amazon run by a man named Yuth, and are then livid with Ponce de Leon. Or, for example, the slightly higher stakes of aliens whose bodies look like arms and heads look like hands landing in front of a classic Midwestern farmer. There we get the caption, "Inadvertently, Roy dooms the entire Earth to annihilation when, in an attempt to be friendly, he seizes their leader by the head and shakes vigorously."
Puns usually come up once every few pages as well. "Beware of Doug" is a classic, as is fleas testing their endurance by going on the annual "Tour de Frank." I'm guessing those particular examples are, respectively, more popular with people named Doug, and more terrifying to people named Frank, but I enjoyed them nonetheless.
My favorite Far Side is probably unclassifiable. It shows a man sitting in an office, with a duck looking out of a window in the building behind him. The caption reads "Anatidaephobia: the fear that somewhere, somehow, a duck is watching you."
I've had trouble cataloguing all of the reasons why I find this so brilliant, but I keep randomly thinking of more, so here's my best effort:
First, it's such an absurdly specific fear. The man isn't afraid of ducks – he's afraid of ducks watching him. Secondly, why would it matter if there is a duck watching him? What's it going to do? It's a duck. Third, does this fear extend to other birds? Like, does it matter to this guy if a goose is watching him? If not, why not? If so, what about swans? Or robins? Or eagles? Where is the line?
From there, I start wondering how this fear came about, and if it's founded. I mean, there actually is a duck watching him. It isn't like the duck is just outside his window, either. It's in an office building across the street – somewhere it definitely shouldn't be. Did the guy do something to this duck? Is it out for revenge? Is this an I Know What You Did Last Summer scenario? Maybe the duck is just a paranoid fantasy and, in reality, isn't even there…
There aren't a lot of single-panel drawings with 11-word captions that make me question the nature of reality and the mind.
The extras included are pretty much everything you could want: essays from Larson, correspondence between publishers and editors, fan mail, hate mail, and plenty of behind-the-scenes making-of details.
As for the quality of the book itself, it is a three-volume, paperback set in a slipcase. The books and case are all designed with a Holstein pattern (the white-with-black-splotches pattern that most people think of when they think "cow.") The paper quality is thick and the colors, for the few comics that are not black-and-white, are rich and crisp. The only drawback there is that this thing weighs a ton. Well, it actually weighs about 12 pounds, but I haven't really been working out a lot lately and it feels damn heavy. It makes it a pain to carry around, but it's a good problem to have when it comes to books. This set was made to last.
If you have any interest in The Far Side, this book is well worth your time and money. And if you don't, you could still use this thing as some sort of crude, bludgeoning tool for when the cows rise up and the revolution begins.