Singles Going Steady is Comics Bulletin's weekly single issue review roundup. 
Gotham Academy #1
(Becky Cloonan / Brenden Fletcher / Karl Kerschl / GeyseR; DC Comics)
If you've ever wondered what would happen if you mixed Harry Potter (sans magic), Nancy Drew, and Batman (why would you ever wonder what would happen if you mixed these?) then Gotham Academy would likely be the outcome.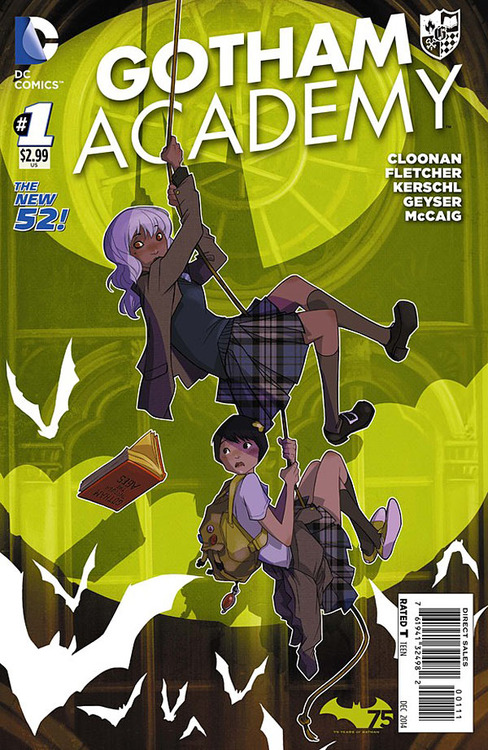 The book follows Olive Silverlock, a second year student at Gotham Academy, who is assigned to basically mentor the sister of her soon-to-be-ex boyfriend. First issue in and one can already feel how great of a foil these two characters will play off one another. Secret passageways, brooding characters, humor, and all layered in with Mythos from Batman's 75-year history makes this a must.
Becky Cloonan (Batman, Conan the Barbarian) and Brenden Fletcher (Batgirl, Assassin's Creed) deserve top marks for this issue. Karl Kerschl (The Abominable Charles Christopher) absolutely murdered this book. His artwork for this issue can only be described as masterful, bringing the characters and the school itself to life. Bottom line, you should be reading this.
– Dana Keels
---
Uncanny Avengers #25
(Rick Remender / Daniel Acuna; Marvel Comics)
Like all great things, the end happens way before you want it to.
As the final issue in the Rick Remender (Uncanny X-Force) and Daniel Acuna (Black Widow) led Avengers Unity Squad/Uncanny Avengers comes to a close we are left with a brilliant final prelude to AXIS but a less-than-appropriate final issue to a run. As the final "March to AXIS", UA sets things up nicely for the evil Red Onslaught's creation and shows a great father/daughter dynamic between Magneto and Scarlett Witch that has been missing in comics. Remender has the ability to truly understand Magneto, better than most writers over the last 5-years, his thirst for swift justice no matter the cruelty is one of Magnetos biggest flaws and greatest character traits.
We're also shown a glimpse of the scars still left on the Scarlett Witch by her fathers power, the mix of adoration and fear helps to understand the pain she suffers from. Another final treat to UA is the return of Acuna's pencils, his final battle between the Red Skull and Magneto is something of nerd fantasies! While this final issue in theM2A stands as one of the best, the realist in me still went looking up at just how much of a landmark run this was.
– Lance Paul
---
Sherlock Holmes vs. Houdini #1
(Anthony Del Col / Conor McCreery / Carlos Furuzono; Dynamite Entertainment)
With the great Sherlock BBC TV show — and the not-so-bad Elementary — and movies starring Robert Downey Jr. it's tough to have an otherwise legit Sherlock Holmes; but Anthony Del Col and Conor McCreery (both of Kill Shakespeare fame) do a great job bringing Holmes to life in the comic book medium– and pairing him up with Houdini almost seems like a no-brainer.

Both characters proved in this Dynamite Comic to be nearly identical in terms of their manical-sized egos, and one can only ponder whether their minds together can put an end to their supernatural foes. Carlos (Ryu, Sherlock Holmes: Moriarty Lives) Furuzono's layouts were superb, enough for an ending that only left this Cardinal wanting more. If only Houdini could MAGICALLY deliver issue #2 right now…
– Roberto de Bexar
---
Guardians 3000 #1
(Dan Abnett / Gerardo Sandoval / Edgar Sandoval; Marvel Comics)
Moving onto the more recent success of Marvel's Guardians of the Galaxydomination at the box office, most wouldn't be surprised with the publisher wanting to captilize on this fame and rush to market with a glut of GotG comics. With some being better than other — such as Rocket Raccoon — Guardians 3000 is not that. Coming from the creative mind of Dan Abnett, one half of the Peter Quill writing team, 3000 garners more issues than a Lindsey Lohan bad week. The plot is weak, using the tried-and-way-to-many-times-used "We all die, so let's figure out how to stop it" featuring characters that lost our interest after the 100th time the timeline has been reworked.
Gerardo Sandoval (Wolverine) and Edgar Delgado's artwork truly never hits its mark either, let alone panel and character work that stays the same from panel to panel. The original Guardians never saw commercial success, and if this first issue is any judge neither will 3000.
– Lance Paul
---
Fiction Squad #1
(Paul Jenkins / Ramon F. Bachs; BOOM! Studios)
Ever wonder where all your favorite fiction stories came from? According to Paul Jenkins (Fairy Quest), every fiction story you have read — or ever will read — are based on the real life characters from the magical faraway land of "Fablewood," "[the] home to all the stories ever told" of different genres from jokes to horror divided in different realms.
In Fiction Squad #1, we follow Frankie Mack, a failed Realm of Crime detective who transfers over to the Realm of Children's Stories Golden Streets of Rimes to work, only discover that "every nursery rhyme is really a crime scene." As readers, we follow this gumshoe's serious internal monologues and no nonsense interaction with the playful and, in this world, damaged beloved nursery rhyme characters like Humpty Dumpty. In so doing, the juxtaposition between the two styles and the ease in which Jenkins connects the two genres are true testaments of good craftsmanship.
With all the references to old nursery rhymes and the introduction of previously unknown characteristics of these the timeless characters, Jenkins makes readers want to go back and pick up a Mother Goose book just to brush up. The illustrations of Ramon Bachs (Infinity: Heist) are expressive and playful. Bachs really makes Rimes come alive as he details ever building and character, even background characters, to our old nursery rhymes—a veritable who's who. Can you pick them all out? And for those who see the cover and assume this is a pale imitation of Alan Moore's masterfulLeague of Extraordinary Gentlemen, I can assure that that nothing is further from the truth. The seeming thematic similarities are only surface deep, and "Fiction Squad" is a vibrant original work, not derivative in the slightest.
This fun, literary, and riveting new series of BOOM! is worth following as the idea, story, and talent are all there to give you a fun new twist on your childhood past.
– Lisa Wu
---
Lobo #1
(Cullen Bunn / Reilly Brown / Nelson DeCastro / Peter Pantazis; DC Comics)
The alien ass-kicking begins right away in DC Comic's Lobo #1, written by Cullen Bunn(Deadpool Kills The Marvel Universe). The super-jacked Lobo reclaims his Alpha dog title at the top of the comic, plagued by some gnarly Titanic-meets-The-Walking-Dead-type dreams. He takes a bounty hunting job as a distraction, but the money isn't bad either.
A battle on Earth ensues, and Lobo must work to figure out the reasons for the rampage. Pencil and ink by Rielly Brown (Deadpool) and Nelson Decastro (Robocop: Prime Suspect) paint this super space fantasy fallen to Earth, with appropriate tones of silver and blue hues and extra special (and appreciated!) detail on Lobo's biceps.
Overall, the comic earns a
only missing half-a-point for ending too soon. And for making me sit in my apartment alone and wonder if the eponymous bounty hunter will ever be looking for his Loba.
— Jackie Henley
---
Green Lantern / New Gods: Godhead #1 and #2
(Van Jensen / Justin Jordan / Martin Coccolo / Chris Cross / Joe Prado / Goran Sudzuka / Ethan Van Sciver / Pete Woods / Hi-Fi; DC Comics)
"The enemy of my enemy is my friend."
Since the New Gods wanna take down Darkseid, the Green Lantern Corps shouldn't have a problem with that… right? But, as it turns out, the self-proclaimed New Gods' vendetta is actually one of those "at all costs" sorta things. No matter who's stuck in the crossfire. Since Godhead Part 1 and Part 2 were released the same day, it appears DC has suckered me into buying both the $3 regular issue, and the $5 Godhead issue for one $7 mediocre crossover event (and is it just me, or is it true that ever since the New 52 started it's been crossover event after crossover event?…) From the first page, I was yawning. Now, I understand the need for exposition, but there's gotta be a better way to get it out. DC, you're aware that the most interesting things about your comics are the bad guys, right? So why would a huge crossover event revolve around such one-dimensional characters?
The only real hint of something interesting was when we're reminded that everyone still thinks Kyle Rayner is dead, even though he's just off in a space tryst getting busy with Hal's Ex. It's a little touching for a moment, then we're back to New Genesis where we're once again dropped into the middle of more boring exposition. The rest of the book is mildly entertaining, but nothing really happens. Mogo dramatically loses his ring to one of the New Gods. At this point everyone's all "What are we gonna do?" And Part 2 doesn't quite answer that question either. This issue has one fight between the Corps and a couple of New Gods, and it doesn't go all that well for team green. It's Part 2, and I don't even know any of the characters names. That's how little I care. Altogether, I give it a
 simply because this is the beginning of an arc, and now that we have all the origin stuff out of the way, it can only get better from here… hopefully.
— Gabe Carrasco
---
Armor Hunters: Aftermath #1
(Robert Venditti / CAFU; Valiant Comics)
Valiant's latest summer crossover event comes to a close, and the world will never be the same.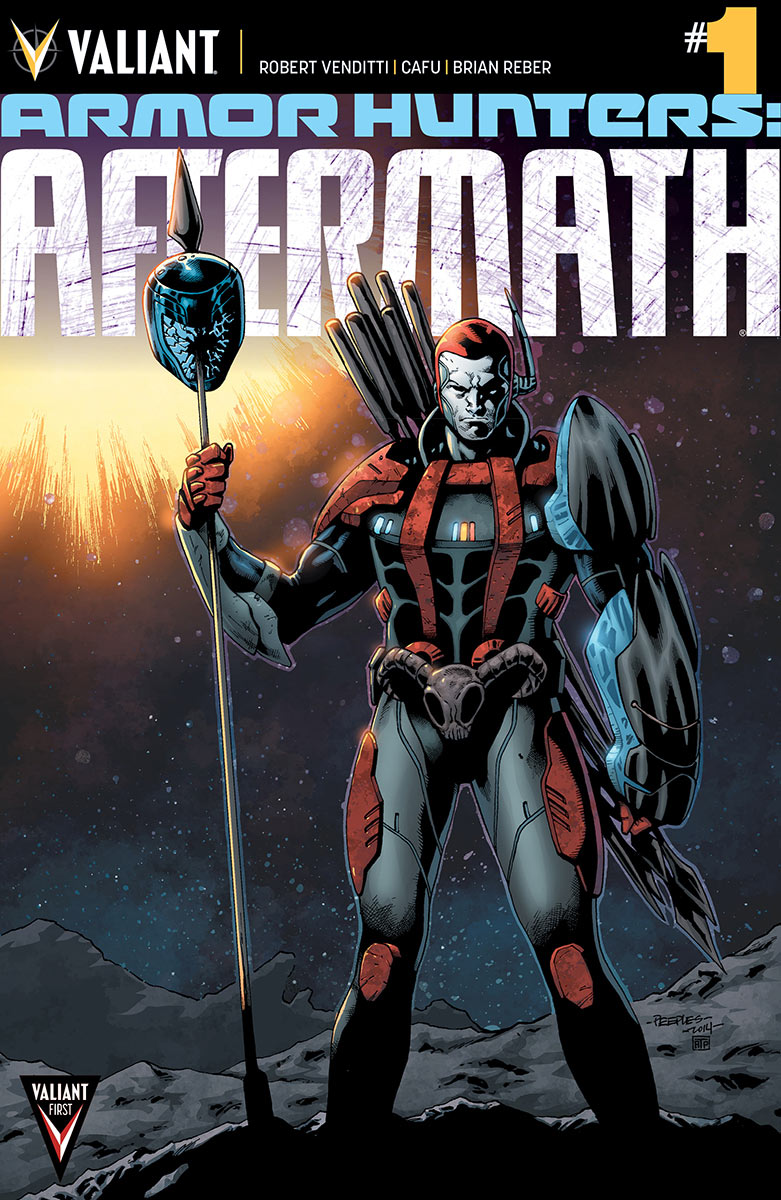 With the Unity Team now public knowledge, and the cute sentient space-ship that destroyed Mexico City now working with the good guys of G.A.T.E., the Valiant universe has seen some serious shake-ups in this event, as detailed in this epilogue chapter from writer Robert Venditti (The Surrogates) and artist CAFU (Earth 2).
The wildly imaginative and socially relevant storytelling par for the course for Valiant is clearly on display here, even for a place-holder story/round-up issue such as this. CAFU's artwork displays both a talent for epic scale and action, and for intimate nuances and facial expressions. Valiant continues to put out books of such quality, that even addendum issues like this are worth checking out for new readers.
I realize Marvel legends Jim Shooter and Bob Layton and Co are no longer intrinsically linked to Valiant, but nowadays Valiant 2.0 might in fact be the real Marvel comics.
–  Luke Anderson
---
The Damnation of Charlie Wormwood #1
(Christina Blanch / Chris Carr / Chee; Dynamite Entertainment)
The Damnation of Charlie Wormwood is nothing more than the classic cautionary tale about a man down on his luck. If anything, in this first issue written by Christina Blanch (Alter Ego Comics) and Chris Carr (Thrillbent), Dynamite certainly proves there are a lot of things you don't need to make a good comic book, but it doesn't change the fact that there are still a lot of things you do.

At the foundation all the elements are present — Charlie Wormwood's son is terminally ill and he's behind on medical bills. His wife is growing distant, and has been lying to him. The economy is in a tailspin and it doesn't look like there's a light at the end of the tunnel. Enter Barnum, a mysterious inmate with a potentially compromising offer. What will Charlie choose?
What's missing in this story, unfortunately, is a sense of itself. Granted, it's a copy of a copy of a copy, sure, and that's fine, but it never catches hold! Even the art itself, by Chee (Tag) — the simple lines and muted grey hues — convey a vague overall atmosphere. Hopefully in the next few issues readers will be treated to a 'break' into 'act three' rather than the 'act two holding pattern' that The Damnation of Charlie Wormwood seems stuck in. The Damnation of Charlie Wormwood
— Joe Tower
---
Captain America #25
(Rick Remender / Carlos Pacheco; Marvel Comics)
Marvel Comics goes cosmic once again, as the Avengers battle Armin Zola and his offspring from Dimension Z; and Bucky Barnes (a.k.a. the Winter Soldier) travels to distant planets as he takes over the intergalactic escapades of Nick Fury.
First off, long story, but if you haven't kept up, Steve Rogers had his super-soldier-serum removed from his body and is now a frail, old man… and that's covered in Captain America #25. Sam Wilson (a.k.a. the Falcon) is Cap's replacement. "You guys all knew it was me, didn't you?" Wilson says, emerging in the star-spangled outfit. "There's literally no drama left in this reveal," in a great meta moment, as if to deflate any controversy that may have arisen. Meanwhile, future drama is established with Zola's daughter, Jet, who feels betrayed by the Avengers, although this development occurs a bit quickly. However, kudos to writer Rick Remender (Fear Agent) for deftly cramming so much plot and development into a scant thirty pages, at once finishing up a cosmic storyline, introducing a new character, and setting up future stories, all at the same time (as well as saving some panel safe for some fun banter between our favorite heroes, too).
The art by Carlos Pachecho (Avengers Forever) is serviceable and slick, nothing too much to boast about, although Sam Wilson gets a beautiful splash page for his reveal.
— Jose Caraballo
---
Bucky Barnes: The Winter Soldier #1
(Ales Kot / Marco Rudy; Marvel Comics)
Bucky Barnes: The Winter Soldier #1 fares so much better in terms of its art, which is absolutely beautiful and worthy of being framed. Seriously. It's like an Alex Ross fever dream thrown into a 1950′s science fiction magazine. 
Marco Rudy (New Avengers) has designed a transcendent, decadent, and ultimately fantastic-looking comic, painted and lush with beautiful coloring and a fun and chaotic interplay with the layout. The script, by Ales Kot (Zero), also suffered from cramming too much exposition into its almost thirty-odd pages, so much so that I had to read it twice to follow it — mainly Bucky cementing Daisy Johnson's (a.k.a.Quake) commitment to being his equal partner, and his teaming with Namor to disrupt Loki's underwater drug supply line…or something like that. 
— Jose Caraballo