Singles Going Steady is Comics Bulletin's weekly single issue review roundup.
Harley Quinn #0
(Amanda Conner & Jimmy Palmiotti / Charles Adlard / Art Baltazar / Becky Cloonan / Darwyn Cooke / Tony S. Daniel / Sam Kieth / Bruce Timm / Jim Lee / Stephane Roux / Tradd Moore / Chad Hardin / Adam Hughes / Dave Johnson / Dan Panosian / Jeremy Roberts / Walter Simonson; DC Comics)
On page two of this comic, Harley pictures "Men and boys admiring my good looks, young girls wanting to be just like me when they grow up. Women wanting the chance to act like me any time it pleases them". Just think about that for a second. Why not "Men and boys admiring me [implied: not just for my looks], young girls and women acting like me any time they please [implied: not when given the chance]"? Why so limited and conditional a dream, Harley, you crazy thing? Toss those meds. Live a little.
This zero issue (what's the point of them again?) is Duck Amuck meets Deadpool, a sugar 'n liquor induced trip rendered by all-star artists, each granted a page at a time. Undeniably (and thankfully) closer to Mad Love Harley than Suicide Squad clown car slutshow Harley, and minus that much-discussed bathtub suicide scene, this counts as progress. Roller Girl Harley cracks wise, still goes ga-ga for Joker, and breaks the fourth wall, all while waxing chumps like candles. So far, so fun, but I smell Joker Gas behind the smiles.
Lookee here, Jim Lee's page is a reprint! Bwahahahahaaa! Hey, while we remember, when is Superman Unchained #5 coming out? Shush, look how much he makes in royalties from those $4 to $6 (late) books! Tee hee! Oh, and there's a page by Dave Johnson, but only one because "this is gonna be trouble" (of the lame, kinda misogynist kind?). And an Adam Hughes page, "but", asks Harley, "can he keep a monthly schedule"? That's funny, because he can't! Get it?
What are we laughing at here? When Darwyn Cooke draws co-writer Amanda Conner cold cocking Harley and Catwoman for clobbering real-life beau (and co-writer) Jimmy Palmiotti ("I'm Amanda Conner, bitches!"), how far down the rabbit hole have we fallen? When Walt Simonson draws the only genuinely interesting page, a shuriken-festooned "ninja cool" Harley, and is written off as "not one for backgrounds" though "his signature sure is impressive", all sealed with a jealous wife crack, does anyone else begin to think it's not a rabbit hole we've disappeared into, it's DC's ass, and they're charging us three bucks to cackle at our own frustrations in the gaseous gloom?
Why take this so seriously? Because Harley Quinn is better placed than any other character at DC (yes, including Batman) to entice new readers and appeal to a wide range of audiences. She's in comics and video games, she's a cosplay stalwart, the Joker's squeeze, a disgraced professional, and a young person trying to redefine herself despite herself. She could be DC's Hawkeye, better even, a buzz-generating aesthetic experiment with laughs and heart. But instead she's batted back and forth between industry in-jokes, less Inside Baseball, more Inside Tetherball, while all the cool nerds laugh at how nobody outside comics gets it. We're better than this.
– Taylor Lilley
---
Secret Avengers #11
(Ed Brisson / Luke Ross / Matthew Wilson; Marvel Comics)
Imagine how strange it would be to wake up one day with super-powers. Yeah, it would be cool to have amazing powers; I mean, who wouldn't want to be able to fly or see through walls? But what if you did the most ordinary thing in the world – go to bed one night – only to wake up the next day with your whole life changed. "This morning I woke up in a cocoon… (it was gross!)… found out I was an Inhuman… and got recruited to fight an alien invasion. All before noon."? Wouldn't that completely screw up your quiet, normal life?
That's the problem that SHIELD agent Sarah Garza has to deal with on the day that she gets promoted on the battlefield because of her incredible new abilities – she shoots powerful heat blasts – and forced into battle alongside Nick Fury, the Black Widow and War Machine. Sarah's pushed into the big leagues when she wants the most important concern in her life to be how to hide her twitter feed from her bosses.
Instead of going grand with this alien invasion – slash Inhumanity event project, writer Ed Brisson goes small, putting us behind Sarah Garza's eyes, making us feel alternately annoyed, angry, excited and grossed out. Despite the trappings of the great Marvel event, everything feels very ground-level and human, more like everyday battles than titanic cosmic epics.
Luke Ross does a terrific job delivering these scenes, as well. He's called upon here to draw destroyed buildings and confused faces, floating cars and annoyed people, and he brings them all to life in smart ways. His style reminds me a bit of Steve Epting, all noir reality juxtaposed against a world of super-heroes with clever touches of intriguing realism.
Secret Avengers #11 may be a side story to the grand Avengers epics that are happening now, but that works wonderfully for this issue. I love the humanity of this side chapter and am curious what will happen to Sarah Garza. See, Marvel, this is how you hook in readers of more series.
– Jason Sacks
---
Imagine Agents #2
(Brian Joines / Bachan; Boom!)
Todays topic: Imagine Agents, or, more specifically, Terry Snowgoose and Dave Slatern of "The Institute of the Management, Acclimation, Guardianship and Incarceration of Notional Entities."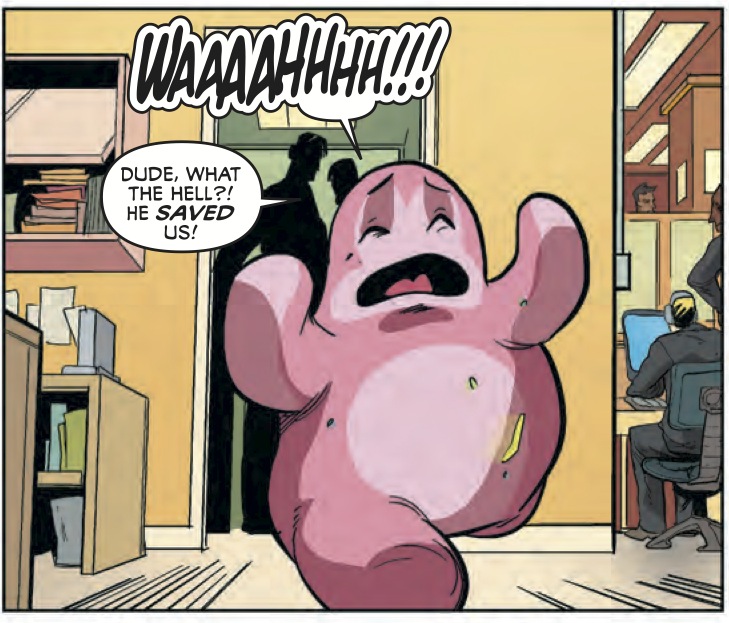 Must not have gotten his Xbox One at midnight.
If you missed last month's debut, no worries; the premise is simple: what if Men in Black became auditors of children's imaginary friends? This is that tale — minus Will Smith, sadly. Instead, we have a veteran agent (Slatern) and a red bearded "barely been on the field agent" (Snowgoose) who really do nothing for me. I kept wishing writer/artist Brian Joines would give Snowgoose a Top Gun reference, but alas, that never happened.
He never truly did like Teddy Ruxpin.
Thankfully, things gets juicier once our story with young Elliot and his "friend" Furdlegurr begins to unfurl. You'll love the kid and his dramatic irony. Furdlegurr disappears after the Agents of I.M.A.G.I.N.E. catch wind of the devious imaginary friend Dapple's evil ploy. Thus, Elliot's classmate — and non imaginery broheem — throws in a helping hand to find that very…friend. When Elliot's own mom gets involved (who could be none other than the first of the imaginary's friends), all hell breaks loose.
Sorry, did you say something? When issue #2 ended, I couldn't help but become ticked and concerned over Elliot, surely raising my internal mom voice at the comic book pleading, "NO! Don't do that Elliot! It's a trap!" #Dramairony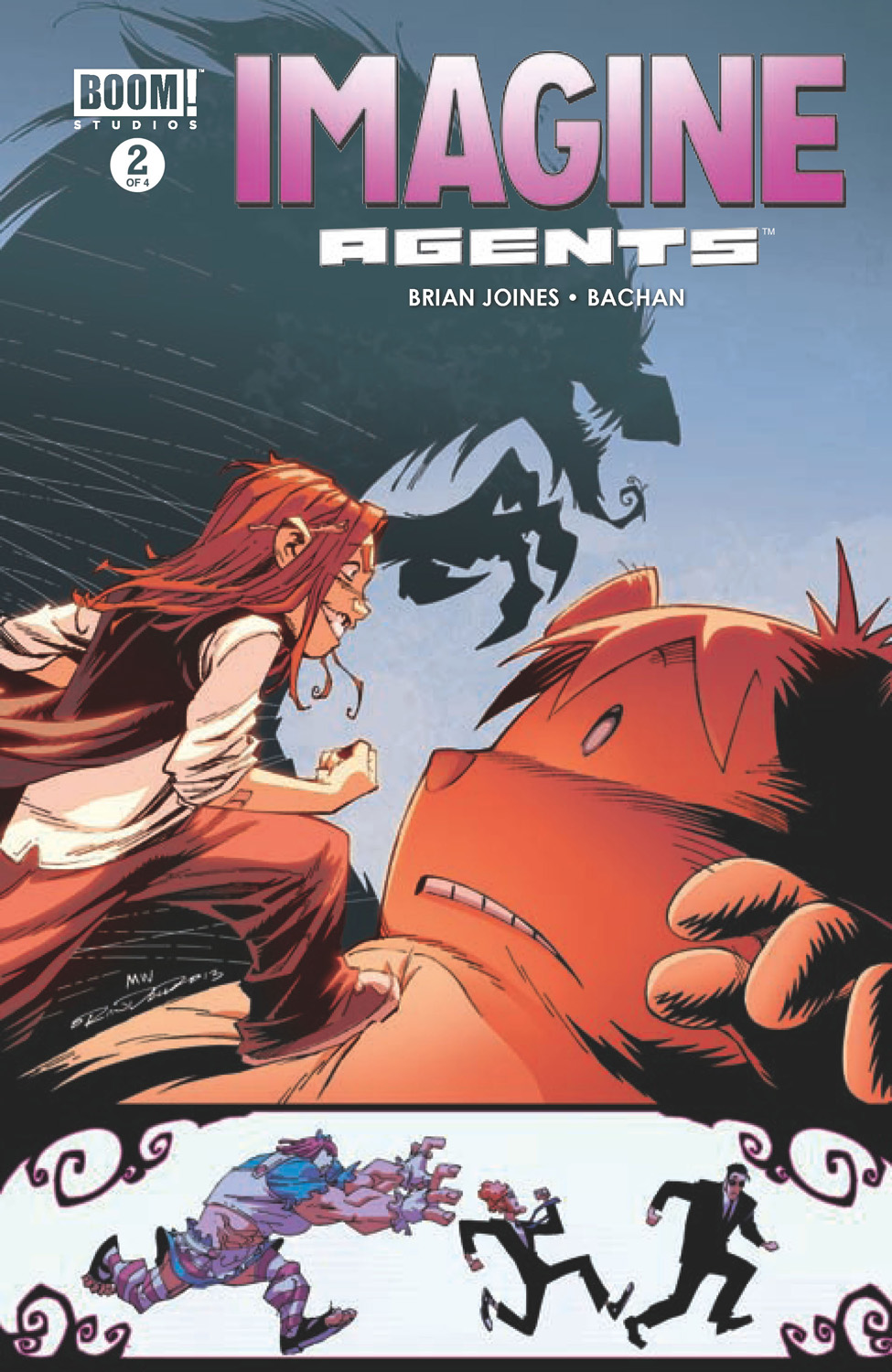 Better yet, BOOM! Studios presents Imagine Agents an "all ages concept". It's a clean story that's very straight to the point. I could give this to my nephews and know that everything in it was PG, but a great read for me as well. While comics often infodump like a baby spoon to your mouth, all of the nitty gritty details in Agents are presented through action; this nonetheless makes for a great babysitting/naptime-story read. You know, you could be the new cool babysitter, aunt, uncle, or big brother/sister with this comic. And the cliffhanger really does leave you wanting to finish the whole miniseries.
It's almost sad to think that having one of these imaginary friends will eventually create a void in your life that you can never completely fill. Is there something you want to let us know about your childhood, Brian?
JK. Because of its great pacing, many humorous/curious moments, and panels of absolute eye-splendor (sort of Invinciblesque), Imagine Agents is a comic series that I actually promise to finish.
I.M.A.G.I.N.E. that.
– Eva Ceja
Eva joins us this week courtesy of our pals at God Hates Geeks. Check 'em out; the site is a religious experience for any geek!
---
The Shadow #20
(Chris Roberson / Giovanni Timpano / Fabricio Guerra; Dynamite)
A few years ago, while conducting my regular dive through the dollar bins, I came across a gem of a series called The Shadow from 1987. I've written about and referenced this series at every given opportunity, but since its abrupt end at issue 19, I'd abandoned the character. The Shadow inhabits dozens of novels, old-school pulps, comics and other forms of media dating back to the 1930s, but for some reason I've been stubborn and dedicated to the idea that if it's not Andy Helfer's Shadow (as seen in my beloved 1980s series), I don't want to read it. This week I figured I'd change that.
Right off the bat I expected to see the same things I'd seen from my previous Shadow reading experience. I wanted the elaborate web of agents, the vile villains and the mysterious, stalking mastermind wielding his pistols and laughing against the night. I didn't get any of that.
Instead, writer Chris Roberson gives us a detour into a Russian detainment camp. As expected, it's miserable and gray and filled with labour, sadness and death. No surprises there. The twist comes from the introduction of a murder mystery. Someone is hunting guards and prisoners alike, carefully taking down his prey and displaying the bodies in a most gruesome manner.
The stage is set pretty nicely, with Roberson giving us a prisoner to narrate and a mystery to solve. The Shadow eventually makes his appearance as a fellow prisoner, having made his way into the camp for information. I haven't read any Shadow pulps, or even any other Shadow issues from Dynamite but I do know that there is a plethora of material written about the character's history before he donned his red scarf and hat. Hinting at his pre-WWI Russian connections is interesting, but we're teased with info and must focus instead on the murder mystery at hand.
Ultimately, the identity of murderer and the solution to his crimes becomes fairly obvious and unsatisfying. The Shadow's mission and involvement is merely an excuse for this brief, yet interesting look into some of the grimmest parts of Stalinist Russia. It's neat, but it seems as if any character could fit the mould and have essentially the same story told.
Giovanni Timpano's art didn't initially impress me, but first impressions aren't everything. My eyes instantly went to the characters. Their faces seemed muddy, their anatomy inconsistent and their features unimpressive. My opinion didn't necessarily change, but I began to notice the better aspects of the art as I read on. Timpano's choice of angles, for example, is exceptional. Each panel is constructed beautifully and the layouts feel like a storyboard for a film. The environments are terrific as well. Often I find this style of art goes the way of Jae Lee with minimal background exposure, leaving the reader in a sort of daze as to where the story might be taking place, but Timpano brings his settings to life. When his shots were at further distances, showing the characters in their surroundings, the art was at its best.
His Shadow was also a sight to behold, though why he was dressed in his traditional costume at all in this issue is beyond me. Sure, ducking in and out of a prison camp Hogan's Heroes style is one thing, but to change into his Shadow gear once outside seemed unnecessary.
I may stick around for a few more issues of The Shadow, but I'd like to see more plot development. I'd like to see some expansion on The Shadow's Russian past (though something tells me that might have occurred in an earlier issue). I'd like to see colourful agents, manic villain takedowns and intricate, elegant plans come together in unexpected ways. This wasn't that kind of story. This wasn't what I expected from The Shadow—but it was interesting enough.
– Chris Wunderlich
---
Uncanny X-Men #14
(Brian Michael Bendis / Chris Bachalo / Tim Townsend / Jaime Mendoza / Al Vey / Mark Irwin / Victor Olazaba / Joe Caramagna; Marvel Comics)
With the Battle of the Atom event in the rearview mirror and Marvel's merry mutants left picking up the fragmented pieces of their family, dynamic writer Brian Michael Bendis decides now is the perfect opportunity to shed some light on one of the newer student, Benjamin Deeds, who was introduced back in All-New X-Men #3. The moniker-less mutant, who has the ability to transform into any individual in his immediate proximity, is a risky choice to devote an entire issue on especially after coming off of an event like BotA. However, the decision turns out to be a wise one as certain elements of this story actually wound up being more engaging than what has transpired recently.
Bendis creates an opening sequence depicting the X-students undergoing a physical test by Cyclops which sees the children traversing a rough terrain sans their mutant powers. As young Benjamin struggles, Cyclops takes the opportunity to critique him on the fact that his powers are passive and proceeds to provoke the young mutant, even throwing and landing a punch on Benjamin and prompting him to strike back. This sequence was the strangest moment of the book as it casts a negative light on Scott Summers. Sure the guy can be a jerk and has undergone a tremendous amount of personal turmoil since being host to the Phoenix force, killing his mentor Charles Xavier and dealing with the fact that his deceased wife is now back in the picture. But to take a shot at a student under his care? I found that to be a controversial call.
Emma Frost goes to settle the young man down and a wonderful conversation is struck between the two of them as Emma dictates to Benjamin the potential his power holds and that there is much more to him than meets the eye, as his powers appear to allow Benjamin to secrete a calming effect on those around him. With this in mind Benjamin and Emma head to Atlantic City to allow the boy to practice his powers. It is during this time that Ms. Frost suggests to Benjamin that he try to "pick-up" a young woman and he reveals that he is in fact gay.
Brian Michael Bendis demonstrates his prowess with the X-Men as much of this issue felt like it could have fit right in with something in the glory days of Chris Claremont. The fact that Bendis uses SHIELD as the ultimate test for Benjamin was an awesome show of force to just how powerful this mutant can possibly be. Bendis also infuses some great comedic moments between Emma and Magik and even the subtleties in Benjamin's test elicited some chuckles as well. Artist Chris Bachalo's pencils where seemingly much tighter here than they were during Battle of the Atom. Chalk that up to the weekly schedule perhaps because this just felt much more focused.
This issue was a very welcome change of pace from all the hustle and bustle we have dealt with over the past few months. Surprisingly, there was a tremendous amount of character development for young Benjamin as writer Brian Michael Bendis really delves into the character and fleshes out an intriguing story. Overall, Uncanny X-Men #14 is an interesting read that will leave plenty to contemplate with the origin-esque story of Benjamin Deeds.
– Robert Tacopina
---
Conan and the People of the Black Circle #2
(Fred Van Lente / Ariel Olivetti / Richard Starkings; Dark Horse Comics)
I admit the cover had me worried on this one. I mean, Conan's a big guy and all, but he still falls within the human range. He shouldn't look like the Incredible Hulk. And that Conan on the cover is clearly pushing into Hulk territory. When that line gets crossed—well, it's too easy for Conan comics to cross into a parody of inhumanly muscular strong men hacking away at each other for the love of balloon-bodied women, instead of the nuanced, balanced prose of Robert E. Howard.
Fortunately, I needn't have worried. Giant Conan is on the cover only, and once you get into the story, artist Ariel Olivetti is giving us a more realistic portrayal. Which is good, because even though Conan is a fantasy series it works best when kept to a naturalistic tone instead of bombast and exaggeration.
The star of the second issue of Conan and the People of the Black Circle is Khemsa, the rogue mage who betrays his masters for the love of the treacherous Gitara. I loved the way Van Lente and Olivetti portrayed Khemsa. Other adaptations I have seen show Khemsa to be far more human than his masters of the Black Circle, but this Khemsa is every bit the inhuman creature they are, and it makes the love story between him and Gitara all the more striking. Khemsa has always been
a pitiable figure; you just know he isn't going to get away with his schemes, and that he is really just Gitara's plaything—but this is the first time I think I have seen him given some respectability as a singularly dangerous man. The use of Khemsa's magic in particular is well-done. Van Lente and Olivertti capture that sinister horror of death at the snap of a finger.
Ollivertti's art continues to be outstanding. He clearly likes drawing monsters more than people, as his inhuman Khemsa is painted with much more affection than his girlfriend Gitara. He likes to paint that movie fantasy of clean desert bandits. It fits the mood of the comic—this is clearly happening in a land of art and beauty, and not in the real world. I always laugh a little at scenes of hard-fighting desert raiders, who live in tents with their livestock, walking around in bright, white linens looking fresh from their laundry service. But like I said, it fits the mood. Ollivertti's world is bright and clean and full of color, like an old Hollywood Technicolor musical.
The weakness in this second issue is that we are really feeling the time crunch of having to smash People of the Black Circle into four issues. There is no room for development, no room to do anything but push the story forward from scene to scene. And that's too bad. Given more time, there is plenty of meat to expand the story. The friendship between Yar Afzal and Conan could be a tale in itself. The love story between Khemsa and Gitara could be expanded on. I have always loved Dark Horse's methodology of taking one of Robert E. Howard's original stories as a base then expanding it and "filling in the gaps" to make a larger story.
In fact, to make this work I think Van Lente should have cut some of these story elements. He is doing an admirable job trying to fit everything in, but it makes issues like this feel rushed and without any real pacing. Maybe he could have cut Yar Afzal's camp from the story—but then someone would have complained, of course. These are the choices an adaptor has to make, and sometimes there is no perfect solution. Something has to give, and in this case it is the pacing.
Now that Van Lente has been announced as the new writer for the ongoing Conan series, it seems a shame to have wasted People of the Black Circle in this four-issue mini-series. After all, if Brian Wood can stretch Queen of the Black Coast out for two years, there is no reason Van Lente couldn't have done more with People of the Black Coast. So this is a fun series, and I am enjoying it—but it is a bit of a missed opportunity.
---
Sex Criminals #3
(Matt Fraction, Chip Zadarsky, Becka Kinzie; Image Comics)
Read this sentence the breathless way a thirteen-year-old would have in the '80's after seeing
Porky's
or a VHS dub of
Hardbodies
for the first time: ''Sex-Criminals-yeah-it's-about-this-chick-and-this-dude-who-stop-time-whenever-they-orgasm-and-there's-this-sex-shop-and-it's-called-'cumworld'-and-the-chick-and-the-dude-are-always-talking-about-rubbin'-one-out-and-about-all-of-the-people-they've-fucked-and-the-dude-sez-he-fucked-other-dudes-which-cool-and-she's-all-surprised-and-he's- like-whatever-and … and … Apple-banned-it-on-
comiXology
-cuz-of-all-the-sex-stuff.'' Plus: SEX!
Sex Criminals happens to be all those things AND an Uncle-Miltie-sized fleshlight, which is vile and won't help you at night … sort of. Matt Fraction and Chip Zadarsky use a kind of unconscious collective of the political, social and psychological parts of sex to subvert expectations, which, when I think about it, is a lot like an adolescent's understanding of sex, a lot of rumors, few facts. The real genius comes from how both creators play with form and function; a sex comic for the sexually and comically curious.
As either an assignation or to make the reader feel culpable with these sex criminals, Fraction abuses fiction's fourth wall like a virgin with a gross of Astroglide — it's Understanding Comics except the narrator doesn't wear glasses, has longer hair and wears tighter t-shirts. Direct address is only one of the rainbow of colors for the self-aware storyteller. But stuff like that doesn't put the spring in Springfield after a while. So in Sex Criminals #3 goes further to indulge the musical theater queen in all of us.
For three-and-a-half pages Fraction and Zadarsky comment on: licensing, the sausage-making aspect of art, censorship, further develop their main characters (Suze and Jon) and the gift that was ''Freddie fucking' Mercury.'' While Suze sings Fat Bottomed Girls, Fraction stops the story short to address the reader head on about trying to get the rights to use the song, running out of time and how he ''always wanted to shoot a real musical number back when I made videos and stuff.'' All of this shows up in post-it sized yellow squares over Suze's speech bubbles. Lemons into lemonade, a circle jerk into an orgy.
Zadarsky cuts and colors the sequence in equal parts Busby Berkeley and Baz Luhrm
ann. Close-ups covey intimacy — Suze's legs atop the pool table, the upper half of her body squeezed into four tight panels; however, they can't sustain movement the same way a wide shot can — dance is about how a human body moves through space and Zadarsky knows when to pull out annnnnd these longer shots also let the reader in on jokes like how the bathrooms at the pool hall are labeled for 'cues' or 'pockets.'
I only thought 'sex police' was a thing in that one Whitesnake video, but since issue one Fraction seems fit to bring these three white-suited — now dildo-wielding — cock blockers into Jon and Suze's reverie. It's saltpeter in an otherwise ballsy narrative about men, women, love, sex and relationships and the whole sweaty mess. Go figure, some dicks are always trying to ruin sex for the rest of us. At this point, Fraction and Zadarsky have me by the short and curlies … here's hoping they don't fuck it up.
– Keith Silva
---
Batwoman #25
(Marc Andreyko / Trevor McCarthy / Andrea Mutti / Jim Fern / Pat Olliffe / Jay Leisten / Tom Nguyen; DC Comics)
Hey, who knew that Bruce Wayne was actually a decent dude? Yeah, he's not always just a deep, dark, brooding avenger of the night. Our millionaire playboy is also a real charmer, a man who knows the right thing to say in awkward situations as well as a good shoulder for a family member to cry on at a funeral. Did any of us ever really buy Christian Bale or Michael Keaton as playing Bruce as doing anything more than waiting until the moment when he could put on the cape and cowl again?
But in this "Year One" crossover, in which we watch an untold story in the life and career of Batwoman, we see that side of Bruce, and it's fascinating. He's a different man here – but somehow still isn't quite out of character, even when he smiles. In these moments it's easy to imagine Bruce's life if his parents hadn't been killed – chances are he would have been reducing the incidences of malaria in Africa or something.
But this is Kate Kane's comic, not Bruce Wayne's, and Batwoman #25 is a sleekly told tale of our heroine before she fully becomes Batwoman. With a great storm approaching Gotham, Kate decides to give crime-fighting a try. Donning a set of black clothes and a hoodie, she decided to go out and help people – only for the expected hijinks to ensue.
Marc Andreyko, writer of Manhunter, one of my favorite female-centered series, takes over Batwoman with this issue. He delivers a story that lives up to his reputation as a writer of smart, tough, intense women who fight crime for their own reasons. Kate is tough as nails, a feeling reinforced by the way the legion of artists draw her with short hair and obvious military training.
It seems that Andreyko and his team may be making a statement in this issue's transition from the comfort of Bruce Wayne to the rough-and-tumble world of crime-fighting. Kate Kane is willing to throw herself through a glass roof to fight crime. That's a woman whose comic I want to keep reading.
– Jason Sacks
---
Mr. Peabody & Sherman #1
(Sholly Fisch / Jorge Molongo; IDW)
---
Birds of Prey #25
(Christy Marx / Romano Molenaar / Daniel Sampere / Travis Moore; DC Comics)
---
Cataclysm: the Ultimates' Last Stand #1
(Brian Michael Bendis / Mark Bagley; Marvel Comics)