Singles Going Steady is Comics Bulletin's weekly single issue review roundup.
Superior Spider-Man #25
(Dan Slott / Christos Gage / Humberto Ramos / Victor Olazaba / Delgado, Fabela & Gandini / Chris Eliopoulos; Marvel Comics)
It's a little disheartening to have glanced at the solicitations for Marvel's April books and the surprise it holds in store for Spider-Man. Superior Spider-Man has been such an absolutely fun read since its inception, one that has been chock-full of interesting and at times diabolical plot threads that have been woven seamlessly throughout each and every issue. Even the fact that Otto Octavius is currently posing as Peter Parker/Spider-Man has been tremendous regardless of that it was met with much trepidation.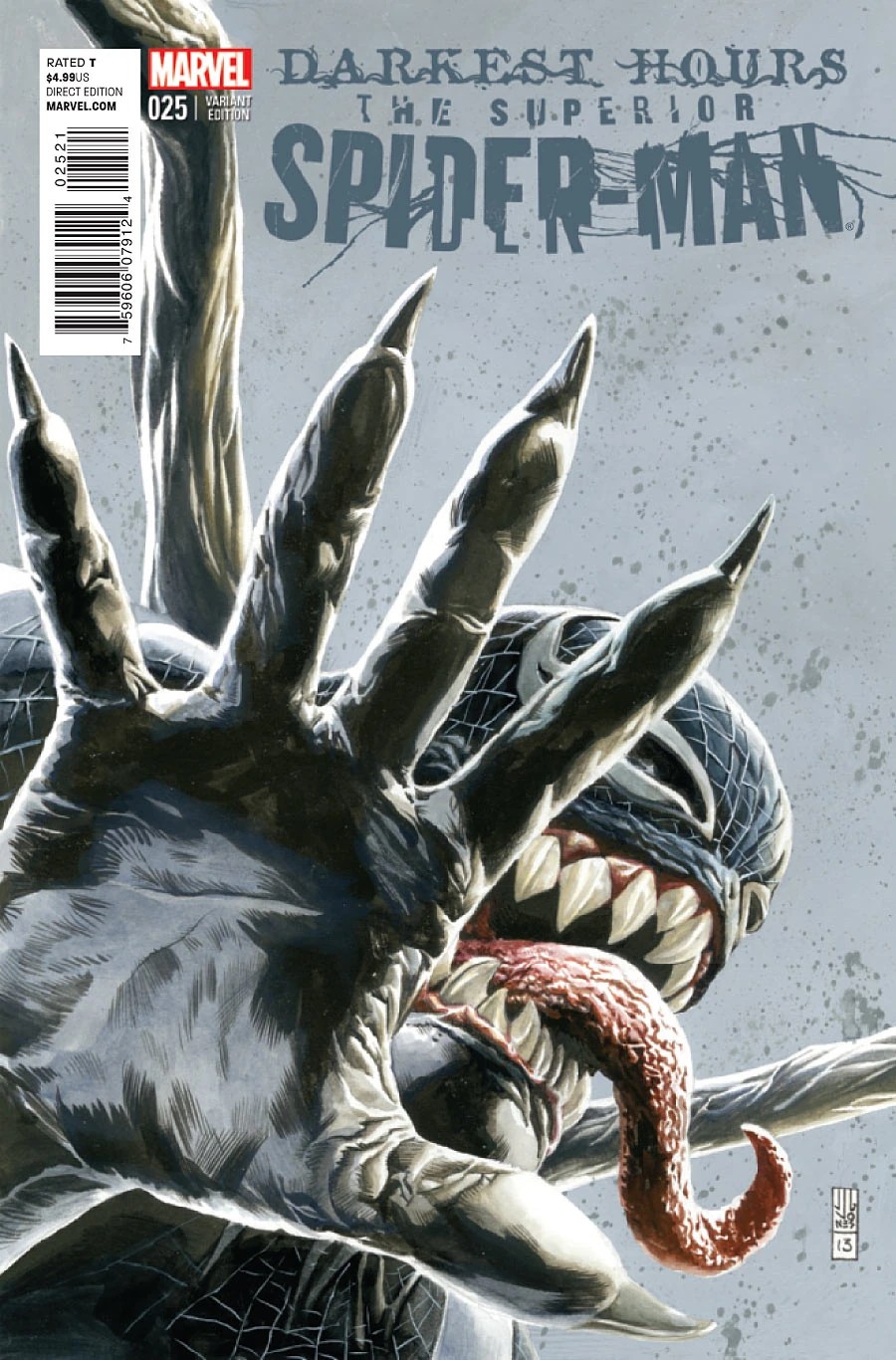 As the "Darkest Hours storyline" concludes with the quarter century mark, it leads directly into what will most likely be the final arc of Superior: "The War of the Goblins". It's a damn shame, too, because there is still so much exciting potential that will be possibly left unresolved if Otto is no longer Spider-Man. Writer Dan Slott has managed to incorporate years' worth of story-lines into his Superior run and has really upped the ante with this latest story arc.
There is SO much happening in this issue and it races at a brilliantly haphazard pace to the finish line — but not before the reader is treated to some phenomenal moments. Practically everyone who has played a part in this amazing Superior run has a moment of face time. Spidey, under the guidance of the symbiote Venom, faces off against his teammates in the Avengers. Menace and the newly minted "Monster" Carlie Cooper prove the newest member of the Goblin family is now working for Green Goblin. The original Hobgoblin, Roderick Kingsley, is at odds with the aforementioned Green Goblin who may or may not be Norman Osborn.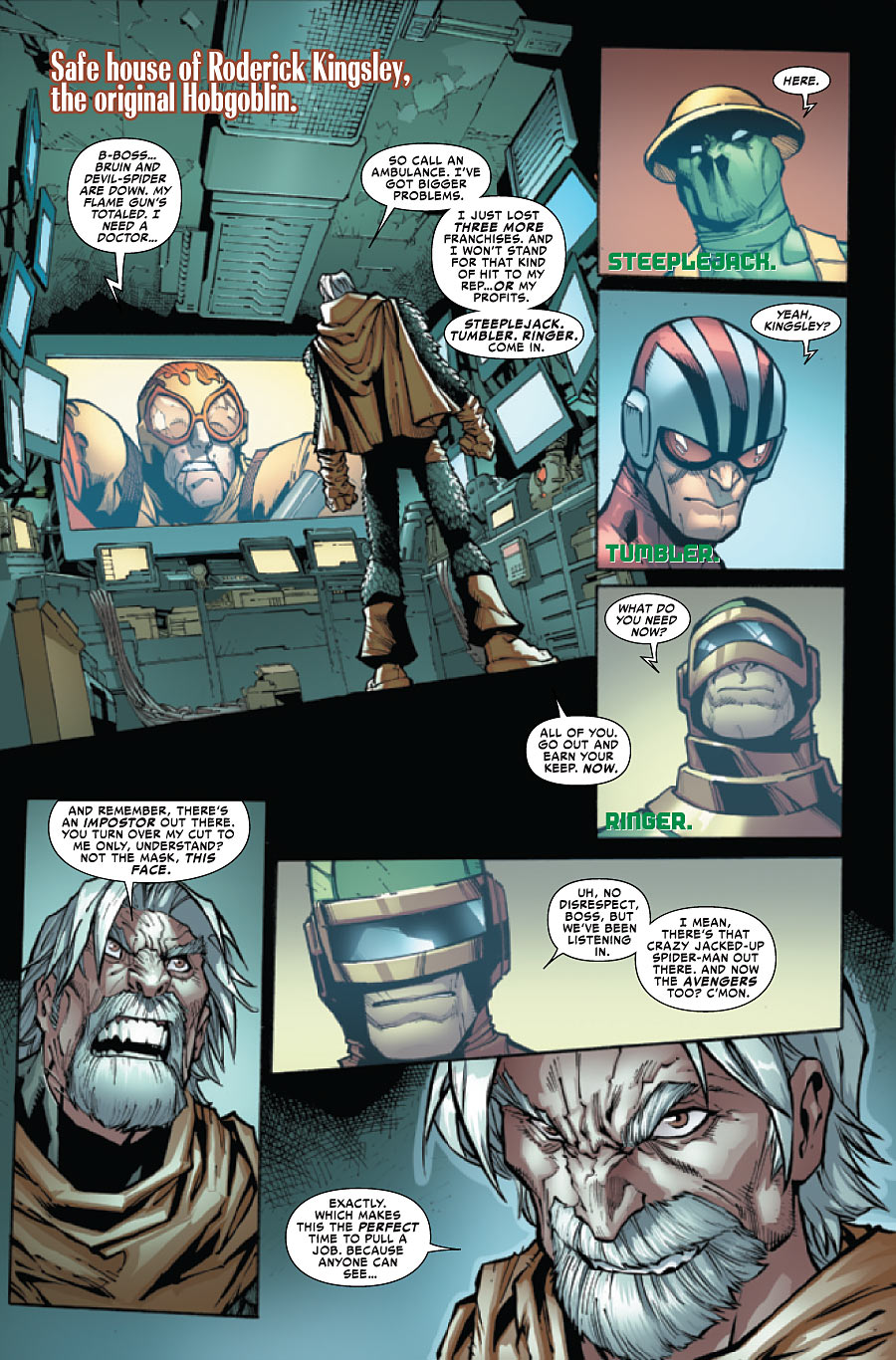 The interaction between the characters was awesome. Kingsley's use of his minions and how disposable they are to him highlights how despicable the goblin avatars are. The same can be said for the thugs working at Otto's Spider-Island. Flash Thompson's collaboration with Tony Stark was a neat surprise and played out perfectly in their plan to stop Superior Venom and also on the panels on page. All around it was just a great read. Even the least consistent part of the Superior formula, the artwork of Humberto Ramos (just personal taste), has seemingly stepped it up in this issue.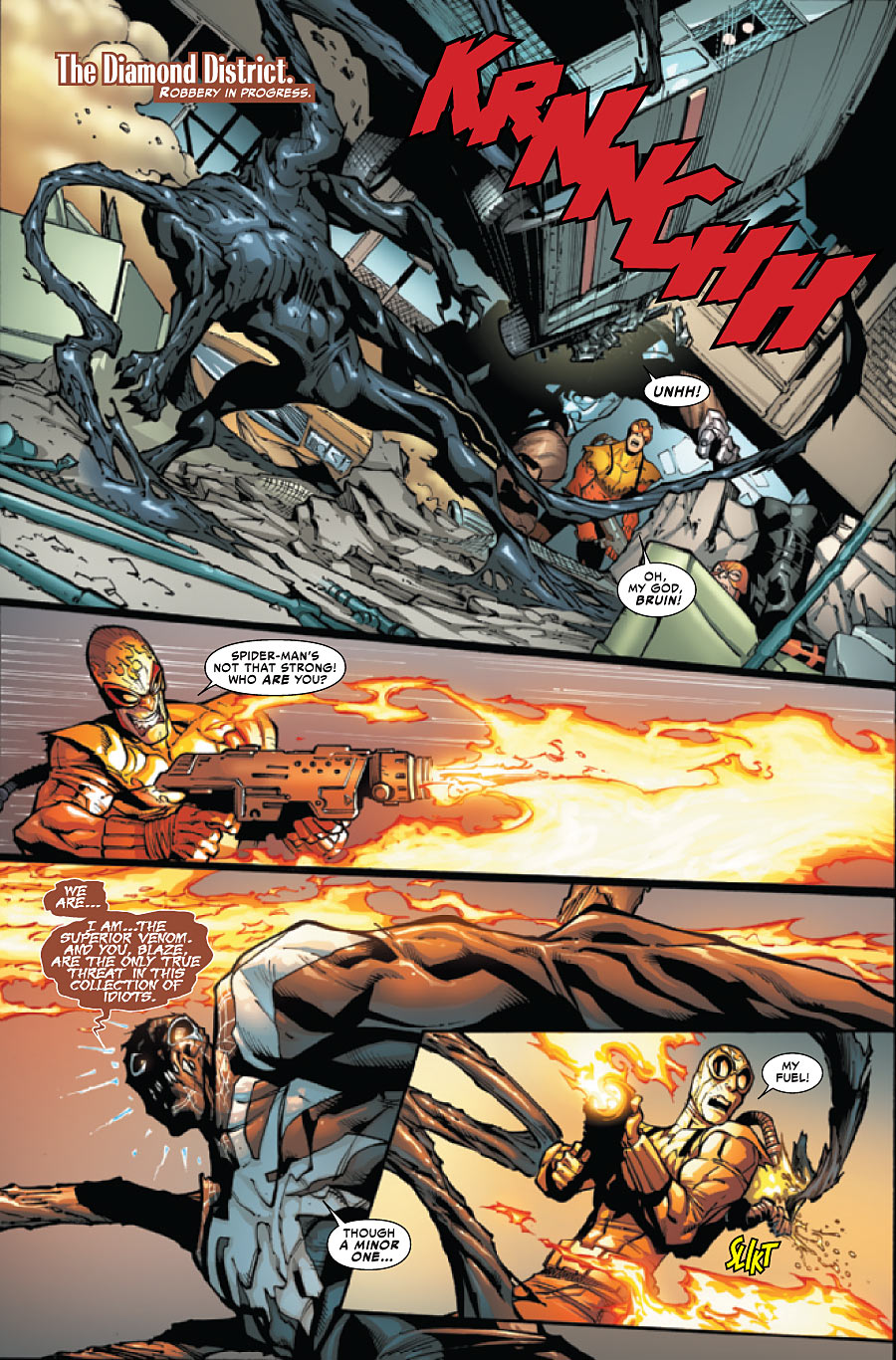 There are so many pieces put into motion by Slott and co-writer Christos Gage all leading up to the promisingly dark War of the Goblins. Superior Spider-Man #25 is a fun action packed comic book. Excellent writing and just great plotting have given Otto's reign as the wall-crawler a memorable one. Hopefully, Marvel manages to somehow keep Otto involved in the storyline even after the real Peter Parker returns.
– Robert Tacopina
---
Prophet #42
(Ron Wimberly / Brandon Graham / Giannis Milonogiannis / Joseph Bergin III / The Bri$$; Image)
Comics The world needs more people like Ron Wimberly.
If such a thing exists, Wimberly is the comic book creator's equivalent of a five-tool athlete. The five tools (mostly as regards baseball) are the abilities to hit for power, hit for average, run, throw and field. For those in Wimberly's class the metric breaks down like this: draw sequential art, draw standalone art (covers), ink, color and write. All of which makes Ron Wimberly the Willie Mays of comics.
In Prophet #42 Wimberly takes the wheel of Brandon Graham's saturnalian Sci-fi WMD to tell what Wimberly refers to as a 'Diehard Gaiden,' in short, a tale about a couple of days in the ten thousand years the character Diehard has been alive. If you're on the beam, Wimberly's story picks up from his single panel contribution in Prophet #39, so more of Diehard in the land of cute four-armed little aliens with rabbit ears and a sacred love for the mouth organ. Hint: it sounds like late summer cicadas or ''like the crickcrax of B-3245 only much, much smaller.'' Here's the skinny on Prophet: just go with it.
Wimberly thinks in comics. When asked by Newsrama if, under Graham's watch, Prophet bucks the current [?] trend of comic book art being in service to story, Wimberly says: ''Wow, is that the trend? That's terrible! I think comics [are] supposed to be about that harmony of marks as pictures and marks as words. In the end it's a mark-making medium, a drawing medium.'' Those of us who write or talk about comics would do well to mind Wimberly's (re)marks.
For all his big talk (and his artfulness), Wimberly makes visceral comics. He doesn't attack a page, as much as he leans in close a
nd slips the blade between the 5th and 6th ribs and twists. Those sherbet pinks and midnight blues are a warning, this machine kills.
If Prophet dropped off your pull list shortly after its relaunch by Graham in 2012 either because it was too weird or art wasn't Steve Platt enough for you, fine. To be honest you haven't missed much especially where continuity and other narrative fetishes like 'plot' are concerned. Prophet occupies a pocket universe in mainstream comics as much as any title from an Eisner winner (Graham) with distribution by a publisher who has cannily aligned itself with creator-owned content could ever wish to achieve. In some far flung future, Prophet will be a departure point for the promise of comics. Marks as pictures, marks as words, fuck yeah.
– Keith Silva
---
Miracleman #1
(Mick Anglo / The Original Writer / Gary Leach / Steve Oliff; Marvel)
What a relief to identify one publisher for this title again. That took awhile, didn't it? It can't have been easy getting to this point. TwoMorrows has a whole book about why not. My personal theory is something to do with Marvel's healthy relationship with Neal Gaiman, who has a story to finish that he started so many years ago.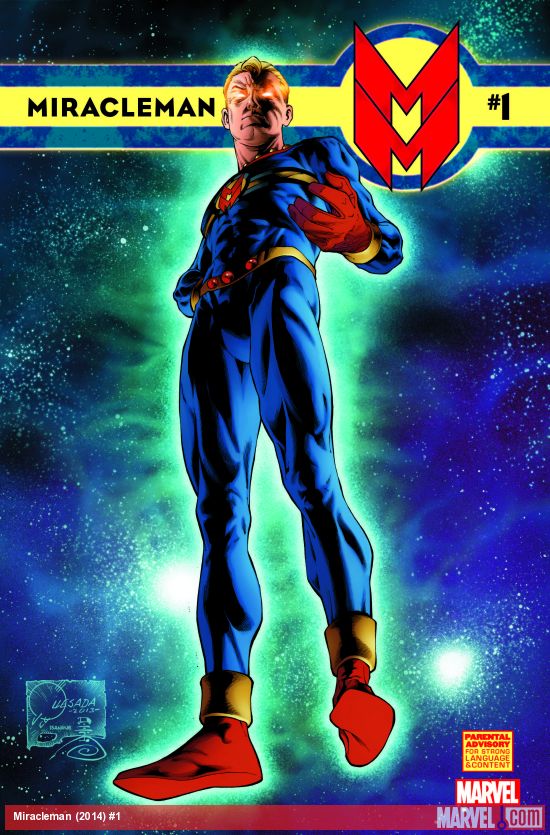 Miracleman is a hero who illustrates just about everything related to the comic book world, especially the relation between America and the mother country across the pond. He can't really be Marvelman, because he's a little too close on every level to Captain Marvel (whom the distinguished competition bought long ago). He couldn't be anything for years due to legal entanglements after his revival to indie greatness in the 1980s. When, I'll argue, he was every bit as influential to subsequent comics as Swamp Thing, Watchmen and the other projects by the Original Writer. In the phase when he was contributing to mainstream comics (a field from which he has largely withdrawn).
This title was forging new ground in the 1980s, pulling on all the tropes of 40 or so years of history in that first flush of postmodern self-awareness the Original Writer pioneered. Mike Moran was a dull, even disaffected and lost normal dude. Down on his luck in life, beset by all the betrayals and shocks of years intervening his shiny 1950s childhood, a disappointment to his wife and himself. Only he could remember a more magical time, other-worldly adventures, and another body that was so far superior to his own.
The original 16 issues went on to inspire pretty much all of Planetary (and probably The Authority too), setting the tone for Vertigo prior to Vertigo, nearly as much as Swamp Thing did. And then the subsequent eight issues borrowed Vertigo artists and writers to build on everything that had been revealed about the extreme endgame of the super-hero power fantasy in a variety of stylish and stunning ways. Well, the gay stuff wasn't very evolved, but that was again a clash between 1950s origins and 1990s reality. There definitely remains more story to tell.
Apparently, to get there, it's time for the 1980s revival all over again. Which is fine, as so many haven't read these legendary tales or have had a hard time finding them. And Marvel is giving them the luxury treatment, acknowledging the Mick Anglo history that the Original Writer drew on so cleverly as well as setting those Warrior/Eclipse originals in careful reproduction. There are some changes; some welcome, some less optimal. The original story was serialized in fragments by chapter, and that serial nature is de-emphasized. Conversely, however, this issue actually contains less of the Original Writer's material than the first Eclipse issue, ending the story a few pages early in order to better set up the big reveal of the next issue (the first major villain; and the villains antagonists are needed to drive this curiously passive hero).
The coloring and lettering have been redone, and they're on nicer paper so they look better (if a little pale and reverential compared to the heavier saturation of the originals; it's yet another version since the update for the long out of print trades). There's also a boatload of extra features, including Behind the Scenes, interviews, the original cover, and black and white 1950s reprints. It all works as a reproduction, but I'm not sure it justifies the high cover price. Subsequent issues will be slightly cheaper, but I wouldn't mind forgoing all the padding and just doing the 1980s stories on a one-for-one basis, a la DC's Essential Vertigo titles or old Marvel reprint series like Marvel Tales or Marvel's Greatest Comics.
The great moment this issue is that transition from "old footage" (billed as a 1956 prologue) that occurs with a radically weird zoom into the Don Lawrence Miracleman's impossibly perfect shining smile. We get lost in the glint in his eye, and when we turn the page, Gary Leach has brought us into a realism that seems to make the past Mike remembers so vividly all the more unlikely. And thus begins our exploration of the superman, Nietzsche model.
Though I have the original American issues, I'm probably on board for the long haul, and not just to get reading copies. Well, maybe just. I can't believe we have to wait till 2016 for new Gaiman, though.
– Shawn Hill
---
X-O Manowar #21
(Robert Venditti / Trevor Hairsine / Cary Nord / Victor Fuentes; Valiant Comics)
It's week 3 of my great Valiant adventure. If I've learned anything, it's that Valiant's line of books deserve to be read. Quantum and Woody and Archer and Armstrong both proved the company could handle the buddy-book, so this week I tried something completely different. X-O Manowar was a nice read, but it left me wanting.
What exactly did I want? More! More everything! Thanks to Valiant's top-notch recap pages, I was able to grasp the story pretty well for missing out on 20 previous issues. Aric the Visigoth was abducted by aliens way back in the 400ADs. He stole an awesome battlesuit, beat the bad guys and came back to Earth to find himself in modern day. Using said fancy battlesuit he tried to rebuild his empire in Romania, fighting his former alien overlords and apparently causing lots of trouble. Issue 21 is closely related to the events of Valiant's Unity which I haven't read, but from what I gather Aric got his butt kicked, lost his armour and eventually found his people captured by US government. The resulting issue is essentially a conversation between Aric and a government official. They want his suit of alien armor. Tack on an intro scene of Aric as a kid back in the 400ADs and we've got the issue in a nutshell. It's simply not enough.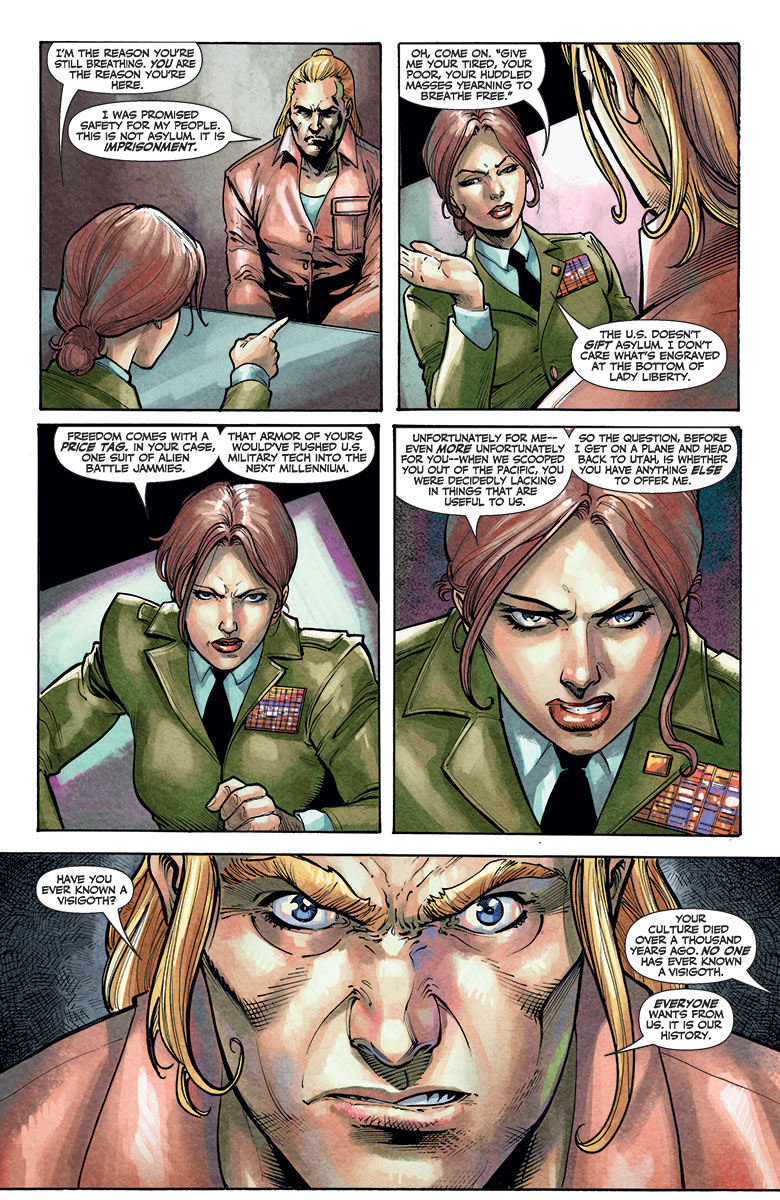 Robert Venditti handles the story and dialogue quite well. I'm sold that Aric is an ancient Visigoth living in modern times, without any tacky Thor-like speech patterns. He's a Visigoth, but he's adapted. He's a king and captivity is not on his agenda. Under Venditti's pen, Aric is a character I'd certainly like to see more of. The other players here are convincingly written as well, including a seemingly random scientist who gets some of the best lines in the book. If I have any qualms about the writing it's the pace of the story. I can't speak for the rest of the series, but this issue doesn't do much to push the story forward. I suppose I just chose the wrong issue to introduce myself to the series.
The art, on the other hand, I have no qualms with. Trevor Hairsine handles the flashback well, giving us a great, gory war to open the book with. Cary Nord then steps up the game with terrific figure work and some crisp, clean sequential storytelling. His work kept me engaged in a book dominated by discussions, which is no easy feat. The colouring by Ulises Arreola is worth noting as well—it's very old-school Valiant, which was quite surprising. If you've ever read an early 90s Valiant book you know what I'm talking about. Don't get me wrong, this issue is very modern looking and professional, it just has a neat throwback feel in the colours (specifically in Nord's work).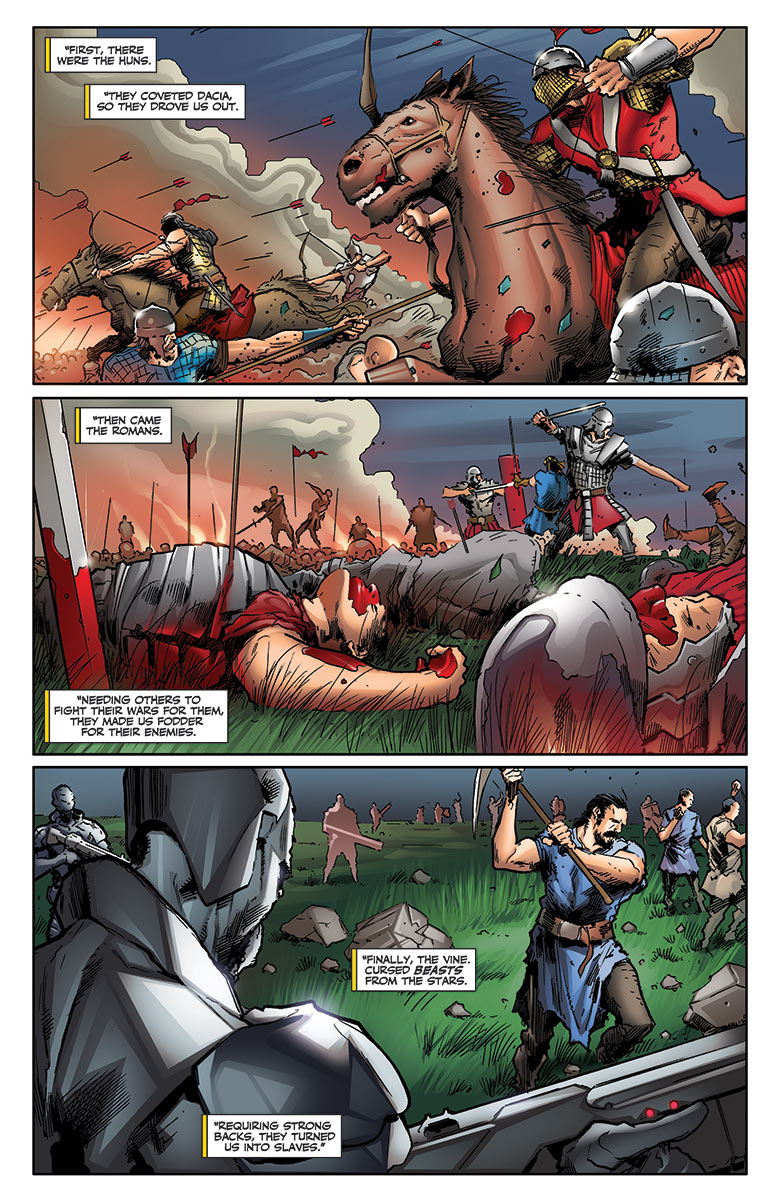 X-O Manowar #21 might not be the "must read Valiant" I was hoping for, but it did convince me to check out some of the back issues and continue reading. There's an interesting story here—this issue just did very little to shine a light on it. Hopefully next month we'll get more.
– Chris Wunderlich
---
EGOs #1
(Stuart Moore / Gus Storms; Image Comics)
One of the recurring observations to come out of Image EXPO concerned the number of sci-fi comics they're launching this year. While laser-wielding aliens may not yet be the new brain-munching undead, sci-fi, hard or soft, is trending. The fantasy/sci-fi nexus especially, that mystical realm from whence came Saga, Multiple Warheads, and Planetoid, is crowded, so Moore & Storms are smart to situate EGOs in purer SF, with galactic empires, holograph-wearables, liquefying death beams, and human enhancements not unlike superpowers. The problem with going straight up space-based science fiction, though, is that for today's savvy Image reader, it's standard entertainment fare. That's why the fantasy tag-team works so well, with tree spaceships, ghost lovers, and post-apocalyptic werewolf romance spicing up the photon torpedo schtick. So how does EGOs spice things up?
Well, at its best, this issue works a nice contrast between slick, offhand narration and the dangerous, every-minute-a-little-more-obsolete universe it narrates. Viggo's death scene above is a pretty standard "here's a badass, now they're dead, see kids, anything can happen!" opener, but it shorthands a universe where self-sustaining miracle tech hasn't yet gone full Kurzweil; where rugged, moustachioed ex EGO lone wolves can and will get skinned. There are risks and workaday hardships in this future, glitches lingering in the mainframe. As populated with Gus Storm's plasticky white costume choices, it's a cynic's Apple-designed future, not something you'd ever see the Cupertino crew sign off on.
Deuce, a low-level enhancile with date-rapey persuasion powers, is using the aforementioned holo-tech to make a comeback long after his EGOs (Earth/Galactic Operatives, get it?) disbanded. His new team comprises illicit self-clones tweaked for knowingly boilerplate abilities (such as "can blow open any enclosure"), said clones having been created using tech stolen from his girlfriend's evil mother, who was the cloning villain queen before the EGOs beat her down. There's mention of an absentee son (the cocky, cosmic bong-slurping narrator… TWIST!), and a kid on a derelict planet who's set on EGO status, but honestly, the characters seem like a joke to Moore and Storms, so why care?
If EGOs is going to go anywhere, it's going to need to find a heart, and soon. As of issue #1, it's a little too knowingly familiar, too superheroically insular to be compelling. Perhaps as the focus shifts away from dull Deuce, his anodyne clone-squad and feisty-bland wife, towards the interestingly designed villains Masse and Top Quark, or the precocious Shara, EGOs will stop being genre commentary, and start being a good story.
– Taylor Lilley
---
Eternal Warrior #5
(Greg Pak / Robert Gill / Guy Major / Dave Sharpe; Valiant Comics)
The last time I reviewed Greg Pak's Eternal Warrior for Comics Bulletin, I ended the review saying, "I get the sense that Greg Pak is sitting back somewhere in his writing space, cracking his knuckles, smiling a knowing smile, and preparing to let loose a serious awesome bomb."
With issue five, he detonates it. Seriously.
Once again, Valiant is touting an "All-New Arc" as an "All-New Jumping-On Point!" and they couldn't have been more right in this case. You don't need to know nothing about who or what the Eternal Warrior is to fall face first into this story.
See, I have a hard time even remembering what I had for breakfast this morning (and it's only 10:38 AM, mind you). Pak sets this story TWO THOUSAND YEARS into the future, so anything that has gone on before seems pretty moot. In this distant Earth, thanks to the trifecta of science, technology, and war, the Eternal Warrior now finds himself Emperor of a small agrarian society and bemoaning the loss of electricity, coffee, and Advil. When a mechanical behemoth comes out of the horizon and starts stomping people dead, he also realizes that he misses the destructive ease of guns.
Taking down this killing machine sets off the rest of the story line. Remember that "awesome bomb" I mentioned at the beginning of this review? When it blows, the Eternal Warrior sets off on a path that is going to tear a hole in the whole Valiant Universe (or so the Valiant PR hype folk promise).
While Pak has his ease of dialogue, characterization, and pacing down to a science, what really pops this issue are the pages themselves. Robert Gill's got a sketchy style that lends itself to conveying action fluidly, full of meat and muscle, while also giving the viewer just enough hints of emotional import to convey a complexity to all the interactions. Gill understands panic and confusion as much as he does resolve and love. Gestures are enough in his pages to resonate.
As a colorist, Guy Major makes some major contributions to capturing mood and setting, playing off of the words and pictures to complete each panel's intent. Also, Dave Sharpe shows what a talented letterer can bring to the impact of not only a singular moment, but a book in its entirety.
There's an explosion on the twelfth page of Eternal Warrior #5 that demonstrates how the entire art team coheres to bring about something spectacular. Gill's pencils capture the lateral movement of the boom (with an added none too subtle death head screaming motif); Major's use of all the shades of yellow convey the heat and the light and the power. Then there's Sharpe's "KRRRAAAAKKKKOOOMMM" in jagged red piercing our eardrums aloud.
It's comic art done right – working harmoniously — bringing the reader into the experience as viscerally as possible.
Pak, Bernard, Major, and Sharpe have got it going on with Eternal Warrior #5. They are blowing it up real good, my friends. Real good.
– Daniel Elkin
---
Velvet #3
(Ed Brubaker /Steve Epting / Chris Eliopoulos; Image)
Ed Brubaker has new creator-owned series through Image, this one with artist Steve Epting. It's a spy story taking place in the late '60s, in London/Europe, and the main character, Velvet Templeton, is part of a super secret agency called ARC-7, composed of a group of WWII underground allied resistors. The overall story is that two of them have turned up dead, perhaps by someone on the inside, and the rest of the agency members are trying to figure out who it is. This is Brubaker's homage/nod to spy novels of the past, though the spies do have some fancy gadgets that verge on superhero-esque, including a suit that might cause a spy codename to be not Black Widow but Flying Squirrel.
I don't want to reveal too much about the main character Velvet, because part of the pleasure of the story arc is finding this out. By Issue #3 she's fairly established, though still with a dark past yet to be revealed. I'm not spoiling anything by saying Velvet is a strong, smart, skilled, woman in her mid-30s to maybe 40s, drawn here by Epting as attractive, but not babe-like—she just looks like a normal attractive woman, and/or a little like the Marvel character Rogue.
Epting's artwork isn't gritty like longtime Brubaker collaborator Sean Phillips. Instead, it's sleek, like Velvet herself, though just as dark and shadowy, thanks to coloring by Eliopoulos. Also interesting is the format of the actual paper comic book: First, the price is only $2.99, which is nice, especially since you get extra bonus pages, including a now ongoing old-fashioned letters column, answered by Brubaker himself.
I've said recently that Ed Brubaker is an epic storyteller, and my preferred way to read his work is in collected volumes. Coming on board in the middle just isn't the best way to appreciate him (though the artwork might carry you through). But: Issues #1-2 are still available at your local comic shop, along with #3. If you're interested in this new series, and if you like good story and good art you might be, snatch up all three at one time and read them like Brubaker should be read.
– John Yohe
---
Thor: God of Thunder #17
(Jason Aaron / Emanuela Luppachino / Ron Garney / Ive Scorcina / Lee Loughridge / VC's Joe Sabino; Marvel Comics)
Thor #17 concludes the "The Accursed" story arc which features the evil dark elf Malekith, created by the legendary Walter Simonson, who coincidentally was featured in the motion picture Thor: The Dark World. One can ponder whether or not Malekith was forced upon writer Jason Aaron as a mandated editorial edict or perfect planning but it does not diminish the fact that the villainous elf was due to pop up eventually and his inclusion in this arc served to be the perfect foil for Thor.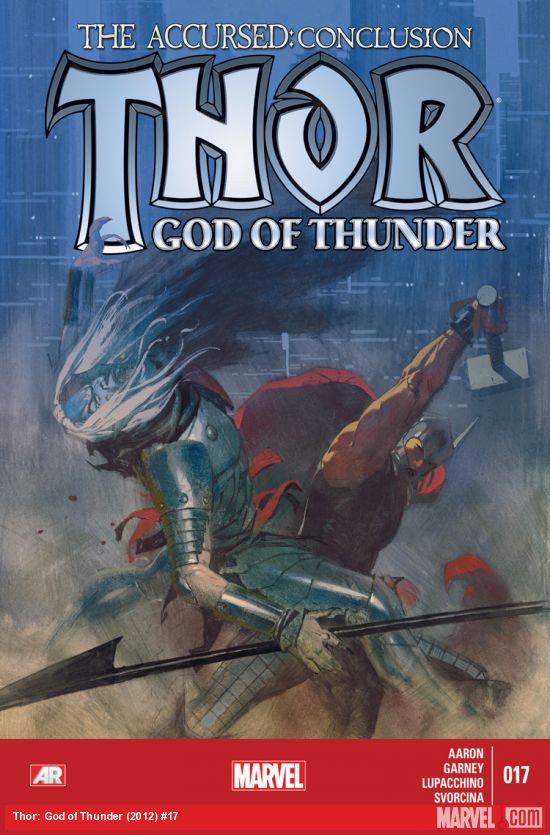 Unlike previous arcs under the label of Thor: God of Thunder which were very dark and heavy, this latest story at times had some hilarious moments of insanity due to the inclusion of such light-hearted and fantastical fare like the Gingerbread Tavern, which is just what it sounds like—a tavern made of gingerbread in a shanty town fi
lled with delicious confectionary delights. Yet it was exactly premises like that which allowed a much needed sense of levity in the face of such dire circumstances that Thor had to contend with.
Jason Aaron has delivered yet another epic story to the mythos of Thor. The creation of the League of Realms which is an outfit of heroes from the nine realms united to put a stop to the nefarious plans of Malekith was a stroke of genius. The characters that make up their ranks are offbeat at times and yet they manage to be a wonderful substitute for comic relief and badassery to frequent Thor collaborators Sif and the Warriors Three.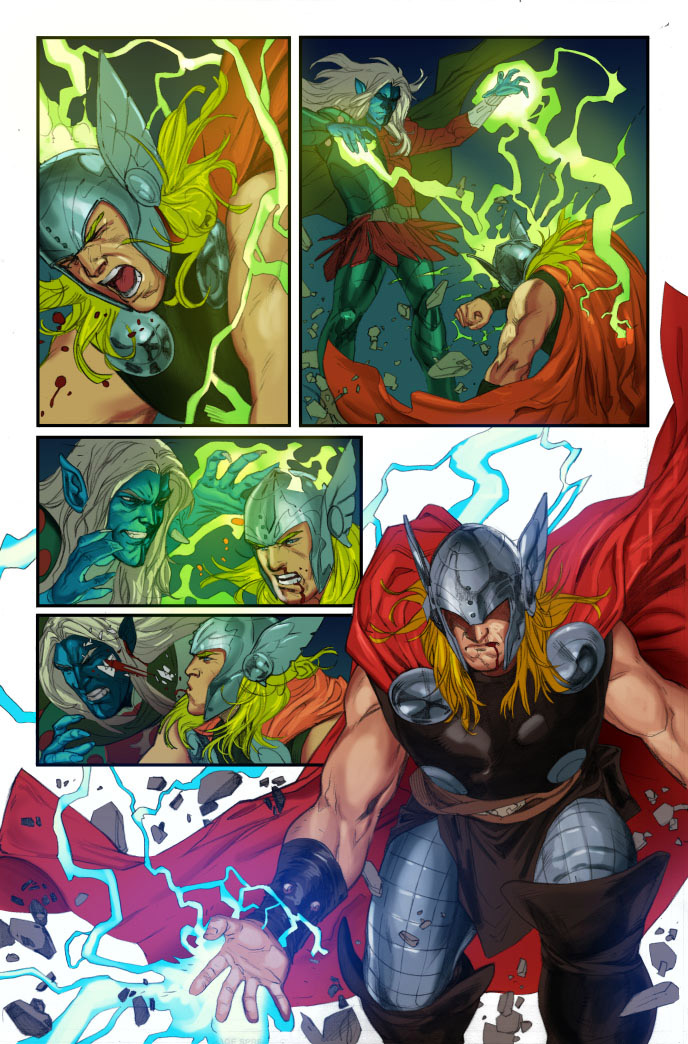 The biggest gripe to be found within the issue is the artwork, which often tends to look like it was rushed in an effort to make a deadline. While the first three issues of the storyline featured pencils by Ron Garney, the last two issues features the assistance from Emanuela Luppachino. The result is an off-balanced visual appearance only made more apparent by the use of two colorists, Ive Scorcina and Lee Loughridge. This only serves to enhance the unnerving look of the issue as it is such a visual contrast and a hindrance to another wise spectacular issue.
When all is said and done though, despite the artistic complaints, this latest arc of Thor: God of Thunder has been an explosive display of how talented Jason Aaron is as his run on the title, while only 17 issues, has been a kick to the nuts to our Norse god of thunder from the start and has no signs of slowing down.
– Robert Tacopina