Singles Going Steady is Comics Bulletin's weekly single issue review roundup.
Bloodshot and H.A.R.D.Corps #18
(Christos Gage / Joshua Dysart / Bart Sears / Matt Milla / Allen Passalaqua / Dave Sharpe; Valiant)
Hey cover banner that reads "All-New Arc!" and "Must Read Valiant," your shouting makes me nervous. There's a desperation to your punctuation; methinks your admonition protests too much, perhaps. I'm wary, but… well… okay. It's you, Valiant. I've come to trust you over time. Your relaunch has brought such bounty, such pleasure. I guess you're just enthused. I understand. I can be excitable too.
But not all hype is in service to the truth.
There's something droll about Bloodshot and H.A.R.D.Corps #18, something not quite serious in its over-seriousness. It's as if everyone involved is in on this joke but nobody really understands the punchline because it's actually a Nietzschean aphorism and not supposed to be funny in the first place. Imagine, if you will, Dwayne "The Rock" Johnson playing the role of Macbeth … in a wet suit … translated into Klingon or Elvish or something nerdy like that, and then packaged as an exercise regimen called "Lay On, Macduff" because The Rock is all muscly and really, we all want to be muscly, don't we?
That's kind of where I ended up when I started thinking about this book.
It could be that I am still associating this H.A.R.D.Corps with THIS H.A.R.D.Corps and that's fucking me all up.
I know, I know. Let this book stand on its own merits. The past is the past, let sleeping dogs lie, a bird in the hand, mama didn't raise no coffee table. Professional in attire and attitude. Ahem.
It's got to be hard to write "team" books – not only do you have to account for all the various personalities, but you also have to find something for everyone to do. Add to that the need to have a team of bad guys be the foil for your team of good guys and you got teams of guys teeming up in all kinds of things. It's messy and I know I sure as hell couldn't do it. So to see Gage and Dysart taking all these balls (or guys or teams or whatever), throwing them up in the air, and then snatching some on their descent and hurling them splattering against the red brick wall of clarity is pretty amazing.
In Bloodshot and H.A.R.D.Corps #18, though, it just doesn't all hold together. There's too much splatter. It's not Jackson Pollack, but neither is it sneezing with a mouth full of borscht.
I'm digging the revenge circle that seems to be expanding concentrically at the heart of this story. I like the manipulation of time as a narrative technique, as much as I like the vibe everyone involved in this book is trying to resonate. There's a lot going on in this book. It seems way longer than its actual size, Gage and Dysart have made a Dagwood Sandwich and compressed it into a Lean Club … easier to eat at parties certainly, efficiency makes for better digestion.
But it loses something in this iteration, and I can't quite put my finger on what that is. Everything is serviceable or works. It's no small story and it's no mean art and there are waves in the distance that you can see from the shore and there's some kind of pose or action sequence all over the place. It's cranking and flexing and caught soft in repose. I find no fault anywhere whatsoever. It's just not…. I don't know…. something. Maybe it's because my expectations for Valiant titles are now so high. Maybe they've been consistently delivering such fine product that First Rate has become Second Class to Excellent. Bloodshot and H.A.R.D.Corps #18 may be a victim of just being really good, which, unfortunately, is now half as good as what it has been.
– Daniel Elkin
---
Savage Wolverine #13
(Phil Jimenez / Scott Lope; Marvel)
Wolverine concludes his visit to Madripoor with a pyre of ivory; in this ecological tale, he's fighting to preserve the wildlife of Africa, specifically a herd of elephants, from poachers. Lucy Lui (I mean Tyger Tiger) if fighting to stop his interference; she values the human life of Madripoor more than the animal life that's being endangered.
This issue may be a bit of a rush, as Jimenez is only credited with breakdowns, but that's one impressive roster of inkers to help him out, and the quality suffers only in some facial inconsistencies. Since the main reason I'm here is to see Jimenez do Wolverine, a character he knows exactly how to draw, I'm not disappointed.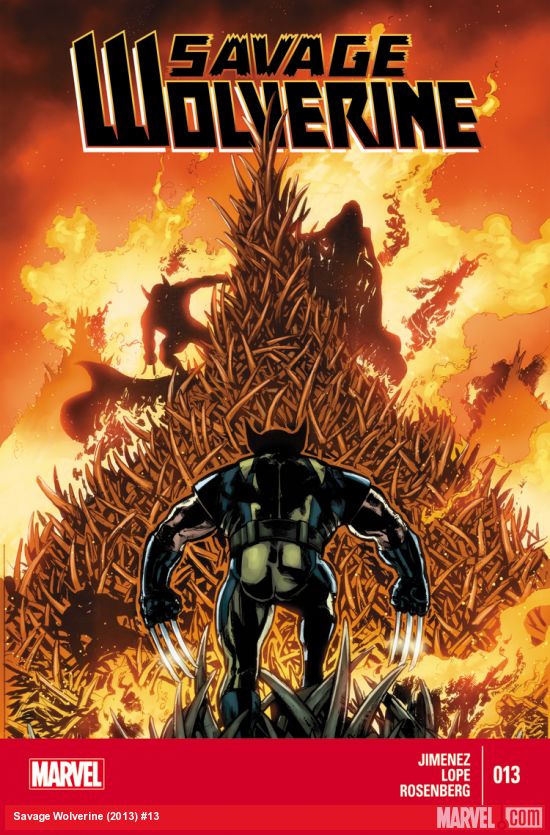 Animal cruelty is something he also knows how to draw, as a moral lesson. This is your book if you ever wanted to see Wolverine cut off his own face to make a point. We saw it happen to a rhino for her horn last issue. Disgusting, but Jiminez' animal portraits are among the best, harkening back to old days of Mike Grell and other similarly gifted artists taking their characters on saf
ari.
Kitty and Cypher are called in to track that group of elephants for Logan, and the writers keep them in character, as even Wolverine's students aid him from afar. The stakes are high if melodramatic, and the only regret for this reader is that two issues wasn't long enough to really explore the idea of the elephants the way Logan sees them, as equals to humans who view the world in a much more spiritual way. A way akin to how Storm can track patterns of energy, as Cypher helpfully explains. That level of understanding could be a story in itself, but this one is more about guns, claws and blood. Yes, I know it's a Wolverine story, but I feel a little like Kitty when she demands to know how Wolverine has been so close to an elephant herd for 80 years and no one heard of it till now?
Have you met Logan, Kitty? Calm down. You'll never have all the answers. Though the story is overwrought, it does what it set out to do, and the interest by the creative team in the X-Men side of Logan's complexities was refreshing.
– Shawn Hill
---
The Black Bat #8
(Brian Buccellato/ Ronan Cliquet / Mat Lopes / Rob Steen; Dynamite)
My first impression of The Black Bat was, "Wow, this looks like a cheap Batman imitation." The costume: black cape and mask, minus pointy bat ears. The setting: large gothic gargoyles at the top of buildings in "New Dublin." Also: a police captain (not commissioner) character sympathetic to costumed vigilante. Sound familiar?
Turns out The Black Bat character was introduced way back in the 1930s, at around the same time as Batman. I won't go into the whole history, check out the (kind of brief) Wikipedia page if interested. Suffice to say that Dynamite has acquired the rights to this character and given him a new, updated, origin, and plot arc.
Writer Brian Buccellato does do a good job of introducing The Black Bat world to the casual reader just picking up the latest issue. There's enough explanation and exposition slipped in at strategic points to give me a sense of the overarching story. Tony (last name unclear) in order to change his life and do good for the world, has entered a "deal with the Devil" with a private corporation, whereby he receives some boosted physical abilities in exchange for something (probably) sinister in the future (though not revealed in this issue). He also gets the bonus of hooking up with Carol, the company liaison, who's either playing him, or else torn between duty to the company and really like him (both potentially interesting).
What I do like is that The Black Bat's physical powers don't make him smarter, or wiser (than say, Batman), and he seems to have been making some bad decisions along the way (again, smoothly reviewed for new readers through dialogue and short captions). In fact, Issue #8 feels more like a pause in the larger story arc—not a lot of big action, but some new plot threads started. Makes me wish I'd come in on an earlier issue, a little.
But, I just can't get past the fact that every time I see a panel with the Black Bat in costume I think, "Dude, that's Batman." If he were something like Night Owl from Watchmen—a nod to, and a commentary on, an iconic superhero myth—that might be more interesting. But, especially if you don't know the history of the character, Dynamite just seems to be trying to cash in on the Batman look. Why bother acquiring the legal rights to an old old character, when Baccellato's story would work much better with a new character?
– John Yohe
---
Quantum and Woody #7
(James Asmus / Ming Doyle)
I love to take a chance. Every week, I figure I'll pick up something a little different just for the heck of it. One week it might be a Dynamite book, the next a Dark Horse. Sometimes I find myself disappointed, but more often than not these random books leave me completely indifferent. It was only a matter of time before I stumbled upon something I truly love. I truly love Quantum and Woody.
I loved Priest and Mark Bright's Quantum and Woody back in the day. I loved everything Priest wrote, but Q&W was something truly special. It had the feel of a Milestone title with the modern sheen of Acclaim's comics. It was hilarious with pitch perfect dialogue, terrific characters and a dedicated creative team. When news came that Quantum and Woody would be re-launched, I was more than hesitant. Q&W without Priest? It wasn't meant to be, I assumed. That's probably why it took me till issue 7 to give this series a chance. Boy am I glad I did.
James Asmus has officially exceeded my every expectation. I came into this book thinking "Yeah, they'll try to be funny, but nobody does dialogue like Priest". Wrong, Asmus totally rocks it. I laughed not just once a page, but several times a panel. I thought "Oh I'm sure the plot will be some wacky superhero antics, nothing like the surprisingly meaningful old series". Again, how silly I was. Asmus injects the new Q&W with topical issues without being heavy-handed. "I'm sure they'll try some over-the-top lame supporting cast". Why was my inner voice so cruel? Yes the villains are over-the-top and I couldn't be happier. Asmus has not only created a book worthy of the original series, but one I'm just as excited to re-read and collect. I wasn't just laughing, I was genuinely interested and invested in what was happening, without having read the previous 6 issues. Good job Mr. Asmus, good job.
Kudos where kudos is due, Ming Doyle draws one heck of a book. Again, my expectations were low and I was blown away. Doyle's work here has all the expression and detail of Paul Pope with the groovy pop sensibilities of Mike Allred. I have to mention Dave Lanphear's lettering as well. I rarely stop reading a book and think to myself "Damn, that was cool what the letterer just did", but Lanphear impressed.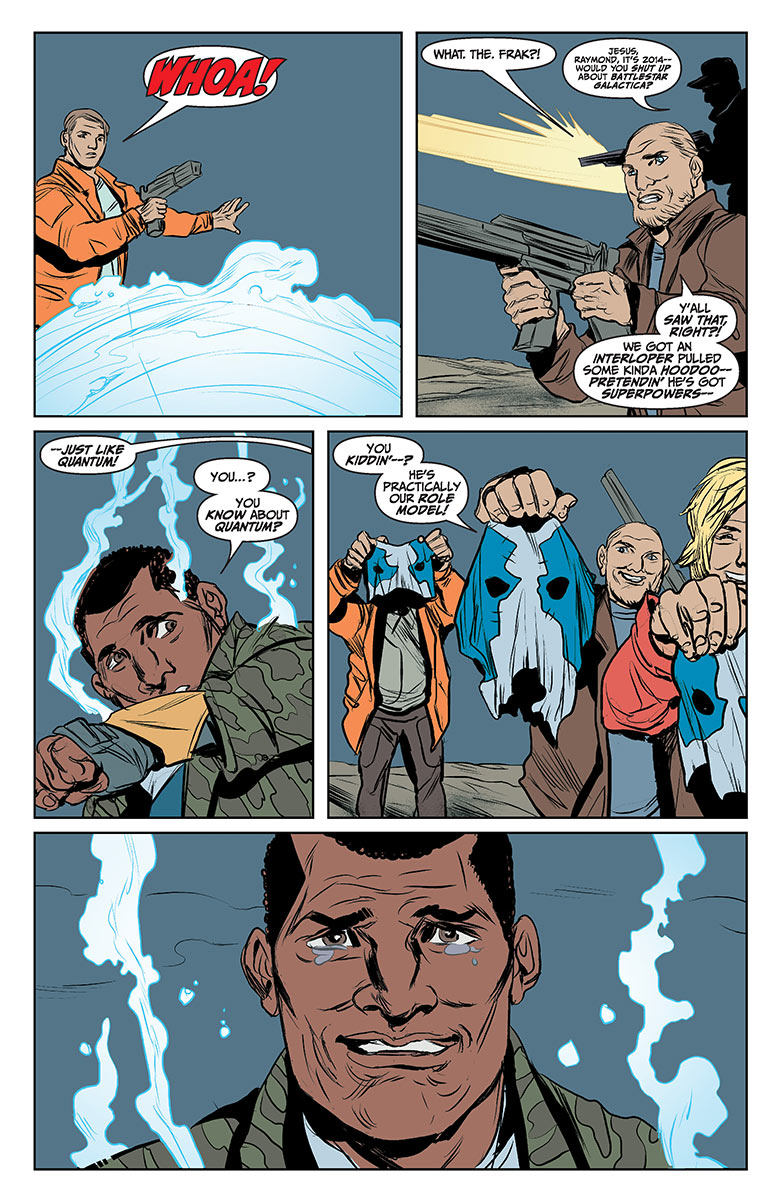 I jumped into this series at issue 7 and had no problems following the story. I feel my beloved Quantum and Woody are in the right creative hands. In fact, I'm breathing a large sigh of relief right now, and packing up to go find the issues I've missed. It's that good.
– Chris Wunderlich
---
Legenderry: A Steampunk Adventure
(Bill Willingham / Sergio Davila / Wes Hartman/ Rob Steen; Dynamite)
The premise of
Legenderry
is Dynamite Entertainment taking its major characters from its major titles and putting them together in slightly new incarnations in a steampunk world. I'm assuming that most comic book readers know what steampunk is, but if not, its premise, in brief, is an alternative past or future of our world, in which steam-engine technology remained dominant, and evolved, and which Victorian England-ish fashion also remained dominant, and evolved.
In theory, I'm intrigued with the idea, though both the series writer, Bill Willingham, and perhaps the editorial team, also seem unsure of whether readers know what steampunk is, so issue #1, "Ceremonies In Dark Men And Scarlet Women" (sic? Maybe? I'm not sure what the title even means) gives us a lot of exposition, first in the form of a celebrity gossip commentator gossiping about the first two characters to make appearances, Vampirella, now the owner of a chi-chi restaurant, and Green Hornet, still a news tycoon.
And, the token damsel-in-distress, Magda reveals, through much dialogue, that her older sister, Sonja (yep, Red Sonja) has been kidnapped. With no hesitation, and without even knowing Sonja, Vampirella and the Green Hornet decided to track her and her kidnapper(s) down.
And if that sounds like a thin plot, it is. What can carry a weak storyline is great art, and artist Sergio Davila does a good job of establishing a steampunk look in the first page panels, with a techno-blimp and a musician wearing an edgy top hat (!) and funky 12 Monkeys-ish glasses. But once the action moves inside, the visuals, meaning the fashion, since there's not a lot of room for funky machinery in a restaurant, basically take on a straight-up Victorian look. Which is well drawn, but if steampunk fans are going to stick around for more issues, they're going to want something a little more outlandish on every page.
Still, Vampirella, the only character who gets any real action, is visually interesting-looking (meaning sexy-hot in a Victorian dress that emphasizes her bosom) and interesting in that she's an intelligent, business-savvy woman that can turn into a neck-snapping limb-tearing monster in one panel. I'm guessing that the other main characters will be at least as interesting once they get up and running, but the question is, how long will that take? And will readers wait that long?
– John Yohe
---
TMNT Colour Classics Vol.2 – Issue 3
(Kevin Eastman / Peter Laird; IDW)
I grew up amongst the turtles. Pizza, skateboards, sewers—I loved it. I had every action figure, knew every character and eagerly awaiting each movie. Man, did I love those toys! Of course, we all know that the turtles spawned from comics much darker than those colour-coded, over-merchandised heroes in a half shell that flooded toy stores, TVs and movie theatres. Despite being a staple of my childhood I'd never ventured into the realm of the original Eastman and Laird TMNT. This week I finally took the dive.
And I find myself unfortunately underwhelmed. Expectations are a nasty thing. My assumptions lead me to believe that Eastman and Laird's original TMNT would be darker, more violent and heavy on the parody. In many ways I wasn't wrong. This issue features a Justice League analogue called "Justice Force", complete with silly members like "Stainless" Steve Steel and Zippy, the elderly speedster confined to a wheelchair. This setup is ripe with potential, but the book feels overly amateur. The plot is paper-thin, the art clearly dated and the updated colouring adds little to the overall package.
The biggest problem here is the lost potential. We get a funny, senior version of the Justice League, but the jokes are few and far between (and not very funny at all). The turtles are barely featured, mostly just commenting from the sidelines. Overall, it feels like we're getting a very indie, amateur take on someone's idea of a Justice League parody, crammed into a TMNT book that in the end doesn't really say anything. This probably seemed like a good idea in the planning stages, and I admit hearing a description of this book makes it seem quite intriguing, but besides some well-crafted action scenes this book feels like a half-executed concept. In-jokes (like a comment about Flaming Carrot Comics) don't stick, kooky characters fall flat and the ending message fails completely.
If the splash pages were cut in half and the plot was double in length, giving the turtles an actual reason to appear in their own book, this could have been an interesting read. That's exactly what was missing though, something interesting. Perhaps the kid friendly face-lift wasn't such a bad idea.
– Chris Wunderlich
---
Shadowman #14
(Peter Milligan / Roberto de la Torre / David Baron / Dave Lanphear; Valiant)
With Shadowman #14, the art team of Roberto de la Torre and David Baron stomp the horror genre comic with thick, masterful boots. A matter of fact, screw genre niches, as far as I am concerned, these guys are stomping comics in general. This book is as beautiful as it is creepy as it is viscerally, knot-tingly, horrifically powerful. Its strengths lie in its visuals and they cover the mars of some minor Milligan missteps.
There is a distance to the pages in Shadowman #14, a gauze between the action and the reader, a haze or a fog. The things that come out of this mist come at you hard and vicious. There is little air to breathe in these panels; de la Torre's wispy lines and suggested backgrounds barely hold together and Baron's colors wash you even more in uncertainty, as if your emotional reaction can only be gauged through subtle shifts in the vibrancy of greens or reds or grays. This art burrowed into my own primal fears getting to a fundamental, intrinsic horror – something so terribly alien mating furiously and frantically with everything familiar and comforting.
But comics are a story-telling vessel and art alone can only carry so much when the words it is paired with congeals what otherwise would be the fluidity of focus. Milligan rushes his scripting in this issue, sending Jack Boniface and the Shadowman Loa careening through a story that deserves more quiet moments – those beats that reflect and engage – those pauses that build tension, break sweats, tighten muscles, and add that next chemical to the flow. Milligan seems almost overwrought. He seems to want to get to whatever clinching moment he envisioned in his head when he took over this book as fast as he can – damn the set up and the build. His narrative suffers from this over-eagerness, the reading becomes a little jumbled and confused in the rush.
It's not bad, it just could be better.
But whatever faults this book has are easily overlooked by just fucking looking at it. Like I said, de la Torre and Baron are building an aesthetic all their own. It rises off the page like steam from a sewer, full of potent portents, foulness, fecundity, and fear, and yet in the light of the silence of the night streets there is no denying its beauty, its essential ur-nature, its tendrils snaking into a dichotomous reaction of revulsion and awe.
Shadowman has me. I'll go long haul with this book, regardless of the route, as long as de la Torre and Barron keep doing what they are doing here. The vistas are so goddamn beautiful.
– Daniel Elkin
---
Afterlife with Archie #3
(Roberto Aguirre-Sacasa / Francesco Francavilla / Jack Morelli; Archie Comics)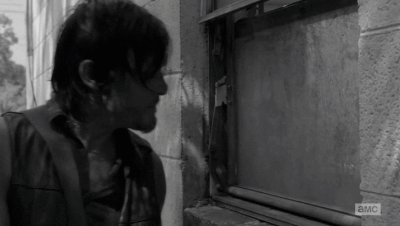 ---
Teen Titans #26
(Scott Lobdell / Tyler Kirkham / Art Thibert / Dan Green; DC Comics)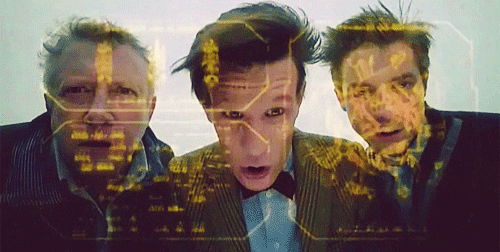 ---
Batwoman #26
(Marc Andreyko / Jeremy Haun; DC Comics)