Singles Going Steady is Comics Bulletin's weekly single issue review roundup.
Also this week, read Taylor Lilley and Keith Silva discuss Ms. Marvel #1.
The Punisher #1
(Nathan Edmondson / Mitch Gerads / VC's Cory Petit; Marvel Comics)
The Punisher is back and he's been given the All-New Marvel NOW! treatment. Nathan Edmondson is charged with telling The Punisher's story now, and this latest issue finds ol' Frank out on the West coast, taking on a powerful drug cartel by working his way up the chain of command.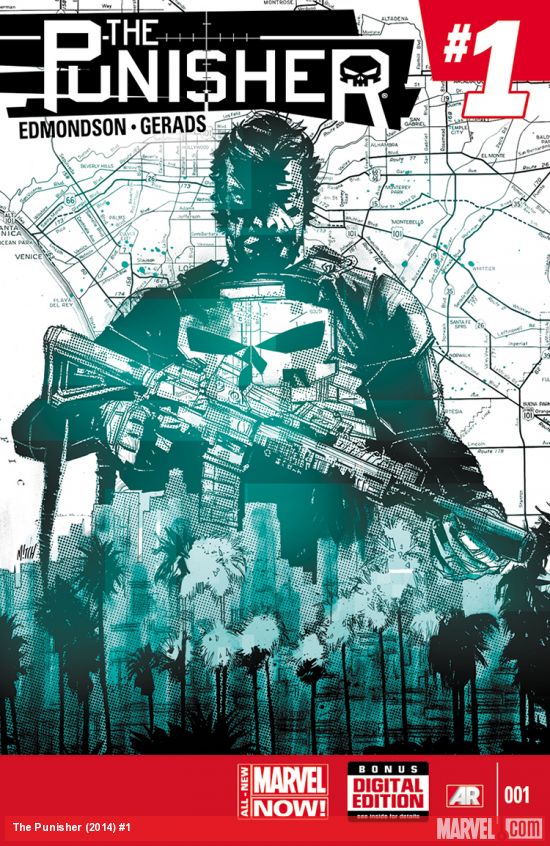 Edmondson's take on the Punisher is nothing very new, let alone "All-New" or "NOW!", but he works well within the expectations of a typical Punisher story. Frank's internal monologue while he dispatches drug dealers is appropriately grim and loaded with heavy-handed metaphor, but what sets Edmondson's take on the character apart from all those great runs that had come before his is that this version of Frank has more the attitude of someone who loves his job, rather than someone who is trying to fulfill a solemn promise.
Frank has undergone many physical transformations in his time, but I don't think I'd ever seen this sort of emotional transformation or progression before, and that's a good thing. It seems unfair that Punisher writers post-Ennis still have to constantly live under the shadow of that run, but I think Edmondson has found a nice twist on Frank, one that allows him to both add his own touches to the stories and also stay true to a long tradition of grimness and violence.
Artist Mitch Gerads is a substantial part of why this take on the Punisher works so well. Gerads gives Frank a leaner look than I'd tend to expect, but he's still got a weathered toughness to him. Frank looks more like an older guy who stays in shape than a brooding special forces action hero who lives in a van. Easily the biggest departure from expectations that Gerads gets away with is that he draws Frank with an honest to god smile on his face.
We usually see the Punisher scowling or muttering through gritted teeth, but Gerads chooses to depict Frank in a more tender light, with a more human and relatable set of expressions. In fact, Gerads's choice to have Frank smirking through gunfights in a swamp and grinning through casual conversation at the diner gives an extra dimension of fun to Edmondson's dialogue.
Any of the dialogue that Frank shares with his brand new diner-frequenting supporting cast, could easily be read as grim and too eager to be hard-boiled or noirish, and indeed in the hands of a less thoughtful artist could very well be depicted as such, but with Gerads's lighter touch what we get is a grimness that lurks beneath the fun banter of people who get along with each other. It's a combination that carries with it much more dread than it would had Frank been grimacing his way through those words, and it gets me wondering what's been going on with Frank that he seems to have chilled out so much.
On their own, Edmondson and Gerads seem to be trying to handle two different aspects of the Punisher, but the slight disconnect between words and art ends up enhancing both, and while the plot that's being set up may not seem all that new, seeing that The Punisher is capable of emotional range and potentially connecting with ordinary people is an exciting idea that looks (at least, I hope) to play a central role in the development of this series.
– Geoffrey Lapid
---
Loki: Agent of Asgard #1
(Al Ewing / Lee Garbett; Marvel Comics)
The Lord of Lies has finally landed his own series. With obvious help from a certain actor who played the silver-tongued god wondrously on the silverscreen, welcome Loki: Agent of Asgard. This is a comic series that promises to be selfish, feature sword fights, espionage, maybe a casino heist or two, definitely an otter, more speed dating than Moody on a Wednesday night and one hellish dragon battle. This, all within the next couple months — at least according to current Mighty Avengers scribe Al Ewing (Judge Dredd) and beautifully delineated by Lee Garbett (X-O Manowar, Dark Mists).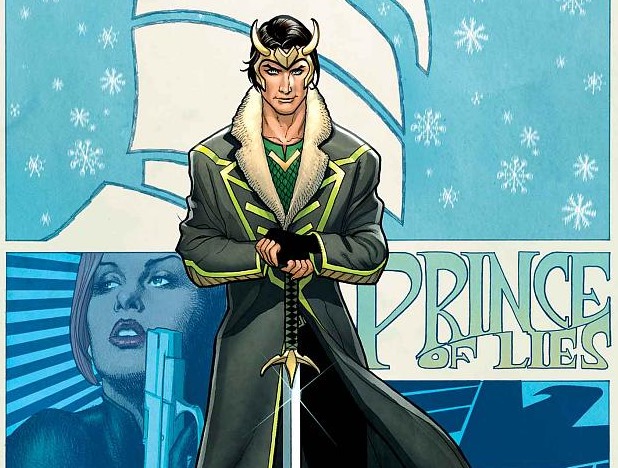 At first, I wasn't to hip on Marvel's idea of another attempt on a Loki book, as our Monsignor will attest, but after reading this and the prequel in the stand-alone All-New Marvel #1, Ewing has made me into a Loki believer. It's nice to finally see a revitalized adult version of the character, as opposed to Kid Loki — despite the high quality of Kieron Gillen's Young Avengers and Journey Into Mystery. And unlike another morally ambiguous book, Black Widow, Loki focuses not only on dealing with his tarnished past, but in having it erased from our memories. But, as the final page shows, the pointy horned past is damn difficult to erase.
With Loki recently hitting upon a rainbow-tracked, hyper-speed train since Thor: The Dark World, some may first look upon this series as a bit of a force. But that's OK– because the God of Evil likes it that way. And much like his underdog "heroic villain," Ewing provides an exceptional experience for All-New readers while packing an ending and little hints of past comic glory that, hell, intense diehard fans of Walt Simonson's run can enjoy.
– Lance Paul
---
Conan the Barbarian #25
(Brian Wood / Leandro Fernandez / Dave Stewart / Richard Starkings; Dark Horse Comics)
Meh. That's about the best that I can must for this epilog to Brian Wood's run on Conan. I wondered what he would do with this last issue, as he had already finished off the Queen of the Black Coast storyline with issue #24. It seems like the best he could come up with was filler. This is the classic case of ending on a whimper rather than a bang.
Conan is sitting in a bar, taking on random comers in fights to the death in order to earn beer money. He is so majorly bummed by Belit's death, that he sit sits and mopes and kills and drinks. It takes a magical lady bartender to give him a good ass-whooping and show Conan that he doesn't really want to die at all. He needs to seek a new life for himself, even after Belit's death.
Ta-dah!
Honestly, it's a pretty trite and clichéd closing. I'm sure Wood tried to find some emotional depth here, but it eludes him. And the final page is bizarre to anyone who knows the Conan stories. Conan HAS a queen. Her name is Zenobia. She reigns beside Conan when he is King of Aquilonia. Belit was Conan's first love, to be sure, but not his last.
As I have said before, it feels like everyone involved has just given up on this series and are just going through the motions, finishing their contracts. (Wood has said in an interview that Conan was the one work-for-hire job he regrets taking.) The exception might be artist Leandro Fernandez, making his one and only appearance on Conan. But the art is pretty boring as well. Boring to the point that I don't have much to say about it, other than it is a step down from the previous story arc.
Wood's Queen of the Black Coast was a series that was excellent in theory, but mediocre in execution. I actually like most of Wood's ideas, and hearing him talk about the series before it got started was exciting. After reading Northlanders, I understand EXACTLY why he was chosen for the job. But for some reason, instead of bringing that raw passion and fury Wood brought to Northlanders, he tried to turn Conan into a romance comic. Tried to play against type and expectations. And it just didn't work.
There were high points here and there, and some stellar individual issues, but taken as a whole it just never clicked. Wood's rotating artists and "series of mini-series" approach didn't help things, as he locked himself into a repetitive storytelling pattern. He never got a chance to develop a rapport with his artists, and the whole thing was just … meh.
And it shows with sales; although Wood's first issues gave Conan an initial shot in the arm, sales have sunk slowly but surely with every issue until they arrived back to pre-Wood numbers. The series was initially marketed as a Brian Wood / Becky Cloonan reunion, but that only lasted for three issues. Some new readers came on, but just as many (if not more) long-time Conan supporters were chased off by Wood's approach.
I have met some people who are genuinely enjoying this series, and they are almost all readers who have never read any Conan before. And that's cool. I hope they stick around after Wood leaves, and give the series another shot.
As for me, I am glad Wood's run is finished. Fred Van Lente has proved himself an able Conan scribe, about to get inside the character better than Wood ever could. I've heard some great things from Dark Horse about Van Lente's plans, and it sounds like Conan is finally getting back on track.
– Zack Davisson
---
Eternal Warrior #6
(Greg Pak / Robert Gill / Victor Olazaba / Dave Sharpe / Guy Major; Valiant Comics)
If Eternal Warrior #6 was a sandwich, it would have as its main condiment some sort of fig spread to provide an unexpected sweetness, but it would also have a thin layer of jalapeno relish to give it a bit of a bite. It's got both, spicy and sweet, and it makes for one delicious mouthful.
In this issue, Greg Pak keeps the flash-forward introduced last issue going. The action takes place in the year 4001, and Gilad Anni-Padda, our titular Eternal Warrior, is still trying to find a quiet life for himself and his granddaughter. It's just that everybody else keeps doing things to make him stay involved in all this stuff he'd rather avoid – like freeing slaves, destroying robots, deposing brutal leaders, and dealing with the general idiocy of science unharnessed from knowledge. His reluctance to get involved is charming in that sort of Clint Eastwood "Stranger with No Name" way. Pak writes weariness of character perfectly. Without having to say it, we know the Eternal Warrior has been through all of this before, knows how it will end, and would rather not be part of it.
But then there are the eyes of his granddaughter Caroline. Her clear black and white morality serves as the perfect foil for Gilad's cynicism. They will learn from each other as this series progresses, but I foresee heartbreak at the end of this. I'm already dreading it, the Eternal Warrior creative team has made me care, damn them.
Again in this issue there is that moment when all the disparate activities of each creator responsible for this book gel. There it is a splash page consisting of nothing but Caroline's face, her eyes raised to look into the eyes of her grandfather, her arms crossed, a small trickle of blood flowing out of her nostrils. Artist Robert Gill's layout here forces your focus to her eyes. They are huge and trusting — you can't have a hear
t and ignore what they are saying. If this was on black velvet, you might find it for sale in a truck stop parking lot, but here, on the page, it works perfectly. Victor Olazaba's inks delineate, deepen, and enhance, even down to the irises of Caroline's eyes. Then Guy Major works the magic of a colorist. Caroline's skin tones echo the colors of the sunset behind her, shadows meld and blend with subtle hues, the hazel of her eyes dance with the light, and the blood from her nose quivers with an intricate play of red tones. Dave Sharpen adds the piece de resistance with his lettering of a quiet "What?" – perfectly centered in its bubble – firm and encapsulated.
You'd do anything for a face in a moment like that. You'd "get involved"; you'd "save everyone".
It's these quiet moments that bring out the sweetness in this book. You understand why characters do what they do because you have a heart and you'd do it too.
But Eternal Warrior #6 isn't all goo-goo eyes and pink cheeks. There's hoes to the head and swords to the chest. There's even battles with giant robots (and I love me some giant robot fights)! This is a story with a feel of progress. You get a sense that this is a story that is headed somewhere, with large intent and big ideas. It's great to see the full creative team understanding the heart of this book and everyone working together to pull it off. If you want to see what comics can look like when everyone is on the same page (both literally and figuratively), check out Eternal Warrior #6.
– Daniel Elkin
---
Harbinger #21
(Joshua Dysart/ Clayton Henry; Valiant Comics)
It's week 5 of my Valiant adventure and I finally get to dig into Harbinger. As far as nostalgia goes, I loved the art in Valiant's original title from the 90s (thanks to David Lapham), but barely recall the characters or plot. I said it four times and I'll say it again, Valiant is as new-reader friendly as comics get. Their recap page adequately fills the reader in on the 20 previous issues and proves that anyone can pick up this book and feel comfortable.
Harbinger is sort of a New Mutants style book, tackling a group of young, powered characters who band together to take down an evil corporation that's after them. It's a simple premise but it doesn't feel played out, at least in the pages of this issue. In fact, the entire book takes place almost exclusively in the group's secret underground lair. Again, familiar, but Dysart plays it fresh. Devoid of action and quite light on plot development, we're treated to some major character building. This makes for a great introduction to the series. I felt like I was reading an issue of Young Heroes in Love (one of my favourite forgotten titles).
While a dialogue driven, strictly character building issue usually isn't my thing (like very Bendis issue of Avengers), here it works. These characters are young, afraid, overpowered and underprepared. This isn't simply a talky issue where we end up where we started, but a nice showcase for each character's personality and individual story. Perhaps my only complaint is the surprising adult-content, which seemed like a strange curveball in the middle of an otherwise engaging issue. Dysart has the dialogue down, but a few twists and turns seem unnatural (as far as a first-time reader is concerned).
Despite only getting a taste of the overall picture, the character work is strong enough to bring me back for more. Though I wish Dysart leaned off the stereotypes (the big, strong dumb guy; the computer geek who's scrawny and wears glasses) there are enough original voices to make this a unique read. The mysterious Monica Jim alone is worth cover price.
Did you notice that Clayton Henry drew this issue? If so, you know what to expect–solid character work, great detail, and a clean, classic superhero style. I've never read a Clayton Henry I didn't like to look at. Valiant might be a smaller company but there's nothing "budget" about the look of their books. Henry is as reliable a superhero artist as they come and you can buy any book with his name on it in confidence.
Valiant continues to impress on all fronts. Harbinger isn't my favourite of their books, but it is one I'd like to take a closer look at. The characters here are awesome and I'd like to see where the plot goes. In the hands of Dysart I trust it'll be an interesting ride.
– Chris Wunderlich
---
Wolverine #1
(Paul Cornell / Ryan Stegman / Mark Morales / David Curiel; Marvel Comics)
Not every All-New Marvel release can be a hit, and this is a prime example of a rushed and pushed-through concept with very little ingenuity. From a Marvel fan dating back to the late 80's, the Apostle has seen his fair share of Logan makeovers, and this stinks of a bad 90s idea. The Wolverine has been human; read the 90's crossover Fatal Attractions as an example, and thus a reason why the idea never lasts.
What makes Wolvie an interesting and different dude is that he's the best at what he does – and that's him being Wolverine. A human in an Iron Manesque costume is not Wolverine. I feel bad for what Marvel has given Paul Cornell (Doctor Who, Captain Britain) to work with. And that's in no way in hell referring to this title's one saving grace, artist Ryan Stegman (Superior Spider-Man), inker Mark Morales and colorist David Curiel. This trifecta easily made Wolverine #1 one of the best-looking comics on the shelves you'll find this week.
So, if you can get by the fact this Wolverine would rather opt for healthy skin care than lose a few more hairs, the outstanding visuals in addition to the Supe
rior Spidey's presence next issue may make this worth a look…if certainly not a SNIKT.
– Lance Paul
---
Lobster Johnson: Get the Lobster #1
(Mike Mignola & John Arcudi / Tonci Zonjic / Dave Stewart; Dark Horse Comics)
If they'd called this "Get Lobster", I'd have given it 5 stars. I'm like that.
Lobster Johnson likes to Steranko, and that's alright with me. He strikes that pose while in the Lobster-cave later on in the comic, and I was suddenly reminded of last year's fan-favourite DC mandate "Batman never sits down". I get it now. Taken literally, it is of course horse puckey, everybody sits sometime, but in spirit it rings true. Lobster Johnson is not a sitter, he's a doer. If he's thinking, it's as a precursor to action, so he's standing ready even as the cogs of Justice turn in his head. This is body language as character, the lived minute to minute of gesture and behaviour neglected by cool kinetics and action statues (Marvel and DC house styles, respectively). I know something of this guy's will, his resolve, because while his team are jawing, he's gathering intel and braced for action.
Why is this such a big deal? Because Lobster Johnson is the last unexplained hero. We're currently shivering through Wolverine's Origin II, awaiting Spidey's rebirth, endlessly revisiting the red in Black Widow's ledger, and drowning not waving from Zero Year, Batman's unending beginning (yet a mere bagatelle set against DC's linewide origin-obsession, peaking soon in April's Secret Origins #1). I don't care where these people come from, what happened to them in their past, or exactly how long they spent running around naked in the snow. The origin is not all. Read the first few Superman appearances. Who knows where he comes from? Who knows why he came or what foreshadowing his past may contain? As The Rock might say, "It doesn't matter".
What matters is Lobster Johnson is here in this glorious city of yesteryear, he's organised, and he'll bring Justice to the foreheads of the wicked. Whatever happens, however many metallic fists and evil, stitch-headed dwarves pound on him, he'll be on his feet until the end, slamming home that one last clip for the shot that counts. Even this issue's neck-snapping, iron-gauntleted Russian wrestler is given pause for one of the story's best beats, demanding of Lobster "Why do not you run?!!!". Lobster don't run.
Between them, Mignola, Arcudi and Zonjic create the vessel for Dave Stewart to fill. For someone still smarting over the failure of Where is Jake Ellis?, seeing Zonjic's elegance and simplicity on the page pops my eyes as wide as those of the crowd in the page above, but what anchors this comic is Stewart's muddy palette, all fiery oranges, solid browns and deep, deep blacks, gaslight and fledgling electrics pooling in patches amid the burning New York gloom. This distinctive early 30's world comes alive through the commitment of the whole creative team to distillation. Check the "city on fire" flavour of the wrestlers' rampage, or the varied postures of the police backgrounded in Lobster's fight scene, check the choreography of the fight itself, how Zonjic guides your eye across the page and into The Lobster's world. Everything is made to count, and if this isn't the most complex comic you'll ever read, it's the most effective, the leanest, tightest of issues with nary a wasted pixel.
Longtime Mignola-verse fans already know of this character's demise, Mignola himself says there can only be so many of these occult-infused, noir-bizarre minis before that last clip is spent, and the hand of Justice burns no more. But that's for the history fans. You don't need to know anything to devour this comic with relish and find yourself hungry for more. People, if you've never tried the Lobster, now is your time.
– Taylor Lilley