Singles Going Steady is Comics Bulletin's weekly single issue review roundup. 
Secret Avengers #12
(Ales Kot / Michael Walsh / Matthew Wilson; Marvel Comics)
Enough has probably been said about the Hawkeye influence at Marvel by this point. "B-list" characters in stories grounded in the everyday. With the obligatory superhero flair of course. Art that sacrifices complexity of detail for complexity of format, minimalism and a cinematographic approach. It's critique as old as time…if time began with Hawkeye.
It would be hard to accuse Secret Avengers of telling a grounded story. It's tough to be grounded when MODOK is a major part of an ensemble that includes a sentient, existential black hole bomb named Vladimir. Ales Kot (Zero, Iron Patriot) is wrapping darts in Jorge Luis Borges references and tossing them blindly into the deepest parts of Wikipedia's Marvel section and the final product couldn't be better.
With the end, tragically, just a few issues away, Secret Avengers #12 spends the bulk of its time on exposition. MODOK's plots against SHIELD have unraveled because of his romantic feelings for Maria Hill (yeah). His former right-hand-man, Snapper, has kidnapped Hill and Spider-Woman and plans to use the Lovecraftian, other-dimensional plane, TLÖN, to "cleanse the world of bullies." Black Widow and Lady Bullseye are still trapped in TLÖN, pursued by tentacle creatures. Nick Fury has woken up from his coma. Phil Coulson has beaten back his PTSD. The Fury just wants her babies back. Hawkeye is Hawkeye. And Vladimir the bomb has a mobility scooter. Kot is moving all the pieces into place for the closing issues and clearing up a few plot threads. Working on that alone, this issue could be considered pretty average, but as always it's the humor that elevates things. This is easily Marvel's funniest book and a lot of that comes from Kot's handle on the characters. The mundanity of their central conflicts is what keeps the reader oriented in what has become a very surreal narrative and it's the little twists in the personalities that brings the humor home (MODOK's drunken text to Deadpool may be one of the greatest panels in comics history).
Michael Walsh and Matthew Wilson are bringing their A game to the art here. Walsh's character designs are excellent and expressive in spite of the minimalist approach and he clearly has a sense of comedy, only adding to Kot's work (drunk MODOK in a top hat and monocle is an incredible sight). Wilson's colors are fantastic – bright and simple almost the whole time which only adds to the tension when he breaks into darker shades and shadowing (the scenes in TLÖN are a perfect example. This is a fantastic book. Everyone should be on it.
– P.J. Hunsicker
---
Uncanny X-Men #30
 (Brian Michael Bendis / Chris Bachalo; Marvel Comics)
Oh, hello there, reset button. I was wondering when you'd show up.
Uncanny X-Men #30 had THREE major character deaths in it, and with no marketing fanfare whatsoever. (The Death of Wolverine was a four-issue miniseries with tie-ins, and all that really consisted of was the character slowly marching towards his eminently reversible demise.) Granted, in the Marvel Universe as a whole, one or maybe two of these characters wouldn't be seen as MAJOR deaths, but they all are in the X-Verse. This story doesn't get published without a plan already in place to reverse some or all of those deaths – and lo and behold, it shows up at the end.
I've really enjoyed Brian Michael Bendis's take on this group of "broken" X-Men. He's taken Scott's descent into out-Magneto-ing Magneto, and made me sympathize with the man. Deep down, I feel like Cyclops has probably been right for the entirety of this series – even as his actions push him further and further away from "hero" status. It's been quite the ride.
It seems that ride is going to be coming to an end before long, but I'm going to enjoy it for as long as I can. My only real concern/hope is that whatever conclusion we get out of this serves the story that Bendis has been telling without shoehorning in editorial mandates about the fates of specific characters based solely upon which movie studio owns the rights to which characters.
– Luke Miller
---
The Life After #6
(Joshua Hale Fialkov / Gabo; Oni Press)
If there is an afterlife, I hope it's the one present in the pages of The Life After. Joshua Hale Fialkov's take on the world beyond ours is both warped and charming. Whether it's the 1980s-style administrative offices, foul-mouthed Ernest Hemingway, or giant bunny deities, this purgatory for the suicidal continues to be one of the most interesting worlds published today.
Not a whole lot happens with regard to the overall plot, but that doesn't mean it fails to entertain. Much of the issue is spent working out the new group dynamic between Jude, Hemingway, and Nettie. Put simply, it's hilarious. Nettie is consistently appalled by Hemingway's lewd language. Both characters find Jude to be too apprehensive in general – especially for a dead guy. It's a fine combination of clashing personalities to watch play out as the series progresses.
The creative team also expends a good amount of time on Tom Foreman, who acts as middle management for the afterlife. It's mildly entertaining and does a solid job allowing readers to better understand who this character is. But frankly, I can't really talk about that when there is a GIANT FREAKING BUNNY GOD IN THIS BOOK! Though there are past cultures that had rabbit deities, none were the protector of deceased children. Did I mention that it's huge and it lets people jump on it like a fluffy trampoline? If that's not reason enough to at least skim through this book, I don't know what is.
The Life After #6 is far from a perfect comic. The overall narrative feels as rudderless as the characters themselves, whose motivation seems to be simply "go somewhere else." That doesn't seem like much to sustain a long-form story.  However, Fialkov's ability to inject each installment with twisted humor and original concepts – combined with Gabo's fantastic artwork – makes it easy to come back for more each month.
– Daniel Gehen
---
Old Wounds #1
(Russell Lissau / John Bivens; Pop! Goes the Icon)
Behind every door there are secrets. Infidelity, drug use… super-powers.
One day the doorbell rings at the dull, quiet house of Michael Lane. He's middle aged and he walks with a cane. He's the kind of guy you see all the time and never think about. The doorbell rings and the police are at Michael's door. It turns out there was an explosion at the house of Michael's ex-wife Lori. After Michael agrees to come down to the police station and the cops walk away, Michael hobbles to a hidden door trigger, opens the door… and we start to get a glimpse of his costumed hero days with his wife. We get quick images of the two of them as costumed adventurers fighting crime, and as this story starts to unfold, it's obvious that someone very powerful has a major hate on Michael, Lori and their former allies.
Count me intrigued by everything that happens here. I enjoyed the slow way that Lissau reveals plot threads and the measured way that he brings readers into the story. Events progress slowly but steadily, with a feeling of reader confusion mixed with a genuine curiosity about what is happening to our hero. Bivens's art is angular and gritty, depicting a lived-in world that reflects characters who have been through hell and back despite their powers. This super-hero story has a grounded feel, on the level of standard beat cops rather than universe-imperiling madmen, and that grittiness gives the reader dirt under their fingernails as they grip onto this dramatic story.
I want to dig deeper into these old wounds.
– Jason Sacks
---
Batman #38
(Scott Snyder / James Tynion IV / Greg Capullo / Danny Miki / Francisco Perez; DC Comics)
Can't anything ever occur in a Scott Snyder-penned comic just by happenstance? Does Jim Gordon really need to live in "Foundry Square" because it's the oldest part of Gotham? Am I really supposed to believe he deliberately went out and got an apartment there because it represents "history, unchanged. Steady. Judicious." He can't just live there because it's close to work and the rent is decent?
What's that? I'm missing the elephant in the room? The retconning of the Joker into an immortal demigod? Well, that's because I'm just flat-out refusing to accept it (#NotMyJoker). I think it's probably all just smoke-and-mirrors anyway, to be honest. Probably the second most important attribute of the Joker, behind his insanity, is his malleability. He has no past, and even if he did, it wouldn't matter. He's a force of nature bent on destruction – pegging down his backstory is like telling the secret origin of hurricane. His motives and intentions and any grand master plan change on a whim (you know, because of the aforementioned insanity) and the only real constant to him is that he's the yin to Batman's yang.
(Personally, I like to imagine him as a young boy of about eight who saw his parents murdered by a random criminal in the street… and then just snapped and lost all connection with reality. But that's part of the fun – anyone can come up with their own story for him. Even if this "immortal demigod" version of him turns out to be "true," it won't stay that way for long. The next Batman writer to tell a Joker story will retcon it away and come up with their own version.)
So that took up something like half the issue. The other half of the issue was the characters discussing how to reverse the polarity of the neutron flow of the Joker's toxin/virus (i.e.: technobabble!)
However, the last page reveal was a twist that surprised me, and I'm glad to see Snyder tying his entire run together and getting the plot back on track after the insufferably interminable events of "Zero Year."
-Luke Miller
---
The Dying & the Dead #1
(Jonathan Hickman / Ryan Bodenheim; Image Comics)
The new Image book by Jonathan Hickman (the upcoming Secret Wars) and Ryan Bodenheim (Secret, Halycon) is intriguing. Ryan's art reminds me of Preacher and Punisher MAX's Steve Dillon, with slightly more attention to detail. The book is very cinematic, and flows like a film. It's a story of a man named Canning, a former Colonel, whose wife is dying of cancer. Canning is given the choice to save her, but will it be worth the cost? At what price do you let your love live or die?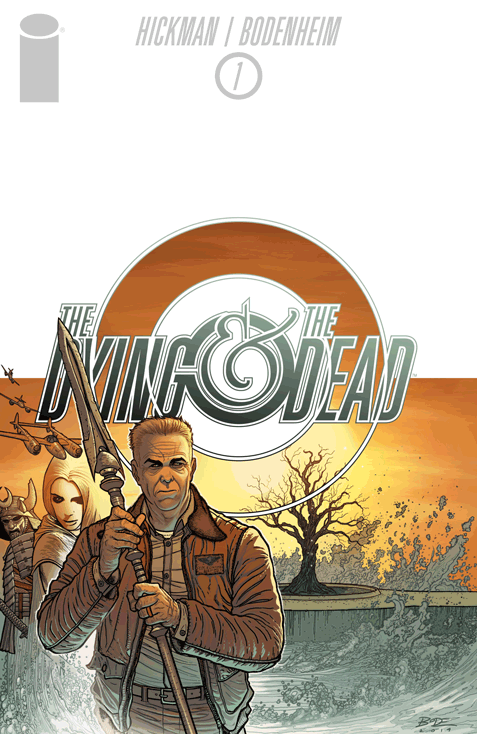 The savior's choice is offered to Colonel Canning, by a group of unknown beings that may be immortal? Are they Angels, Aliens, Gods, or Demons? Perhaps a manifestation of Canning's troubled mind? It's appears our hero may have a previous history with these beings. Perhaps time will tell us what that connection is, and how the Colonel's relationship with a mysterious female character, named Shurra, will evolve. This giant-sized sixty-page first issue sets up a story that will take our character to his very limits and test the boundaries of life and death. If you're a fan of Hickman's previous work, then The Dying and The Dead is a must read. I have an over-sized interest in seeing where these unknown beings take the Colonel too, and whether or not he will fight to save his cancer-stricken wife. And who is this possible interloper, Shurra? Is she bound to make this some kind of supernatural love triangle? I can't want to see what's next.
– Gary Brooks