Singles Going Steady is Comics Bulletin's weekly single issue review roundup. This week, we look at a books from the Big Two, as well as a trip to an alternate world of samurai warriors.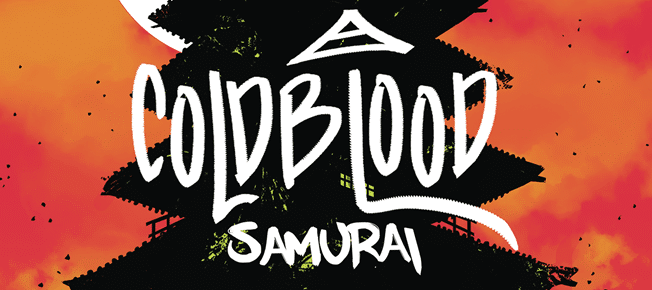 Cold Blood Samurai #1 (Action Lab)
(w) Massimo Rosi (a) Ludovica Ceregatti
There's Usagi Yojimbo, featuring a rabbit who is also a ronin. There's Teenage Mutant Ninja Turtles, featuring… turtles that are ninjas. Now comes Cold Blood Samurai, starring samurai who also are frogs. Clearly, this latest title from Action Lab follows in a long-running tradition of combining eastern culture with anthropomorphic characters. Will it have the staying power of those other properties? Probably not. Can it offer just as satisfying a reading experience? Possibly.
Massimo Rosi and Ludovica Ceregatti's first issue has all the ingredients of a good story. There's a solid mythology and beautiful artwork. However, the execution of the story falls short. It is difficult for readers to engage with characters when the issue begins and continues for more than half the page count in third-person narration. There's a reason that dropping readers into a story in media res has become a popular trend across comics, movies, and television – it quickly grabs the reader's attention. Cold Blood Samurai #1 begins in earnest around page 14. What transpires across the few remaining pages is strong and should keep readers interested enough for the second issue. However, that assumes they even made it through the slog that is the first 13 pages.
There is a lot of potential for Cold Blood Samurai to be a legitimately good book. Unfortunately, it will need to work hard to endear itself to readers after stumbling out of the gate. As a first issue meant to hook readers, Cold Blood Samurai #1 falls flat.
---
Age of Conan: Bêlit #2 (Marvel Comics)
(w) Tini Howard (i) Kate Niemczyk (c) Jason Keith
Issue 2 of Marvel's Age of Conan: Bêlit picks up right where the first ended, Belit on ship face to face with a Leviathan. With the Captain of the ship frozen in shock Bêlit jumps to the Imperatrix and takes the helm. With some fierce words she takes command of the crew fighting back against the giant sea monster. With the captain taking back command of the ship they make a daring escape with Bêlit running down the the captains quarters claiming it rightfully hers.
The strength behind her words and her fearless action throughout the whole issue screams genuine pirate badass. This issue showed Bêlit's evolution towards her title of Pirate Queen, with the story presenting how she earned said title and how one day she'd be a force to reckon with. The first issue piqued my interest in her character, with this second issue giving off more of her fierceness, leadership, and just badassery, making me want to read more of her origin and later on adventures.
I still feel the same as I did with issue one on the art side with Kate Niemczyk on art, and Jason Keith on colors. The all looks great but they don't feel like they match the story beats as well as they should.
---
Wonder Twins #3 (DC Entertainment)
(w) Mark Russell (a) Stephen Byrne
Way back when I was growing up, I recall watching reruns of Superfriends either from a VHS rented at the local video store or during a cartoon programming block on television. And inevitably as I watch that show, my younger self would mutter something childlike which would roughly equate to "Ugh! The fucking Wonder Twins again!" Now, on Wednesdays such as this, I look at the new releases say "Yes! The fucking Wonder Twins again!" It's funny how things can change.
Mark Russell and Stephen Byrne's third issue of Wonder Twins lacks the screwball comedy and biting satire of the first two installments. Instead, it features a more straightforward superhero tale that tries to strike a sentimental chord with readers. It does accomplish this by the issue's end, though it does stumble across the finish line. Russell does plenty of legwork in setting this up, by having the titular Twins converse with Superman about the screwed up nature of our planet – especially humanity. This plays to Russell's strengths, allowing him to comment on the state of world affairs. It also allows Byrne to illustrate a more somber moment, and it's very effective. Unfortunately, the leap from this moment to the kumbaya, love everyone ending feels forced, despite aligning with Jayna and Zan's worldview.
What does work is that Russell and Byrne do not forget the world which they've established in the first two issues. While the comedy may not be as prevalent, there are still several moments which garner a chuckle or full-bodied laughter from the reader, mostly the result of the League of Annoyance. Although it does not reach the same highs as the first two issues, Wonder Twins #3 is a solid change of pace installment.