Singles Going Steady is Comics Bulletin's weekly single issue review roundup. This week, we look at a trio of books that go back in time, or back to the future. So fire up the Delorean and grab your copy of Gray's Sports Almanac. Where we're going, we don't need roads!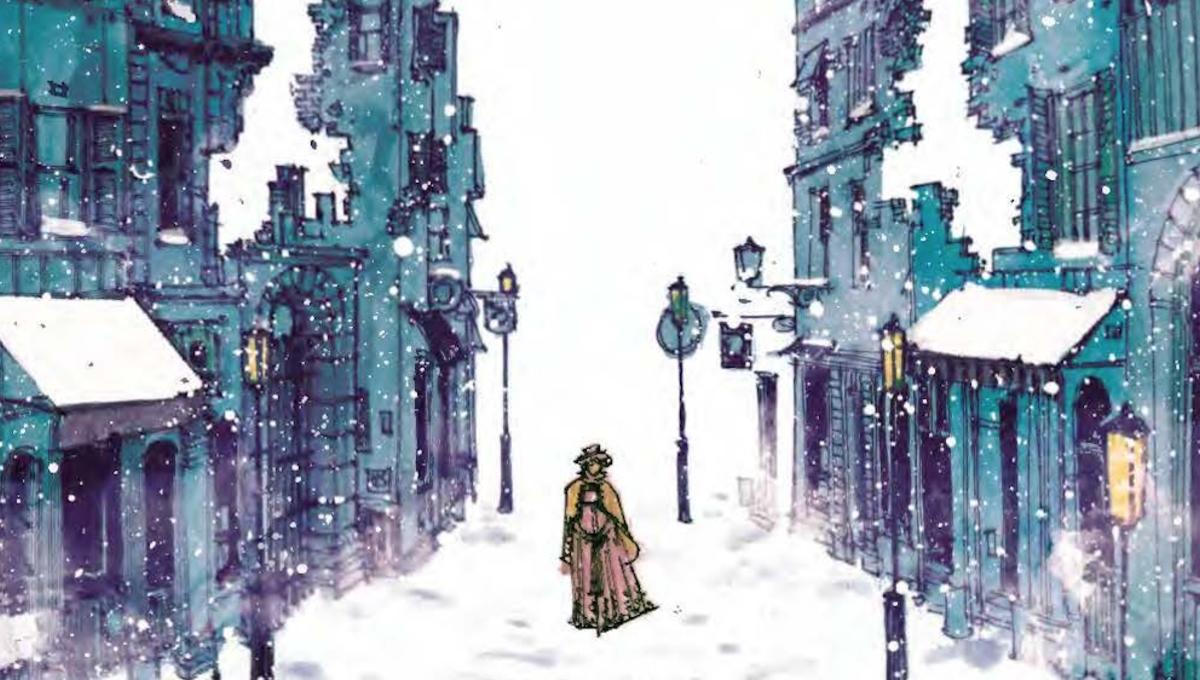 Mary Shelley: Monster Hunter #1 (Aftershock Comics)
(w) Adam Glass & Olivia Cuartero-Briggs (a) Hayden Sherman
Executing a historical fiction story – especially one that takes great liberties – can be either really good or really bad. After one issue, the jury is still out for Mary Shelley: Monster Hunter #1, but it has the potential to be a really strong addition to the Frankenstein mythology. Using the "lost memoirs of Mary Shelley" as a framing device, writers Glass and Cuartero-Briggs have crafted an interesting and creepy new take on the Frankenstein legend.
The visuals from Hayden Sherman are stunning. Rough and unpolished, they add an unsettling aesthetic which is more than fitting for a horror title. Where the book stumbles at times is the pacing, particularly as it drags throughout the middle before the big finale (and twist). Building suspense is difficult, especially in horror comics. Mary Shelley: Monster Hunter begins with a solid foundation. With a little more refinement in the coming issues, it could be one of the best horror titles available.
---
Witchblade #13 (Image | Top Cow)
(w) Caitlin Kittredge (a) Roberta Ingranata (c) Bryan Valenza & Beyond Colorlab
The first notable thing about the latest issue of Witchblade is the refined art, which can be attributed to the coloring of Bryan Valenza, who is assisted this time by Indonesia-based studio Beyond Colorlab. Everything seems to pop with a liveliness that has been lacking until now. Funny enough, this is something whose absence wasn't noticed until the improved coloring brought attention to it. It also is a much better match for Roberta Ingranta's art. This is a great-looking book, and easily the best this Witchblade has looked.
With big genre concepts at the forefront of this issue, Caitlin Kittredge's writing rises to the occasion. By moving the setting of the story, Kittredge is forced to work with a smaller cast than the larger ensemble from the initial twelve installments. There is an improved chemistry between Alex, Maj, and Johnny as a result of the reduced cast. There is a greater focus on Alex as a lead character, offering her greater development into a leadership role and further embracing the Witchblade's power.
Time travel is a sci-fi element that Witchblade has avoided until now. For that alone, Kittredge and the art team deserve credit for bringing something new to the mythos. However, the execution is well done as the creators are finally free from the constraints of reestablishing the title. The future of Witchblade looks bright, even if circumstances in the book are bleak.
---
Planet of the Nerds #1 (Ahoy Comics)
(w) Paul Constant (a) Alan Robinson & Randy Elliot (c) Felipe Sobreiro
With an interesting premise, hopes were high for Ahoy Comics' Planet of the Nerds. Using time travel as a vehicle to explore bullying and the rise of nerd culture as an integral part of greater pop culture on paper has a ton of potential. Unfortunately, much of the hype behind it was squandered by an exposition heavy first issue that is more concerned with setting up the book's premise than actually executing it.
The first story by Paul Constant and Alan Robinson introduces readers to a trio of jocks that fit the mold of 1980s and 1990s teen comedies. There's the hotheaded alpha male, the clown who eggs on the hothead, and the one with conflicted morality. They spend most of their time following a loner named Alvin with the sole purpose of making his life miserable for no reason. It's only on the final two pages that the story kicks into gear, but by that point it's after a miserable 20 pages. The backup by Constant and Randy Elliot doesn't fare much better, undoing much of the sympathy readers feel for Alvin.
It's a shame time-travel is only a fictional construct, because I'd like to go back and stop myself from shelling out $4 on this issue.
---
Bonus: Here's the music video to "Let's Do the Time Warp Again" for your enjoyment.